Hard to believe, but another year gone and another birthday party over with. Last year, we celebrated my two boys with a joint birthday party (since both boys' birthdays are in June) that was pirate themed. This year, we had another joint party but this time we went with a superhero theme.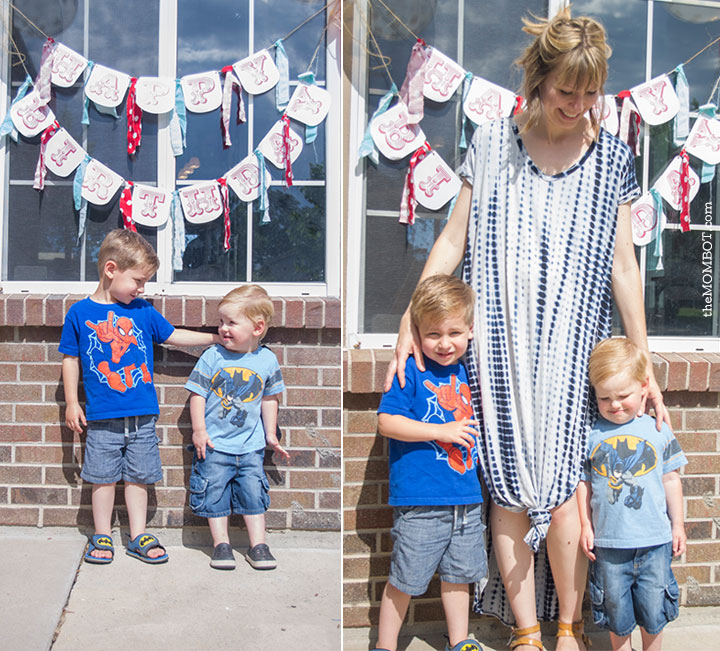 I have so much fun doing girly parties, but man was it fun to plan something so BOY. Watching my little guys enjoying every minute of it obviously made all the party planning worth it.
I REALLY tried to take it easy and convince myself not to go all Pinterest-crazy. I sort of listened to my own advice… though the day before and the day of the party I was running around like a sweaty, procrastinating chicken with her head cut off.
I kept the food easy by ordering pizza (whoever first began ordering pizza for birthday parties is a genius). Then I just made a salad, cut up a watermelon, put out some popcorn and called it a day. Oh, well I also made 3 dozen cupcakes… but that doesn't count.
Here's all the party details…
Superhero Invitation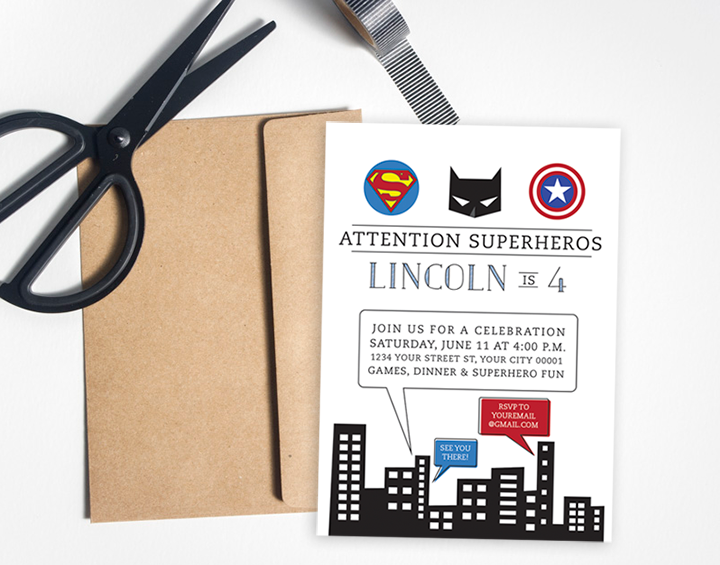 [ Made by me, available in my Etsy Shop ]
Superhero Food & Party Decor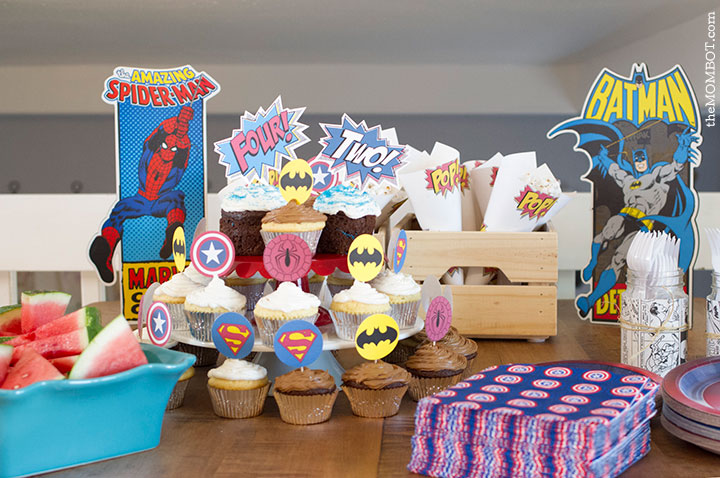 Good ol' Hobby Lobby. I found these vintage Superhero plaques there on clearance a few weeks back for $6 a piece. To make them stand up on the table, I taped them to a soup can (I'm fancy, can't you tell?).
The popcorn cones can be explained (and downloaded) [ here ]. I made the cupcake toppers by printing out superhero emblems and cutting them with a 2″ round cutter, and then I custom-made the "Two" and "Four" toppers for the boys' cakes.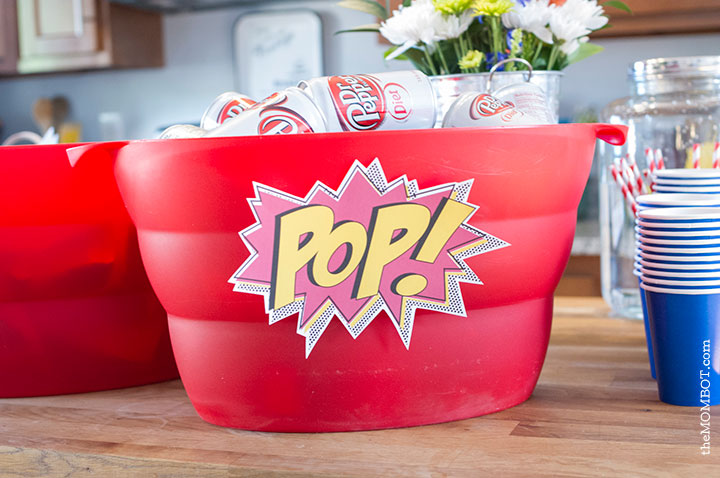 If you're going to have soda at a superhero party, it's important to label it "pop!" (even if you aren't from the Midwest).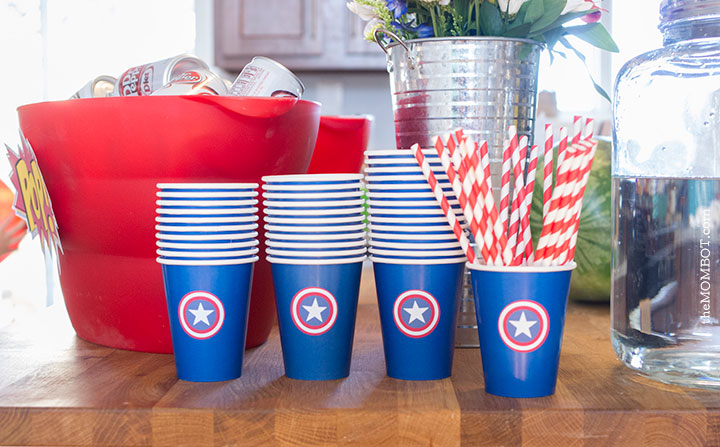 I easily made some thematic cups by purchasing blue cups at the Dollar Tree and printing out Captain America shields on 1.5" Avery Round Stickers. So easy.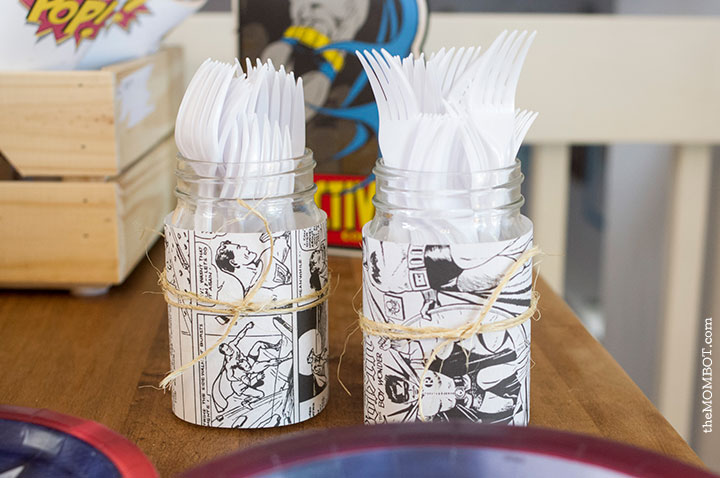 Utensils were easily displayed by downloading and printing some vintage comic book pages from the internet and wrapping them around mason jars with some twine.
Here's a great tip to save money on paper goods: Buy the fancy plates, but only one pack, then layer them with colored plates (something that semi-matches) from the Dollar Tree. My girlfriend told me about this ingenious trick and I use it for every party now! I save money, the table looks great and no one even cares (or notices) what kind of plate they get.
Superhero Party Activities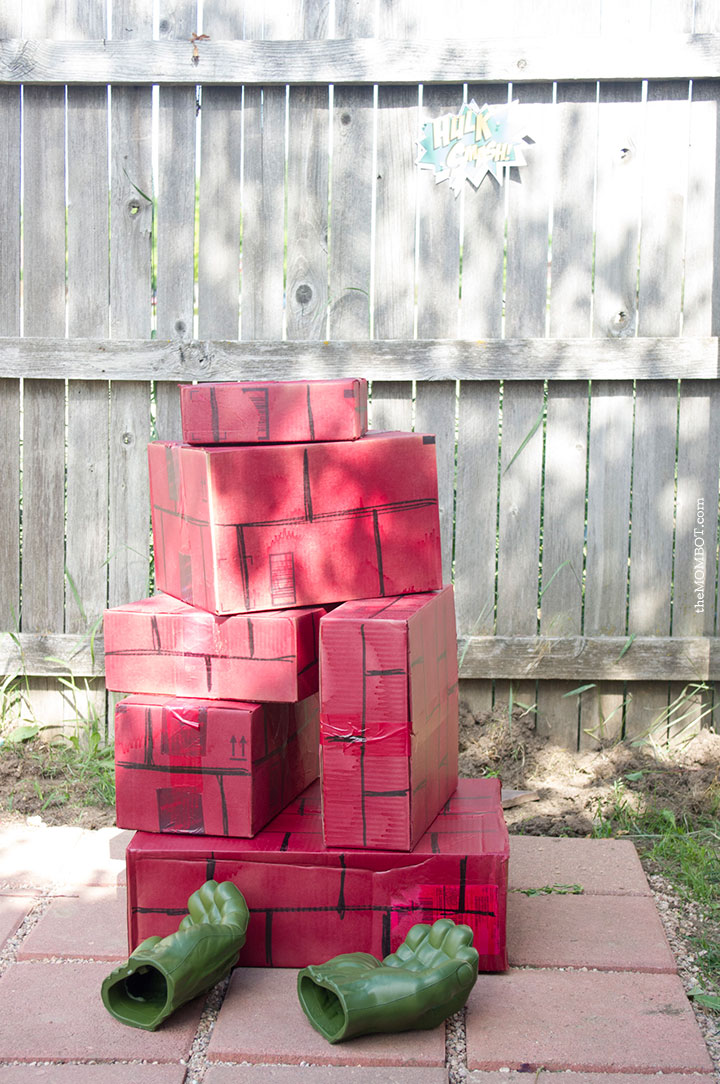 Hulk Smash: Spraypaint some boxes a brick red and then draw lines on them with black marker to mimic brick. Don't spend too much time on these, because the kids are just going to beat them to death. As you can see, mine have Amazon tape showing through and are less than perfect.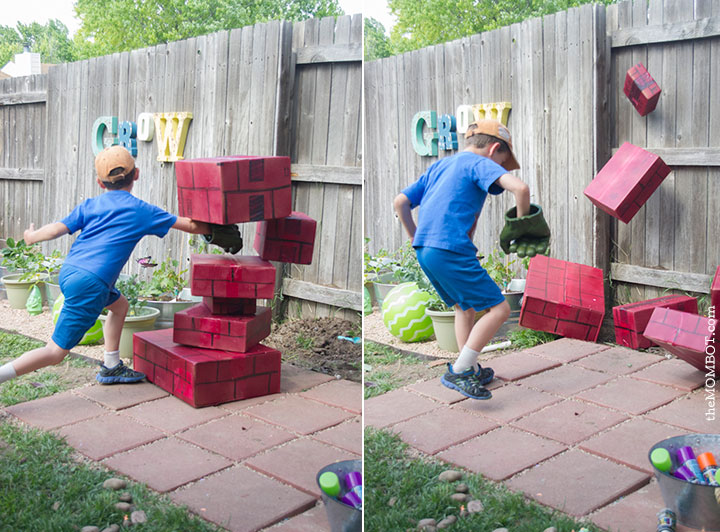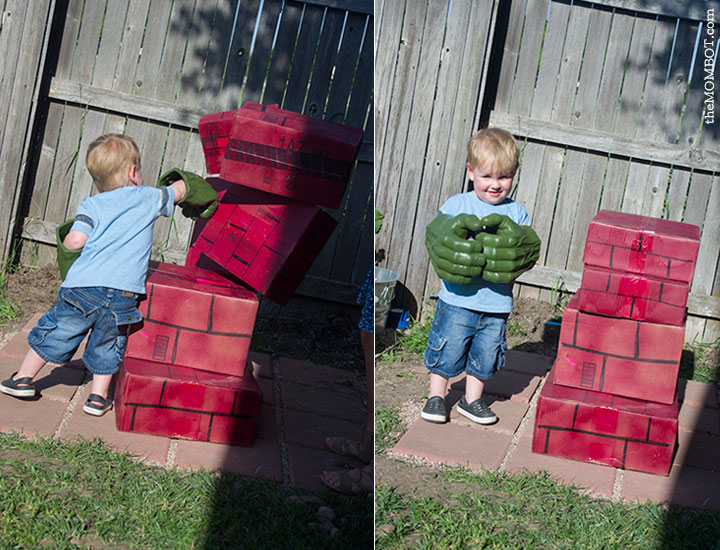 The older kids loved kicking the crap out of them, and even my little guy who wore the Hulk hands up to his elbows thought he was real tough knocking down that wall. I purchased the Hulk gloves here.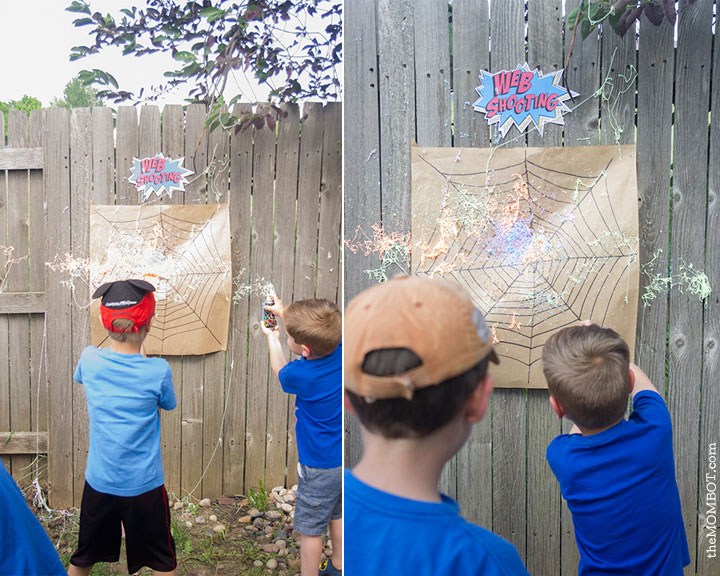 Web Shooting: Purchase a gazillion cans of silly string at the Dollar Tree and draw a web on some butcher paper. Learn from my mistake and have at least one can of silly string per child and tell them they only get one (I considered even labeling each can with their names, but wasn't sure of all the attendees beforehand). Unfortunately we ran out of silly string before all the kids arrived because apparently silly string is a popular toy… This activity was a hit, but was over in a heartbeat.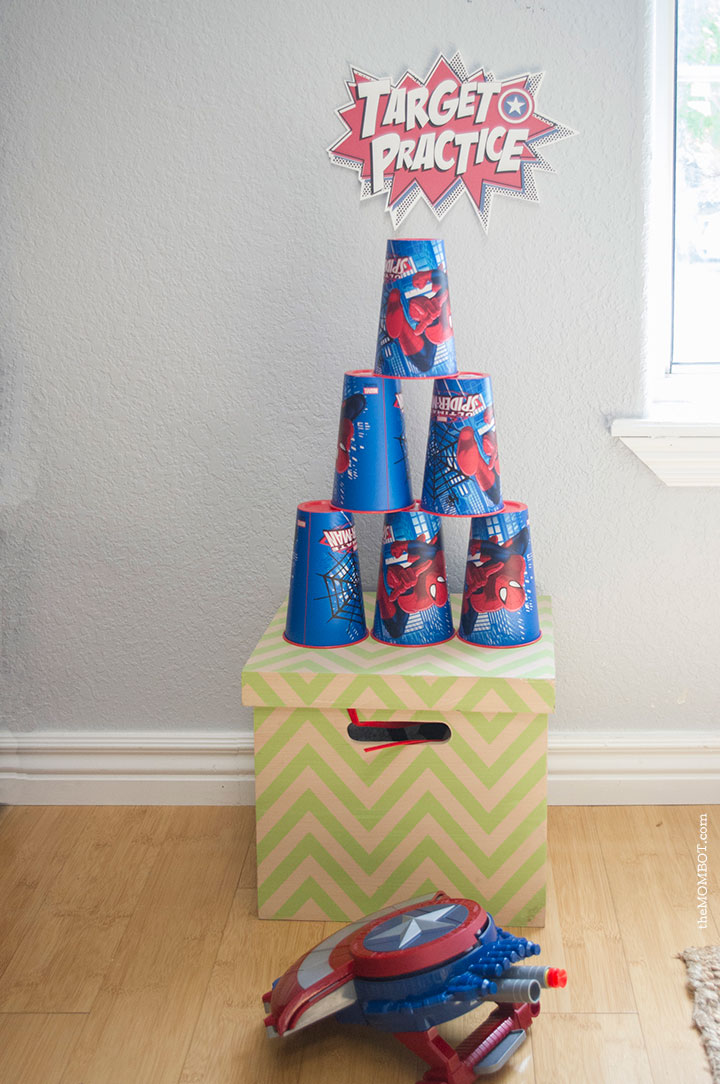 Target Practice: My loveable 4 year old was willing to share his new toy that he got for his birthday, a Captain America shield with darts. So I set up a Target Practice area indoors (it was too windy outside) with some Spiderman cups from the Dollar Tree. I even found a big package of darts at the Dollar Tree that fit the gun and worked perfectly, which was a blessing because I knew the two that came with it would get lost in about 1.2 seconds. The darts pretty much fell apart by the end of the party, but they were worth every penny.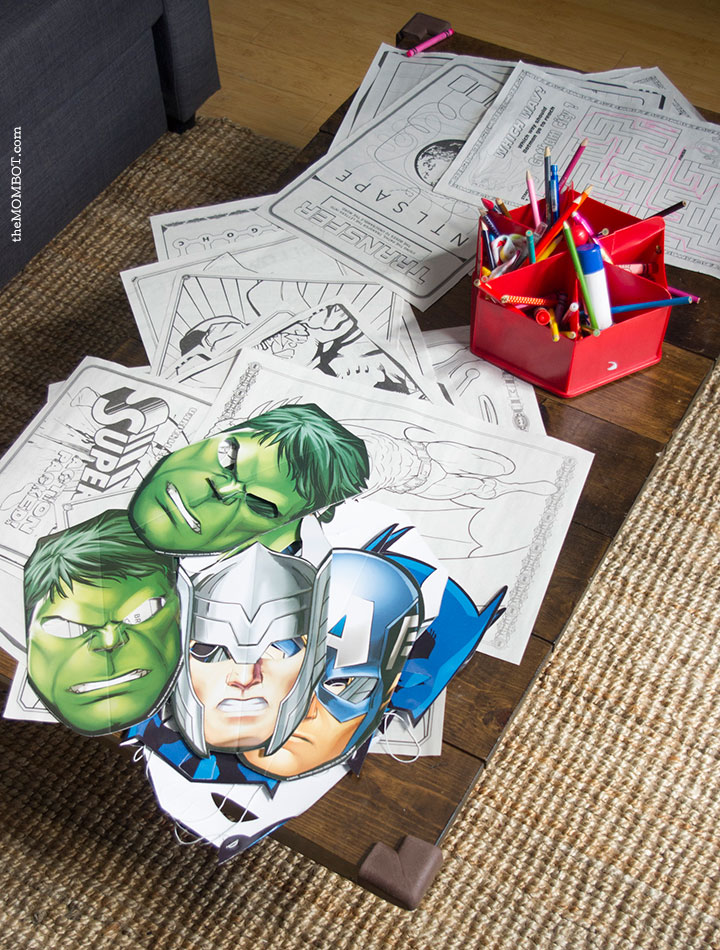 Coloring pages: Walmart currently has huge coloring/activity books for $1 and a few of them were superhero themed. I thought this was a great idea… but not many kids thought this was as cool as I did because they sat there untouched. Pssshhh. Whatever.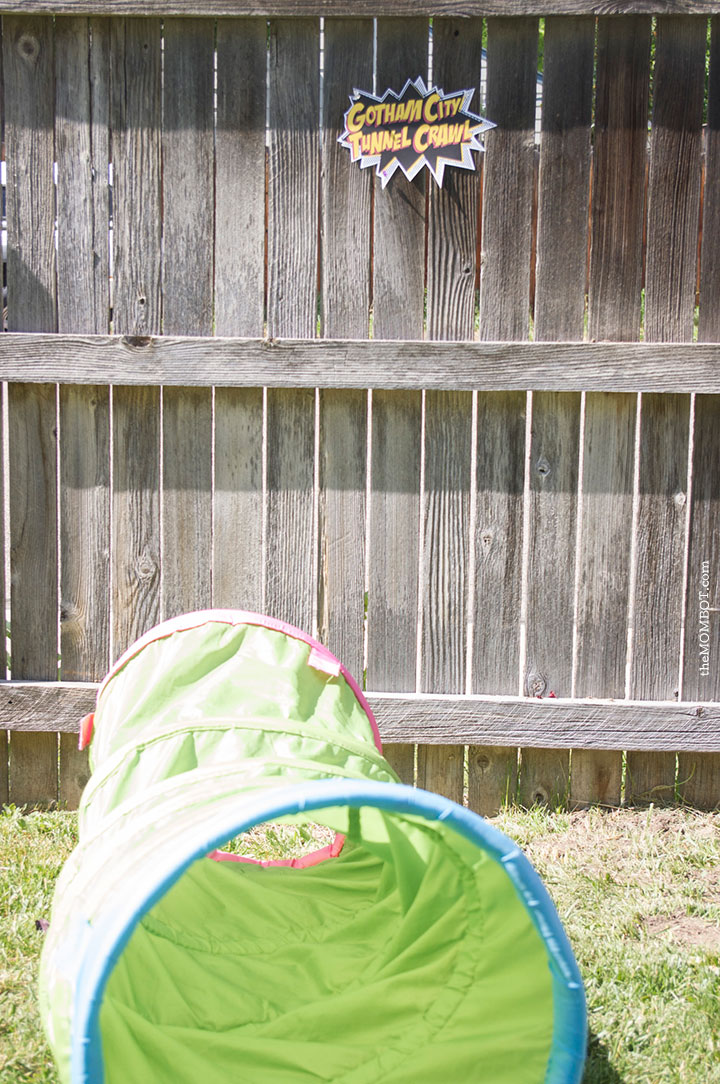 Gotham City Tunnel Crawl: Set up a tunnel. Let kids crawl through it. Done.
Superhero Party Favors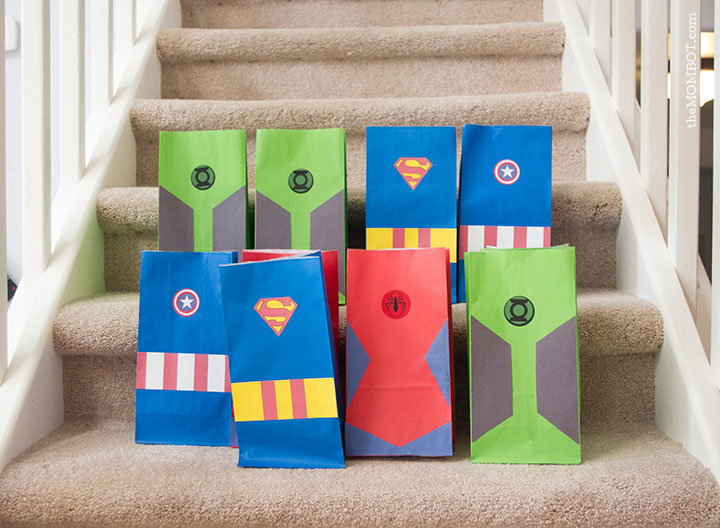 I saw this great idea on Pinterest. These colored bags were 3 for $1 at Walmart. So I grabbed some of those and printed out some designs or used construction paper to make them look like their respective superheros.
I stuffed them with an 89 cent superhero-themed Matchbox cars (from Walmart), a Spiderman spinning top (Dollar Tree) and some lollipops.
And that's it! Superhero party success. Nevermind I was really sweaty the whole time. I managed to get in a piece of pizza and a cupcake, so all was well. And it started raining about 30 minutes after everyone left, so I guess I should count myself lucky when it comes to weather!
*disclosure: post contains affiliate links