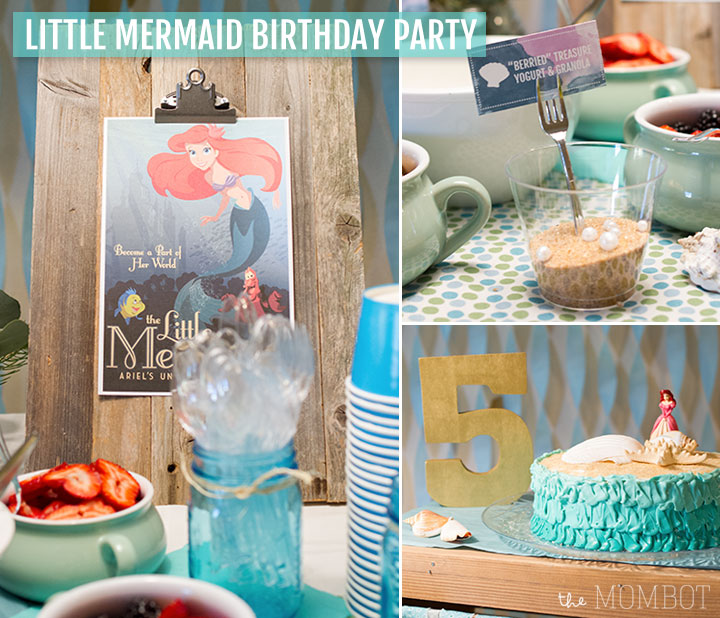 I both love and hate birthday parties.
I have fun planning them and setting them up, but I also stress myself out and always try to accomplish way too many projects. I think I fared slightly better this year; I only party prepped until about 9 p.m. the night before and had plenty of time to set stuff out the next morning before the party began. Granted, I worked on setting up and baking goodies for the party all day on Friday, but that's beside the point.
I had so much fun with this party because there were so many great ideas on Pinterest and because I'm a big Little Mermaid fan (who doesn't love herself a little Ariel?). When my daughter said she wanted a mermaid party, I was all in.
I kept the Disney side of it to a minimum and tried to class it up a bit with watercolor details on the labels, signs and invite and a blue/turquoise color scheme. I kept some of the classic elements of The Little Mermaid by using mini forks (aka "dinglehoppers") to hold the food signs and using clever wording to name the treats.
Here's a preview of how it all went down: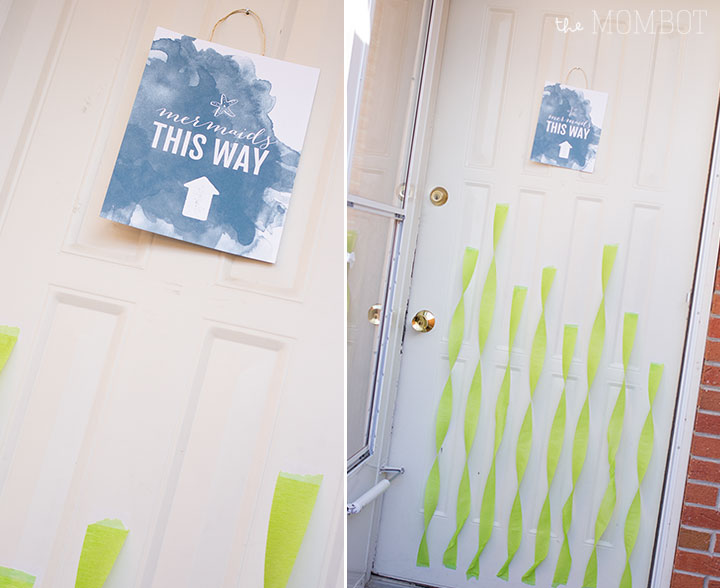 The front door was decorated with a "Mermaids this way" sign and seaweed made from green crepe paper.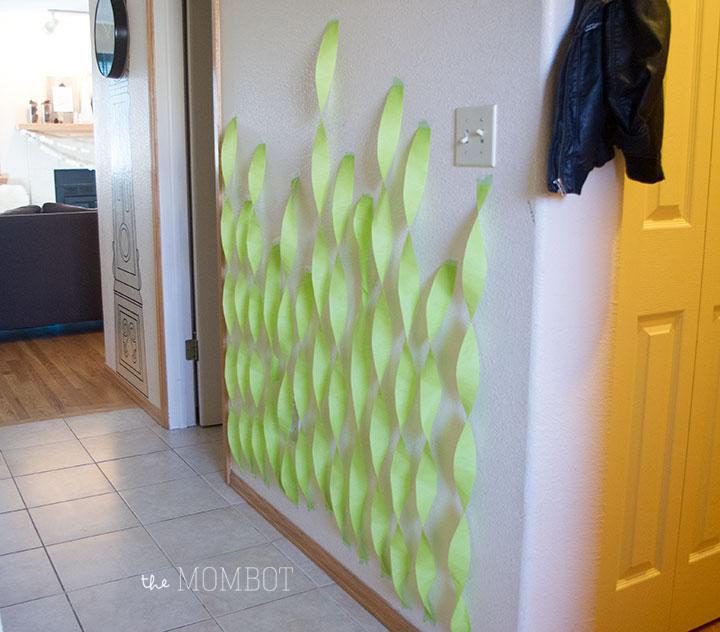 The hallway entrance also got some seaweed embellishments.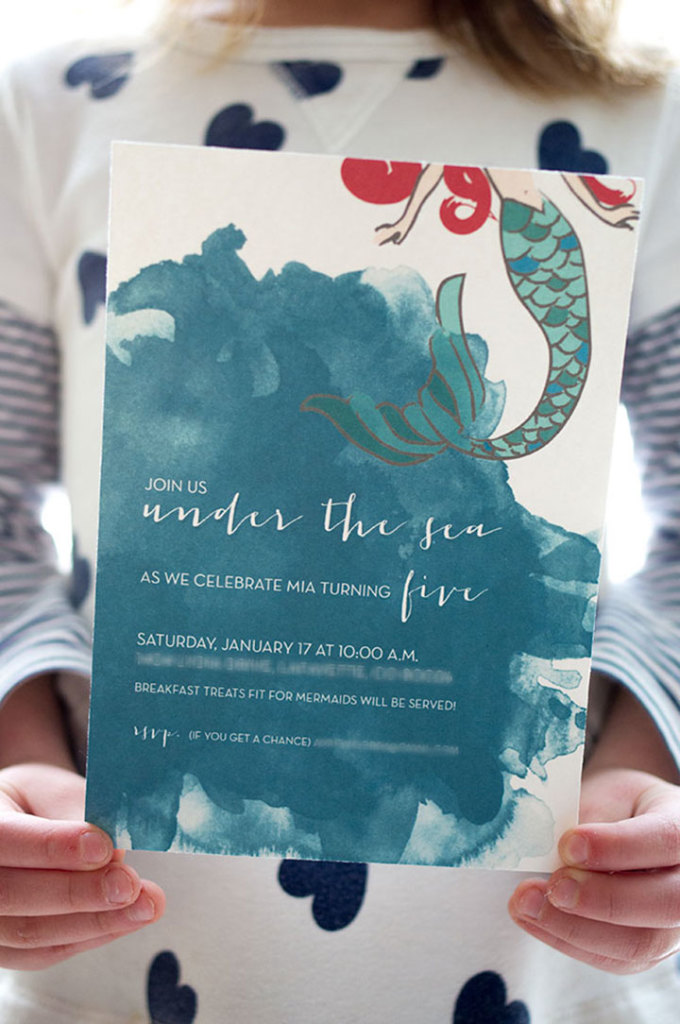 The invitation. Available in my Etsy shop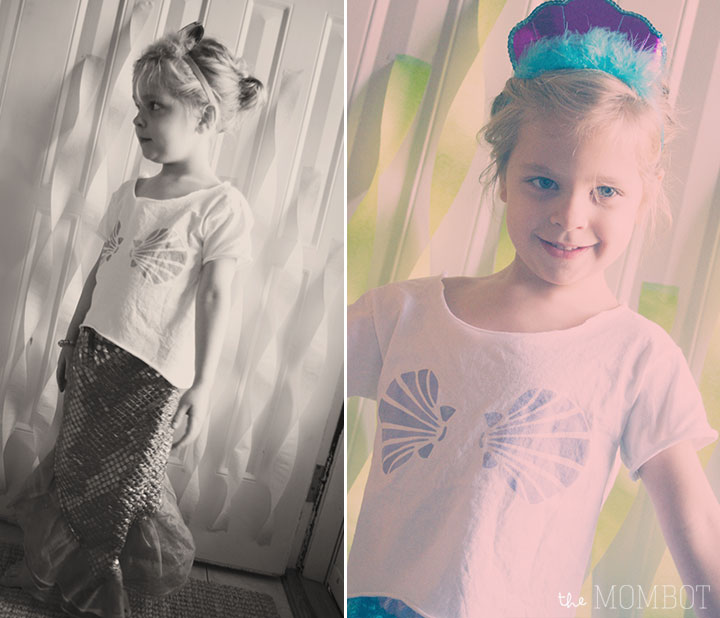 I made my little mermaid a seashell t-shirt, which I think is adorable. She wasn't too crazy about it because it was far less flashy than her mermaid top that came with the skirt she is wearing, but I eventually convinced her to wear it. I bought the t-shirt at Hobby Lobby for $3.99 and cut the neckline, sleeves and bottom hem (which I made shorter in the front than in the back). Then I created the seashell design (available in my Etsy shop as part of the party package) and printed it on transfer paper and ironed it onto the shirt – so easy! Then I washed it and rolled the edges of the shirt a bit.
Little Mermaid Party Table Decor

I covered the table with a white tablecloth and scraps of fabric that I already owned in the color scheme. All of the plates, napkins, cups and even the sand buckets were from the Dollar Tree.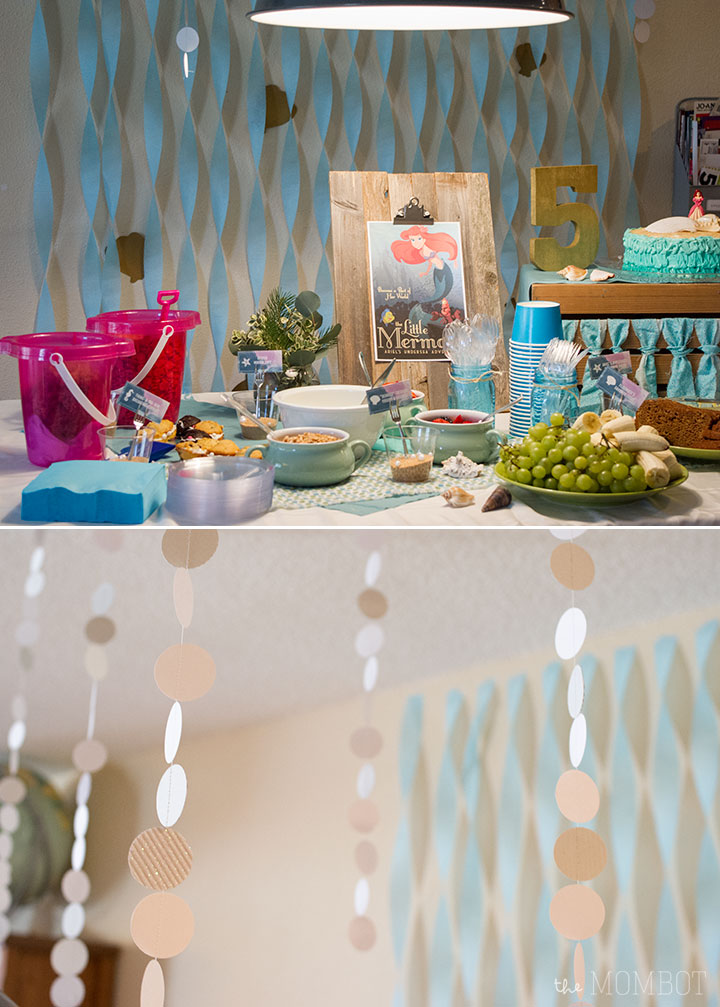 The backdrop was meant to look like waves made from blue crepe paper. I've also got some gold seashells taped behind the waves that I drew and cut out from gold posterboard. I sewed together some white and sparkled cardstock to create "bubbles" that hung from the ceiling.
Little Mermaid Birthday Cake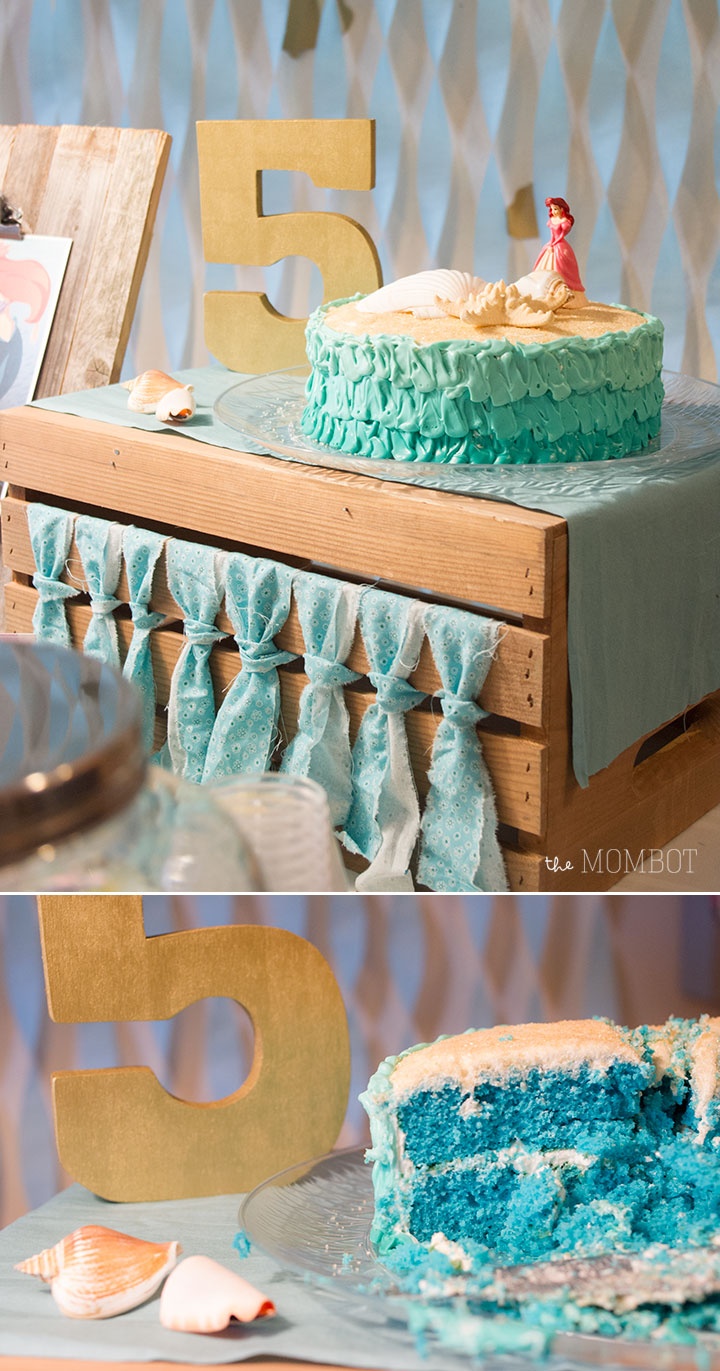 The cake was pretty impressive, if you ask me (because I am definitely not a baker). First of all, the inside was a crazy blue color. Did you know they sell blue velvet cake? They do. One the outside edge, I created an ombre wave effect with icing and I covered the top with turbinado sugar, which looked like sand. I also added some seashells (purchased at Michaels) and a little Ariel figurine that I bought at the Dollar Tree. The cake was good – probably because it was LOADED with sugar…
Little Mermaid Birthday Party Food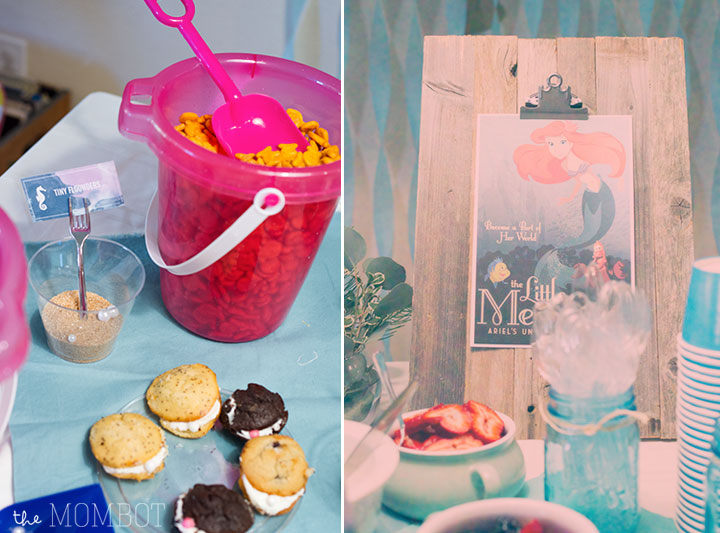 One of my favorite features on the table was the food signs. I found mini forks at the Dollar Tree and stuck them in plastic cups filled with sand and a couple of pearls. Then I wove the food sign through the fork prongs. Voila – the perfect "dinglehopper" sign holders (available in my Etsy shop).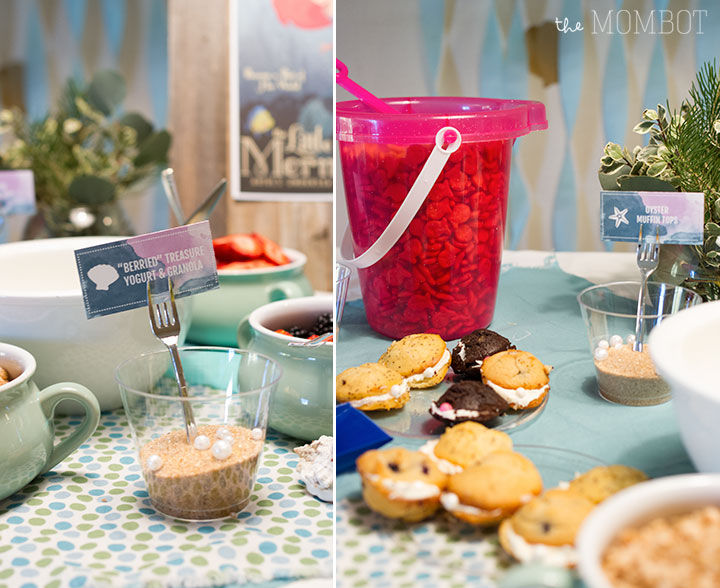 Some of the breakfast goodies served included "tiny flounders" (i.e. goldfish), "oyster muffin tops," "berried" treasure yogurt & granola, "thingamabob breakfast cookies," and "Ariel's applesauce cinnamon bread."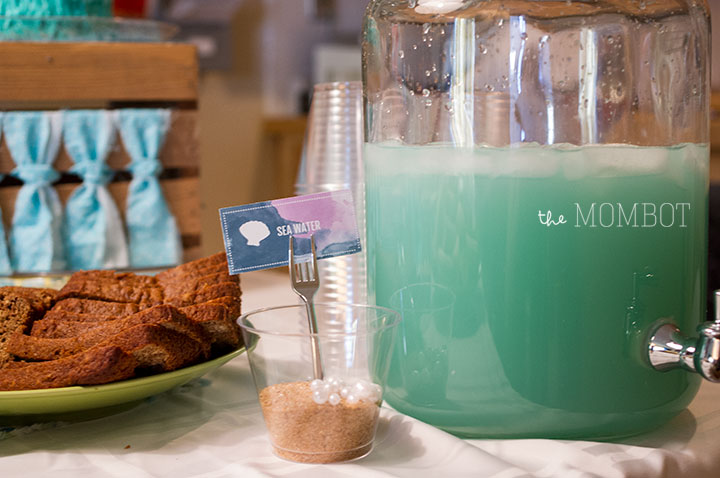 We also needed a fancy drink, so I made "sea water" using lemonade, water and a packet of Kool-Aid blue lemonade mix.
Little Mermaid Birthday Party Games & Crafts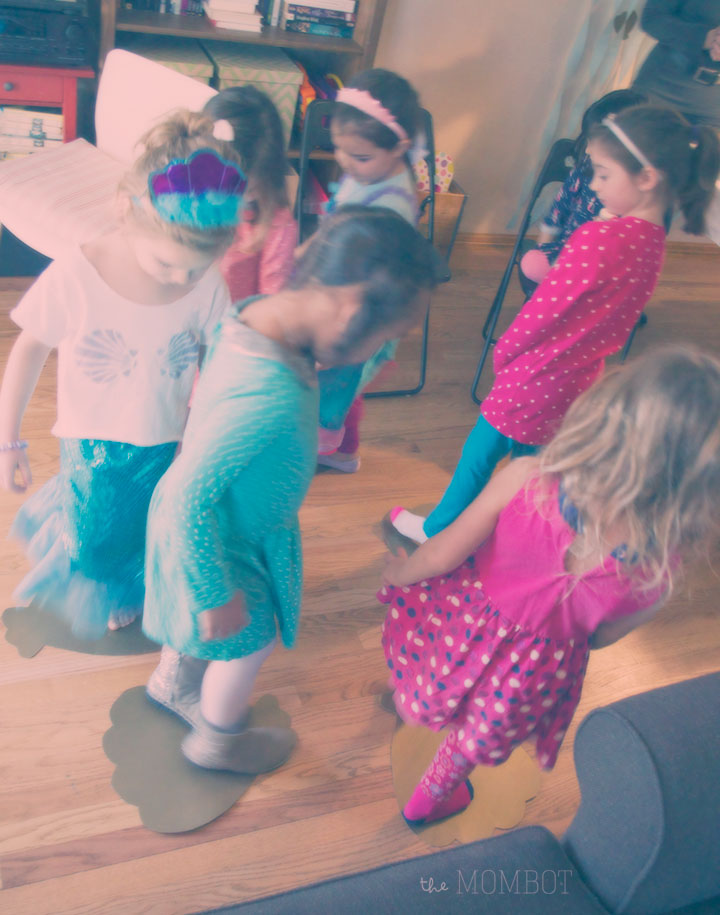 The girls played a game of "find the pearl," which they thoroughly enjoyed. I cut out seashells from gold posterboard and glued a white circle to the bottom of one (which acted as the pearl). Then they went around in a circle while music played and when it stopped they each picked up their seashell to see who had the pearl. The winner got some bubbles (see below). We played until each girl won (because 4 and 5 year olds can get pretty crabby about that sort of thing).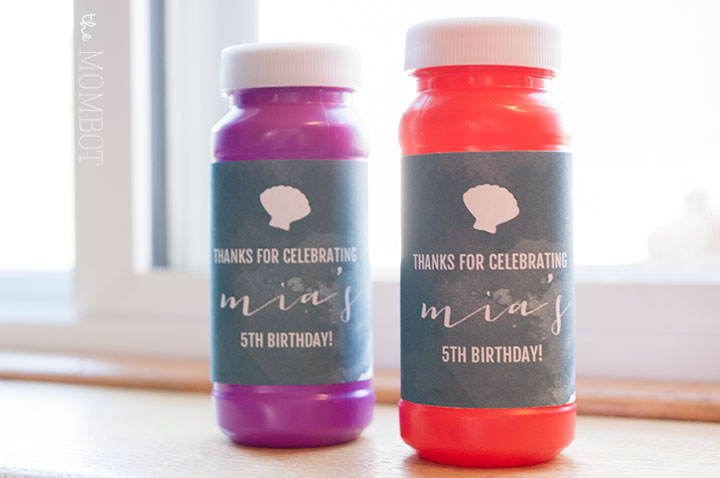 Labels available in my Etsy shop as part of the party package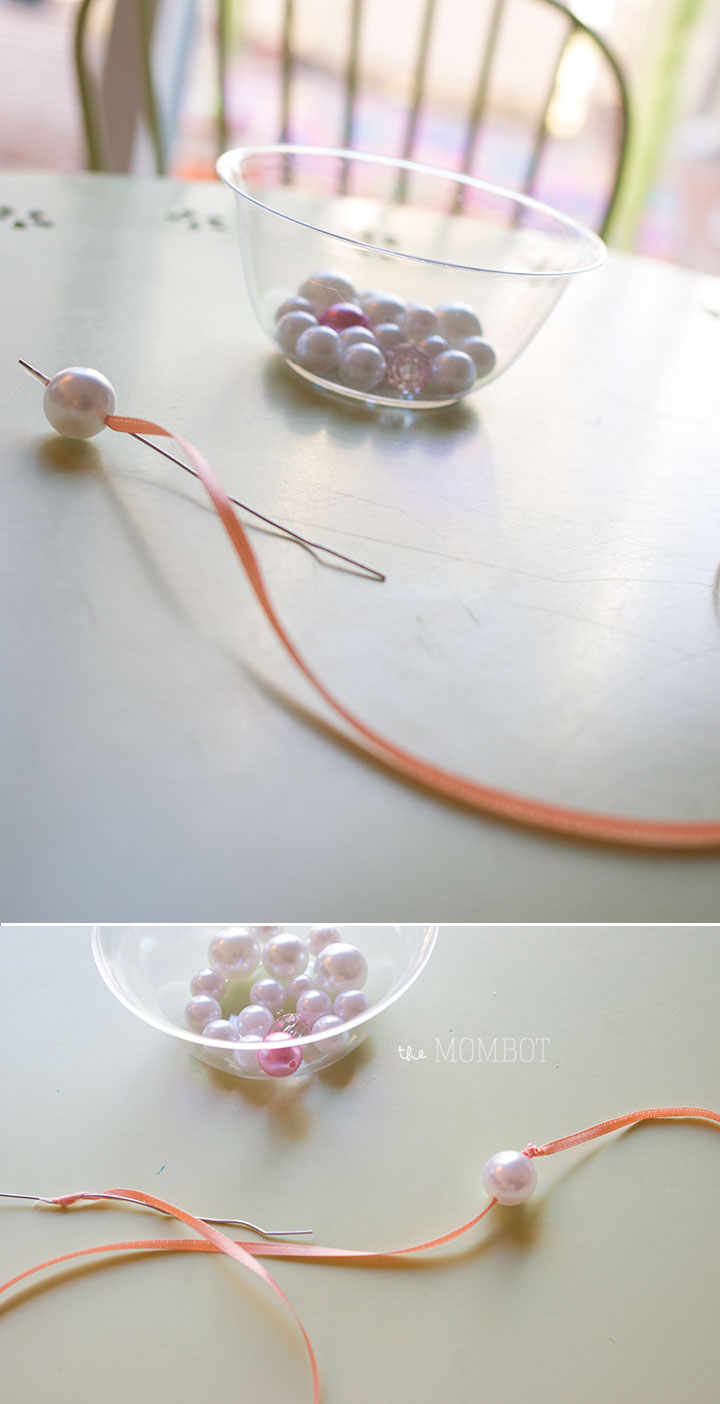 I'm a big fan of having a take-away craft at each party, so this year we made pearl necklaces. I pre-cut and knotted thin ribbon and then (using a very small amount of tape, otherwise it won't thread through the pearl) attached a paperclip to the end of the ribbon that wasn't knotted. The girls used this as their "needle" to thread through each pearl. After they had thread all their pearls, I knotted the other end of the necklace and tied it around their necks. Aren't these girls adorable??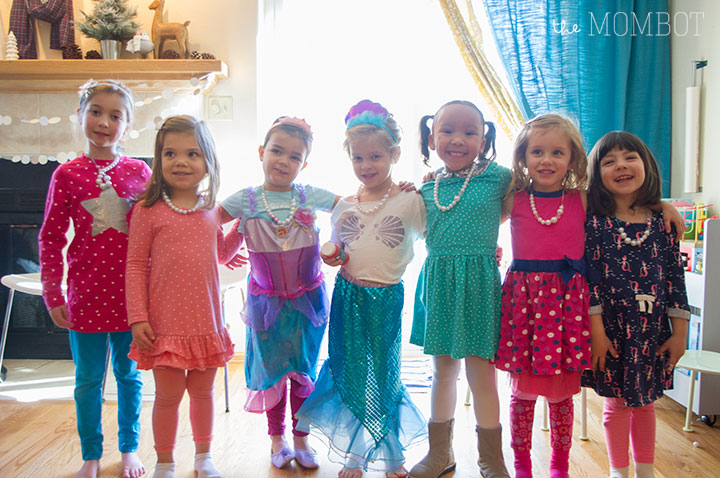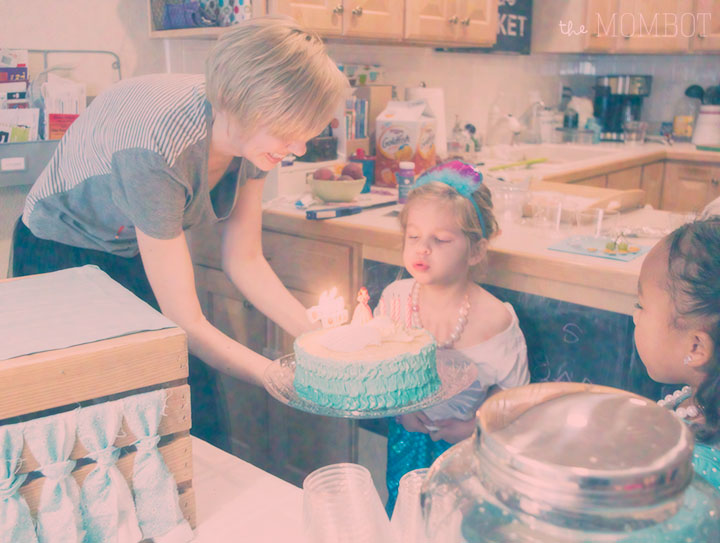 After all the fun and festivities, it was time to cut the cake and sing "Happy Birthday."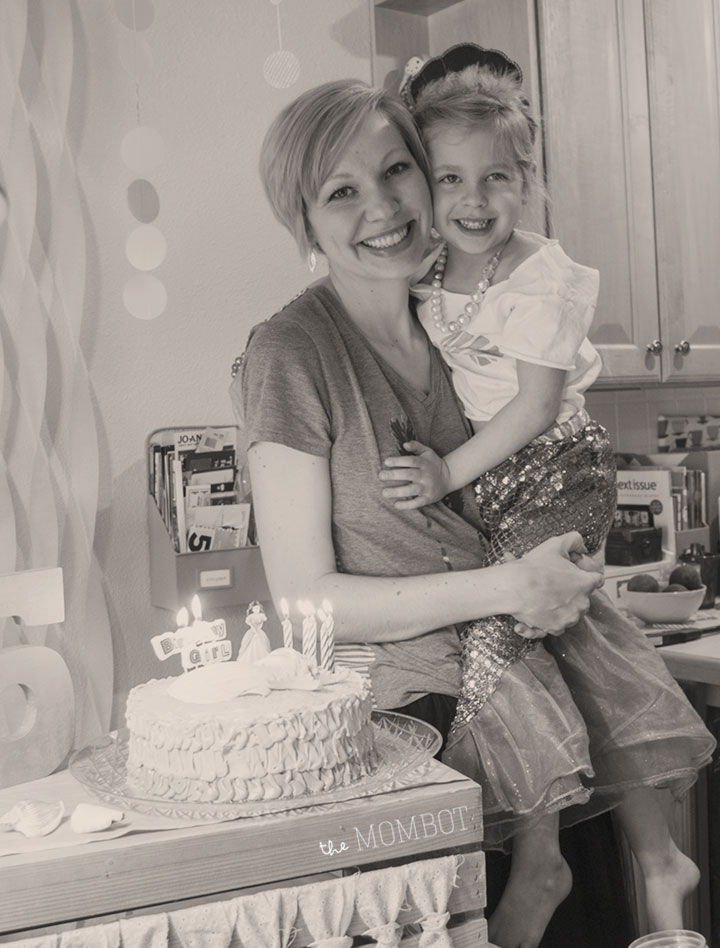 Another year, another party. I can't believe I have a five year old. (If only she weren't pushing on my boob in this picture…)