Friends, I have been wanting to write this post for a while because I am so in love with this product.
This is not sponsored, and I'm not getting paid to rave about it, I just really like it.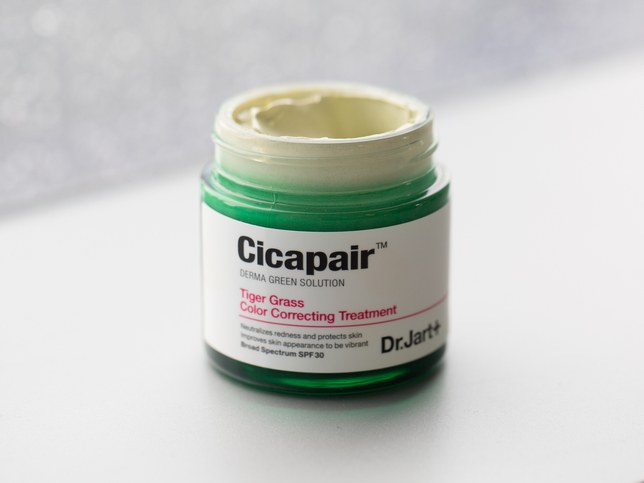 photo via Glamour.com, Emily Kemp
 Back story: I don't like makeup. I mean, I like how it makes my face look better. But other than that, I'm not a fan. I've always had very fair skin (What? You haven't noticed?) and an oily complexion. In high school, I would wear foundation, because that's what people in high school did in the early 2000s. But I hated it because as my face produced more oil throughout the day, the foundation would basically wipe off – plus, it just felt gross on my skin. No one likes a heavy-feeling makeup, and quite frankly, I don't think it looks all that great either.
So once I got wise, I started just wearing concealer for red spots/acne and loose mineral powder. I am a HUGE fan of the mineral powder from Mary Kay. I've used it exclusively for many years and love the coverage it gives. If you have never found something you like, I suggest you find yourself a local Mary Kay girl (their website makes it easy) and order some makeup. Everything is returnable if you don't like it. Anyway, that was a sidenote.
Moving on…
While I like my mineral powder and found it to be ok, I have always wished that I had a more even complexion. And then I came across a post on Glamour.com about Cicapair Color Correcting Cream (it's also been raved about by Allure Magazine). One of their editors tried it out and her before and after pictures were pretty convincing. Her skin tone was even, matte, and pretty: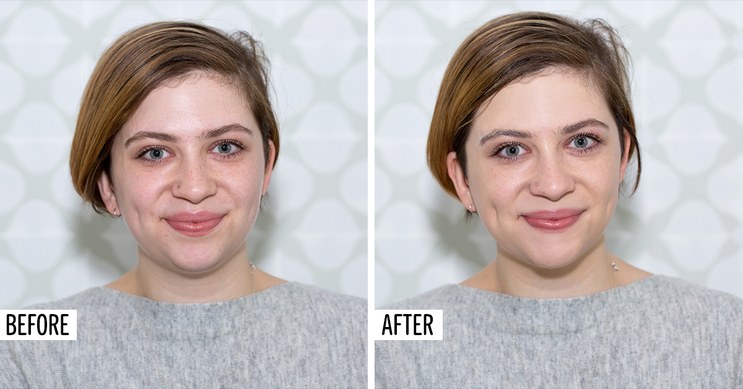 photo via Glamour.com
Hoping to have found miracle cream (don't we all?), I decided to give it a go.
Here's a little about Cicapair (by Dr. Jart+) – taken from their product description on Amazon (cause they can explain better than I can):
Cicapair™ Tiger Grass Color Correcting Treatment is the all-in-one treatment that includes a color-changing capsule within the formula to cover blemishes and restore the look of the skin's strength, health, and vitality. It provides SPF 30 protection from UV light, and it forms a dust barrier to protect the skin from the environment while enhancing the skin's viability. It restores the strength of skin with the resurrection plants, houttuynia cordata and yarrow. It's infused with sodium, potassium, calcium, and magnesium to help improve the skin's moisture levels and restore fatigued skin for a healthy appearance.
Here's what I love about Cicapair Color Correcting Cream:
It's lightweight, I can't feel it on my skin (I apply a small amount)
It evens my skin tone and really does help reduce redness (I still use concealer on bright red spots)
With powder, it creates a truly matte look
A little bit goes a long way (this jar will last for a long time!)
It has SPF 30 – very important for my fair skin
I guess tiger grass is something tigers in India actually roll around in to help heal their wounds, so the restorative power of this stuff is the real deal. I have definitely noticed it helping with my patchy dryness as well. It goes on green (which helps balance out redness), and then blends into your skin tone as you apply.
Alright, prepare yourself because you're about to see some really close up images of my face sans makeup. I apologize in advance.
Cicapair Color Correcting Cream Review: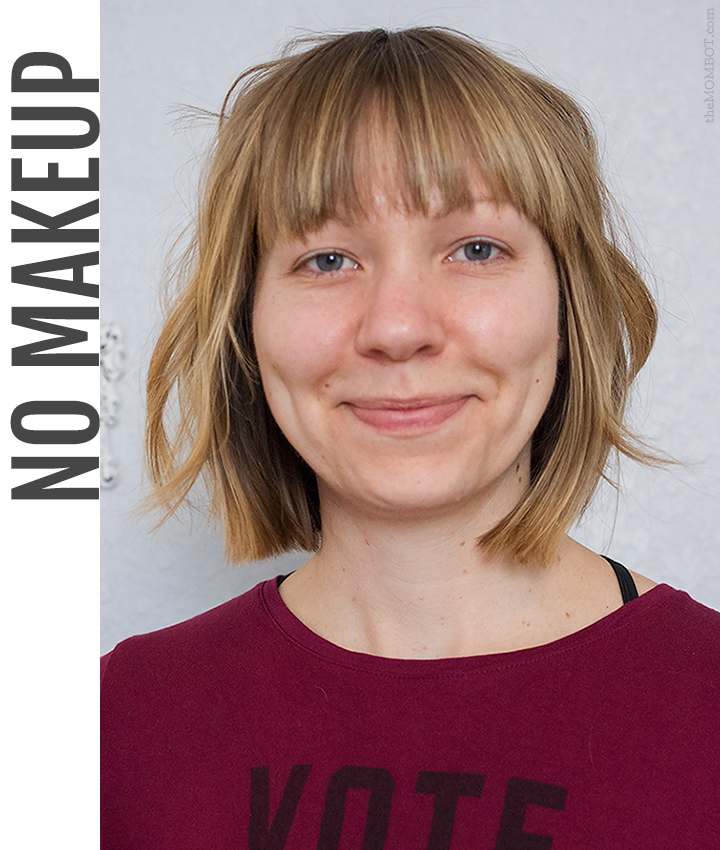 No Makeup. Good morning, sunshine! (I look a little drunk)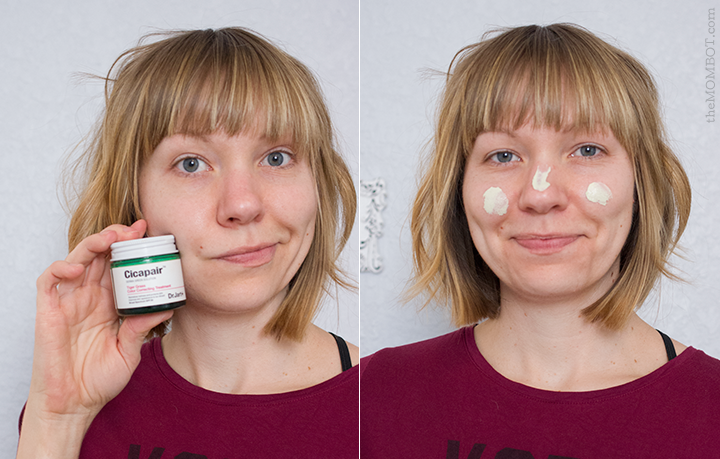 Cicapair application. I only apply to my cheeks and nose and then spread it out under my eyes and down to my chin and jawline. I don't do my forehead because that's where I produce the most oil and don't want product on it (plus I have bangs that cover it, so why waste makeup on something you don't see?). I put a little more cream on than usual for these photos. The amount I use is quite minimal. It can feel heavy if you use too much.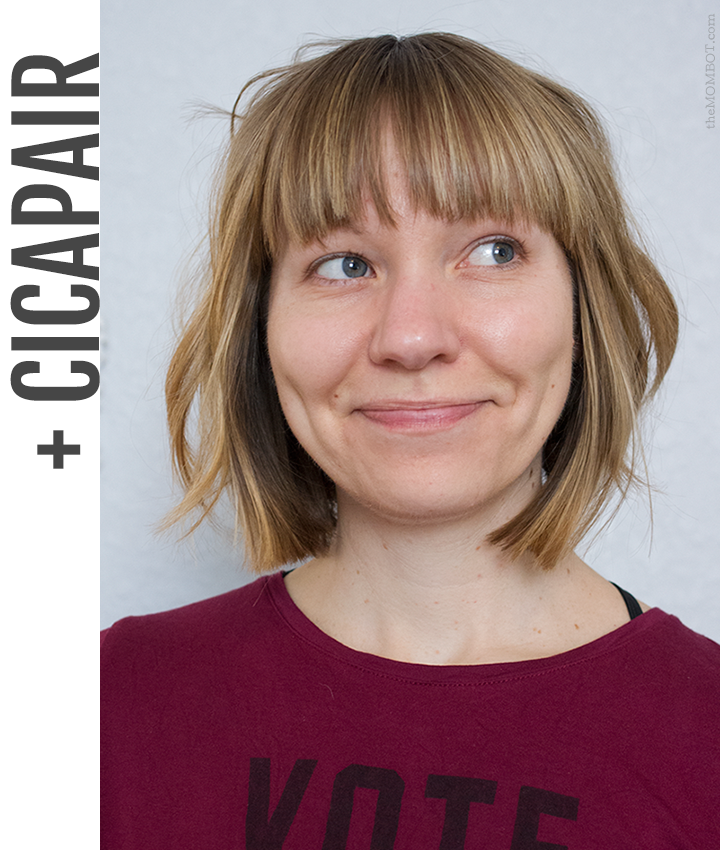 With Cicapair. This is with the Cicapair and nothing else. The real magic comes (I feel) once loose powder is applied. But even without it, you can see some of my redness reduced and my skin tone evened out. The shininess is also improved. See?:
and now with powder…
Cicapair + full makeup. And here we are with full makeup ("full" is a loose term) – Cicapair, mineral powder, concealer for trouble spots, blush, light eyeliner and mascara. Oh, and chapstick. I either constantly have chapstick on or red lipstick. There is no in between for me.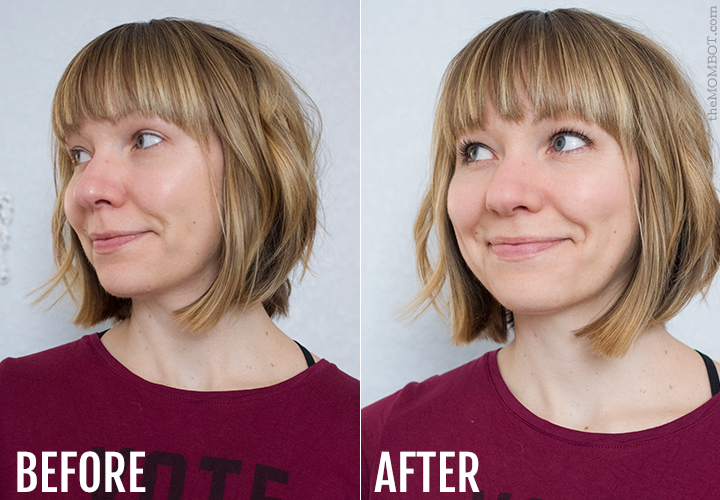 Here's another angle that shows the importance of powder for a full finish (on the left I have the Cicapair on, and on the right I have full makeup).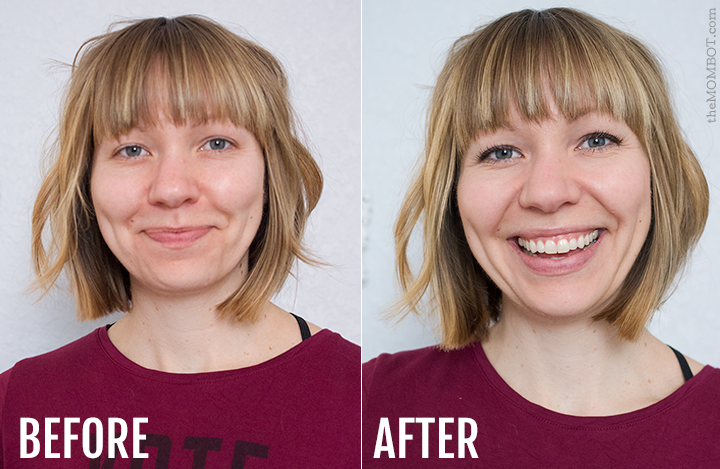 And here's another before and after – no Cicapair to Cicapair + full makeup.
See the difference? You could literally put this stuff on with a bit of blush and some chapstick and you would look fresh and ready to go. This is how many who don't usually wear any makeup choose to wear it, according to the raving reviews on Amazon. I've also read from several ladies that it helps tremendously with rosacea.
Truthfully, I think it is really helping keep my acne at bay as well. I feel like my skin looks better than it has in years! Now at $52 a jar, it's not cheap. But it is SO worth it, especially considering how long it lasts. The older I've gotten, the more I've realized that good makeup is worth the price. I rarely buy anything at the drugstore anymore, just because, let's face it, it sucks.
Where to Buy Cicapair Color Correcting Cream
Give it a go, ladies. I don't think you'll be disappointed. I bought mine on Amazon with free Prime shipping (yas), but you can also purchase it from Sephora.
Let me know if you have questions in the comments below!