A few months ago, my girlfriend gave me her son's play kitchen since he had outgrown it (which you can see in my kiddos' nautical themed room). My daughter loves banging the pots and pans and pushing the microwave buttons while saying "beep, beep, beep." I know she'll have more creative play with it as she grows (like actually pretending to cook instead of just shoving her stuffed animals in the oven and saying "uh oh!").
In the meantime, I want to make some cute felt food for her to play with (because washable is always good). So today's Link Love is a roundup of felt food tutorials, patterns, and ideas in hopes that I will get inspired enough to actually sit down and make some!… a mom can dream, anyway.
Felt Milk & Cookies Pattern ($)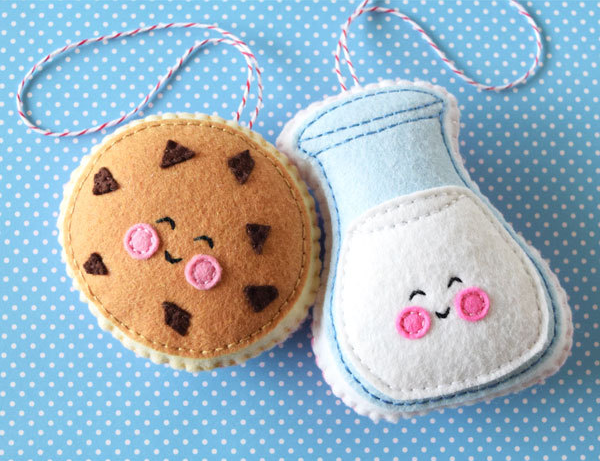 These felt milk and cookies could not be cuter! You can purchase the pattern for $7.50 on Etsy.
Felt Cupcakes Pattern (Free)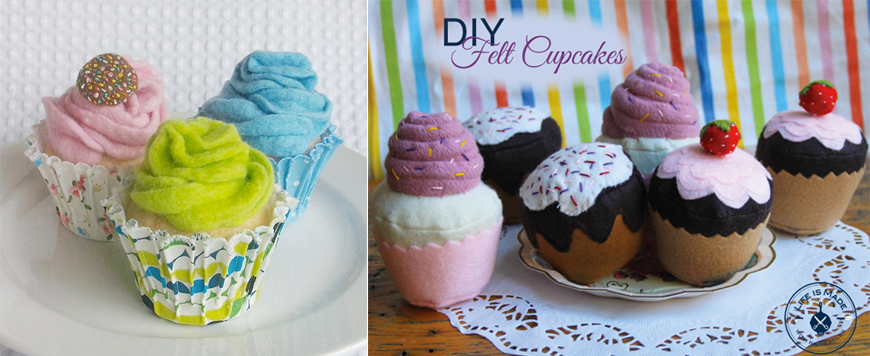 There are lots of felt cupcake tutorials on the web, and even the ones that don't have pattern (like those pictured on left from Flickr) would be pretty easy to create. But if you prefer a pattern, Life Is Made has a great free tutorial and pattern (pictured right), and there's another great free tutorial here.
Felt Donut Pattern (Free)
You can download a free pattern for these cute felt donuts on OhDeeDoh.
Felt Ravioli and Farfalle Patterns (Free)
You can also learn how to make some fun types of pasta on OhDeeDoh; the ravioli and farfalle (a.k.a. bowtie pasta) look super-easy!
Felt Strawberries Pattern (Free)

What a cute craft to do this summer! These little felt strawberries are available as a free pattern from While She Naps.
Felt Muffin Set Pattern ($)
You can buy the pattern for this adorable muffin baking set for only $5.50 at American Felt and Crafts. I love the flour and sugar bags, and it's a good way to teach kids about ingredients and the process of baking.
Felt Tortilla Chips Pattern (Free)
How cute is this bag of tortilla chips? Craftiness is Not Optional has a ton of great felt food tutorials on her blog.
Felt Food Inspiration
While these items don't have tutorials to go with them, they are great for inspiring you to create new things!
Felt Mini Cakes (Image: Flickr)
Felt Fruit (Image: UmeCrafts)
Felt Sandwich and Fixings (Image: Flickr)