A few months back I had someone contact me about the vintage Curious George birthday party that I had thrown for my daughter wanting to know if the invitations I had used were for sale in my Etsy shop.
I told her that unfortunately they were not, because the Curious George images I used for the invite and decor were scanned from books and therefore, licensed. There is quite a lot of licensed material being sold on Etsy for birthday party invites and decor and I wish I could throw the stuff I have done for my own personal events into the mix, but I don't feel right about selling it since I'm not supposed to be.
——
UPDATE:
I have since created Curious George-themed invites that don't include any licensed images, but are awfully cute (if I do say so myself) and available in both pink and the traditional red: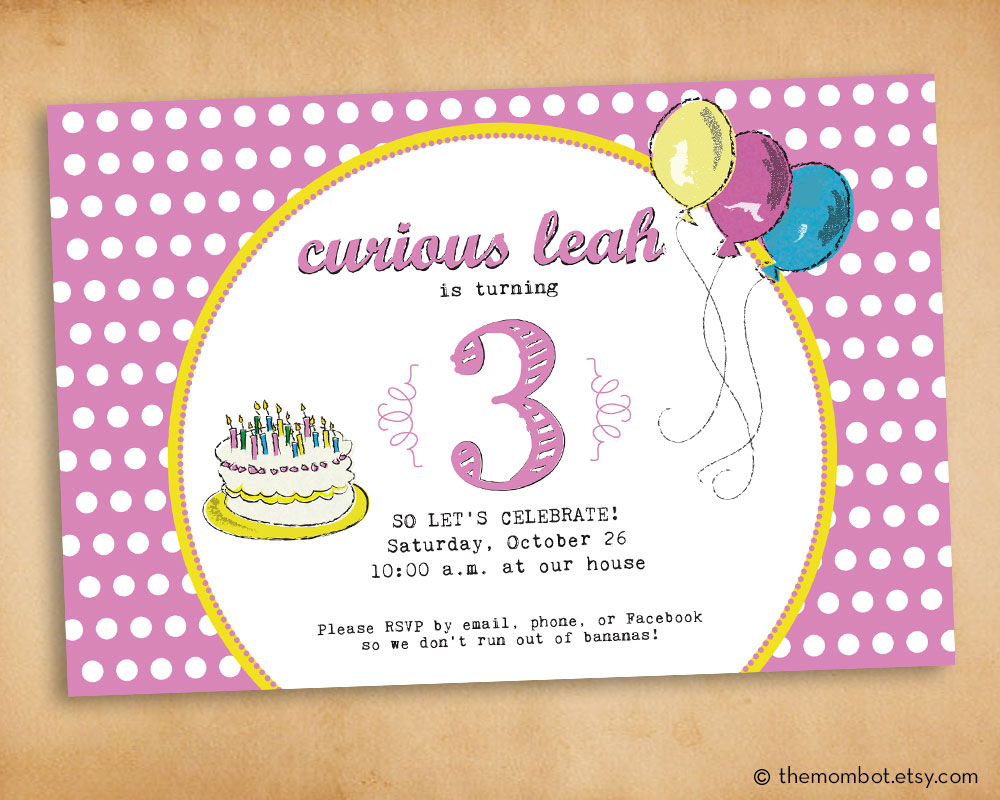 Anyway, my client (on a whim, I think) asked if I would sell her some party decor without the Curious George images and she would add those in herself, and I jumped on the opportunity! I know from experience that it isn't easy to find quality items when you are throwing a birthday party with licensed characters; you have a small pool to choose from of people who have been given the right to sell them and it's usually some pretty cheesy stuff.
She had a vision from the get-go and gave me some great direction. I was so happy that she had the skill to work with photoshop and add the Curious George images so that she could throw her little girl the party she envisioned. All-in-all, she was WAY more creative than myself when it came to ideas, and I loved seeing the original designs that I created for Mia transformed into something completely new!
We ended up working together to make an invitation, water bottle labels, party favor labels, banana tags, and an image that was screenprinted on top of the cupcakes. Everything was perfectly pink instead the traditional Curious George red.
I was so proud of the final product. Here are some photos of our collaboration:
To my client: Thanks for the fun opportunity! Call me next year when Grace is into "Dora" or "The Backyardigans"!
*wink*