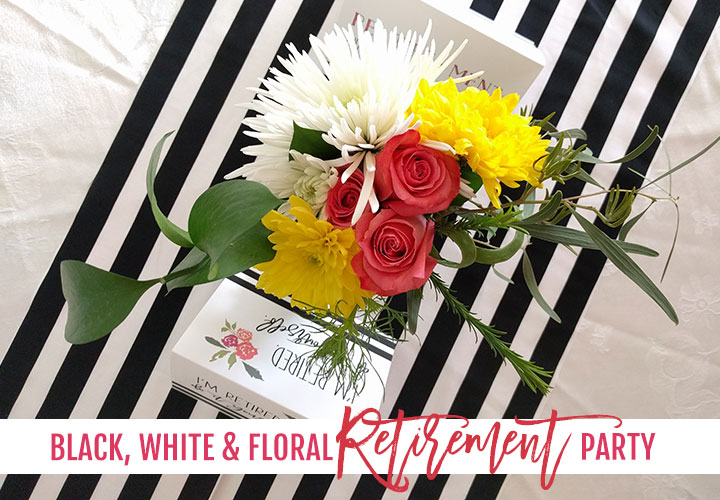 A couple of weeks ago, my family flew to California for both a family wedding and my mom's retirement party. That makes two retired parents for me, which is great because it means I don't have to throw any more retirement parties (ha ha). My dad retired a few years ago, and now my mom is taking a bit of an early retirement and they are packing up and moving to a house by the water in Michigan. Not too shabby, am I right? Not only did my mom work 40+ years in the workforce, but she grew up on a farm, so I'm pretty sure she came out of the womb ready to punch in her timecard. And so I say: well deserved, mom.
My sister and I wanted to honor our mom and her many years of service by throwing her a party that encompassed her favorite things. Well, favorite THING, really, which can be summed up in one word: pie. The woman loves pie. All kinds, really. And not just dessert pie – no. As a born and bred midwesterner, she was quite the casserole maker in her day. So it's no surprise that she also loves chicken pot pie.
So while I focused on putting together the decor, my sister slaved away making pot pie after pot pie after pot pie (thank God for Costco and their pre-cooked chicken breast and bulk frozen veggies). The dessert pies were all purchased from Marie Callender's however, cause that Marie makes a way better pie than I ever could.
Retirement Party Pie Table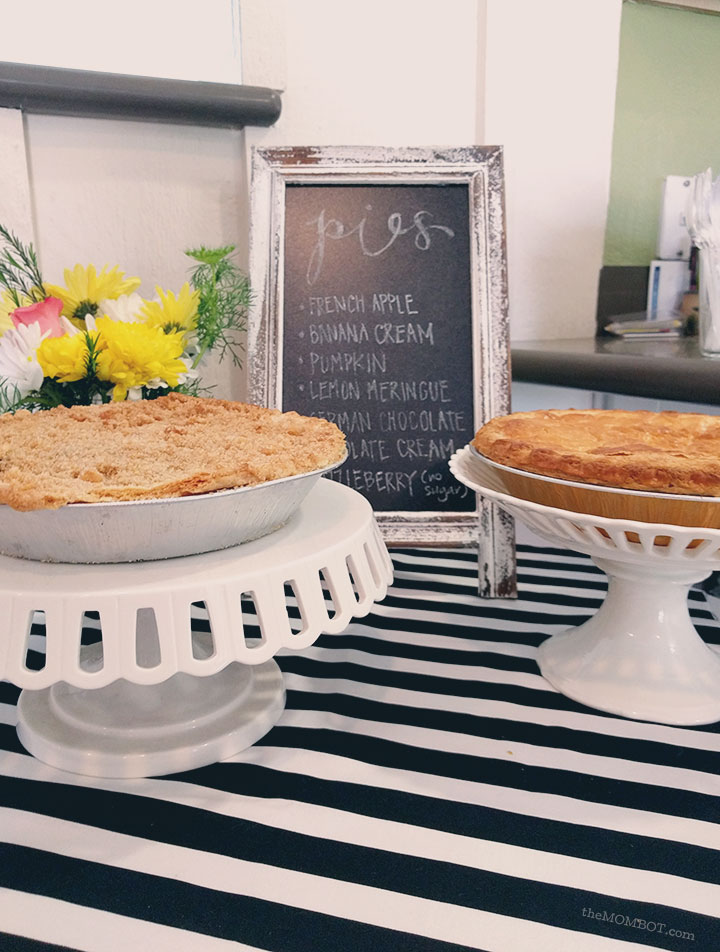 Retirement Party Decor Ideas
Because of their impending move, their house was void of pretty much all furniture. So it was easy for us to set up tables and chairs indoors. I decided on a black and white striped theme with pink, yellow and white florals and lots of greenery. The colors of the flowers really pop against the black and white, and it felt classy and on par for a feminine retirement party. We topped the round tables with white cloths and then I bought black and white fabric to make runners.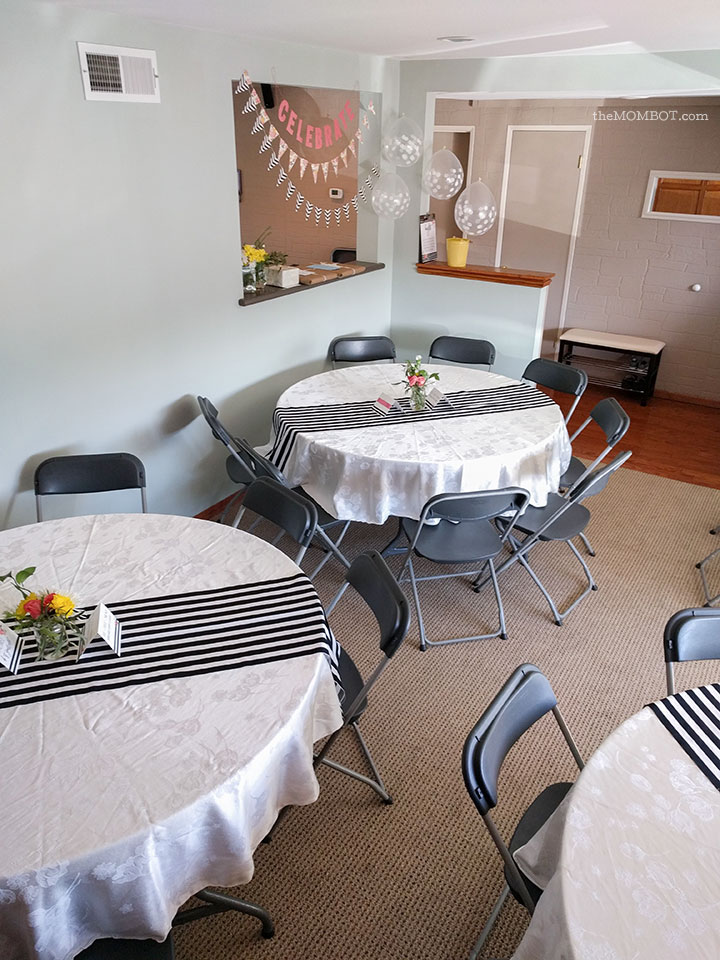 We deconstructed some wildflower bouquets and pink roses to create floral displays inside of mason jars for each table. I also made some matching signs for the tables with funny retirement sayings, just to set the mood [available for purchase here].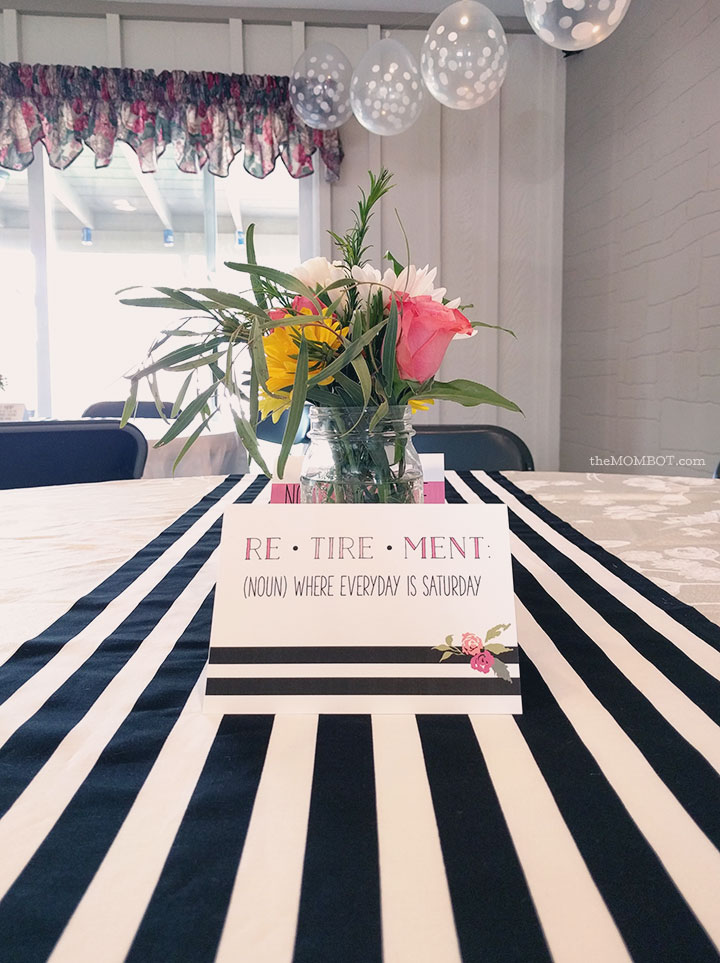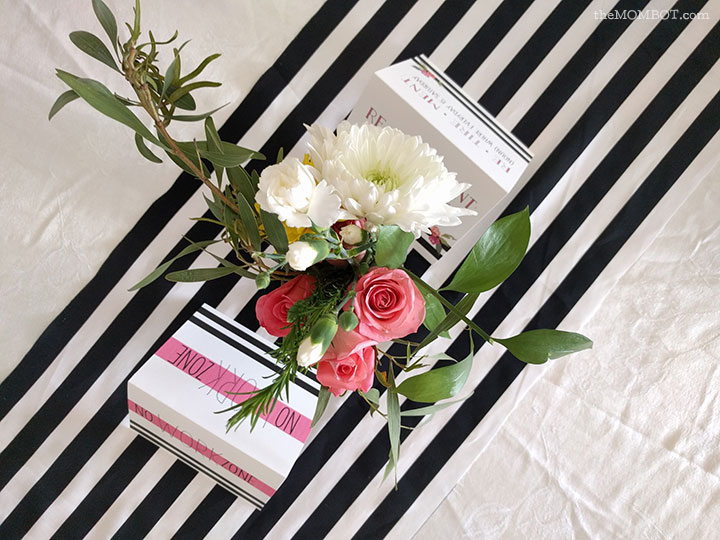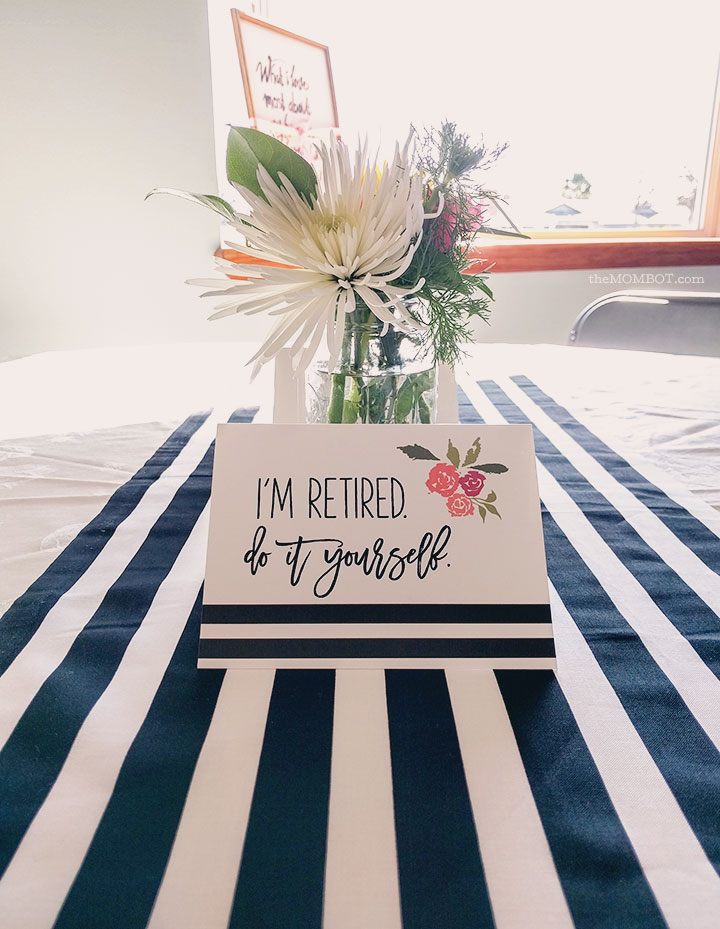 An adorable "celebrate" banner and reversible bunting were purchased for less than $20 combined on Amazon, and the polka dot balloons are the same ones I used at my daughter's art-themed birthday party and can be found at Hobby Lobby.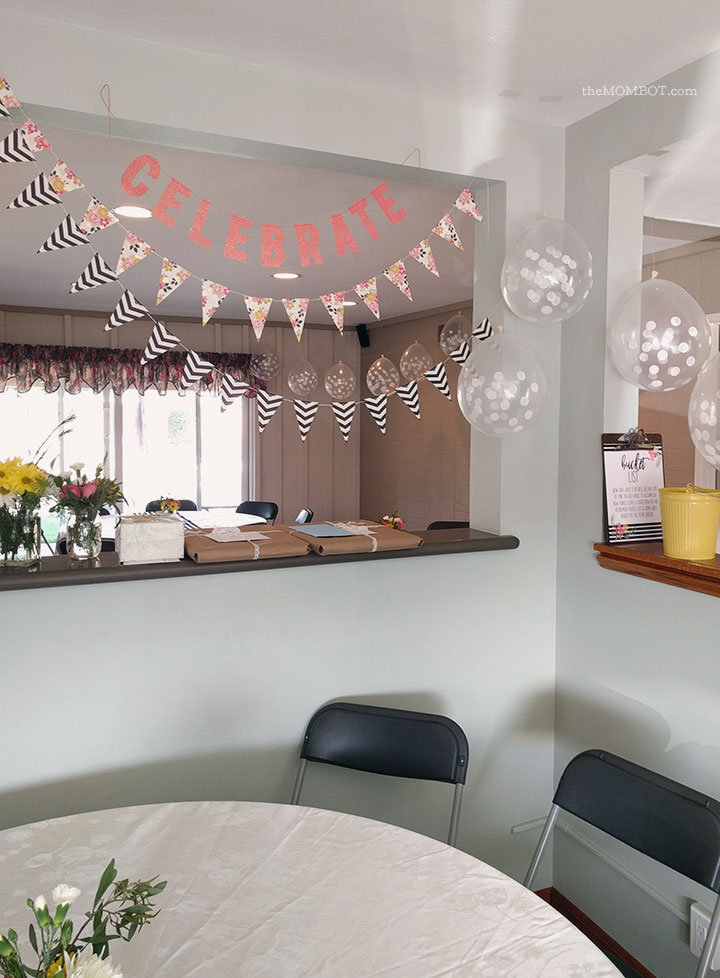 Retirement Party Bucket List Activity
I also made a Bucket List activity, just like I had done for my dad's retirement party a few years ago, so guests could leave my mom suggestions for life as a certified retiree. [ You can buy a similar Bucket List print here ]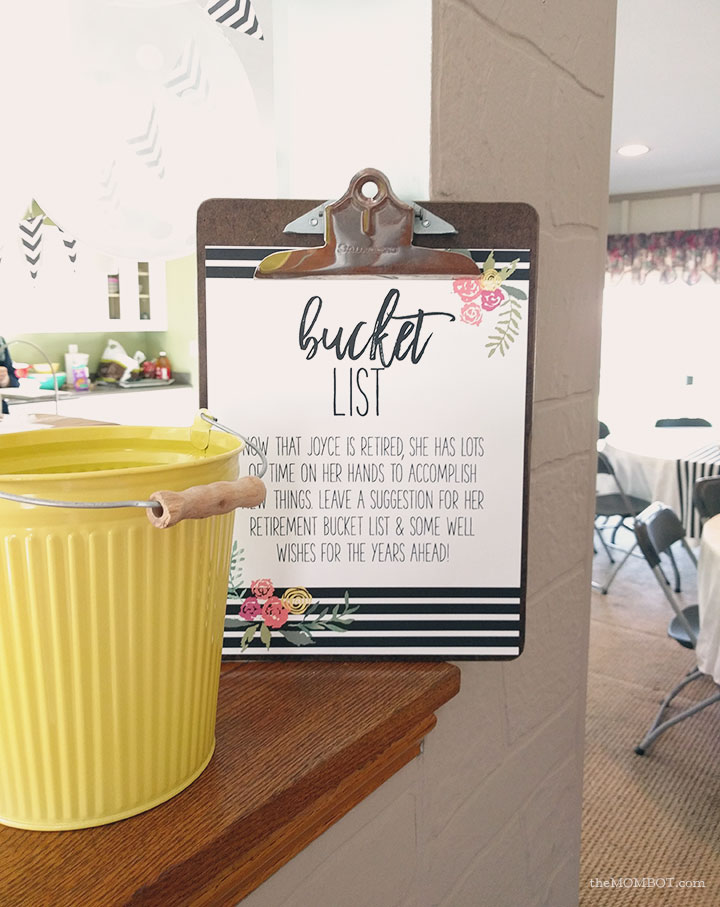 Cooking 10 pot pies in one oven was no joke. It didn't seem to be going very well at first and we managed to set the smoke alarm off [just once]. But because my sister and I are problem solvers, we figured things out eventually and finally unleashed the pot pies to the hungry guests. It may have been a bit unconventional for party food, but the pies were delicious and looked adorable to boot.
We also made a few vegetarian pot pies by just modifying a recipe and using vegetable broth instead of chicken broth and potatoes instead of chicken. These were made in a muffin tin using crescent rolls for the crust. They were almost too cute to eat.
The multitude of dessert pies really topped the night off.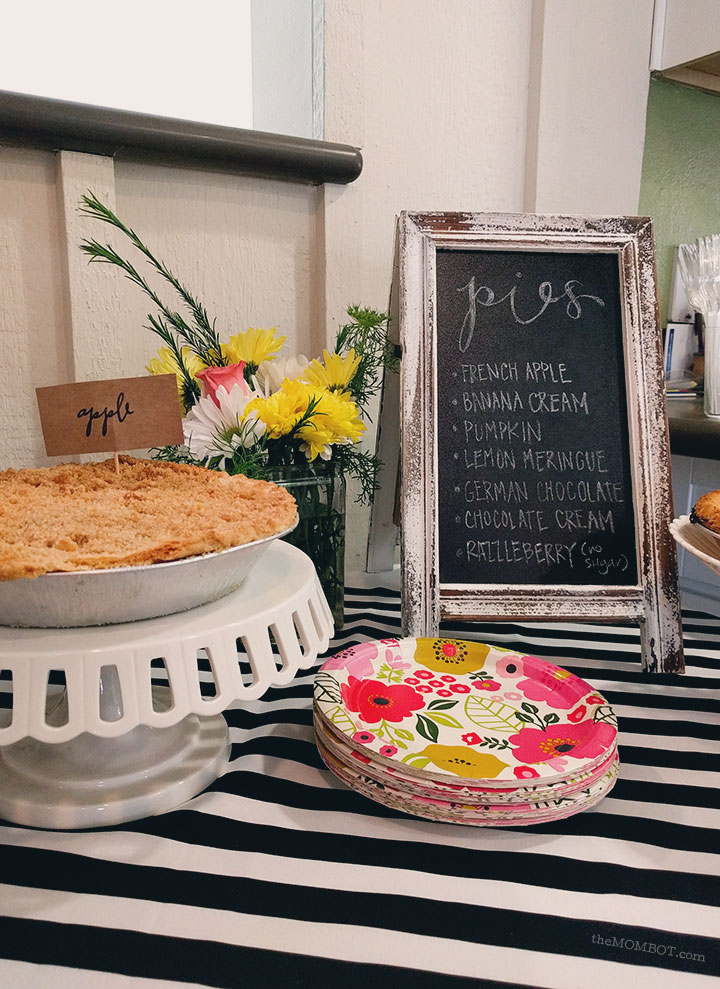 And after good food with good friends and family, the party was just what we had hoped for our hardworking mom.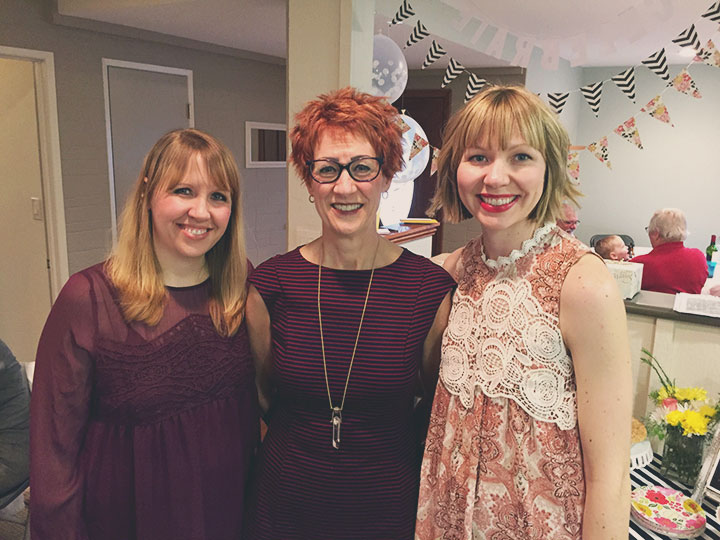 My sister and I ached from head to toe at the end of the day from hours of standing, cooking and decorating; but after a good night's sleep, we followed it up with a trip to the Warner Bros Studio lot and got to hang out on the Central Perk set from Friends. Smelly Cat, anyone?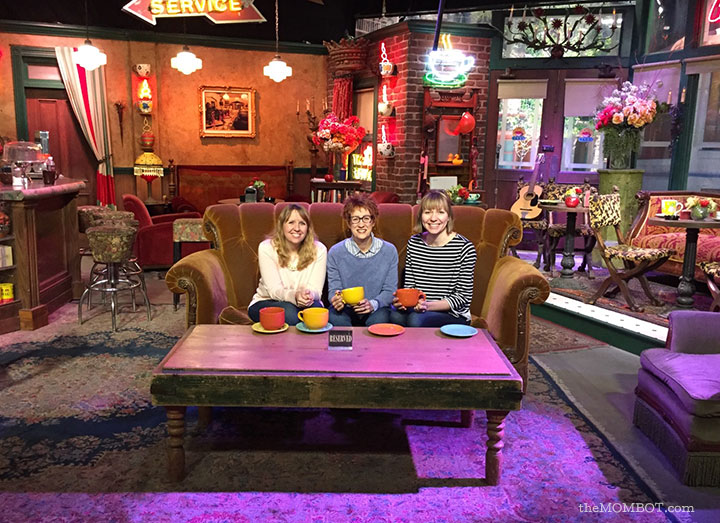 Retirement Party Invitation and Printable Decor
I made the decor I used for this party and a matching invite available for purchase in my Etsy shop: