I'm trying not to have a panic attack. But honestly, how is it already May?!? I swear 2017 just started, didn't it? Although I can't even remember what my resolutions were… did I have any? Anyway, I digress.
Mother's Day will be here before we know it, so it's probably a good time to start your shopping. I haven't given it much thought, to be perfectly honest, which is why sometimes it's nice to be a blogger; I can remind you, as well as myself, that it's time to get your (ok, my) butt in gear!
I have plenty of DIY Mother's Day gift ideas from year's past (find them on my gift guides page) if you prefer to make something that is both heartfelt and awesome. But as a busy mom myself, I am finding less and less time available to make gifts. This is why the internet is a beautiful thing… awesome gifts delivered to your doorstep. Praise, Jesus!
So here are some of my tops picks for Mother's Day gifts – most of which won't break the bank – that mom is sure to love.
Shop Mother's Day Gifts: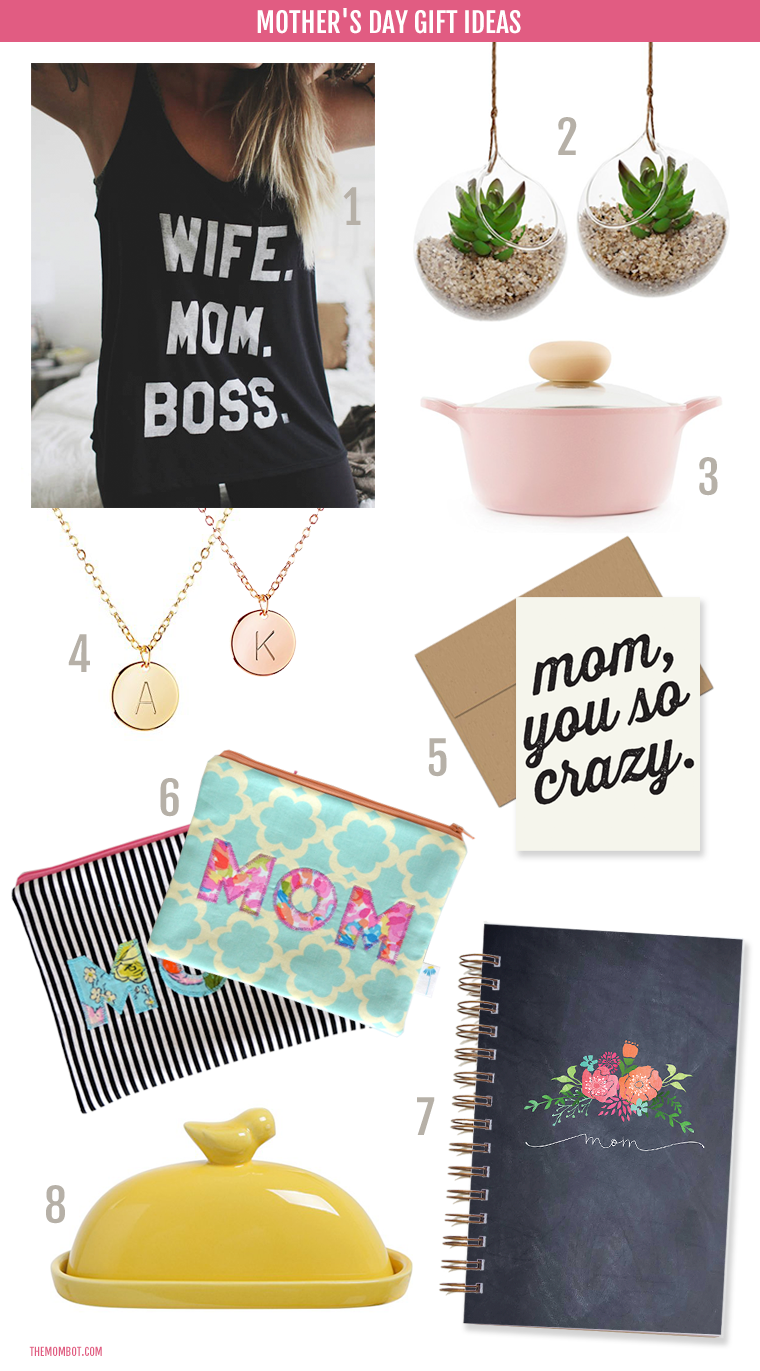 1. Wife. Mom. Boss. T-shirt $28 Etsy
2. Glass globe hanging air planters $19.99 Amazon
3. Retro Pink Stock Pot with Lid $50 Amazon
4. Rose Gold Initial Necklace $17.50 Amazon
5. Mom, You So Crazy Card $3.50 Etsy
6. "Mom" zipper clutch $28 Etsy
7. Personalized Chalkboard Flowers Notebook $12 Etsy
8. Yellow Bird Design Decorative Ceramic Butter Dish $17.99 Amazon
*Disclosure: post contains affiliate links