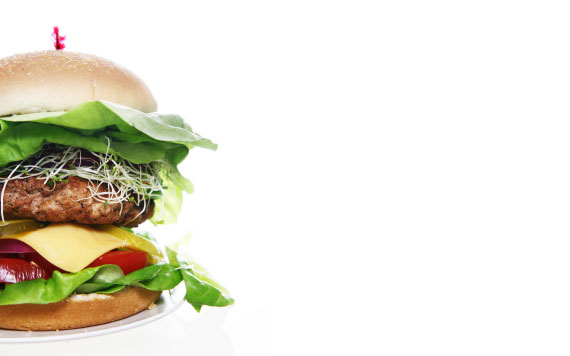 Last week I made some turkey burgers with a secret ingredient, and they turned out super yummy. Lucky for you, I'm willing to share.
It's a super simple recipe… ground turkey, ketchup, mustard, and… pureed broccoli. Sounds weird, but you can't even taste it. It did, however, add lots of moisture to the burgers and a little extra flavor.
I'm a huge fan of adding veggie purees to my recipes as a way for my family to get some added nutrients. We already eat lots of vegetables, but hiding purees in the meal helps me make sure we are getting our 5 servings a day. I originally got the idea from Jessica Seinfeld's "Deceptively Delicious" cookbook; I love some of her recipes, but I also started making some of my own.
Here are some of the things I add purees to:
Broccoli or spinach in spaghetti sauce
Cauliflower in mashed potatoes
Sweet potato or butternut squash in mac n' cheese (the sweet potato has a distinct taste, so be prepared)
Not only is cooking this way easy, it's also cheap. I buy a head of cauliflower or broccoli at the grocery store when it's on sale (or whatever veggie I need), cook it up, puree it, and freeze it in ice cube trays. Once it's frozen, I throw it into a labeled ziploc bag and pull out the cubes as needed.
Easy. Although I tend to get lazy and not want to take the hour or so to cut, cook, and puree… but I try and remind myself that I only need to do it every few month or so because the batch lasts at least that long.
In case you're interested, here's a simple recipe for the turkey burgers:
Turkey Burgers with Broccoli Puree
1 1/4 lbs ground turkey
A squirt of ketchup and mustard (you can do this to taste, I usually add about 1/8 cup, I guess)
2-3 cubes broccoli puree (about 1/4 cup)
1/2 onion, diced
Combine all ingredients, form into patties, and cook. The whole batch makes about 8-10 medium burgers. I usually form it all into patties and place wax paper in between them, then freeze the extras. The next time we want burgers, I just pull them out of the freezer and throw them on the grill frozen.
Linked to: Lil Luna