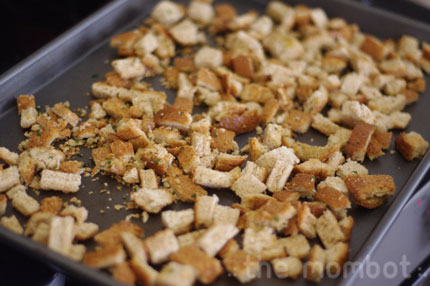 I hate wasting food. My mother hates wasting food; if there were two pieces of broccoli left on my plate at a restaurant, she gave me "the eye" until I asked for a to-go container. Every time I save 3 pieces of corn from my daughter's plate (o.k., that may be a bit of a hyperbole), I curse my mother. That aside, I do believe that a fridge full of leftovers equals money saved.
So, every time I cut the crusts off my daughter's sandwiches and toast, I hated throwing them in the trash. That kid eats an awful lot of whole wheat bread, and I knew there had to be something that could be done with the crusts. One day, I came across an article on making your own croutons and a lightbulb went on. Why not use my extra crusts for croutons? We eat a lot of salad in our house, and croutons seem like a bit of a luxury at the grocery store. So I searched for a couple of crouton recipes and perfected my own process.
The croutons turned out to be delicious (yes, even though they are made of whole wheat bread crust and not yummy french loaf), and they are healthier than the store-bought version. Every time I cut the crusts off a piece of bread, I put them in a Ziploc bag; I also throw the ends of the loaf in there (who really eats those anyway?). Once the bag is full, I make myself a new batch of croutons!
It's really so easy to make your own and if it can save you a couple of dollars, that's even better. When I have a recipe that calls for bread crumbs, I crush some of my croutons and instantly have yummy whole wheat bread crumbs. Whole wheat bread crumbs are awfully expensive at the store, so this is one more chance to save money and give your family a healthy meal. Try it out for yourself:
Homemade Croutons
1. Preheat oven to 350. Using a serrated knife, cut your bread into small chunks; size depends on preference.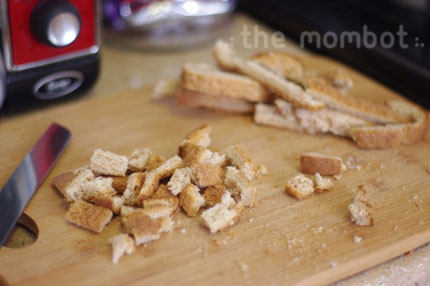 2. In a frying pan, melt some butter over low heat. Add in some of your favorite seasonings to the butter and stir; you can really customize your croutons to your meal or liking. Try some of these ingredients:
Parsley flakes
Grated parmesan cheese
Garlic salt Ranch seasoning
3. Put your bread chunks in a large bowl. Pour the butter mixture over the bread. Stir.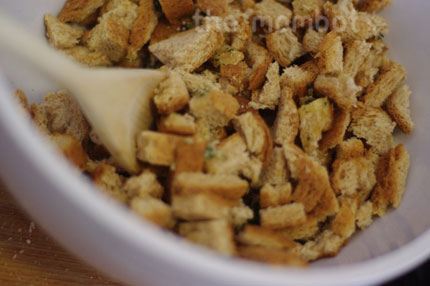 4. Spread bread onto a cookie sheet. Bake at 350 degrees for 15-30 minutes, until bread is dried out and lightly browned.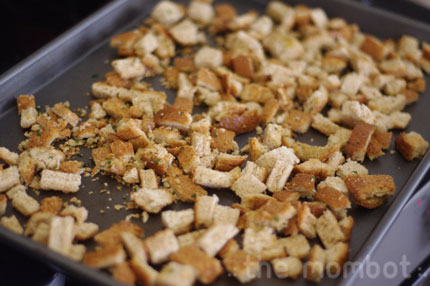 See, wasn't that easy?
Linked to: The Shabby Nest and Fingerprints on the Fridge