First let me say that I would normally post a What I Wore article on a Wednesday, but this week I've been busy hosting some friends of ours who are visiting from California. In the interest of spending time with them and enjoying life and great friends, I haven't had the time to devote to the blog this week – and I'm totally ok with that, because life is meant to be lived and not just typed! So today I'm breaking all the rules and I don't care one bit. Now, for that fashion post…
Do you know what I love? The sale room at Anthropologie. Do you know what else I love? ALL of Anthropologie.
I occasionally allow myself to wander in and take a peek, and sometimes I have a coupon that allows me to buy something without feeling too terribly guilty.
I happened to find a couple of great items in the sale room recently, and they were extra affordable because it was Member Appreciation Day and I got 15% off my entire purchase. This green dress was already on sale for $69, and with my discount it came to $59 – holla! Totally worth it for a quality dress that I will wear a bajillion times over.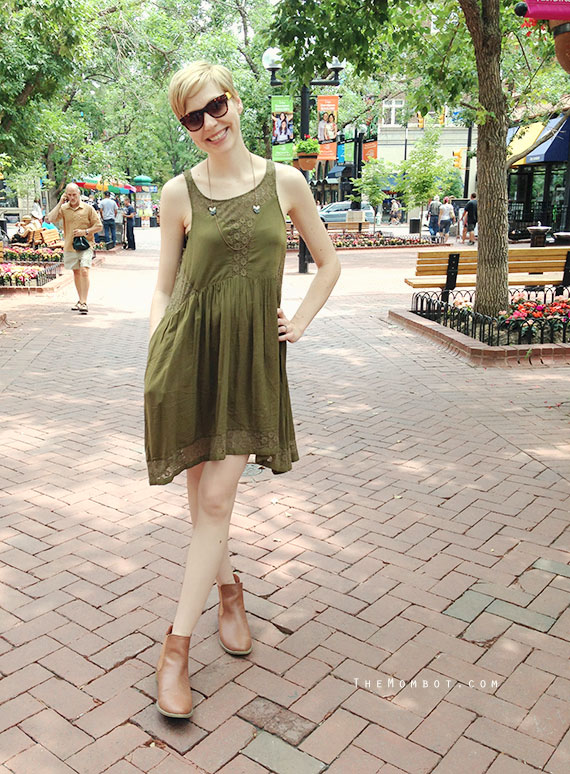 The lace is a non-floral, which I think goes nicely with the dark, earthy green. Those details and the fact that the fit is intentionally loose makes this dress a little less feminine and a little more rustic. For this reason, I chose to pair it with some brown booties (first worn in my menswear post a while back) and a tribal-inspired necklace that I just picked up from the adorable jewelry shop Adorn (check out her shop – she is a local designer from Boulder and I quickly fell in love with her line).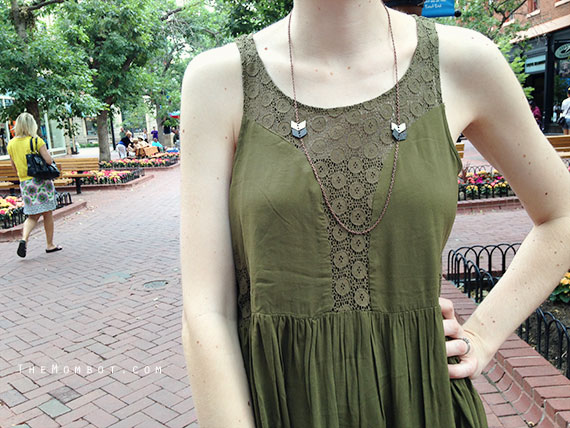 It was a good look for Pearl Street in Boulder, where I took these photos on a lazy Sunday afternoon. I felt like I fit right in with the hippies, except I smelled better and brushed my hair. And I was wearing shoes and not challenging kids to see who could a better version of the splits. And I had a shirt on… I've encountered some really interesting people at Pearl Street lately.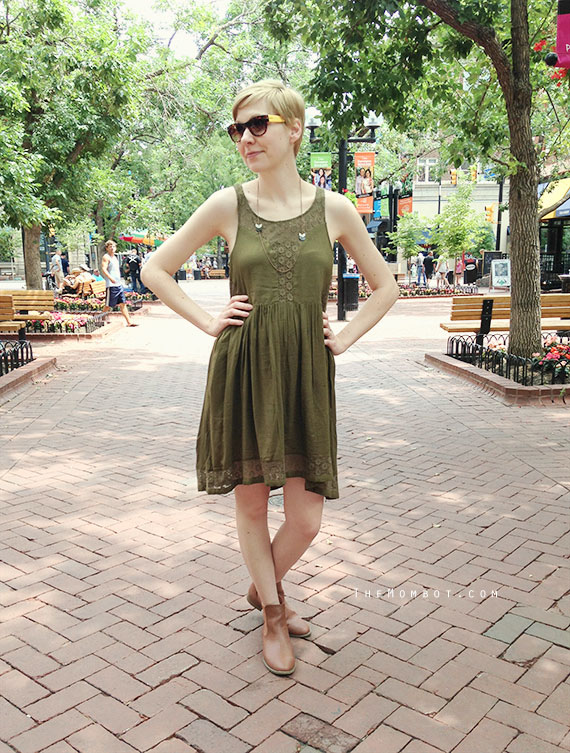 I've got some cowboy boots on the way from Country Outfitter and I'm thinking they'll go quite nicely with this dress as well.
Versatility makes for a good closet.