Ever since we moved into our house in April 2015, I have wanted a new dining room table and chairs. Not only had my taste significantly changed from when we first purchased our modern-styled set some 4 or 5 years ago, but it really didn't fit the space available in our new house.
Our table was great; very sturdy and sizable, but far too wide. We don't have an actual dining room, because our main floor has an open floor plan between the living room, kitchen and dining area. And because we added an island to our kitchen (see pictures), we really needed something narrow so that we had ample walking room and so the chairs could actually pull out without hitting the railing.
I thought the perfect solution was to buy an old round pedestal table – you know, one of those ones from the nineties that come in a lovely oak finish – then I would sand it all down and stain the top dark and paint the pedestal white. Sort of like this blogger did: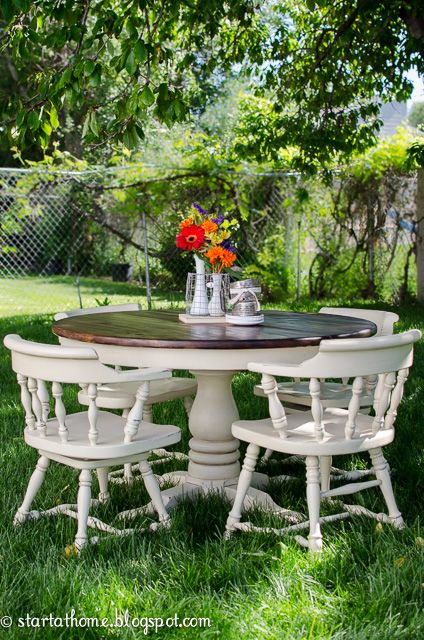 I actually tried to purchase two different ones second-hand online, but both sales fell through. I didn't know at the time, but it was kismet. Because lo and behold, one day I was walking around a local antique shop and found a round pedestal farm table from the early 1900s for $195 and fell in love. The dark stain and natural scratches from years of wear were unparalleled and so worth the money. I didn't have the funds to purchase it at the time, so I walked away and kept dreaming.
When I did finally have the funds a couple of weeks ago, I went to get it and ended up walking away with a completely different table (hello, indecisive)… this one was actually square and had black legs. Not the plan, not the plan at all. But oh, this table. The finish was gorgeous, the cracks in the top had so much character and the legs were so perfectly distressed. It no longer had the existing leaf(s), but it stretched to about 3 times it's length (no joke) and I figured we could easily fashion something to work as a leaf if we ever wanted the option to expand it.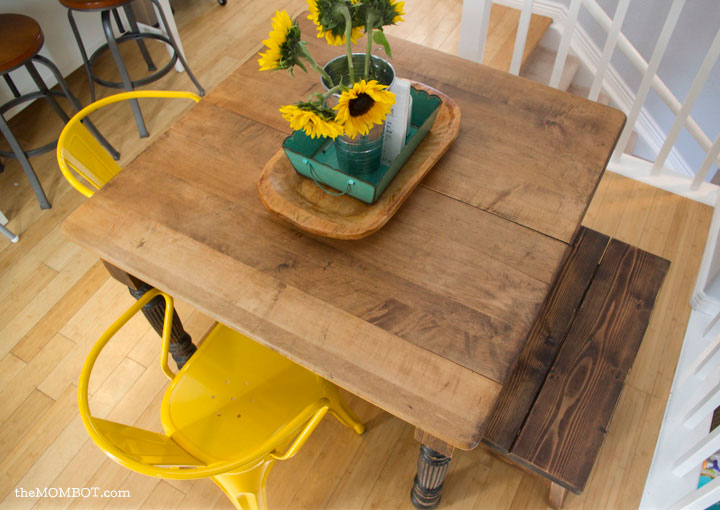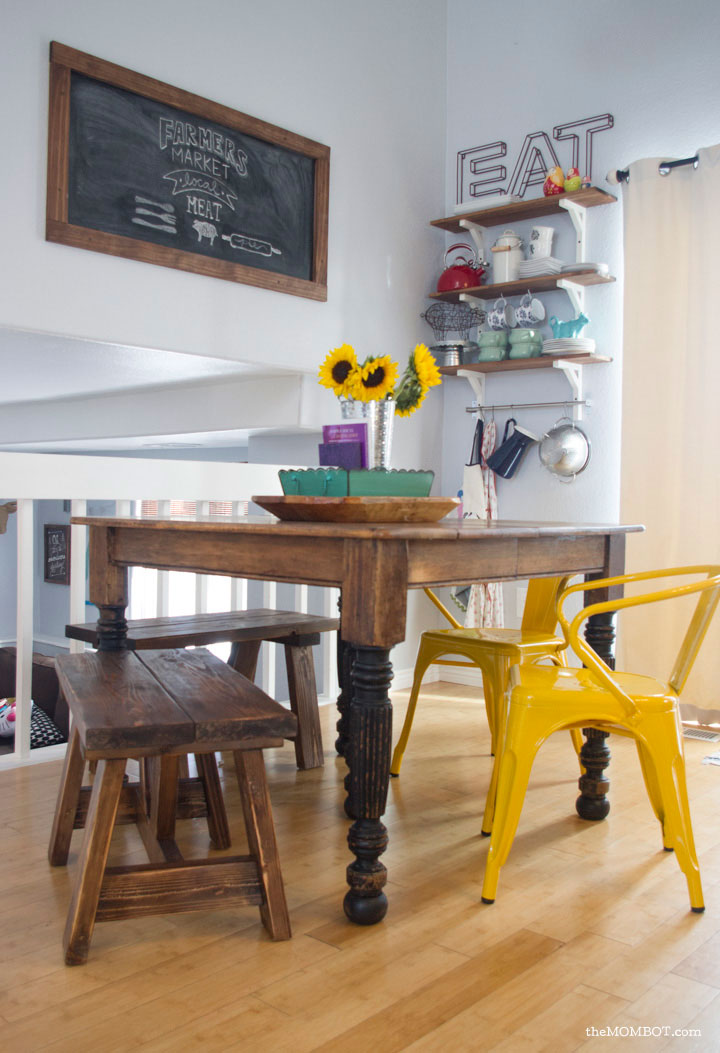 I knew the best way to make this table work for our space was to have two benches that would slide underneath the table; this way we could save space when no one was sitting at it and stop having walk-by toe stubbings due to chairs sticking out. I had pinned some DIY benches you could make for under $20 (from Ana White, of course) many moons ago and planned to make two smaller versions using these free plans. I also purchased two yellow tolix chairs for a crazy good price ($68 each) on overstock.com for the other two sides of the table (swoon).
The result was pretty fantastic. It took some serious mathematics to figure out how to scale the original bench plans down from 52 inches long to just 29.5 inches, and then I had to try and figure out how to stain them to match the table. After the staining, came lots of distressing with the sander, a screwdriver, and some nails. In the end, I was so pleased with the outcome. They don't match perfectly, but it's close enough to look like they belong. And those yellow chairs are just, well, amazing.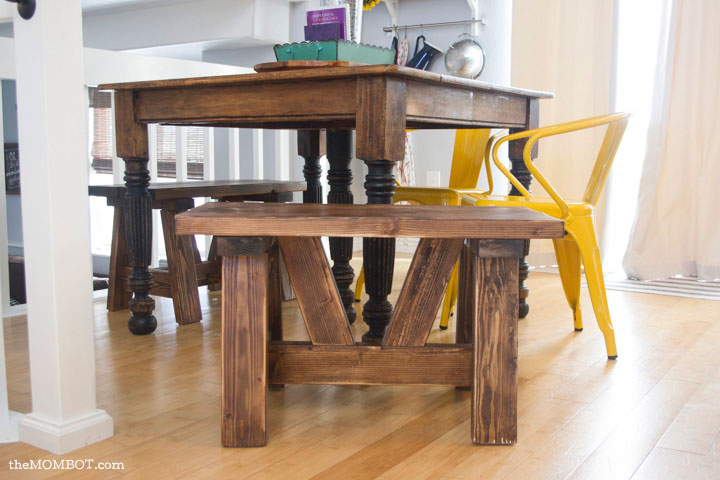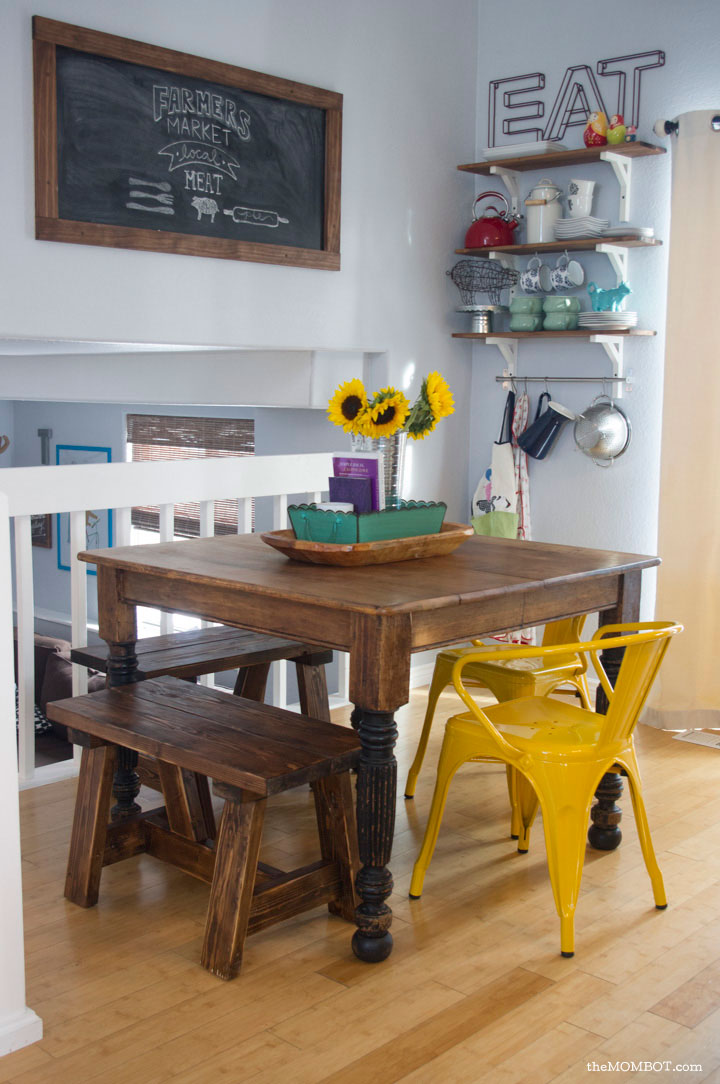 We ran into one more slight hiccup… this table (likely from the 1910s-1920s) used to sit atop casters. The casters were no longer attached, which meant the table was about an inch and a half too low. I wasn't able to cross my legs when sitting at it, which really bothered me (I'm such a lady, after all).
I didn't particularly want casters on it anyway, so instead of trying to replace them, I bought some wooden bun feet from Home Depot for $9 a piece, painted them black and then distressed the crap out of them. If you had seen me going at them in the garage, you would have thought I was crazy. I used screws, nails, a screwdriver, sand paper, a pocket knife, a wire brush and a handheld planer to try and make these bun feet look 100 years old. After I tore the paint off from distressing, I stained the natural wood with a honey stain that closely matched the table. They certainly don't look as perfectly reliqued as the rest of the legs, but they do blend in enough to not be noticeable additions, don't you think? (humor me)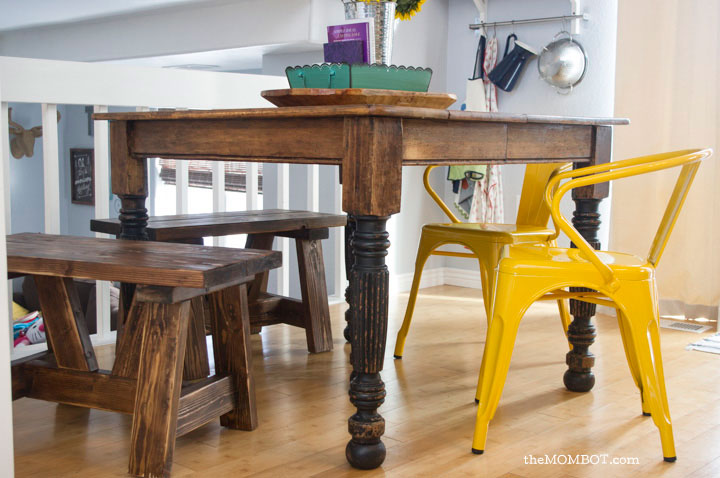 It was a labor of love and another project marked off the list. I love the farmhouse feel that this newly redone dining space brings to our home and I love that these pieces are altogether old, handcrafted, and new. I wish I knew the story behind this table and just how many meals have been served on it. And how that giant crack on one side came to be. And where a huge chunk of the front right leg ended up.
We are creating a home with each piece we bring into this house and it fills me with such joy!