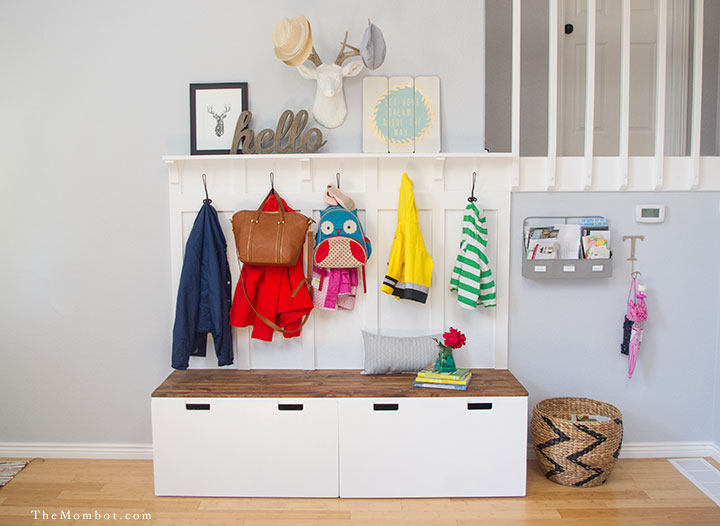 At our old house, we had a tiny entryway where we all fumbled over one another trying to remove our shoes and coats before we got mud and dirt everywhere (especially in the winter). There was very little space to hang coats or backpacks or purses, and even less to store shoes. It was my A-type personality nightmare.
So when we bought a home, I knew for a fact that I wanted a big entryway and a mudroom setup where our family of 5 could stow away all their c-r-a-p in a decent-looking manner.
And then we found our current home and the heavens opened up and angels sang when I saw an entire blank wall next to the front door… and I was sold.
After looking at plenty of DIY mudrooms and Ikea mudroom hacks online, I put together a little plan for what I wanted. I loved the idea of using a TV console or storage bench from Ikea as the main portion for storing shoes and then building some board & batten behind it (which I am completely obsessed with and want to put in every room). And that's how the dream came into being. Since I'm a visual person, I used masking tape and cardboard to plan and show the Mr. what I was thinking. He laughed at my methods, but I said, "you just wait."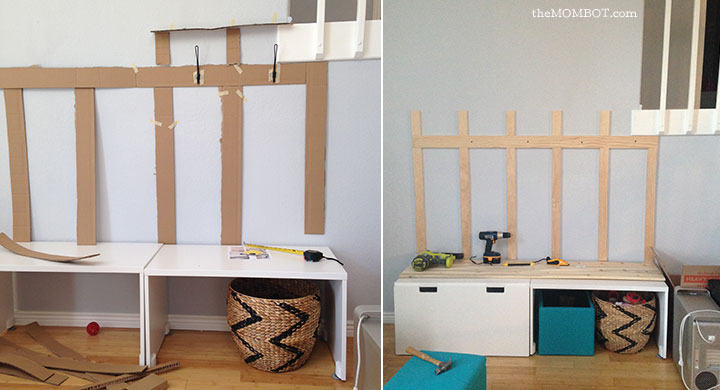 DIY Mudroom Bench: The Details
We bought 2 Ikea Stuva storage benches in white from Ikea, which I knew would be plenty of space for all 5 of us to store our shoes.
To create the board and batten, we purchased 1x3s for all the vertical boards and a 1×4 for the horizontal board that the coat hooks are screwed into.
The shelf on top is made from a 1×6; I planned to use more 1×4, but realized I needed extra width for the corbels I was purchasing to support the shelf. In case you're interested in the nerdy specifics, here are the measurements: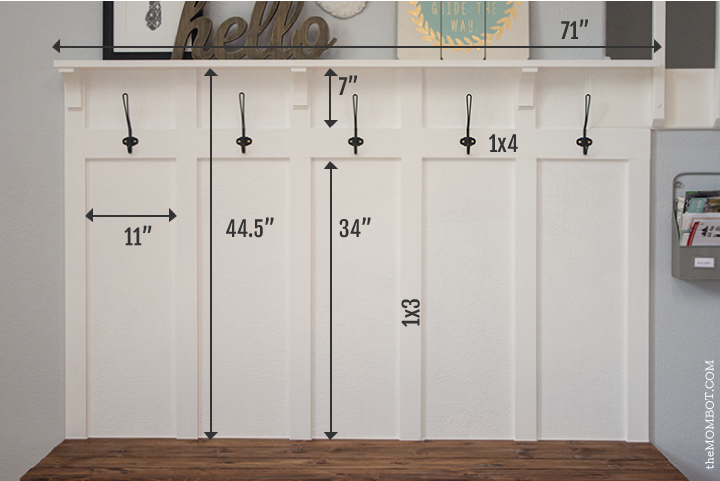 Speaking of the corbels; I love them! I couldn't find anything in the store at Home Depot or Lowes that was small enough for what I needed, so I purchased these online from Home Depot. They are actually 5" wide, but because I screwed the corbels on top of a 1×3, they ended up still being too wide for the 1×6 shelf above. So we chopped about 1/2" off the front of the corbel and it fit just right.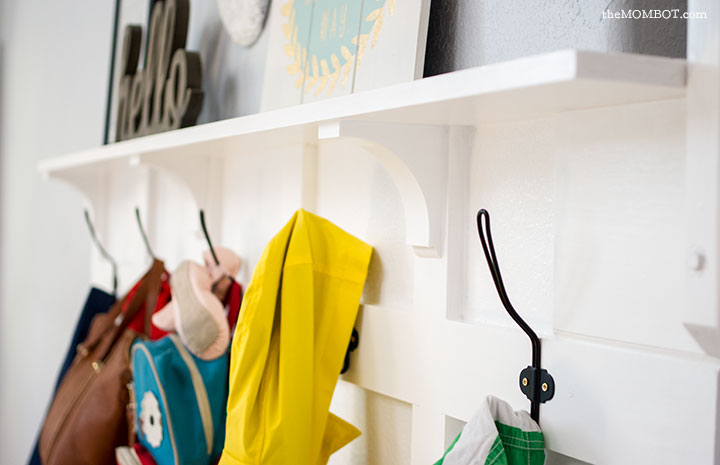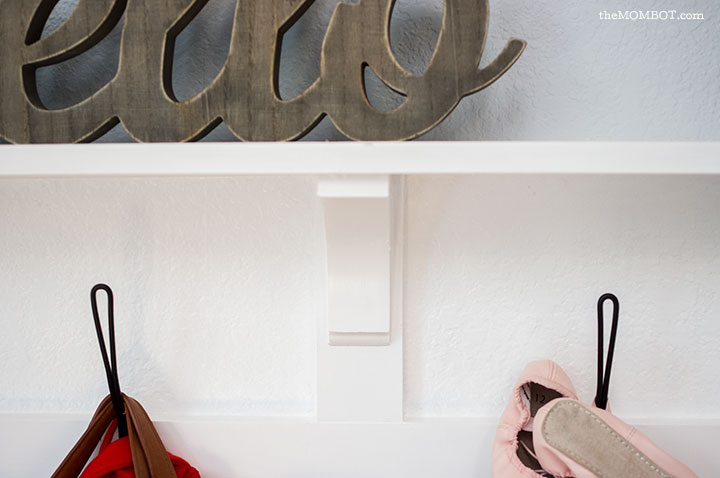 The bench top is constructed from Blue Pine tongue & groove boards.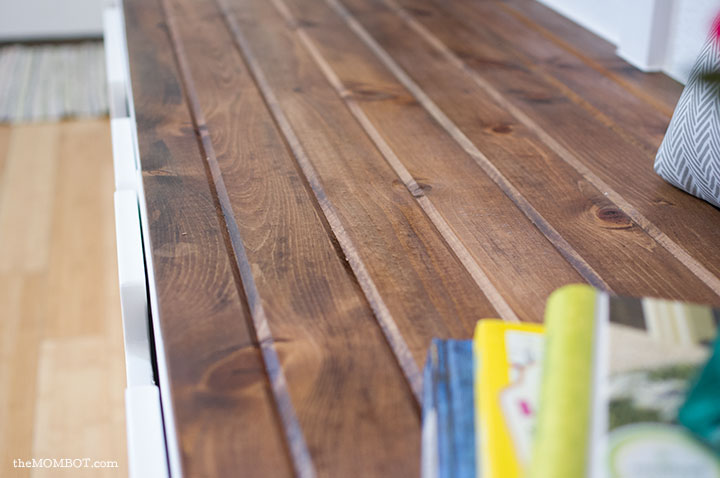 They were ridged 1×6 boards that snapped together; and once we stained them (Minwax "Honey 272"), they looked amazing. To get them the exact width of the Stuva benches, we had to trim the front board down, which was fine since we didn't want the built-in groove on the board to show on the front anyway. We chopped off about 1" from the width of that front board and sanded it down flat.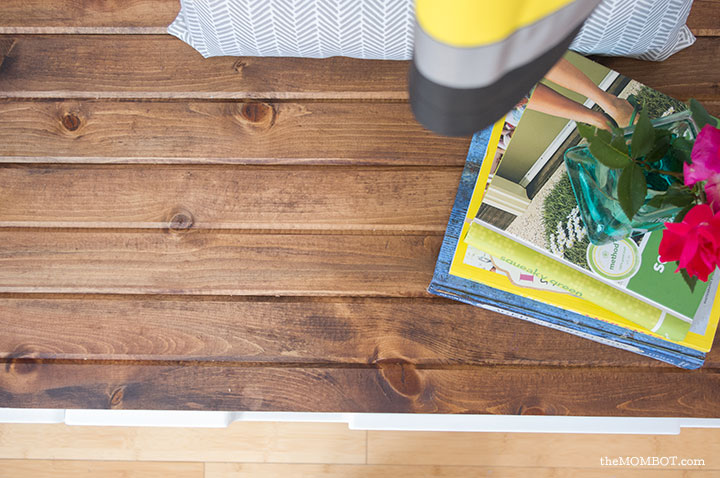 DIY Mudroom Benches: The Process
To put everything together, here's the process we followed:
Put together Stuva benches and paint (spray with primer then use a foam roller made for cabinets to paint two smooth coats).
Cut away baseboards behind benches so they fit snug against the wall.
Screw benches into the wall studs.
Lay stained/sealed pine boards on top of benches and screw into benches from underneath.
Cut 1x3s and 1x4s and attach to wall with nail gun.
Attach shelf using Kreg Jig.
Hang corbels using nail gun (nail directly into wall and from above through the shelf).
Caulk EVERYTHING (this took forever, but man does it look good after).
Paint board and batten and shelf same white color as trim in house (as you can see, our board and batten blends into the existing staircase above).
Hang hooks – oh, how great are these hooks?? I looked everywhere for something unique and a little vintage/schoolhouse looking. These are from Ikea, of all places, and cost $2.99 a piece!
The end result? It makes me weak in the knees. Not only do I love how it looks in our home, but it is completely functional. And we all know how googly-eyed I get over practicality. This was honestly a super easy project since we didn't actually "build" anything (if you don't count the Ikea furniture) and we were quite impressed with how well it turned out (we may have high-fived).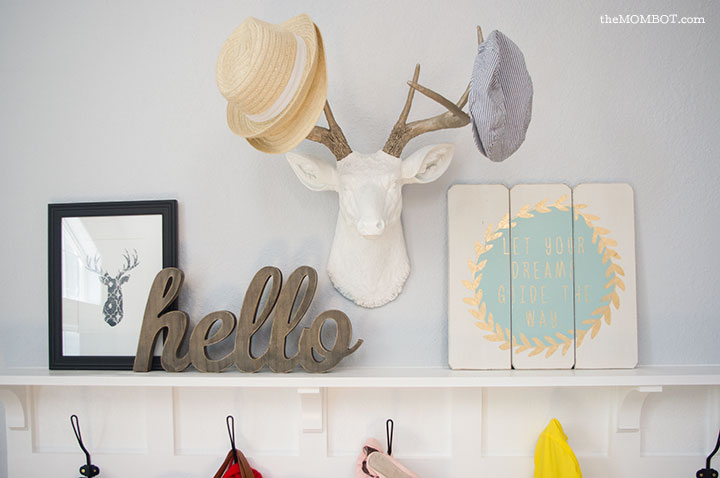 As you can see, Ruby – our beloved DIY faux taxidermy deer – followed us to the new house and settled above the mudroom benches. She is perfectly happy holding onto our hats for us; what a gal.
Oh and I suppose you might be interested in the overall cost since most mudroom systems can be $1000+. Overall it was somewhere in the $250-300 range. Not too shabby, if you ask me. This has, by far, been my favorite project in our new home!