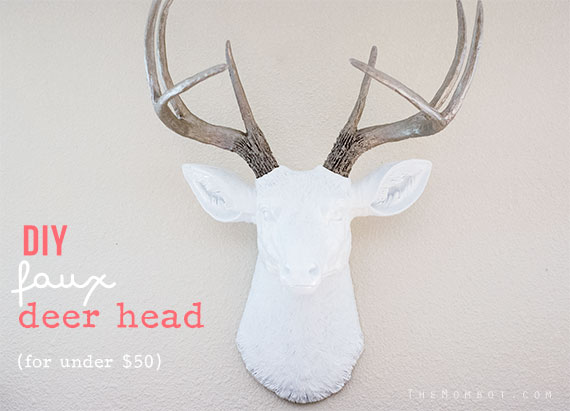 I have become ridiculously obsessed with deer heads. Perhaps its my Michigan roots, or perhaps I just got bit by the deer head trend. Either way, I'm too far gone.
Over the course of a few weeks, I started seeing pictures like these on the web that had me drooling…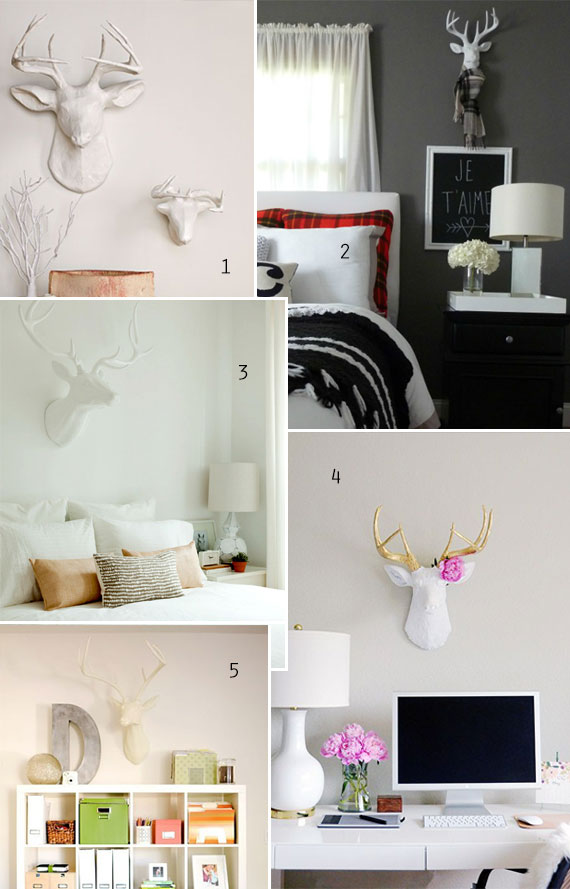 And I couldn't get it out of my mind. Suddenly the space above my fireplace seemed very empty and in need of a friend. The problem? These faux deer heads usually cost $99+. It wasn't exactly in my budget, so I started doing some digging around.
Turns out, you can DIY one for under $50 – and people all over the internet are doing it!
Here's how…
Purchase this 8 Point Buck Deer Head Bust Wall Hanging
(a little rustic in all its painted glory) for under $50. At the time I purchased it, I bought it from a different seller for $33.50 plus $9.49 shipping, so I spent $42.99 total. It doesn't seem like that option is available anymore, but prices on Amazon change all the time. There are plenty of sellers right now selling it for under $50. The size of this deer head is perfection (not too big, not too small) and it's made of resin, making it both lightweight and durable.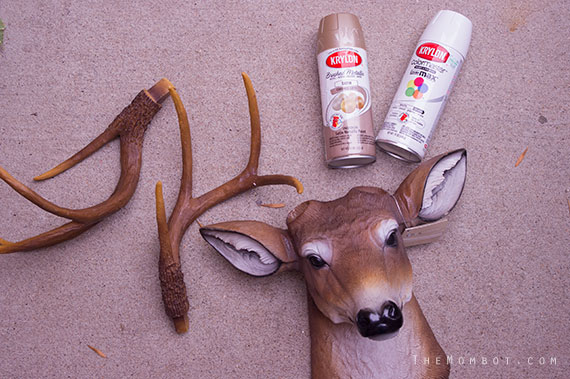 You'll also want to pick up some spray paint. I used Krylon's glossy white spray for the head and metallic spray in Caramel Latte
(satin) for the antlers. You could also paint the antlers a glossy white if you want it to be monotone, or something crazy like black, pink or yellow (which I almost did). The beauty of this deer head is that the antlers already come detached, so painting them a different color from the head is simple (and you can always repaint them later if you change your mind without even detaching it from the wall!).
Set out your pieces and spray paint that sucker.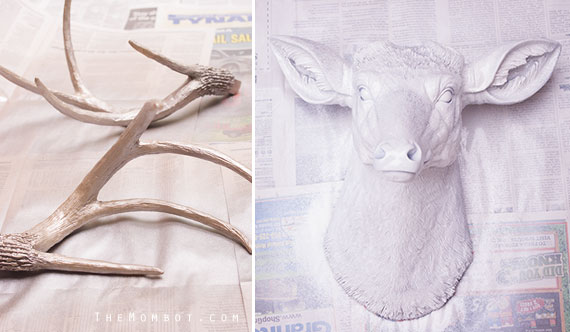 Hang on wall. Attach antlers. Done.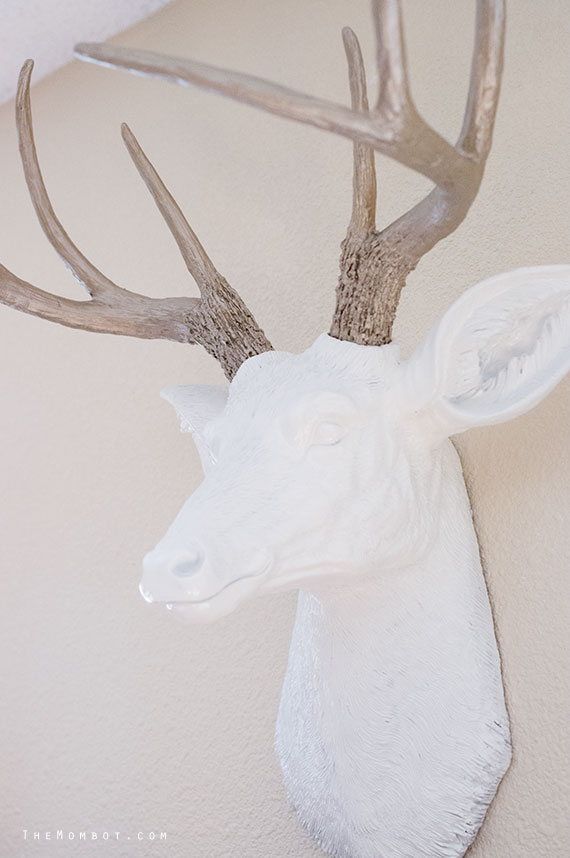 In hindsight, I wish I had sprayed the head with some primer first to make the glossy paint stick a little better. This particular head has fake hair that is quite detailed, so getting the paint in-between all the crevices took about 4 or 5 coats before I was satisfied with the coverage.
Can I tell you a secret? Numerous sellers on Etsy are selling this exact deer head spraypainted white for $85-$150. Look at how much money I just saved you! Of course, if you aren't a DIYer, then you can certainly buy one already done. White Faux Taxidermy
also has some really lovely options at decent prices, though they are smaller in size.
But back to my little creation… The kids named "her" Ruby. She looks so friendly, don't you think? She's already dressed for fall, and you better believe she'll be wrapped in a scarf for the holiday (my husband is shaking his head at me right now).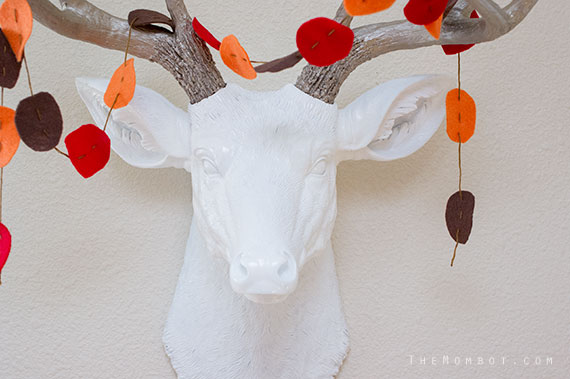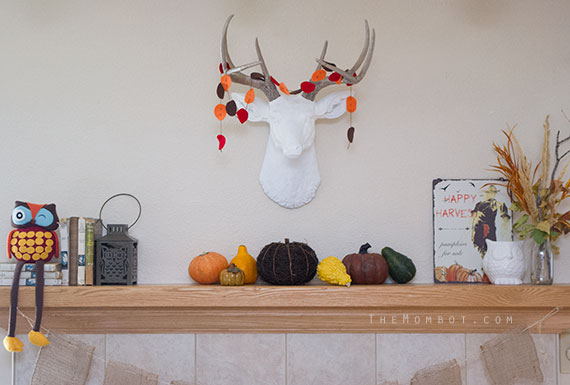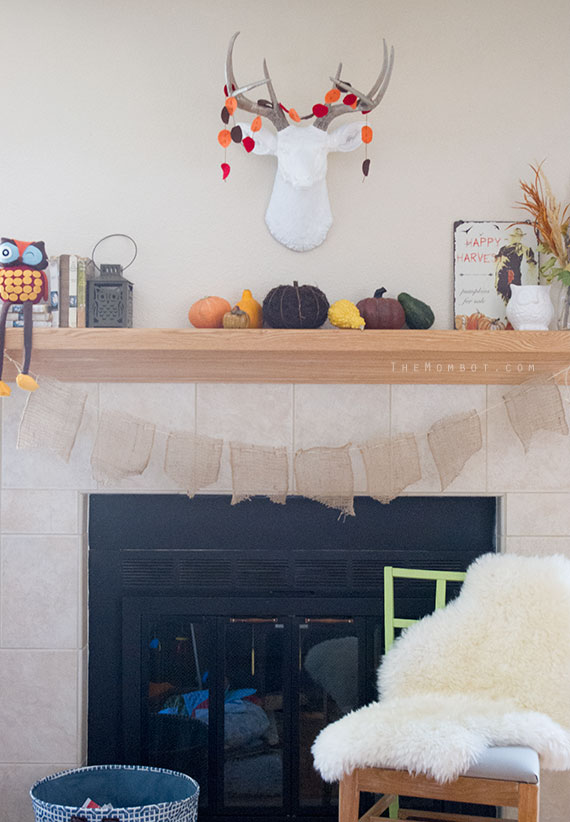 *Disclosure: Post contains affiliate links