I hate mud. I hate wood floors and mud. I hate kids and mud. I'm type-A, after all, and messes freak me out.
When we moved to Colorado from California, I realized I had a new battle to deal with: winter boots covered in snow and mud that just wouldn't quit – oh, and 3 young kids who don't share my affinity for cleanliness.
At our current house, we have a really odd front door that is tucked behind our garage and it creates a little bit of an outdoor mudroom (and pardon the hideously neutral paint job, we really need an update!). Ideally, I would love to move the front door to be in the entry of this mudroom and enclose the space, but that's pretty far down the line. In the meantime, I knew we could still use this area to store our gross winter boots and spring rainboots as long as we did it right; which meant getting them up off the ground where things can crawl inside and where snow can cover them (it still blows in this space from time to time since it's open).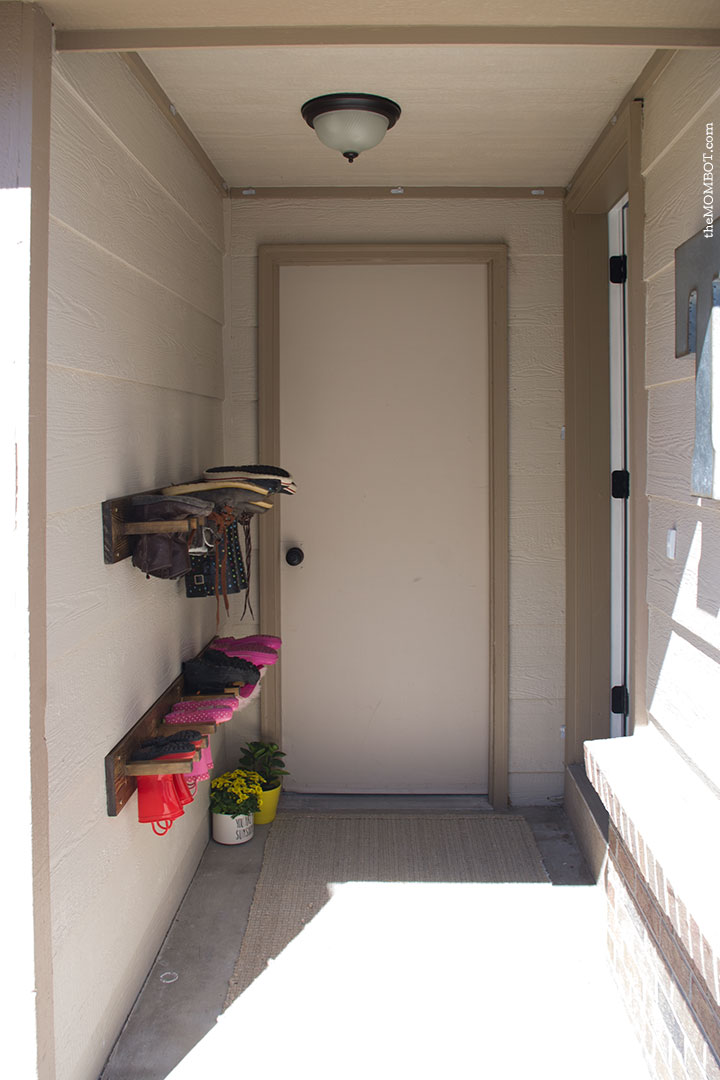 I began researching boot racks after seeing some on Pinterest, but it turns out the ones I had pinned had mysteriously disappeared from cyberspace or were sold out, and those that I could find were ridiculously overpriced. So, as usual, I set out to make my own.
The Mr. and I came up with a little plan for our boot racks with measurements that would work for the number of boots we anticipated having for our family of 5. We created 2 racks made from 1x6s and 1x1s (for the pegs) that each hold 4 pairs of boots. In addition to boots, I figure we can also hang umbrellas or raincoats from them in the spring, or even wet bathing suits and towels in the summer after sprinkler play.
These outdoor boot racks nicely complement our indoor custom-made mudroom bench – which is where I prefer to house all the dry shoes that aren't caked with mud…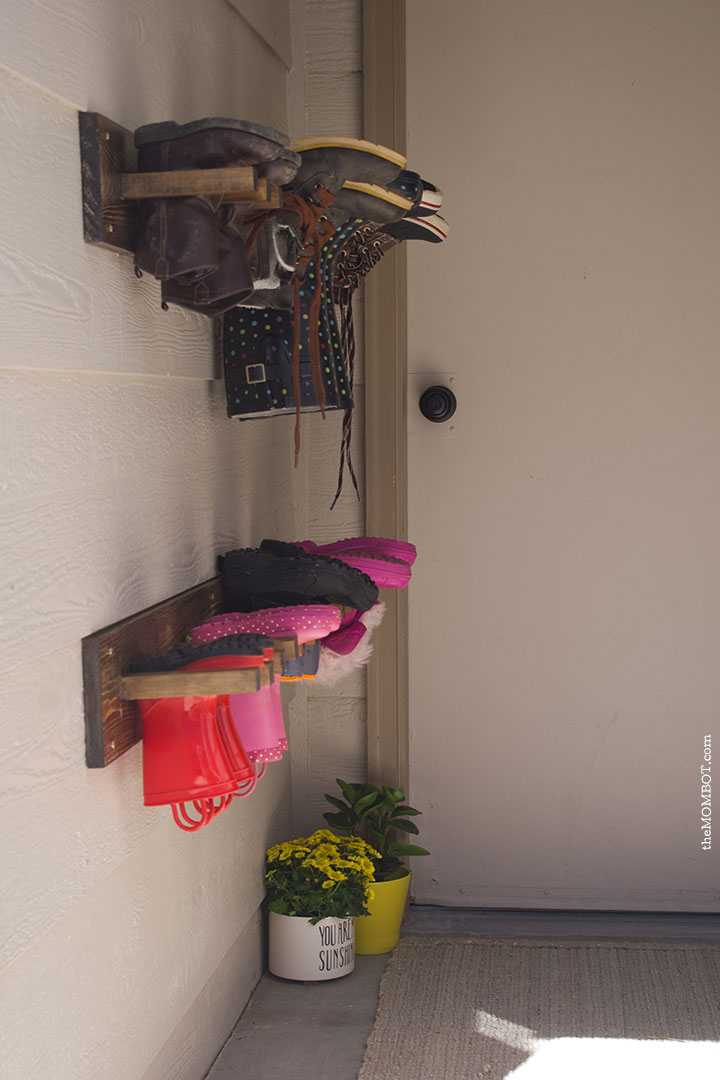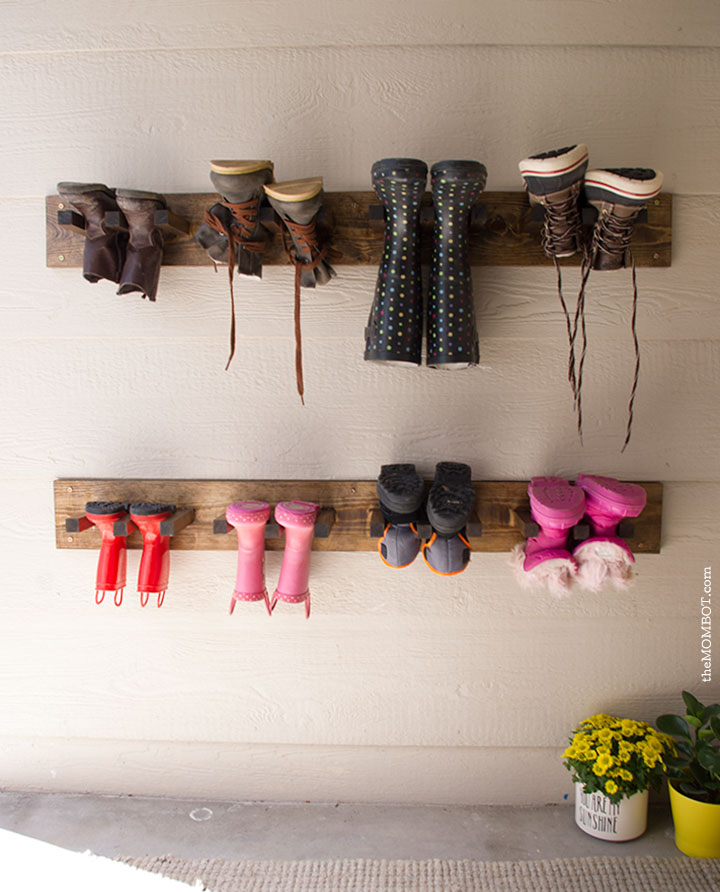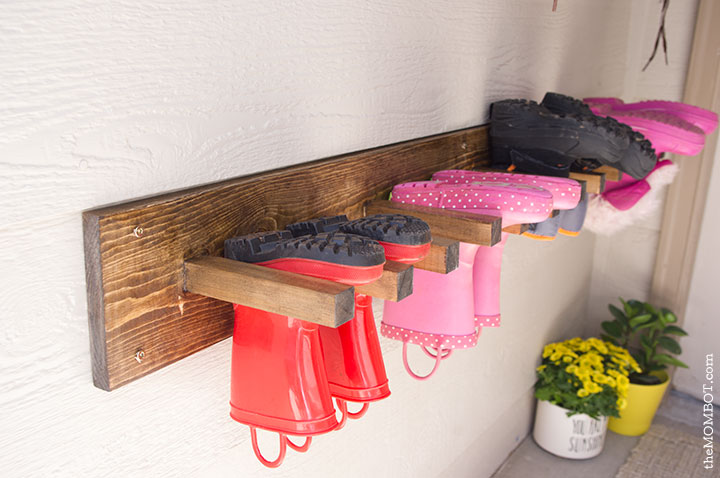 Anyhoo, once we had the racks put together, I stained them and put on a few coats of polyurethane to protect them from the wetness they will likely endure. Then we just screwed them into the wall. Thanks to the siding, we didn't even have to use a level, we just rested them under the siding lip (hooray for ease).
If you're interested in measurements, here are the specifics:
2 1x6s cut to 48"
24 pegs made from 1x1s cut to 6" in length
The 3 pegs that hold a pair of boots have 2.5" between each peg, and there are 3" between each set of 3.
We attached each jpeg with 2.5" wood screws.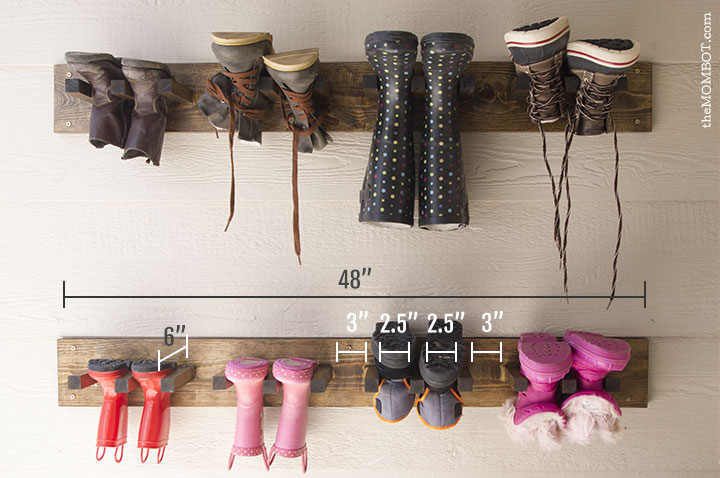 To assemble them:
We marked where we wanted the pegs on the back side of the 1x6s and then drilled holes at our marks. We also drilled holes into the center of each peg (we just eyeballed it).
Then we put wood glue on the end of the peg (the end with the drilled hole), put a screw through the 1×6, lined it up with the holes in the peg and screwed each peg on tightly (making sure to straighten it out before the glue dried, since they tended to twist while tightening).
Once they were all attached, I let the glue dry, then sanded and stained each rack and applied 3 coats of polyurethane (allowing for appropriate drying times in between each one).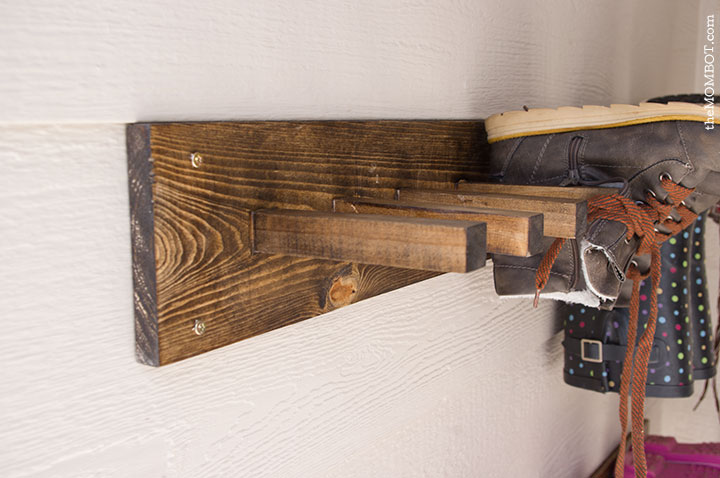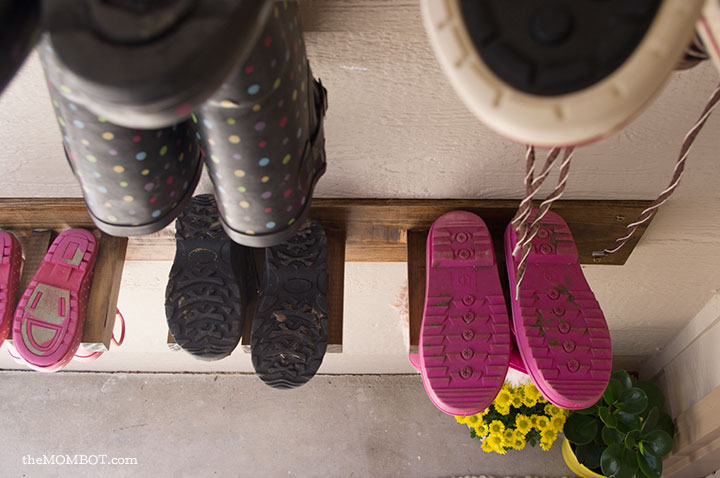 That was it! They aren't the prettiest because I used items I had on hand, like sand paper that wasn't a fine enough grit and left some pretty awesome scratch marks. Ah, well.
A pretty easy project with a very practical outcome.
I love that the kids can leave their gross boots outside and my floors can stay cleaner longer; especially now that we are dealing with 3 kids with cabin fever from being stuck inside all winter who are begging to play in our muddy backyard every.single.day – yuck.