Let's talk about my major vacation fail. I had so many plans to get on the blogging train while I was on my week and a half "vacation." But then Christmas came, and then Christmas clean-up came. And now New Year's is almost here. And, well, it just didn't happen.
So here I am with some major #weekendgoals because I'm so behind on my to-do list. And leave it to me to blame Christmas for getting me off schedule… what a nutbag I am.
Anyway, the new year is going to be wrought with new household projects! We received some extra funds from a good last quarter of wholesaling and refinancing our house, so I am ready to rock and roll.
On the list for 2017:
1. Shiplap the downstairs living room TV wall, then add an industrial shelving unit.
2. Add beadboard to the downstairs living room half-wall.
3. Shiplap the little nook next to the mudroom and stairs.
4. Shiplap the bedroom window wall (are we seeing a theme here?).
5. Paint the bedroom.
6. Hang new lights in the bedroom.
7. Build and install a barn door for the bedroom closet.
8. Paint the laundry room.
9. Hang cabinets in the laundry room and reorganize.
10. Install a countertop next to the washer and dryer for my sewing nook.
11. Install a front porch.
12. Tear up the carpet and paint the stairs.
That's just for starters. Right about now, my husband is reading this at work and having a mild heart attack. Don't worry, babe. I got this.
So with my 2017 goals laid out on paper (or computer screen), here is where I'm starting this weekend – the first weekend of the new year!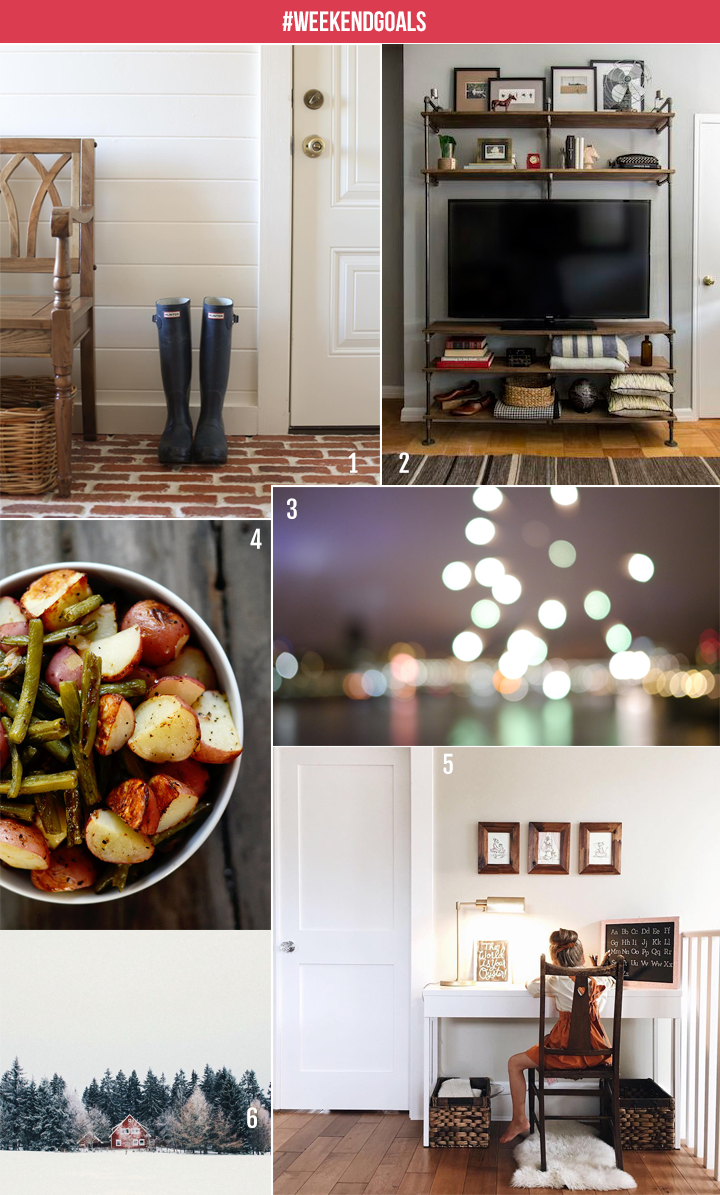 Shiplap all the things. (image via A Place in the Country)
Install an industrial shelving unit that will give us extra storage, and a place to put DVDs and games up high so my two-year-old doesn't rip them up anymore… (image via lushome.com)
Give 2017 a proper hello with a late night celebration. Kiss the Mr. at midnight. (image via flickr)
Cook up some winter vegetables and maybe some actual beef (a rarity). I feel like comfort food. (image via Farmhouse Touches)
Get my first grader back in the habit of getting up early and doing homework. Always a rough transition after Christmas break… (image via @lee_kristine on Instagram)
Snow is finally coming this week. I couldn't be happier! (image via A Place in the Country)