Sigh. Man, these last few weeks have been BUSY.
My husband is finishing up a big project at work that he will deliver in early January, so he is working a lot of long days and late nights. And I got a 4000 piece wholesale order that has kept me in front of my binding machine for hours on end and spending my lonely late nights packing books into poly bags and boxes while I catch up on old episodes of "The Voice" (glamorous!).
Unfortunately weekends are really just extensions of weekdays right now, without much time for rest and relaxation. But, I do try and squeeze in some family time and possibly some "me" time as well – even though that usually means just grocery shopping solo (hey, I'll take it).
So with all that in mind, here's some of my weekend goals.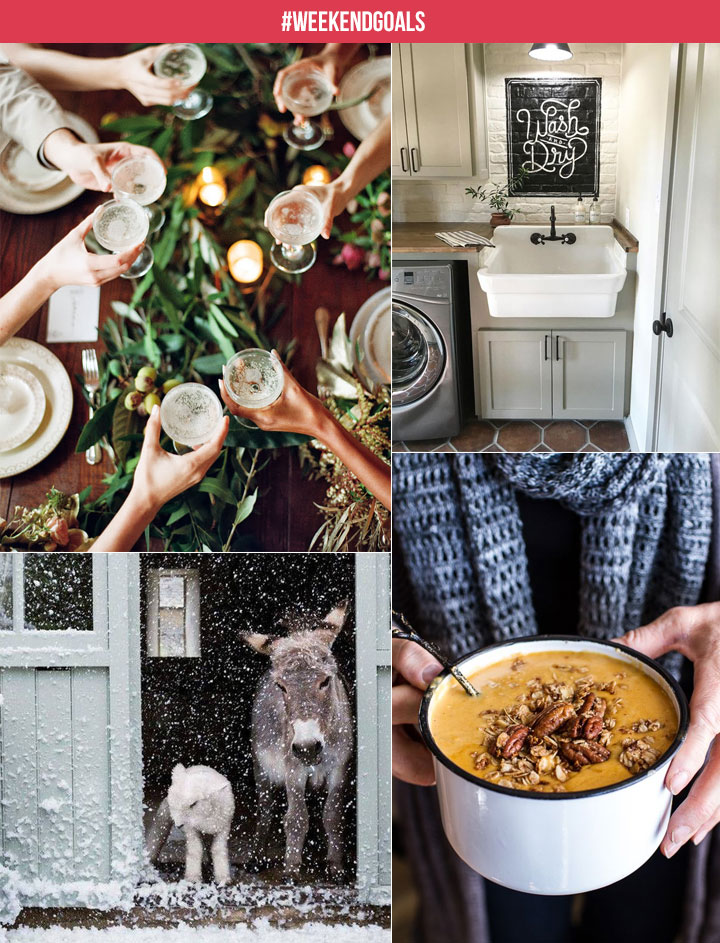 1. I need a girls' night. Like, really, really bad. With food and alcoholic drinks and plenty of laughter. Girlfriends feed my soul, even though I'm a total introvert. (photo via farmhouse touches)
2. I think my next home project is going to be a major laundry room overhaul. As always, Joanna Gaines knows best, as evidenced in this pic from her Instagram account. #hearteyes
3. I have GOT to prep my yard for winter. Since I lived in Southern California most of my life, this is still a little new to me. There are leaves to rake, patio furniture to cover and put away, kids toys to store, etc, etc, etc. Winter is coming, ya'll. Even if it is still occasionally 80 degrees here… I mean, I think it's coming? (photo via A Place in the Country)
4. You know I wouldn't leave you without sharing a recipe. I am all about soup right now. If you're in the same boat, check out my "Soup Me" pin board for some yummy ideas. (photo via Half Baked Harvest)