I am always way too late on the Advent calendar train. I usually try to put something together on December 4th, get frustrated with the fact that I am behind and can't backtrack, and give up and eat peppermint kisses instead.
This year, I am determined to do it up and do it right; so I am researching different ways to do the Advent season with my kids.
There are many routes to take; a scripture a day, a treat a day, a book a day, an ornament a day, an activity a day…
You can buy a calendar or DIY a calendar…
They can be shaped like stockings or made from shoe organizers…
There are an awful lot of options. But to help you narrow it down (and to help myself because I still haven't decided which I'm going to do), here's a list of my top 5 favorite Advent calendars to do with kids.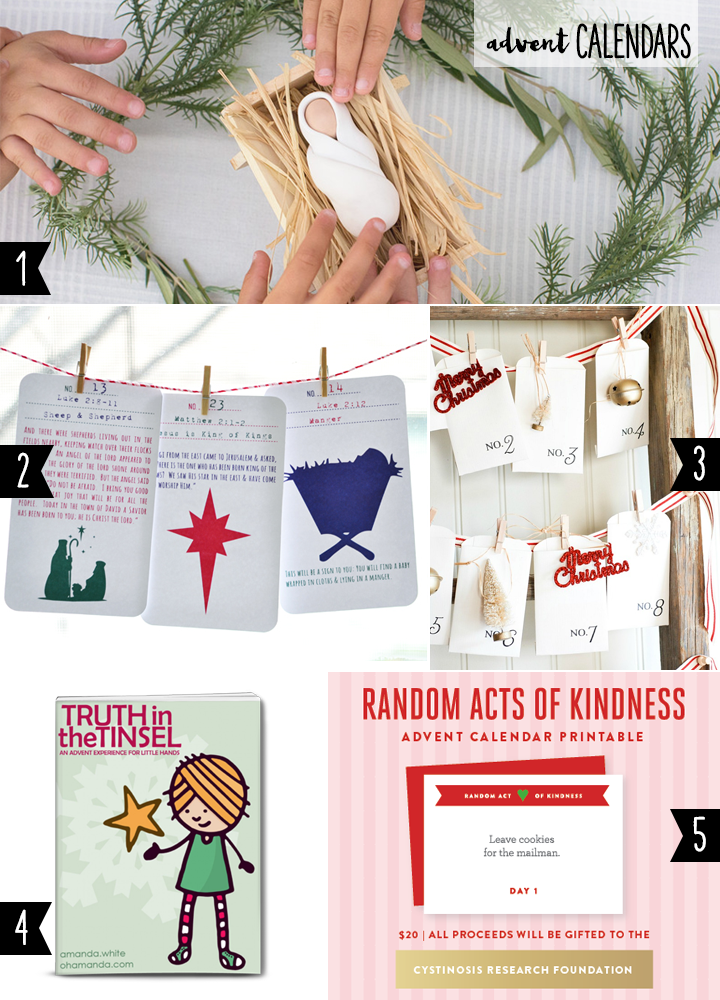 1. The Giving Manger
I am slightly obsessed with this option. The Giving Manger is a fun and interactive Christmas tradition that helps families focus on giving and the true meaning of Christmas. With each set you receive a book that explains the tradition, a wooden manger, a bundle of straw (one piece is placed in the manger after each act of service) and a Baby Jesus (to be placed in the manger full of service and love on Christmas Day). Honestly, I can't think of a better way to teach your kids about the true meaning of Christmas. Each box set is $34.99 – not too shabby if you ask me, especially when you consider that you can use it each year with different acts of service.
2. Free Printable Christmas Story Advent Calendar
If you want to focus on scripture this holiday season, Redbird Blue offers a free printable Advent calendar that breaks down the Christmas story for you each day during Advent. It's super cute and a simple way to keep the focus on Christ this holiday season.
3. DIY Printable Vintage Inspired Advent Envelope Calendar
This calendar from EllaClaireInspired.com is great for writing your own ideas for fun holiday-themed activities to do each day during advent. It comes blank, so you could also add scripture, random acts of kindness or whatever else you can think of! The way Kristen displays it is so lovely, and I kind of want one of my own…
4. Truth in the Tinsel
This is a great one to do with crafty kids! We first used Truth in the Tinsel with my daughter when she was three. Each night has a new scripture to read that goes through the Christmas story and then you make an ornament that illustrates the point of that day's scripture. It has easy-to-understand concepts for kids and the crafts were simple and affordable. I found that I could create something similar to what they suggested with supplies I had on hand, so for many of them I didn't even have to purchase new materials. It's also very cost effective at only $7.99 for the ebook. The only bummer is that it can get redundant to do year after year.
5. Random Acts of Kindness by Emily Ley
If you are really wanting to focus on kindness this holiday season, you can buy a printable Random Acts of Kindness calendar from Emily Ley. All proceeds go to the Cystinosis Research Foundation – so it's a win, win! This is a super cute, super easy way to look outside yourself this holiday season and give love to others.