As you may have read, I recently took a road trip with our 3 kids and my husband across 5 states and the greater Midwestern area. It was an adventure, to say the least. We had some complaining and crying (and maybe a little yelling on my part…), but for the most part we also had a lot of laughter and fun.
One of the best ways to ensure you have a great road trip with kids is to be fully prepared. Think everything through ahead of time and pack accordingly!
Road Trip Hacks: Packing the Car
When it comes to packing the car, I am extremely strategic. I always have snacks and a cooler within arm's reach. I have oval shaped drink tubs (similar to these) that fit perfectly on the floor between the front row and middle row of our Highlander.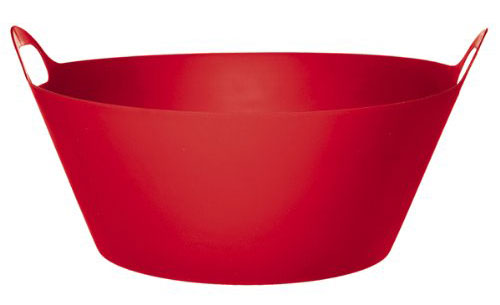 In one container, I kept all of our snacks. In the other, I had cleaning supplies ready to go (because I am a freak about keeping the car as clean as possible) – paper towels, Clorox disinfectant wipes, sanitizing wipes for the kids, and a trash bag. I also packed a dust buster (don't laugh at me – I knew the baby's carseat would get covered in snacks that he dropped!), but we discovered that it didn't actually work anymore and had to throw it away at a hotel (put that on the list of "weirdest things hotel staff have found in a trash can"). Our cooler was in the seat behind me, so at any point during the drive, I could turn around and grab snacks, drinks, or clean-up supplies.
Aside from strategically packing the car, here are some other road trip hacks that are a MUST if you are traveling with kids:
1. Pre-ration your snacks
I put small portions of different kinds of snacks in baggies for the kids. This way, when they yelled "I'm hungry!" I could just turn around, grab one and throw it at them (gently of course). It worked like a charm. Every morning before we took off, I would reload my snack bin (I kept snack baggies in the car). This was especially helpful with my 13 month old, because you know when a baby is hungry, he wants food RIGHT NOW.
2. Keep eating-in-the-car mess to a minimum with a shower caddy or plastic box
This was a life-saver with three small kids in the car and me with my cleanliness OCD! I had seen an idea on Pinterest to use shower caddies to put food in when you are in the car so you don't spill anything. I scoured the Target Dollar Spot for a $1 shower caddy for each of our kids, but they didn't happen to have any. I wasn't willing to spend more than $1 on one, so I grabbed little plastic bins to use instead (I think they were for locker storage since it's approaching back-to-school time).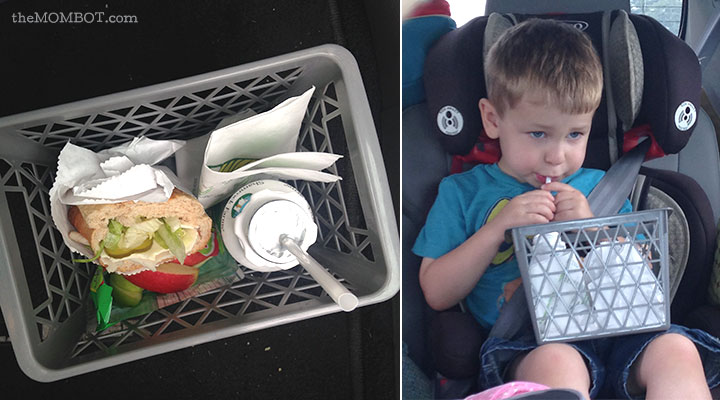 They worked like a charm! I actually liked that they had tall walls so I could put the kid's drinks in them and they didn't spill or fall out. We completed avoided drink spills during the drive and food spills were kept to a minimum (the snacks they ate throughout the day were the worst offenders).
3. Pack "car boxes" for the kids
I got this idea from my girlfriend. Buy scrapbook storage boxes (only about $3 on sale at Michaels) and fill them with all kinds of goodies to keep the kids busy on the drive. We only let them play with this stuff on road trips so that they are still excited by it come car time. The boxes hold everything, but can also be closed and used as a lap desk – genius! My 5 year old executes this beautifully, my 3 year old – not so much. The box is a little too big to stay on his lap and he prefers to take everything out at once instead of one thing at a time, but it's still better than nothing. Some of the things I put inside are stickers, blank notepads, crayons, travel games, card games, lacing cards, small toys and books. Just about everything was purchased at the Dollar Spot or the Dollar Tree. If you aren't using them and need to get them out of the way, they slide underneath most seats in the car. These boxes are great, but a DVD player doesn't hurt either…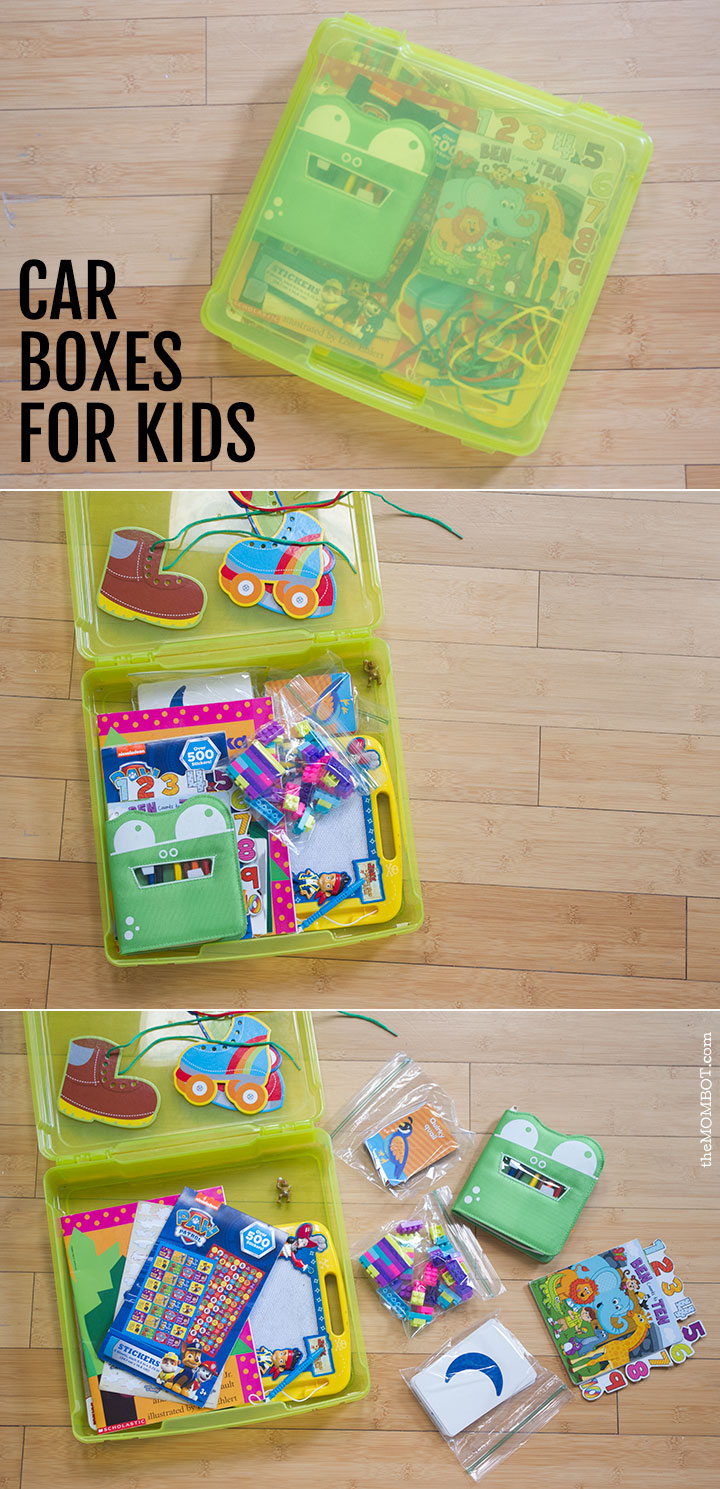 4. Pack a travel potty & have diapers ready
It's happened before. We got stuck in really bad traffic once trying to go through the pass in Colorado and my daughter needed to use the potty. Another time, we were in Utah in literally the middle of nowhere and the next rest stop wasn't for another 45 minutes. If you are traveling with small kids – you really must pack a travel potty! This one is my favorite, it folds up for easy storage and then unfolds when needed. It even has little legs so that it's like actually sitting on a potty. It comes with a couple of bags that you can drape over the potty that have an absorbent strip in the bottom – exactly what you need when you are in the middle of nowhere. I was too cheap to purchase more of those, so I just use grocery bags and some folded up paper towel now to recreate them. It totally works (as does putting a diaper in the bottom. I store the travel potty in a small bin in the back of the car with diapers and wipes. Instead of having to grab a diaper bag every time we stop, I can just grab a diaper and wipes from the back of the car and I know I won't run out because I have a bunch of them.
Road Trip Hacks: Making the Drive Easier
1. Use Roadtrippers.com to find interesting stops
Using Roadtrippers allowed us to find tons of interesting things to do along the way. Some things are more exciting than others, but they have everything from attractions to restaurants to hotels on their app, so you can easily use them to find something along your route. We made frequent stops to let the kids get a break from the car, and some were as simple as a fun restaurant or a park. The app tends to drive me a little nuts and I don't think it's the best executed, but I loved the overall concept. This is how we found a hotel with a waterpark inside; I mean, my kids are still talking about it.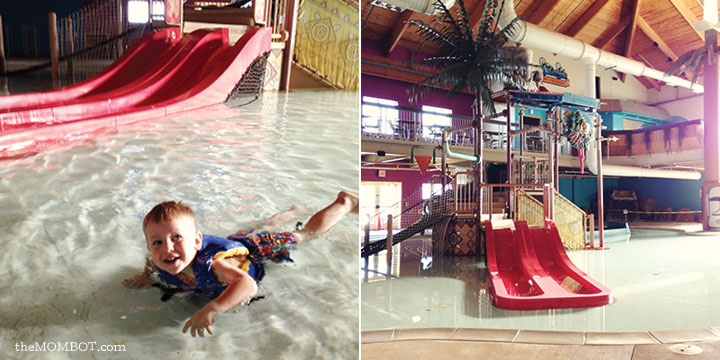 2. Find the cheapest gas
Download the GasBuddy app on your phone to help you find the cheapest gas near you (or you can go to their website www.GasBuddy.com).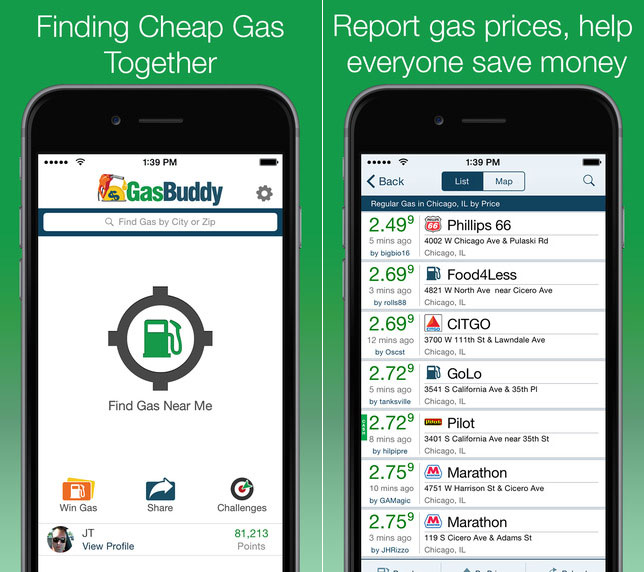 3. Keep your phone charged
Bring a 2-port USB car charger so you and your travel companion can both plug in. And guess what? If you're at a hotel and don't have a plug-in adaptor for your phone charger, the back of the TV usually has a USB plugin! I haven't actually tried this to charge my phone, but it seems worth a shot if you're in a pinch.
4. Don't get lost
Take screenshot of the directions on your phone in case you lose wifi. There's also always the chance that your battery will die, too (which believe it or not, totally happened to both of us at the same time and our car wasn't charging them for some reason), so you may want to have an atlas (remember those?) in the car just in case.
Do you have any other tried and true road trip hacks?
*post contains affiliate links