I don't really like road trips.
My husband will agree. He almost threw me out of the car a few times. I get antsy and whine about how it's taking FOREVER.
But despite not enjoying being stuck in the car for long periods of time, I do enjoy making memories with my family. And this road trip might have been our biggest memory maker yet.
We knew we were planning a trip to Michigan this summer to visit family and enjoy the festival that was happening in the tiny farm town I was born in, and I knew we couldn't afford to fly our family of 5 there and back – so a road trip it would have to be.
I figured we would just hunker down and drive the 23 hours as quickly as we could; I mean, why would I want to prolong such torture by stopping to do things along the way?? But then we hopped on Roadtrippers.com and started picking out some things to do along the way, and suddenly I got really excited about seeing the Midwest with my kids! There were museums and beaches and train restaurants and waterparks and farms and so much to learn and see.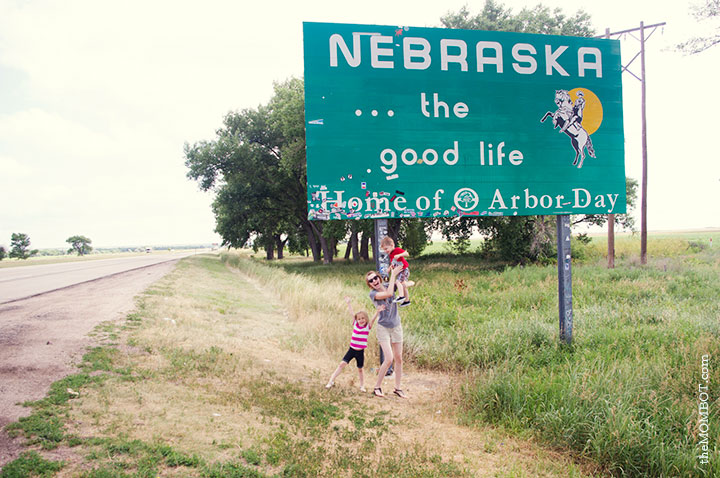 We planned stops in Nebraska, Iowa, Illinois and Michigan. We also drove through Indiana I think… It was a lot of "I" states and I failed the United States test in 6th grade, so who really knows.
I knew it would be rough with a 13 month old; the other two had plenty to keep them busy and a DVD player to boot, so they had nothing to complain about (not that that kept them from complaining). I am a master at packing car snacks and eating on the go (see "road trip hacks" post), so that was all handled. And my husband and I purchased Amy Poehler's audio book, "Yes, Please" to pass the time (hilarious – just keep the volume down so the kids don't catch the swear words!). Overall, I did pretty good on prepping us for the drive.
I have to say, no one got car sick, no one peed their pants and the screaming was fairly minimal. Graham gained about 8 lbs since I was constantly giving him snacks to keep him happy, but that's neither here nor there. Long story short, we survived the drive.
And the way back wasn't too bad either; we stretched it to three days instead of two like the drive out, and made plenty of educational and fun stops. I realized at the end of the trip that we only stopped one place that had an admission fee – everything else had been free. Well, darn it, aren't I good?
On the way to Michigan, we made stops at Fort Cody in Nebraska, a fun place for the kids to run around in and out of teepees and jailhouses.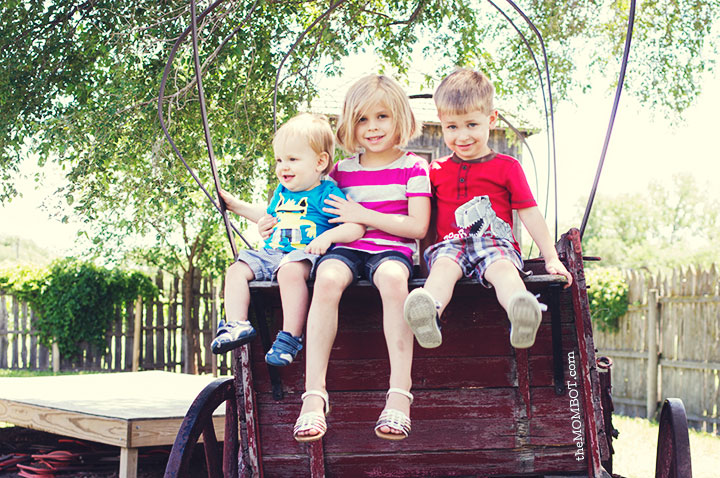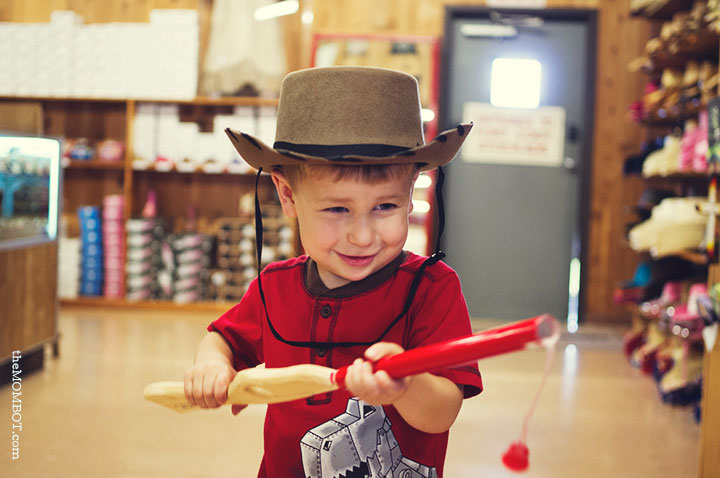 Then we had ice cream in Lincoln, Nebraska and enjoyed the historic buildings and details.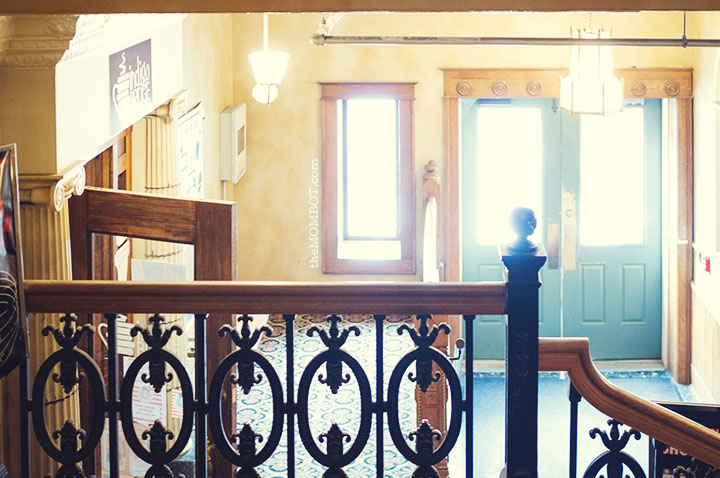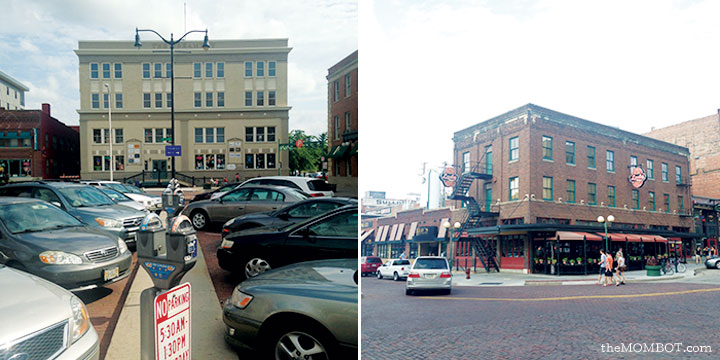 On day two, we stopped in South Haven, MI to see the historic lighthouse, visit a super cool wooden playground and "ooo" and "ahhh" at the adorable little cottage houses that lined the shore.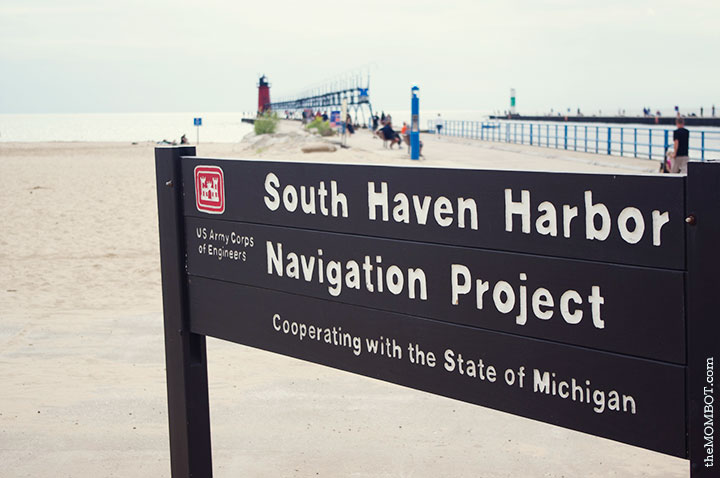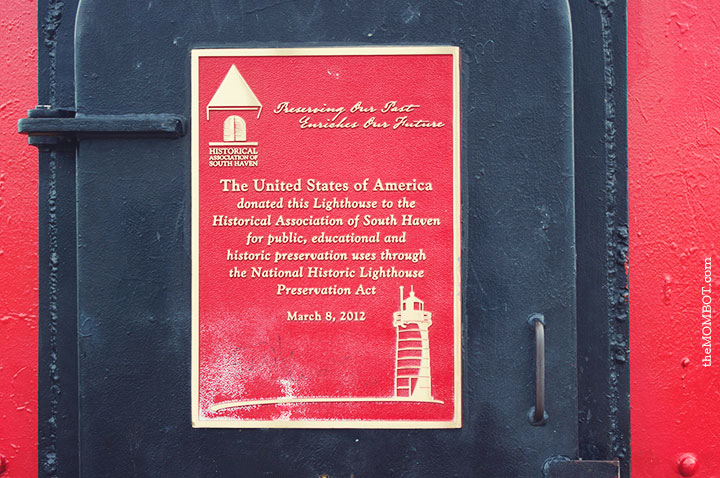 One we arrived in the tiny town of Pigeon, Michigan, there was no shortage of fun. We spent an entire day watching a parade (where my kids caught way more candy than any Halloween haul – they really know how to do parades in the Midwest), playing in bounce houses, riding tractors, getting faces painted, eating Superman ice cream (only Midwesterners will understand), sweating (why so humid, Michigan? Why??), cheering my brother-in-law on in the chicken wing eating contest (it's true) and ended the day with a glorious fireworks show at dusk. This day was straight out of a movie; the one where you watch it and think, "I want to move to a small town!"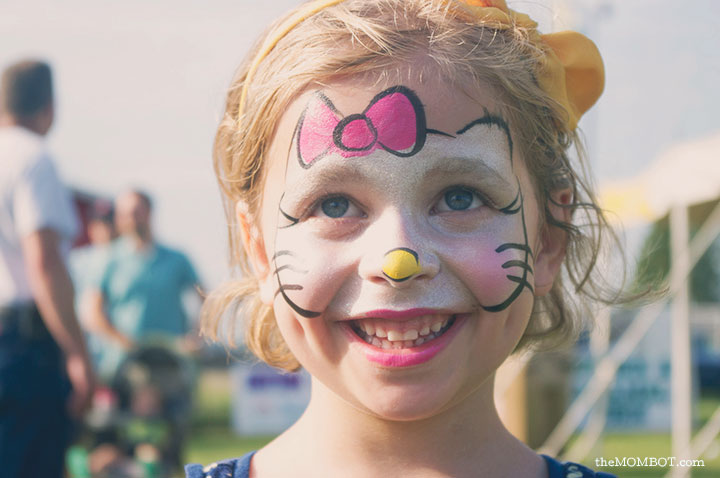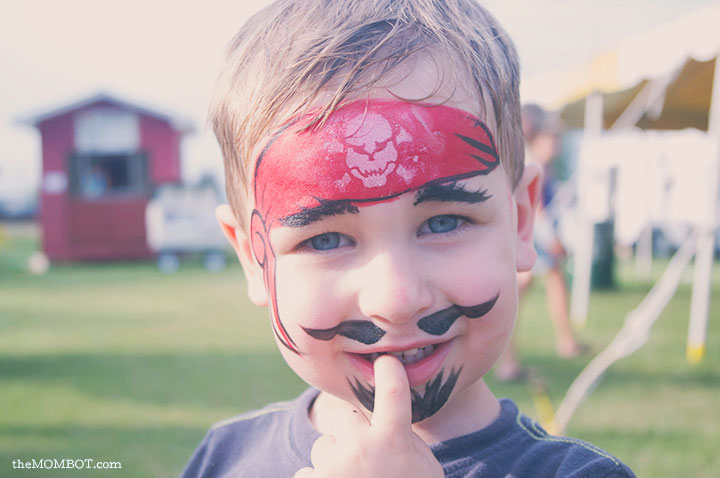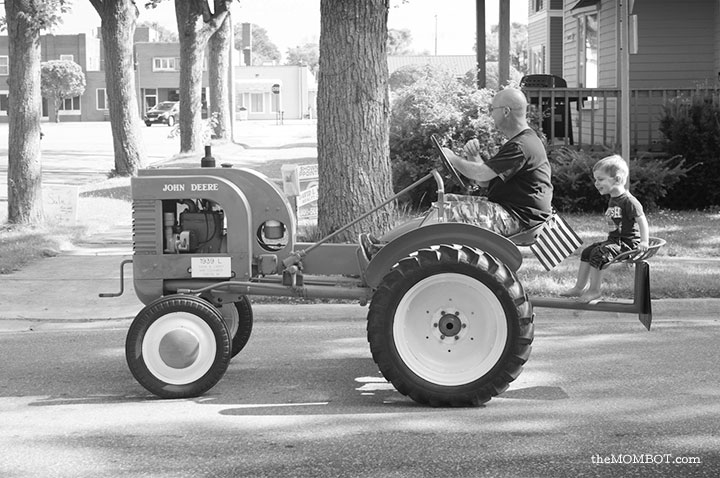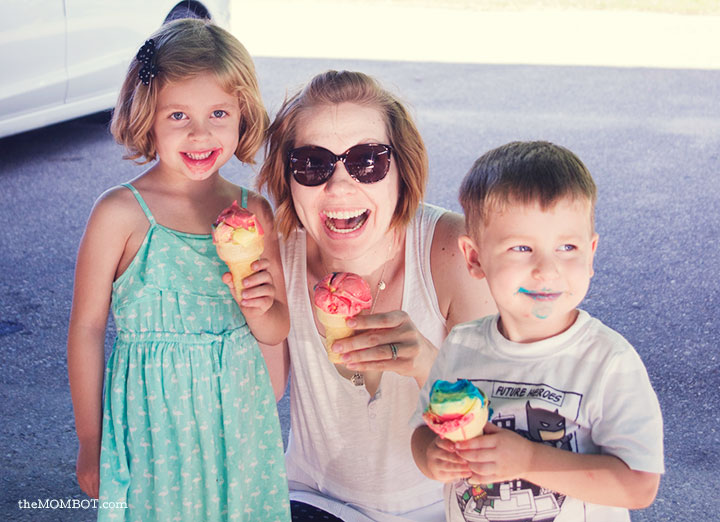 You can read more about our Michigan adventures and why I begged my husband to buy me a house there in this blog post.
Eventually we had to pack up and head home. I said goodbye to my little town and vowed to return another summer with the kids.
The trip home was perhaps my kid's favorite part; we picked a hotel with a waterpark inside (hello, mother of the year). We also ate at All Aboard Diner in Downers Grove, Illinois – a restaurant that delivered our food to us via train (seriously, has anyone nominated me for mother of the year yet?).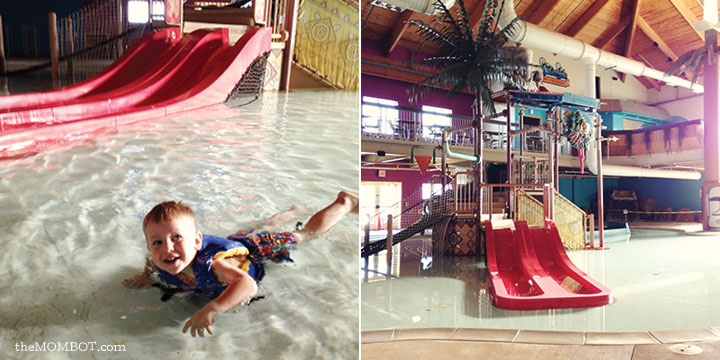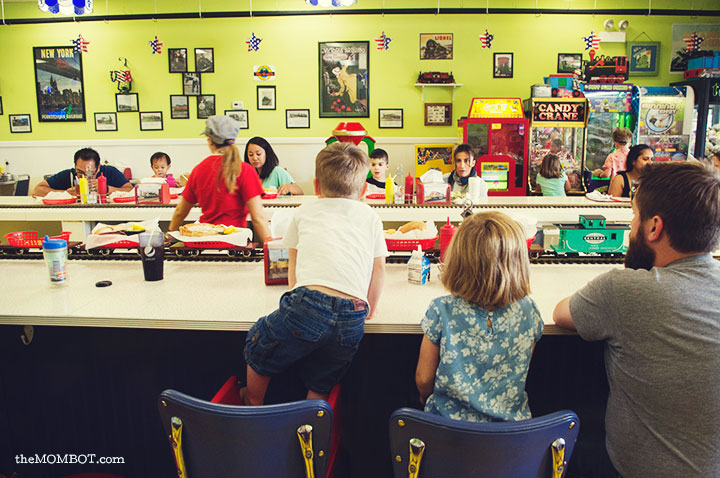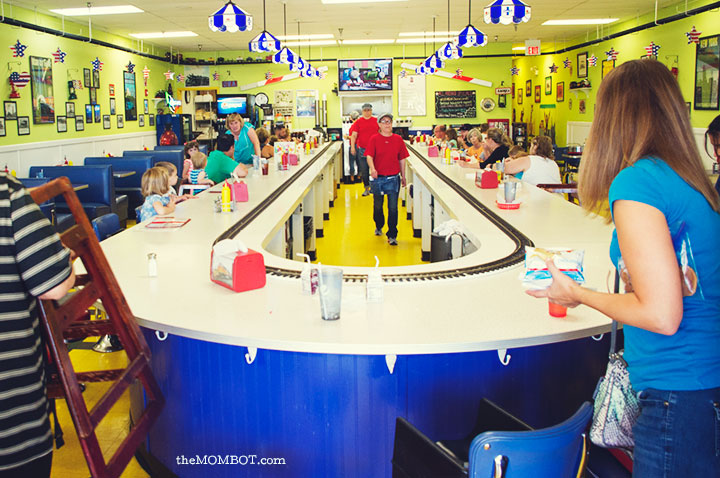 We made a stop at Kensington Metropark Farm Center in Milford, MI so the kids could get up close and personal with some stinky animals.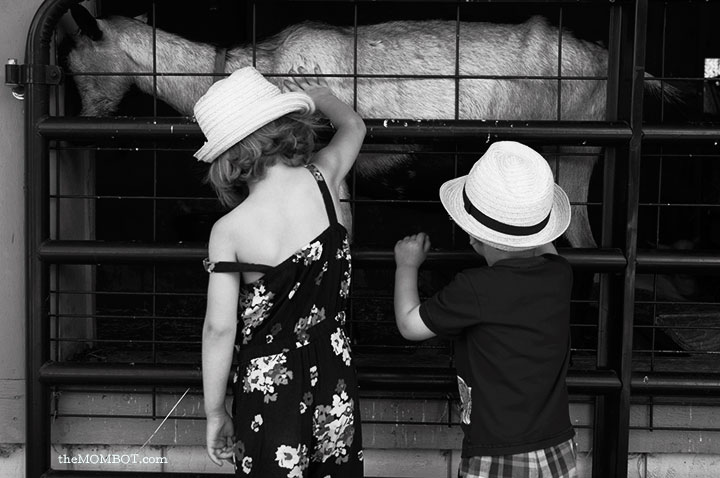 We also stopped at the Great Platte River Road Archway in Kearney, Nebraska where we walked through an audio tour all about the Pioneers and the history of America. It was quite fascinating and a good break in the trip.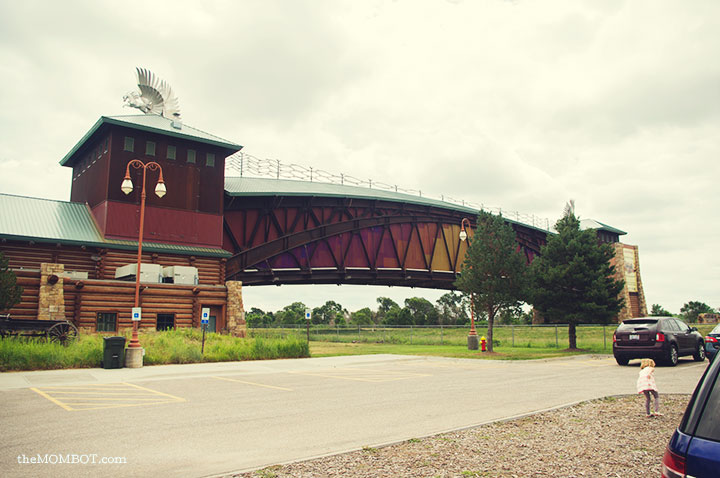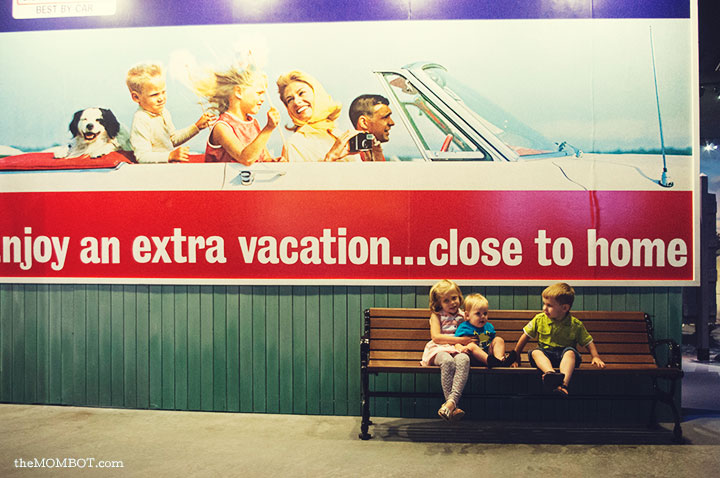 The last day of driving seemed to take F.O.R.E.V.E.R. as it often does. Eventually, we made it home. As I walked in the door I was reminded of just how much I love my home and how I couldn't wait to sleep in my own bed. I shared too many hotel beds with my kids and got kicked in the ribs umpteenth times.
Conclusion: Road trips sometimes make me a psychotic person. My kids will probably remember some of my bad moments, but hopefully they'll remember more of the good ones. Making memories with my kids is my favorite thing ever. I would do it all again next year.