Picking out the perfect gifts for a high school graduate can always be difficult… what do they really want or need? Um, probably money.
But aside from that, sometimes it's great to give them something entirely functional and necessary, and other times it's fun to spoil them for all their hard work (like, say, if you're the fun-loving aunt).
Here's a roundup of some great ideas for gifts for girl high school graduates at all price points and from fun to functional (don't worry, there's a money gift included in the round-up).
Gift ideas for girl graduates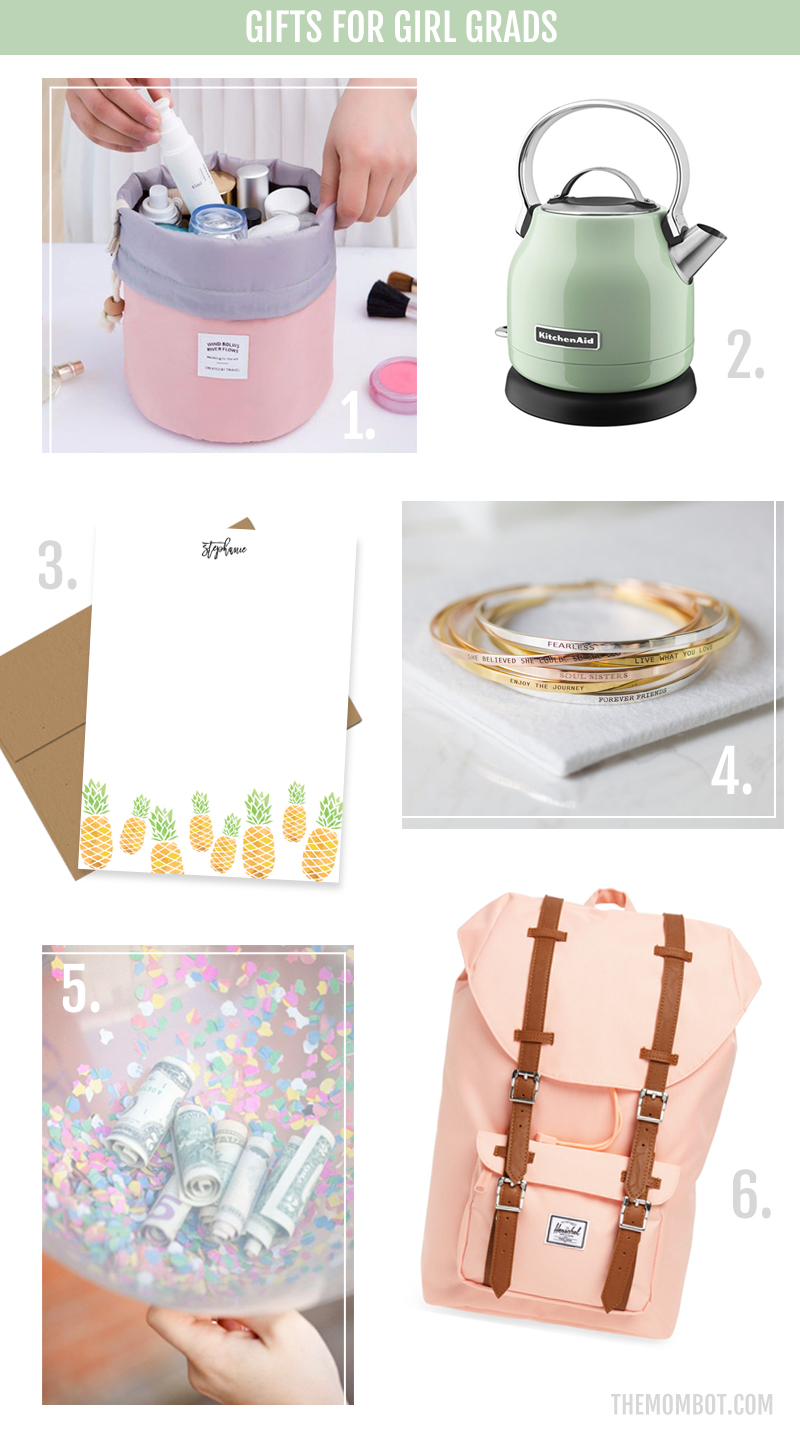 1. Toiletry/Cosmetic Bag, NewChic.com (under $10!)
If your grad is headed off to school and will be staying in a dorm, a toiletry kit is a must. This one is incredibly functional and adorable to boot! It will make trips to the shower so much easier.
2. Electric Kettle, Amazon ($70)
A great thing to have for any dorm-bound grad is an electric kettle. Whether she wants tea, instant coffee, hot chocolate or hot water for her Ramen (despite your motherly words of wisdom on nutrition), an electric kettle will be key. And a cute color like Pistachio will make everything taste better, I swear.
3. Personalized stationery, Etsy ($17)
Nothing says "Don't forget to check in" like the gift of stationery! Remind her that writing home is a must with a cute set of personalized notecards. Throw in some stamps and she'll have no excuses!
4. Engraved bracelets, Etsy ($36)
Give her a gift with a reminder of how capable, strong or smart she is. These can be personalized with any message you prefer, but I love sayings like "Enjoy the Journey," "Fearless," and "She believed she could, so she did."
5. Money balloon, SugarandCharm.com
Come now, all they really want is money. So give it to them (in a balloon. with pretty colored confetti. cause that's how you roll.)
6. Designer backpack, Nordstrom ($100)
Prep them for their continuing education with a quality backpack that they would likely never buy for themselves. This adorable bag by Hershel Supply Co. comes in lots of colors.