This is the first time we've lived someplace with stairs. I love that the kids sleep upstairs and we no longer have to tiptoe around the house during naps and post bedtime, but I hate that the kids are OBSESSED with climbing up and down them. I am also totally neurotic and afraid they will fall down to their deaths… but that's another story of paranoia.
My 3 and a half year old does well going up and down (holding the railing EVERY time, of course) and I don't worry about her so much; but my 1 year old is obviously still very clumsy. The other day he flipped forward and would have landed on his head had I not been there to catch him (insert panic attack here).
We have baby gates, but because of the way our railing and banister are set up, they just aren't working. The wooden rails on the banister can't handle the pressure gates, so that's out. And because of the height of the railing and the baseboards, we are having a hard time finding one to fit the space, anyway.
This dilemma (and my neurosis) recently prompted me to look up some other babyproofing solutions. And since I hate babyproofing anyway because it makes a cute house ugly, I decided to throw the word "stylish" into my little google search.
Bazinga! (is that a word, and if so, how do you spell it?) I found some great solutions! Here's what I came across:
DIY baby gate from door
While searching for baby gate options, I came across this DIY baby gate made from an old door on The Girls With Glasses, and I was immediately smitten. We are in the process of making our own as we speak for both the stairs leading up to the 3rd story and the stairs leading down to the basement. I love that these use hinges and a hook & eye lock instead of pressure to keep little ones from getting through, and it will totally work with our railings (with some creative adjustments).
P.S. If you rent and can't drill into the railing to create a gate like this (or if you own and just don't want to), I found this great idea of attaching trim to the post with clear zip ties and drilling into it instead – duh! So smart!
///  U P D A T E  ///
08.26.13  We created our own baby gates (2) from one $30 Home Depot door! See the DIY:
Open railing guard
We also needed a solution for covering the open railing for our basement stairs, because Lincoln could fit right in between the gaps. The previous owners had this horrible black plastic net attached to it with zip ties; it looked atrocious. We quickly cut that down and put up our octagon playgate along the railing for a quick fix. I came across this idea on Aparment Therapy for installing a product like frosted plexiglass that I loved:
So pretty, right? However, this product is really expensive and we also can not drill into our railing to hang it because we rent. So, I decided to purchase a clear plastic banister shield instead (specifically this Clear KidKusion Banister Guard). It will be fairly undetectable against the stairs, and although it's not as stylish as the option above, I think it's leaps and bounds beyond the black netting.
///  U P D A T E  ///
08.15.14  We created our own railing guards for $9! See the DIY: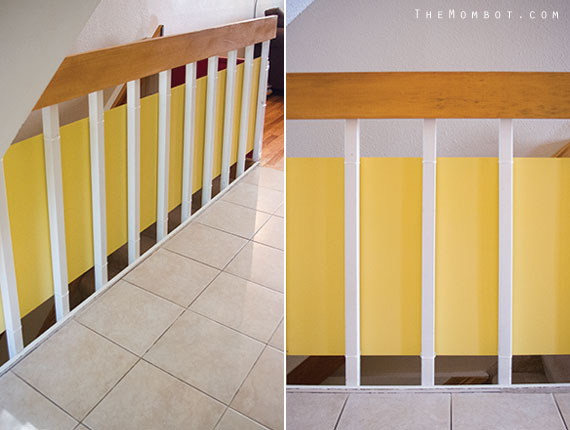 Foam padding for sharp banister edges
Finally, we needed to do something about the edges of the banisters. They are cut at an angle and at just the right height for the kids to run right into if they aren't paying attention (which, let's face it, is every day with these two clumsy kids). The previous owners decided that pipe foam and double stick tape was a good solution… classy, no? I, on the other hand, decided perhaps an actual foam banister guard product would be a better idea. I ended up purchasing this chocolate colored one by Prince Lionheart so it will blend in with the railing and still have some cushiony protection.
Hopefully these solutions won't detract too much from our decor, but blend in or even enhance it (in the case of the DIY gates, anyway). I'll be sure and share photos when we've got them up, but for now, I just wanted to encourage you to think outside the box in case you were putting off babyproofing because of the ugly factor (like myself).
*Disclosure: Some affiliate links used