I've been in a planning frenzy these last couple of weeks trying to figure out what in the world I am going to do in the nursery. For some reason, I've been very noncommittal and totally overthinking the whole thing. But it's time to get down to business because I've got a little over 2 months before my due date (*insert scary, panic face here*).
When it comes to the nursery, I don't exactly have a blank slate to start with, which makes it even more difficult. The walls are painted a light yellow (not the prettiest yellow, either) and because we rent, we aren't allowed to paint. So after much searching for appropriate color schemes that would play down the yellow and still scream "boy," I decided on a yellow/teal/mint/grey palette.
After picking my main fabric (grey arrows), I decided to tie in "adventure" and "bravery" and all those boyish things. Here is a very preliminary compilation of ideas for the room: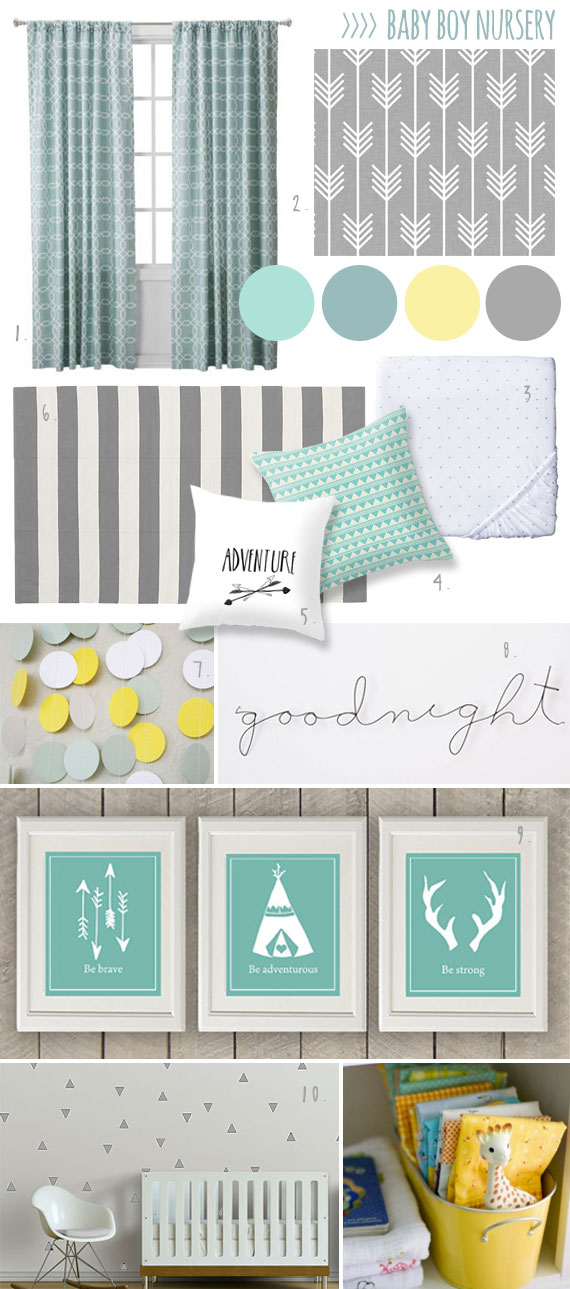 1. Geometric window panels, Target
2. Light grey arrow print, Spoonflower
3. Gray dot crib sheet, Target
4. Triangle mint pillow, Etsy
5. "Adventure" pillow, Etsy
6. Grey stripe rug, Crate and Barrel
7. Paper circle garland in mint, yellow, gray, white, Etsy
8. Wire goodnight sign, Anthropologie
9. Tribal nursery art, Etsy
10. Triangle vinyl wall decals, Etsy
I am making the bedding (bumper, quilt, crib skirt) using solid colors from the swatches above, so that should be interesting. Not my first choice given the time frame, but I just can't justify spending $400 on bedding when I can make it for less than half the price. The arrow fabric that I settled on from Spoonflower is what started the "bravery" theme and will be used for the quilt, the insets in my pleated crib skirt and the changing table pad.
I am loving the idea of triangle wall decals on one of the walls (#10); it brings the whole tribal feel full circle. And a couple more DIYs (because I've got time, right?!?):  I plan to make a circle or triangle garland from colored cardstock to hang above the crib (#7), and I am going to try and make some wire lettering like the Anthropologie "goodnight" sign (#8). I'm not sure if it will read "goodnight" or something else… perhaps the baby's name?
As you can see, I've got this all figured out… and I still have a shared bedroom to redo for my oldest two… Yikes! Mood board for that to come, I'm sure.