Back to school we go!
Most kids will be starting school up again in the next few weeks (can you believe it?) and it's time to ready ourselves – and simultaneously shout "hooray!"…
Between trips, camps and sports, this summer seemed to fly by. I can't believe I will have a preschooler, kindergartener and 2nd grader this year… Aside from freaking out over having to keep track of so many little people and their assignments, I'm trying to think ahead about how to be organized and prepared. If we have any chance of making it through the year, we'll need supplies!
So from packing lunches and snacks to keeping them on top of their homework, I've pulled together a list of my back-to-school must-haves for preschoolers-elementary kids.
With all that in mind, here are some of my back to school must-haves for the school year: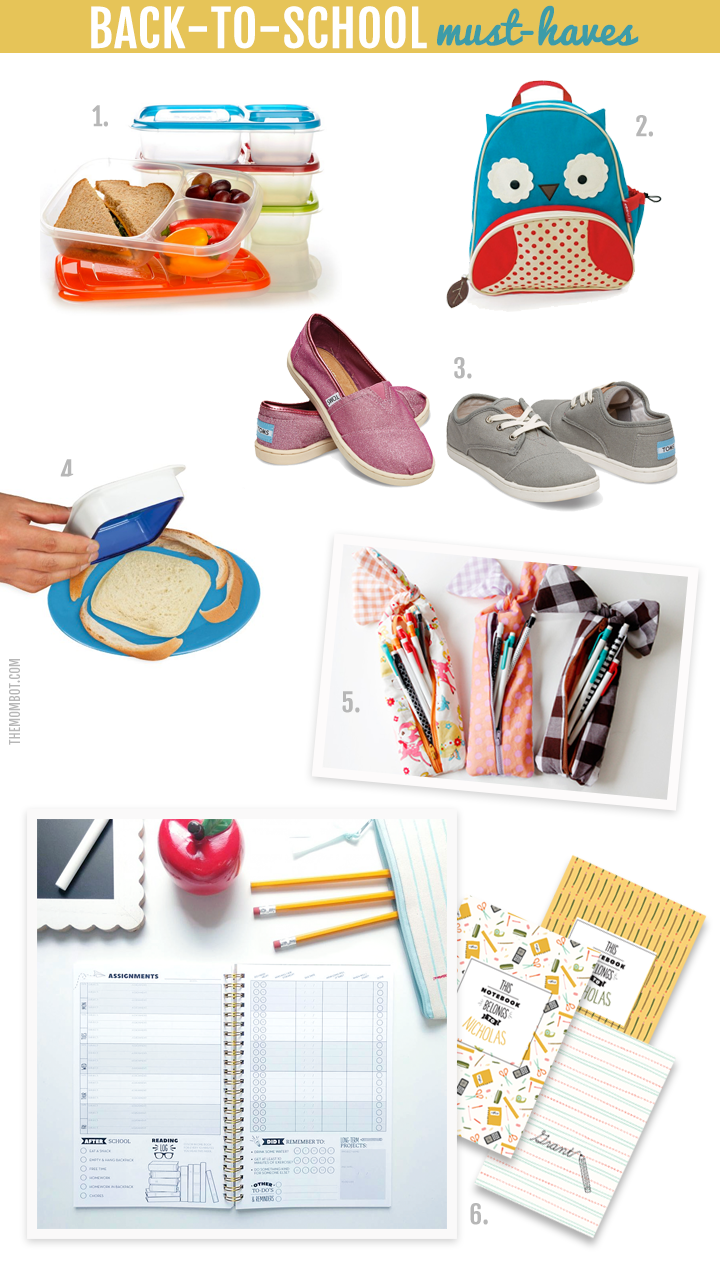 back-to-school  MUST-HAVE  # 1.
EasyLunchboxes 3-compartment Bento Lunch Box Containers   //  This set of 4 bento boxes are BPA-free, dishwasher-safe and only $13.95. I use these exclusively to pack lunches for the kids. They are great for portion control and for keeping foods in their place. It's much nicer to carry one tupperware container than three! I find them to be great quality too – the lids even close tightly (big pet-peeve of mine with plastic containers).
While we're on the topic, here's a great pin for 15 lunchbox ideas.
back-to-school   MUST-HAVE   # 2.
Skip Hop backpacks  //  I LOVE Skip Hop backpacks for preschoolers. I bought my daughter the owl backpack about five years ago and we still have it and use for her little brothers. The quality is great, but so is the size. Regular backpacks are too big on little preschoolers. They have tons of adorable accessories to match too, like lunchboxes, thermoses and blankets. Pick your child's favorite animal, since they pretty much have them all.
back-to-school   MUST-HAVE  # 3.
Back to school shoes  //  I love me some TOMS. I have had the same pair forever and they are my go-to errand-running shoe. I love them for my kids, too. They tend to wear them until they have holes, which makes me feel like they were money well spent. The Canvas Paseos are a great classic shoe for both boys and girls, and what girl doesn't love their Glimmers? They are perfect for my preschooler since he can slip them off and on himself and they're a great alternative to sandals (which many schools won't allow).
back-to-school   MUST-HAVE   # 4.
DIY uncrustables with the Wonder Sandwich Sealer N Decruster  //  I'm love this product! It allows you to create your own "uncrustables" by removing the crust and sealing the edges. I can easily create several of my own uncrustables and throw them in their own baggie in the freezer so I can grab them when I am running late and need to pack my kids a lunch or snack. I've always loved the idea of uncrustables, but don't buy them because of the price. So this a one-time purchase of under $7 is totally worth it!
back-to-school  MUST-HAVE # 5.
DIY Knotted pencil pouches  //  I am kind of obsessed with these DIY pencil pouches. How cute for a girl!
back-to-school  MUST-HAVE   # 6.
Personalized Homework Planner for Kids  //  Help your elementary-aged kids stay organized this year with a personalized homework planner. It's geared toward older elementary and middle school students and helps them not only keep track of homework, but also their after-school responsibilities, reading time, exercise time, and more. It's the perfect way to get them thinking through the process of long-term assignments and teaching them personal responsibility and accountability!
Disclosure: post contains affiliate links – read my full disclosure statement here