Disclosure: Some goods and services were provided to me for free in order for me to experience Old Town Parker. But all opinions, musings and holiday melo-drama are entirely my own.
When I was young, my family lived in a small farm town in Michigan. We moved when I was six, so my memories are scarce, but I do remember Christmas. I remember taking horse-drawn sleigh rides through town. I remember meeting Santa in his little hut and getting a candy cane. I remember bean soup and hot chocolate sold at concession stands. I remember a town-wide gathering and drawing where kids and adults got all kinds of awesome things that had been donated by local businesses. I remember the window displays of the store fronts on Main Street filled with holiday themes. My parents managed one of the stores in town and I remember (to my horror) seeing some of my one dolls used as part of the elaborate display. And lastly, I remember looking up in the sky and seeing Rudolph's red nose glowing on Christmas Eve (which was actually the light atop the local grain elevator at the end of my street, but I was none the wiser). It is all so magical in my memory.
There is just something special about small towns (particularly at Christmastime). Most people love them because it reminds them of the town they grew up in, or they love them because it's the small town they wish they grew up in. And then some people love the city and don't care about this blog post. That's fine too (ha, ha).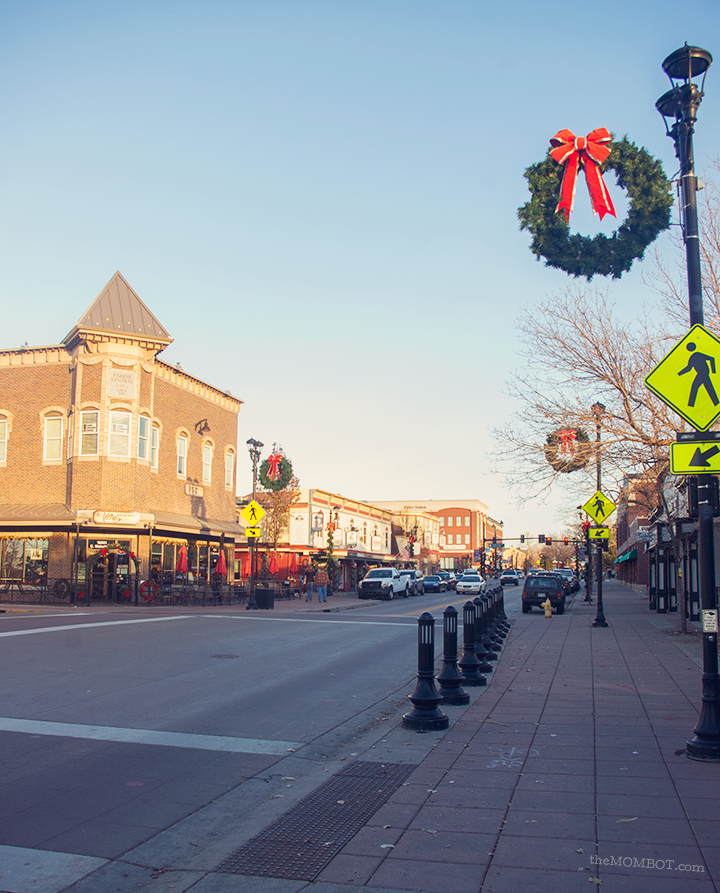 Moving to Colorado has given me the chance to renew some of my small town memories, with many of these little town gems speckled all over the state. Most of the cities outside of Denver have their own little "Main Streets" (either figuratively or literally) and, while they are far from a farm town, they have that same small town charm with homegrown businesses, local eateries, and the coffee shop that everyone meets at.
While we live in our own small town in Colorado, my husband and I set out on a little holiday adventure to explore the historic Old Town of Parker, Colorado, just south of Denver. And we were met with that feeling of everyone knows everyone and everyone likes you and you are so welcome even though you're a newbie. And it was simply the best.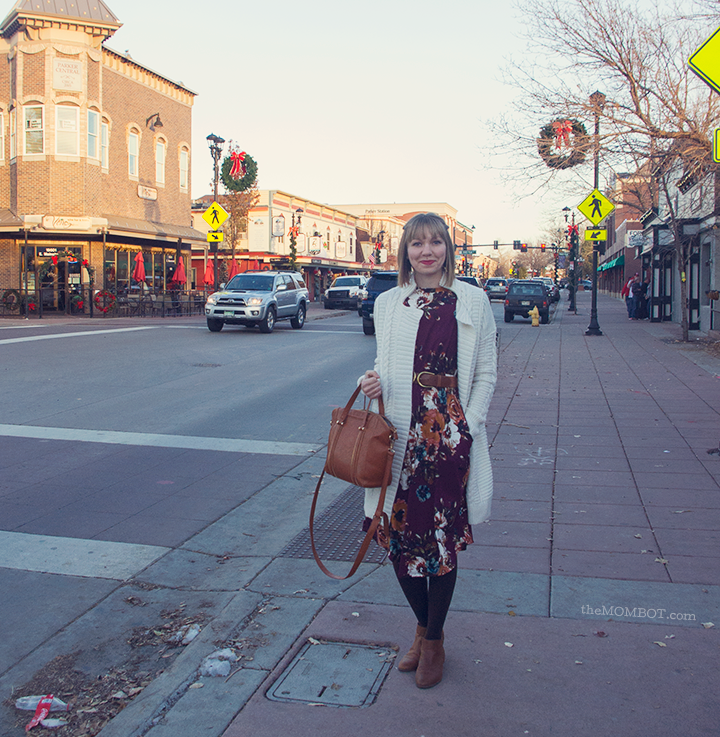 If it's been a while since you and your partner headed out together, pick a day and plan a holiday outing with each other – it's so worth it and the Christmas season makes it all the more romantic. And our outing helped me develop a new 4-step plan to every good, solid date night. Here's how it goes…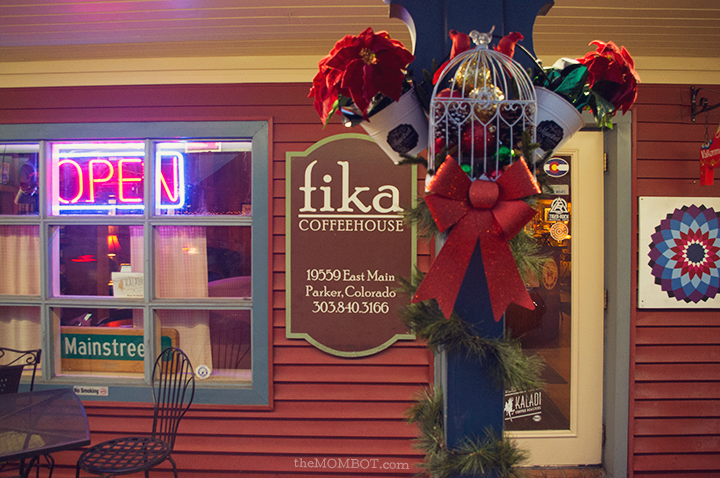 Stop #1: Coffee
Like every good date should, we started with a stop at the local coffee shop. Fika ("to meet over coffee" in Swedish) Coffee House has slowly helped bring life back into Old Town Parker. Where once people would slowly trickle in throughout the day, business is now steady regardless of the day or hour. Isn't it true that life and relationships form at the local coffee shop? Something about the casual atmosphere and the smell of coffee…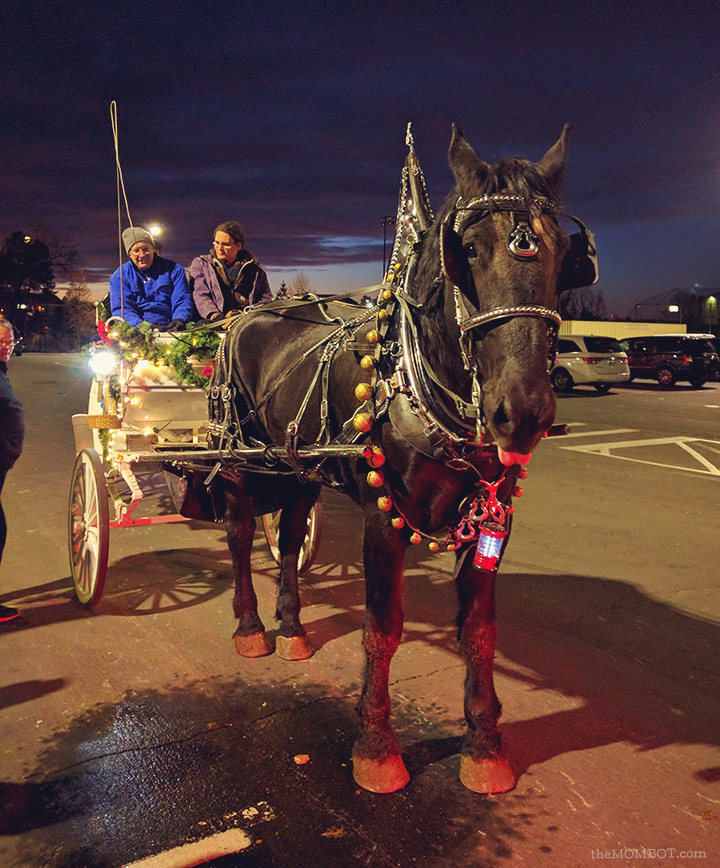 Stop #2: Carriage Ride with a Little History
No romantic winter date would be complete without a horse-drawn carriage ride. Parker offers carriage rides every Saturday night during the holiday season, which takes you right down Main Street and past some of the city's most historic buildings. Speaking of history, Parker once served as a stopping point for traveler's along the Cherokee Trail. It was a place for travelers to stop and rest up, bathe and collect provisions before heading into the big city of Denver. Many of its buildings still possess the original character of the late 1800s, when the town was first established. I'm generally not a history buff, and yet I find it all really interesting.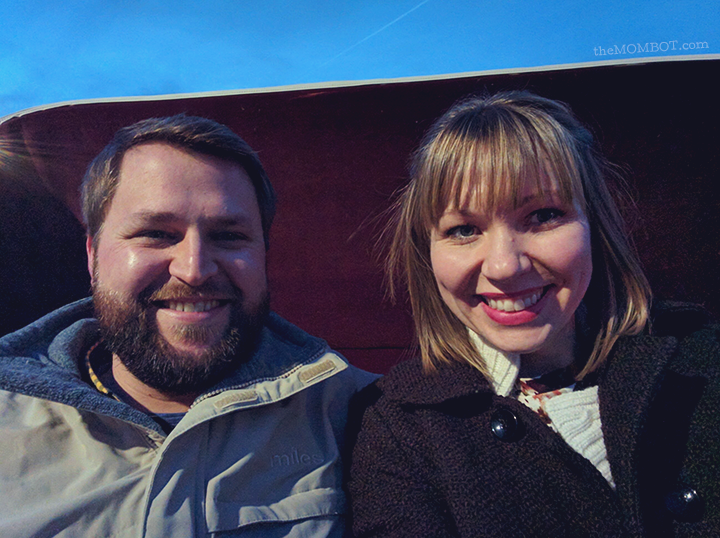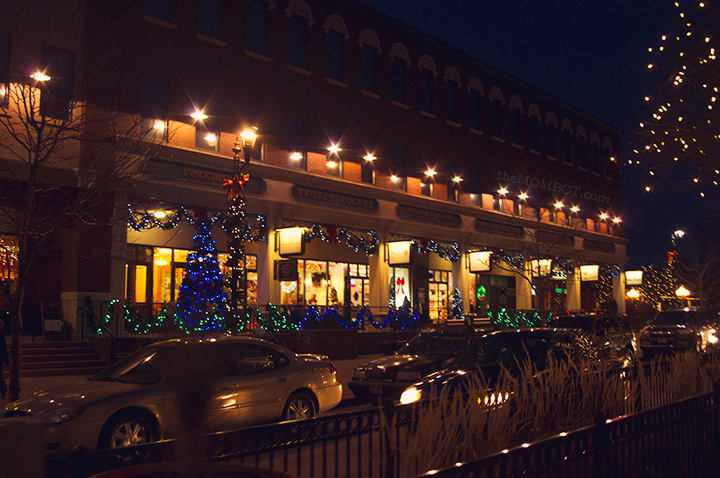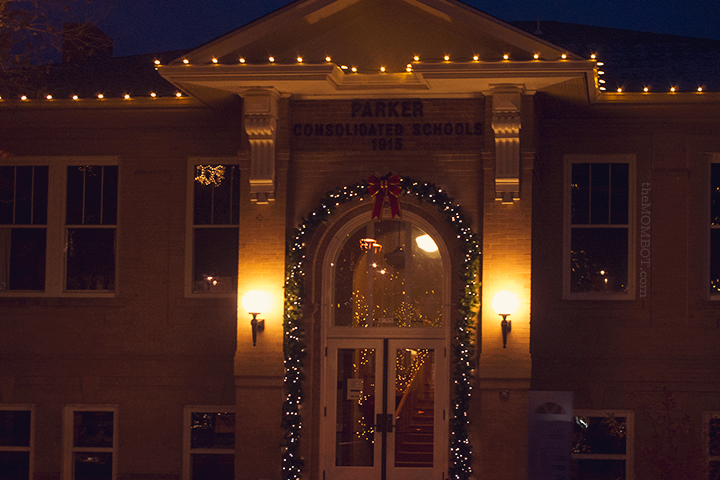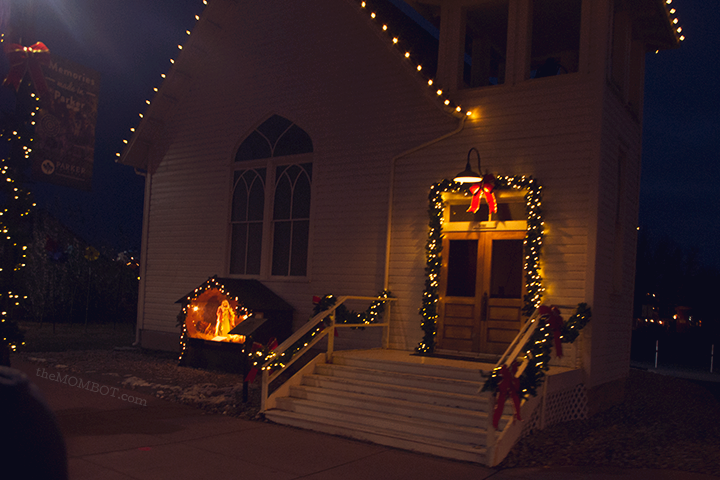 Every small town has a local park where residents gravitate. In Parker, O'Brien Park houses their gigantic Christmas tree and snowflakes hanging so high up, that it truly looks like they are falling from the sky.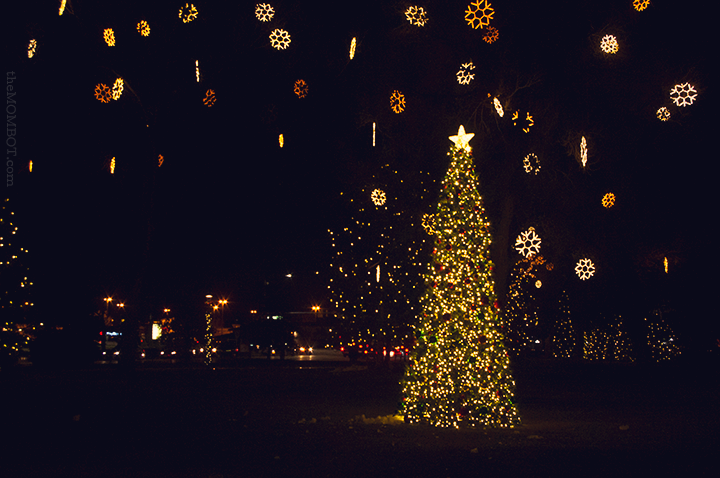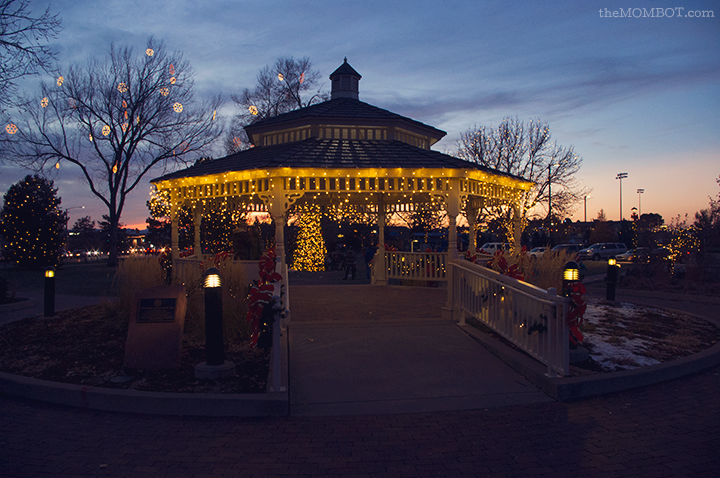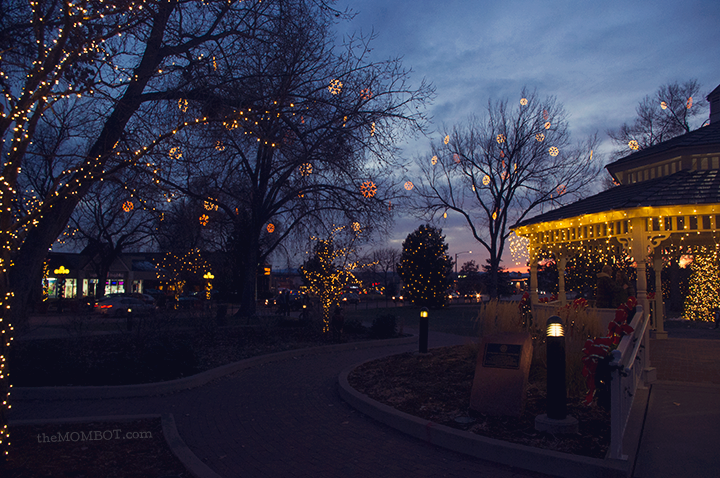 Stop #3: Dinner Someplace New
Date night should always end with dinner and show – even during the holidays. So we stopped by Parker Garage for some of the most ridiculously amazing food – oysters (that was a first for me), Moroccan vegetable beef stew, pork chops cooked with the sous-vide method (look it up – it creates the most amazing moist meat), Pinot Noir that I won't soon forget, pickled vegetables and gnocchi in pea puree (I hate peas, but damn did I love this pea puree). You guys, I just about died. This place is legit. If you are ever in Parker, please stop by Parker Garage. It's located in a historic building built in 1916 that was originally a gas station. It also served as the Warhorse Inn for 30 years until being gutted and reopened as a restaurant in 2014. The interior is rich in history and the food is reasonably priced, yet incredibly unique. Don't go to McDonald's on your date night. Try something new and different. I swallowed oysters, for crying out loud.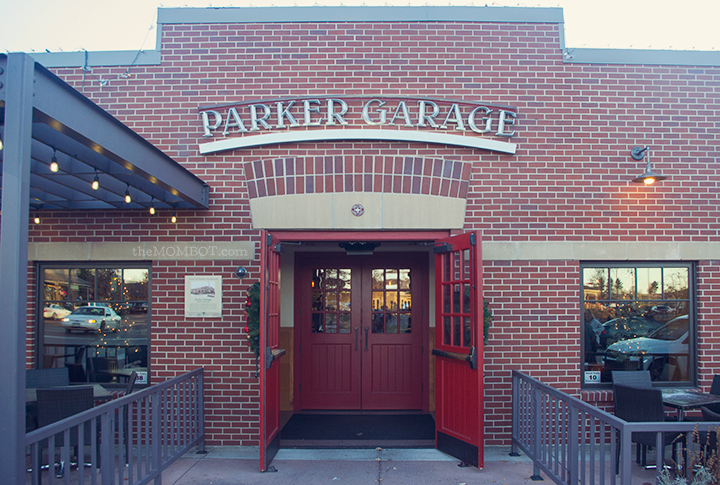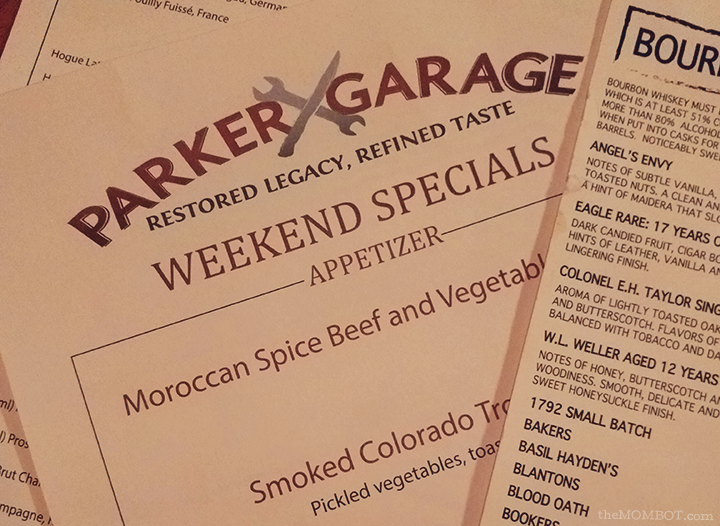 Stop #4: Entertainment
And finally, catch a show! The Christmas season means there are plays and musical performances happening everywhere – even your local high school might be showing something. We ended our night at the PACE center with a Blues Brothers Revival Show. There was laughter, there was music, there were horns, and there was an old guy on piano who really loves his job.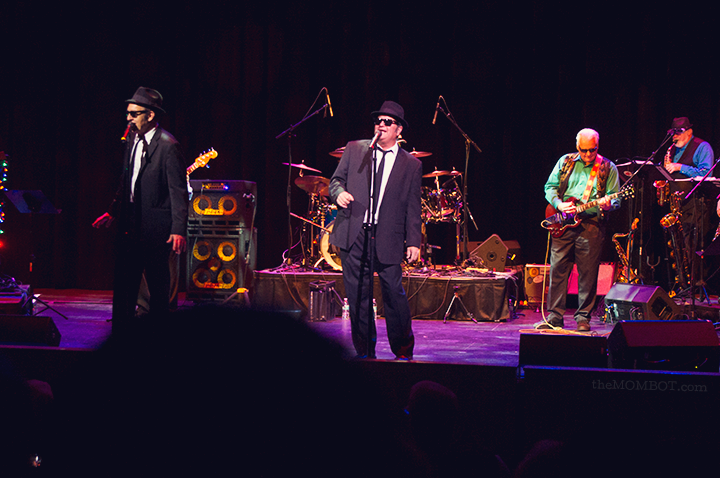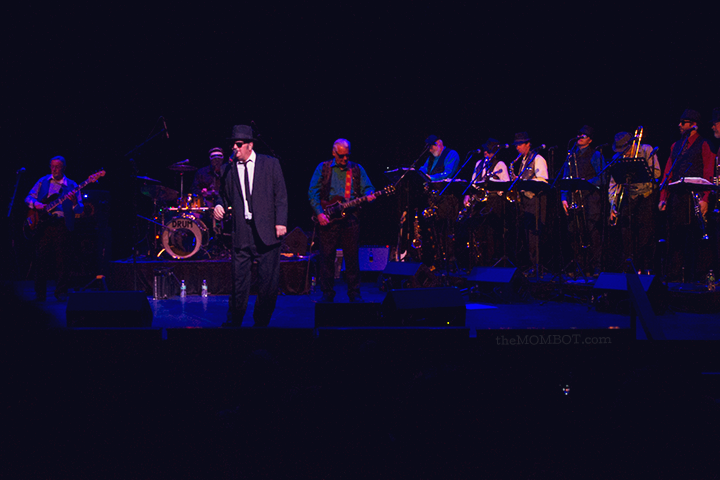 By the end of the night, my holiday spirit had been jumpstarted and the Mr. and I had had some serious conversation and a whole lot of fun (when else do you get to have a serious conversation but date night when you have three kids at home?). Moral of the story: find a small town nearby and plan a night with your significant other this Christmas season.
Happy holidays, friends.