Disclosure: This is a sponsored post that also contains affiliate links
Every once in a while, I like to share a few of my favorite things with you. Sometimes it's your friends that turn you onto some of the greatest things you didn't realize you needed, and that's why I love writing these posts and reading them from other bloggers, too. Sometimes I walk away from those posts looking pretty cool for knowing about the latest, greatest products. I can't promise that from this post because I'm getting too old to know what's "cool," but hey, I can put forth my best old-lady effort (OMG, I just realized I have a candle on my list of favorite things… I really AM an old lady, aren't I?? Stop mocking me and read about the freaking candle).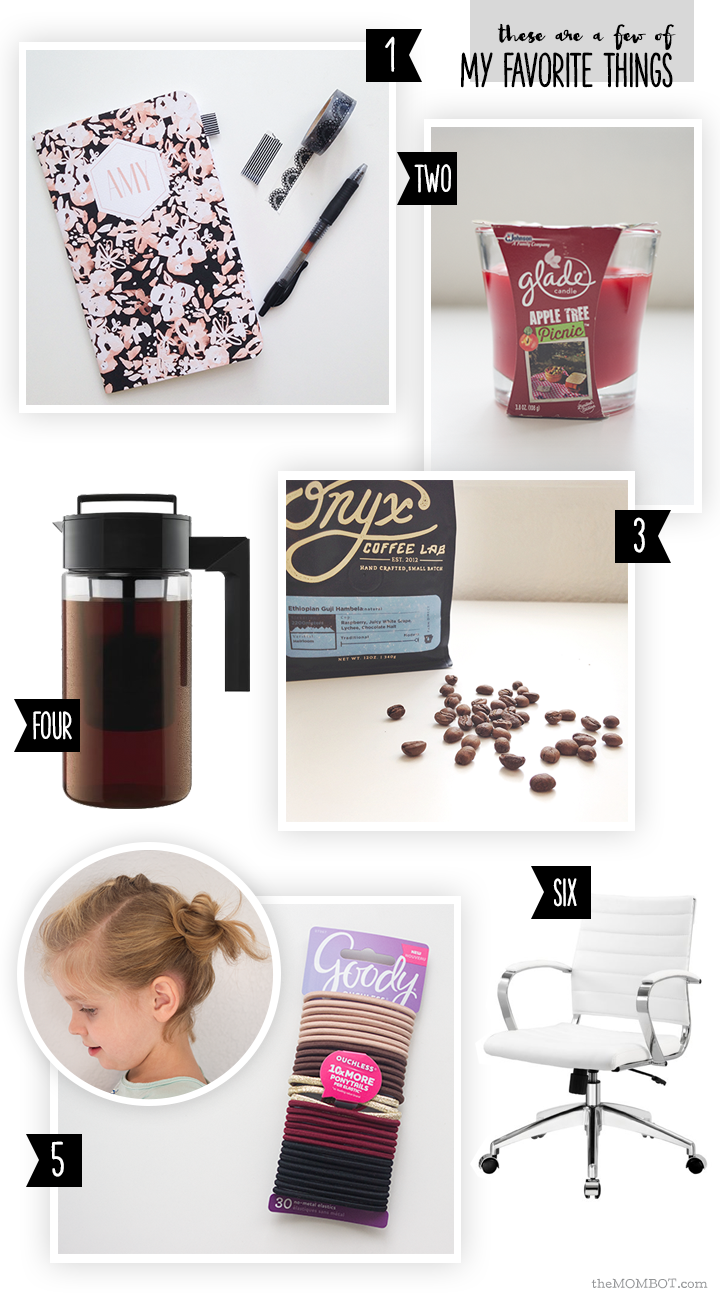 1. Notebook from May Designs
We all know I'm a sucker for paper products since I make them or a living. That's why I love coming across other designers who are doing what they do so well and inspiring me with their creativity. I love this simple, personalized notebook from May Designs that is currently holding my many to-do lists with self-created washi tape tabs. Organization is key to success, after all. BONUS: my readers can get 20% off any May Designs order with code ACORN-20 through the end of October (christmas gifts, anyone?)!
2. Glade candles in fall scents
Fall is here and I wish I could have an endless supply of apple pies baking in the oven! When that's not feasible (which, let's face it, is pretty much every day), I opt for lighting a Glade candle in a fall scent. Apple Tree Picnic is so scrumptious and it gives off a scent even when it isn't lit. I highly recommend.
3. Onyx Coffee
I call this my "fancy coffee." When I don't want a typical cup, but would rather something special, I opt for a cup of Onyx coffee. Their website if full of insane knowledge about coffee; I have never learned more about coffee than I did from a 10 minute perusal of their site… They only harvest organic and fair trade coffee and everything is small batch roasted. If you aren't sure which roast you might like, try the sampler pack for $25.
4. Takeya Cold Brew Iced Coffee Maker
Speaking of coffee… this Takeya cold brew pitcher is my latest love. It makes creating cold brew so easy! Grind the coffee, add some water, let sit. After 24-36 hours, remove the filter with grounds intact and you've got 4 cups of cold brew that will stay fresh in the pitcher for up to 2 weeks. I've always been too lazy to do the mason jar, double pour over a filter method for cold brew, so I'm all in on this one.
5. Goody Hair Elastics
Having a daughter is tough; especially when she has crazy hair. My daughter has beautiful hair, but that stuff is wavy and frizzy and out of control if you don't take care of it right out of the shower. Some days there is nothing I can do to help her but pull it back; but it's too short for just a ponytail and it tends to fall out within a half hour anyway. I've had pretty good success using Goody hair elastics, though, and she doesn't complain about them pulling or hurting. They come in cute colors too, so I feel pretty darn professional about my work when I'm done.
6. LexMod Ribbed White Vinyl Office Chair
I've had this LexMod white vinyl office chair for 6 months now and I'm still in love with it. It's super comfortable yet supportive, really affordable (in comparison to other white vinyl chairs) and simpler in design than its competitors, meaning you don't have bars and handles and ugly black clunky parts sticking out underneath. It looks so sleek in my office and it's also functional – #win.
Disclosure: I received compensation in exchange for reviewing some of the items in this post. Although this post is sponsored, all opinions are 100% my own. This post also contains some affiliate links, which means I receive a small compensation when items are purchased through my links. Read my full disclosure statement here.