Disclosure: I received a complimentary Switch Witch in order to put her to the test with my kids; however, all opinions and musings in this post are entirely my own.
Thank God my kids don't have allergies. We've never had to fear peanuts or eggs or dander… we're very lucky. We have, however, had to deal with my youngest having a milk protein intolerance, which led to my giving up dairy while breastfeeding and him having to transition to almond milk and coconut milk yogurt and all kinds of other non-dairy foods post-breastfeeding. At 16 months, he still doesn't consume dairy, because it still makes him spit up (I feel like he's a little old to be "spitting up," but I suppose that's the best term for it since it's minimal amounts).
I hadn't thought much about what Halloween would look like for him down the line until the Switch Witch arrived at our house; she was a new Halloween tradition to test drive and gave me pause to think. If Graham continues down his road of dairy intolerance, Halloween will be a bit dismal for him. All chocolate will be off limits, and that's the best part of the Halloween haul! Enter the beauty of the Switch Witch (who was actually created due to the author's own little boy having a milk protein intolerance – what a coincidence!)…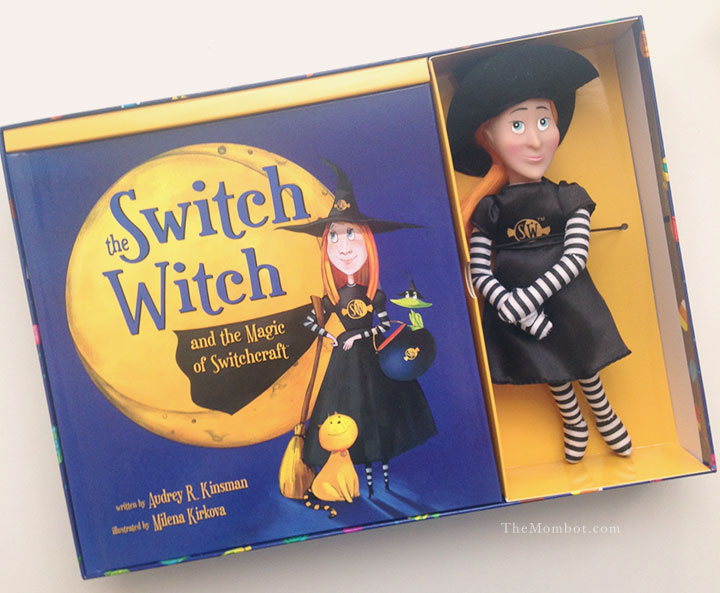 I call her the cousin to the Elf on the Shelf. She hangs out in your home during the month of October and keeps watch on kid's behavior. If they are good, then on Halloween night, they can leave their bag of candy out along with a note outlining some toys that they've been eyeing. During the night, the "Switch Witches" (friends of your little plush doll) will drop in and switch out kids' bags of candy for a toy (they need the candy to power their brooms and run their heaters in the winter, naturally). Boom. Halloween saved.
Now, my two oldest don't have any kind of intolerances or allergies, but I have NEVER been a big fan of candy in our home. We have it occasionally, but Halloween is a holiday that usually passes pretty quickly in our house. They are allowed to pick a piece or two to consume after dinner in the days following Halloween (I'm not a complete jerk), but after that they kind of forget about it (I put it away in the pantry instead of keeping it out to encourage out of sight, out of mind) and I dump it – after eating the best pieces myself of course – he he.
I love that the Switch Witch is giving us an alternative to slowly consuming our never-ending stash of candy this Halloween.
The Switch Witch comes with a little plush witch and a storybook explaining the magic of the Switch Witches complemented by colorful illustrations. I gathered the kids around after she arrived at our house and read the story…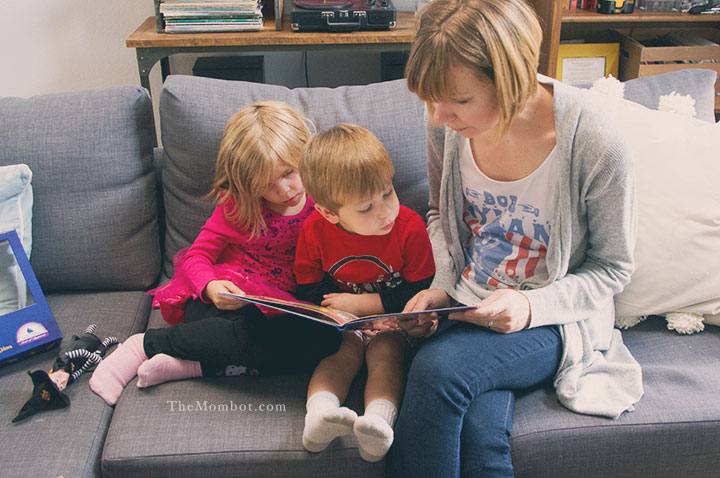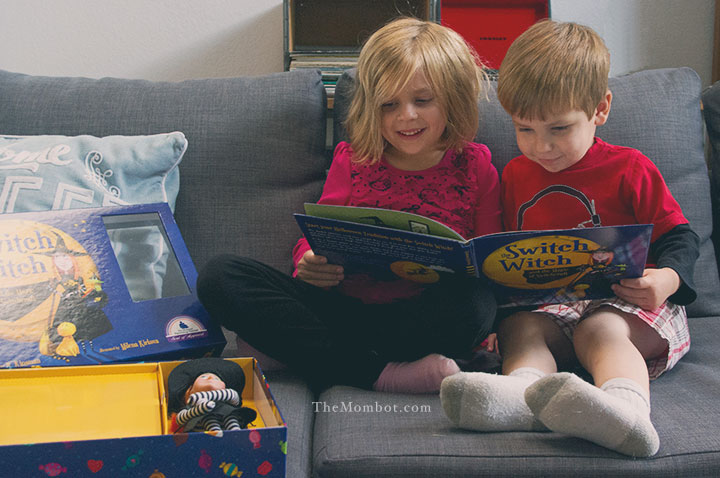 Lincoln (he's 3) was into it. He thought about having to give up his candy for a minute, but after I said "you can keep some of your favorite pieces," he was sold. He passes by our Switch Witch, who is currently taking up residence in our entry way, and says "Hi, Switch Witch!" or "See you later, Switch Witch!" Mia, on the other hand, (she's 5 1/2) starting crying after the story was finished… When I asked her why she was crying she said "I'm afraid she's real!" She was freaked out by the doll. Sigh. Oh kid.
So I pulled her aside and said, "She's not real. The Switch Witch is just for little kids. But even though she's not real, you can still trade in your candy for a toy and mommy will take care of it." She was cool with it after that. She, too, took a second to get down with the idea of giving up her candy, but eventually decided it was a good idea. Promise my little girl a Princess Barbie and she'll do just about anything.  Sidenote: I can't believe I already have to have the "it's not real" conversation with her; she doesn't make anything easy.
We talked the other night about what toys they might want the Switch Witch to bring them when they trade in their candy, and they were really into that conversation.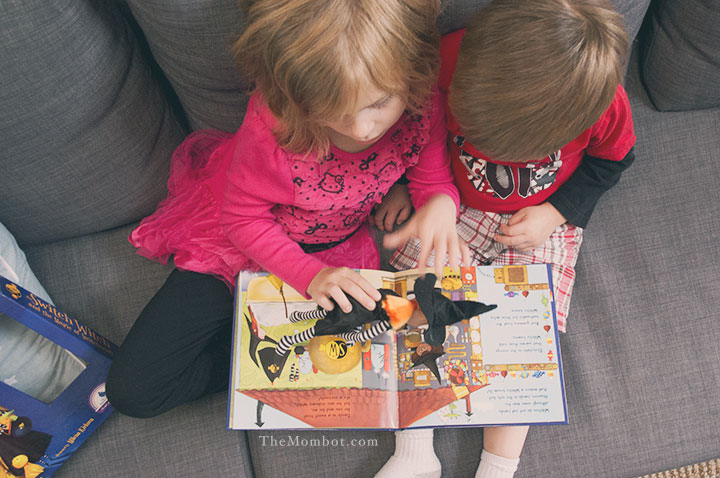 And the story of the Switch Witch can be reinforced throughout the month of October thanks to some of the great resources they have on their website, including activity sheets for kids Kindergarten – 5th grade. My kids have already enjoyed the candy sorting worksheet, which helps them practice colors and matching. They also offer a variety of games & crafts to play for free, along with the opportunity to name and "register" your Switch Witch. It really can be something that you build up all month long so that on the night they have to give up their loot, they are ready and willing (and perhaps a little excited).
Now just to play devil's advocate…
Do I think that I am bribing my kids with a toy to give up their candy? Couldn't I just say, "no more candy"? Yes, I could. But they're kids. Let them have some fun and enjoy the holiday. And in Graham's case, he won't even be able to have his candy so shouldn't he have something to look forward to just like the other kids? I feel like this gives them all a fair playing field.
Do I encourage the belief in witches? No, I do not. But they are 3 and 5 and they hardly understand witchcraft and black magic. It's way over their head and this is not even in the same realm.
There, that's done.
We'll see how it goes on Halloween night, but I really think we're onto something here. It's pretty special that they not only get some of their favorite candy on Halloween night, but also a toy. As a parent, I'd much rather buy them a toy than deal with whining about wanting more candy, cultivating cavities and rising and crashing from sugar consumption.
So from now until Halloween, our Switch Witch will be hanging out and keeping a watchful eye on their behavior (it doesn't hurt to have a little extra help in that department, either).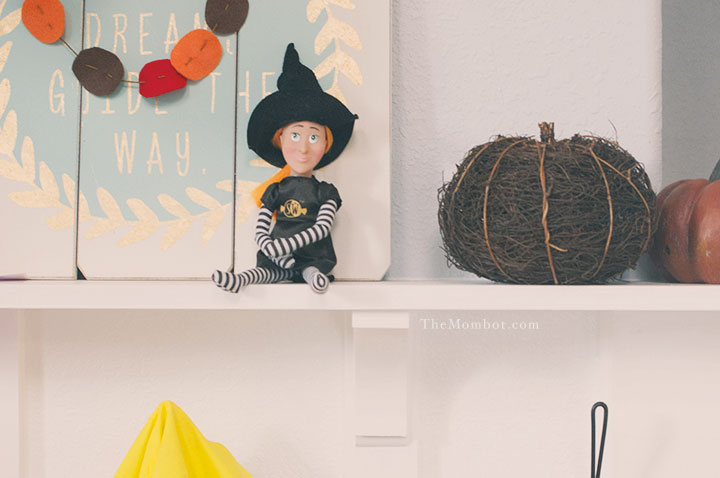 Switch Witches are readily available at Target stores around the U.S. You can also find smaller retailers carrying them in your area here.  And parents, if you want something to do with all that candy you switch out, you can get the address for Operation Shoebox on the Switch Witch website; a program that sends candy to the military overseas to help brighten their day. It's a win/win, if you ask me.
Disclosure: I received compensation in exchange for posting this review. Although this post is sponsored, all opinions are 100% my own. Read my full disclosure statement here.