I think it's a cruel joke that society expects us to deliver birth announcements when we've just had a baby. As if I don't have enough to do? Why not throw a party at my house, too and invite the neighborhood!?
Sure, I could have stuck it to the man, gone against the grain and decided to forego it. But then there's the fact that I have a lot of family and friends that live far away, I am a graphic designer by profession so there's no excuse not to make one, and – naturally – I wanted one to put in his baby book; so I decided to do it anyway. I guess I'll stick it to the man next time.
I did, however, wait until he was 2 months old to send it out. I'm pretty sure everyone already knows at this point that he has joined our family, but I bet they didn't know that he weighed 7 lbs. 5 oz. at birth! So that alone is reason to send it… right?
Here's the little booger and all his birth day stats: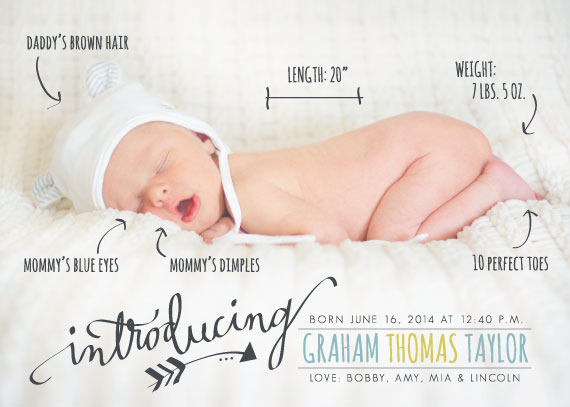 Because I liked the announcement so much, I am also offering it in my Etsy shop. You can find it in the baby section with all the other little goodies like baby shower invites, baby books and gender reveal party invites.
Welcome to the world, Graham Thomas! We love your squishy little face and your toothless smiles! I can't wait to see how you fend for yourself amongst your psycho siblings. You've got a big job ahead of you. Be brave, little man, be brave.