Disclosure: I participated in this sponsored campaign on behalf of One2One Network. I received monetary compensation for my time and free product. All opinions stated are my own. Read my full disclosure statement here.
Being that I am about to have my third child, I feel like I've had an awful lot of experience trying out different baby/child products. There is just SO much to get for each little stage of life and there are so many options available that it takes time, research and energy to pick out the products that are right for you and your family.
One thing I've always had trouble deciding on is a carseat; do we go high-end or is the cheaper version just as safe? Which brand is best? How many features are necessary? With so many different price points and options, it's hard to choose.
So when I had the opportunity to test out the new Evenflo Platinum Symphony DLX carseat, I jumped on it. Carseats are an investment, so getting to test drive one is always a blessing. It certainly seemed like good timing since we will be welcoming baby #3 in just two short months and this carseat can be used on children ranging from 5-110 lbs, so it would come in handy with all three of our children!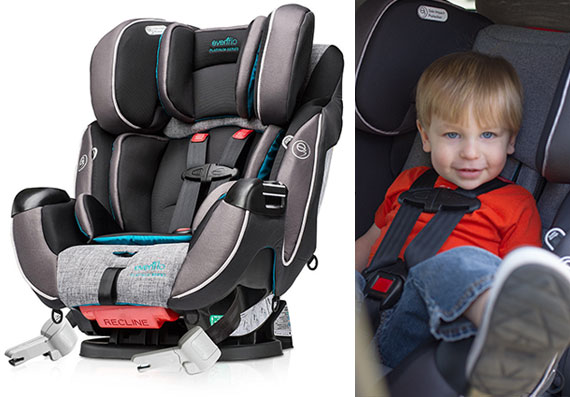 Pretty stylish, right? (the carseat's not bad, either! Ha, ha)
The features that I read about before even receiving the carseat were impressive, and I was anxious to see them in person and test them out. Here are some of the key features that stand out amongst competitors:
1. Temperature regulation
This carseat features brand new Outlast technology developed by NASA in its padding, which means the fabric used is temperature-regulated and keeps babies/toddlers comfortable during hot and cold weather. Definitely good news since there's nothing worse than pulling your child out of their carseat on 90-degree days and finding their back and legs soaked (bleck).
2. A happy baby and safer ride
Because baby is more comfortable in their seat due to the Outlast technology, it means a happier child and a safer ride. Did you know that new moms are 300% more likely to get into an accident than other drivers, in part due to tending to an upset baby (source: American Baby and Safe Kids Worldwide study)? Sure, we are distracted by cell phones, makeup, and our own multi-tasking thoughts, but screaming babies really do get the best of us in the car and can make us completely frazzled. Anything we can do to make baby happier and more comfortable in the car is a win-win for everybody.
3. Buckle pockets
The Evenflo Platinum Symphony features buckle pockets (something I've never seen before), where you can tuck your buckles away. Why? Two great reasons: 1. It keeps them from getting hot in the sun and burning baby's skin, and 2. It keeps them out of the way when putting your child in the seat so you no longer have to dig for buckles under their bum (thank goodness!). If your kid throws a fit when being put in their carseat like mine, this is a huge help as it cuts down on the time it takes to get them in and buckled while they are writhing around.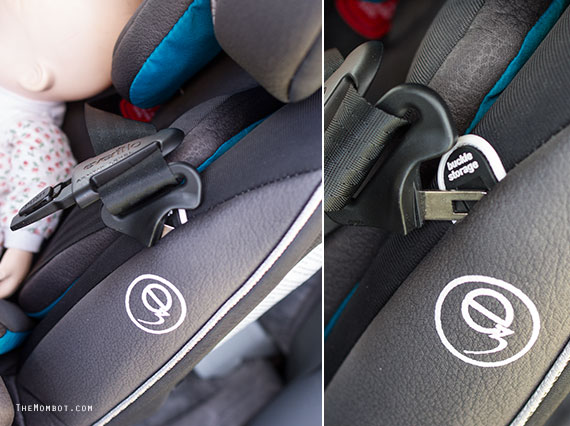 4. Accommodates children 5-110 lbs
As stated before, this carseat accommodates children from 5-110 lbs, making it the only car seat you will ever need – say what? That certainly makes it a worthy investment. I was a little hesitant to believe it, because my 2 and 4 year old are so different in size, and I just couldn't see how they could both fit comfortably (same goes for an infant), so I tested it out: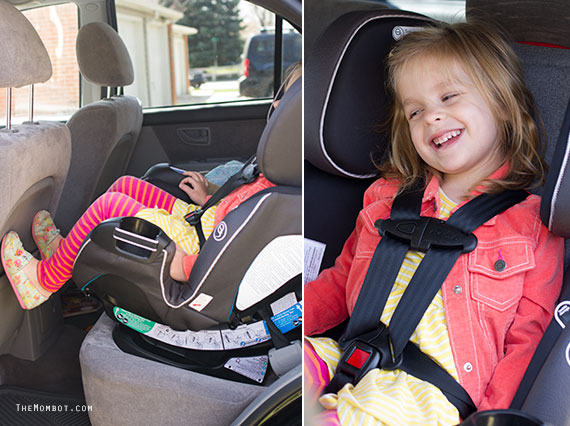 4 year old. Happy as a clam and loving the headrest.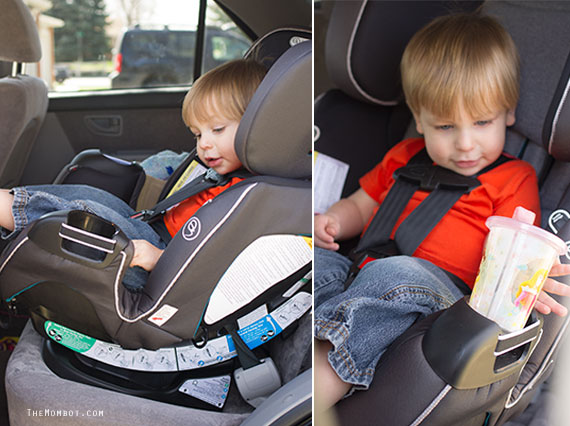 2 year old. Cozy and thrilled that his juice is within reach (nevermind the fact that it's a princess cup).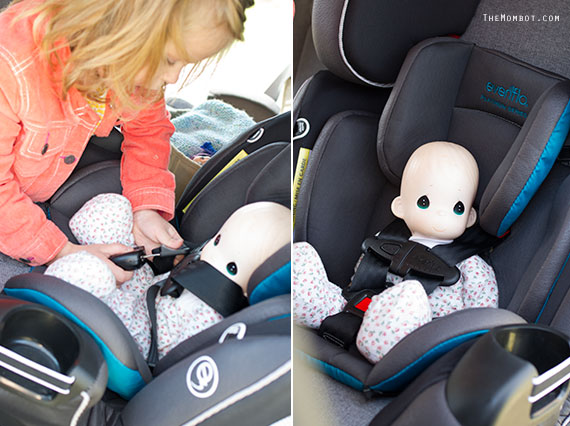 Newborn. Snug as a bug (just practicing before the real baby appears, of course). The seat comes with an insert for infants and you can tell how easy it is for them to get buckled in – so easy, in fact, that a 4-year-old can do it!
5. More great news: Super easy installation
The easy latch installation means you can have it in place in minutes (the company claims less than 60 seconds). It took us some time to switch everything buckle-related from backward-facing to forward-facing so our 2-year-old could use it, but once that was done it went right in.
6. This seat is ridiculously safe
When I first opened the box, I thought, whoa, this thing is huge! And, as with most toddler carseats, it is large. But once we got it in the car, I realized it wasn't much bigger than the old Evenflo seat we had in its spot, but you can definitely tell it is more solid. It features e3 Side Impact Protection, which reduces the forces in side impact crashes through advanced energy absorption and an expanded zone-of-protection. It was also named Best Bet Booster for the Insurance Institute for Highway Safety. Once your kids are buckled in, you really feel good about how protected they are and the protection is actually visible.

Final Thoughts:
All in all, I've got to say that I'm pretty impressed with the Evenflo Platinum Symphony DLX carseat. At a retail price of $249.99, it is more than I've ever spent on a carseat before, but when you consider the fact that it can be used throughout the child's entire carseat-necessary lifecycle, it's actually less than what I've spent on an infant carseat, toddler carseat and booster seat combined.
The features and safety ratings speak for itself, and there is really only one downside I could think of to using it with an infant… It's nice to have the removable carseat when they are so little since you don't always take them out (especially since we have a snap n'go stroller that works with our infant carseat). We've still got an infant carseat that snaps into the base and we will most likely use it for the early stages, but our kids outgrew it pretty quickly and I'm assuming baby #3 will do the same. Not to mention, they start to get REALLY heavy in those seats after just a few months, so moving them to the Evenflo Platinum Symphony will probably happen pretty quickly. I'm glad we'll have this seat ready and waiting when we want to transition!