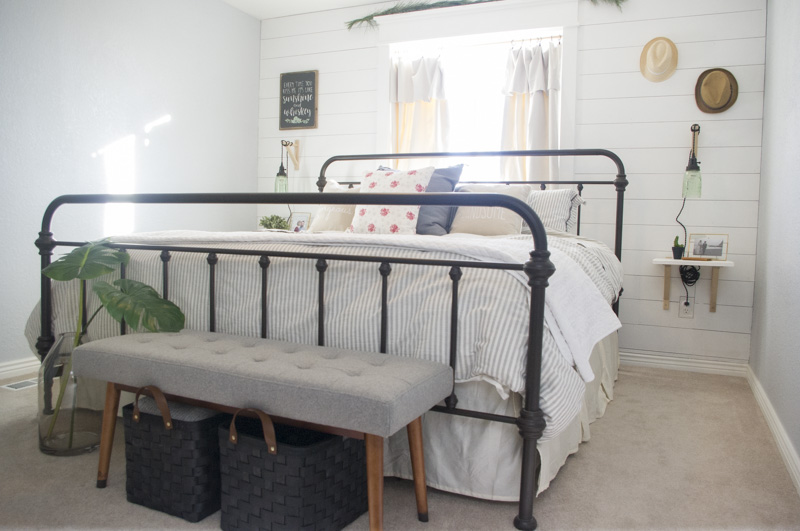 It's hard to believe that we have lived in our house for 2 1/2 years. As it usually goes, some days it feels like we just moved in and others it feels like we've been here forever. We have done quite a bit to our house over the years, including some new windows and some electrical work, but mostly cosmetic changes.
But the bedroom is always the last room to be touched. In the places we rented before this home, we never did much to the bedroom. I just assumed we would leave that for when we owned a house and could really go all out. But fast forward to owning a house, and I just put the bedroom on the back burner because it was the room we were in the least.
In fact, for the first six months, we slept on mattresses on the floor. Then for a few months, we slept with queen sized mattresses on a king size frame (the first king size frame we had ever owned!) until we purchased new mattresses. We've moved the furniture a couple of times, trying to figure out where it was best to put things. It is a pretty small room and can't fit much (especially with a king size bed in it). So we decided it was best to simplify (my motto) and take a minimalist approach in terms of furniture and decor.
So we got rid of our huge dresser that we loved and fit lots of our clothes in order to free up space in the room. Then we cleaned out and maximized the space in our closet so that we could fit all of our clothes in it (it is a REALLY small walk-in). I don't own a whole lot of clothes or shoes now, but that's ok with me. I have learned that it is best to only own what I actually love and get rid of all the rest, because it is only clutter. These are concepts I have learned from people like Hilary Rushford at Dean Street Society and the documentary Minimalism. I highly recommend both.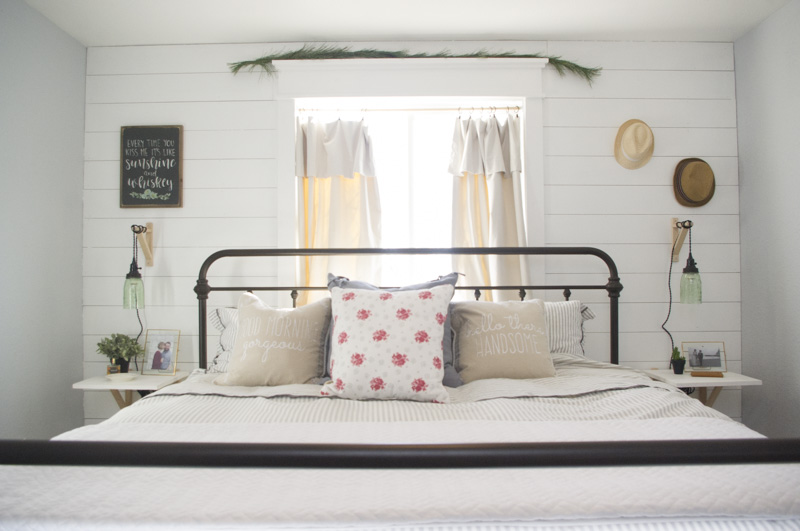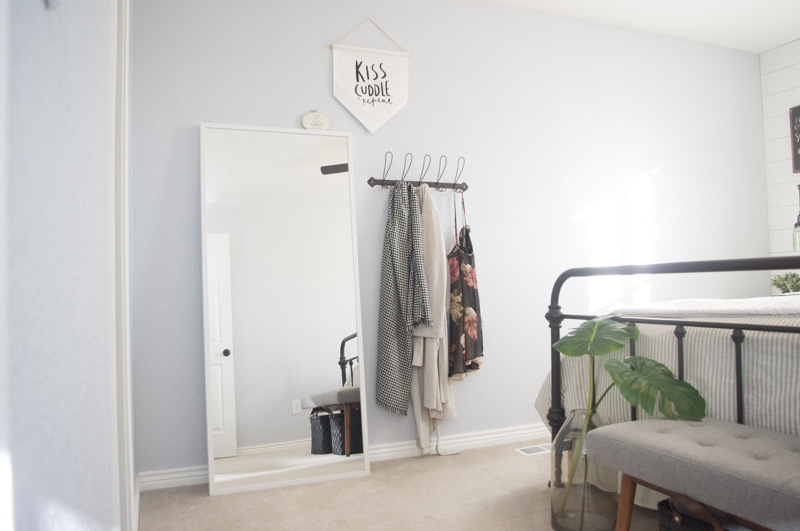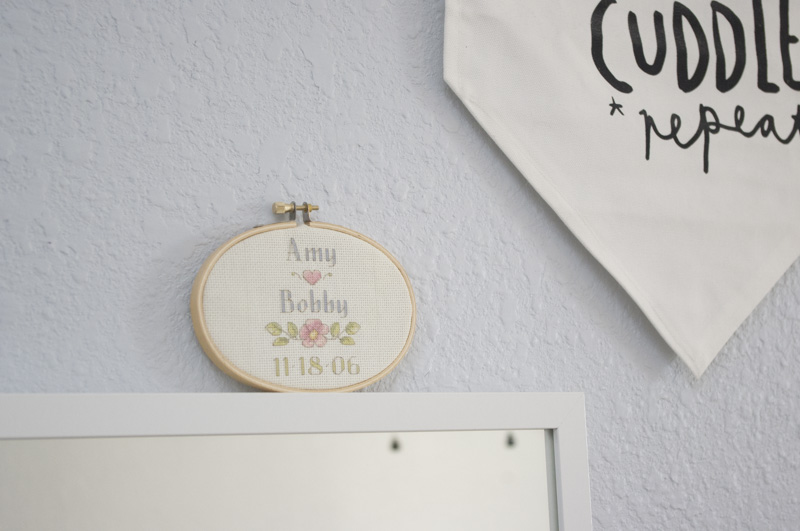 Shiplap & A Farmhouse Window
Anyway, back to the room… Because it is small, we decided to make one wall the focal point. So we shiplapped the back wall (you know how I love shiplap) where the only window in the room is and framed the window out with a thick, farmhouse frame (using this tutorial). Everything got a fresh coat of white paint and we left the rest of the walls in the room the same grayish-blue color (Behr Twilight Grey) that we have throughout our home.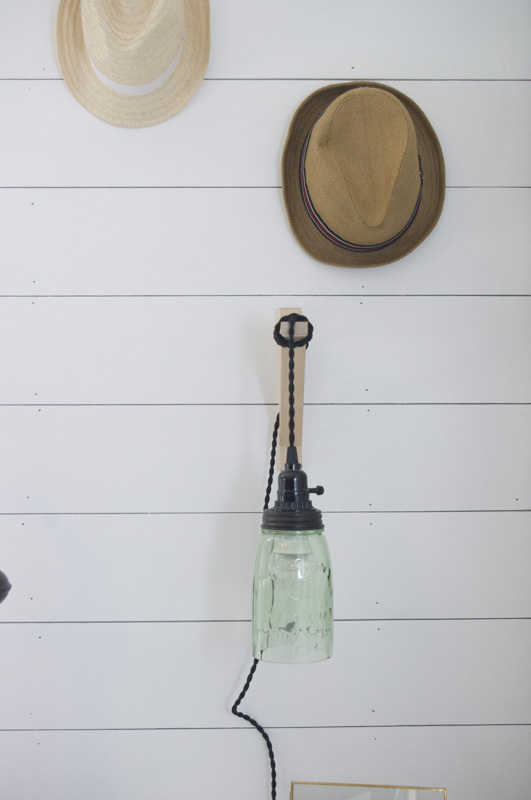 (pendant lights are from here)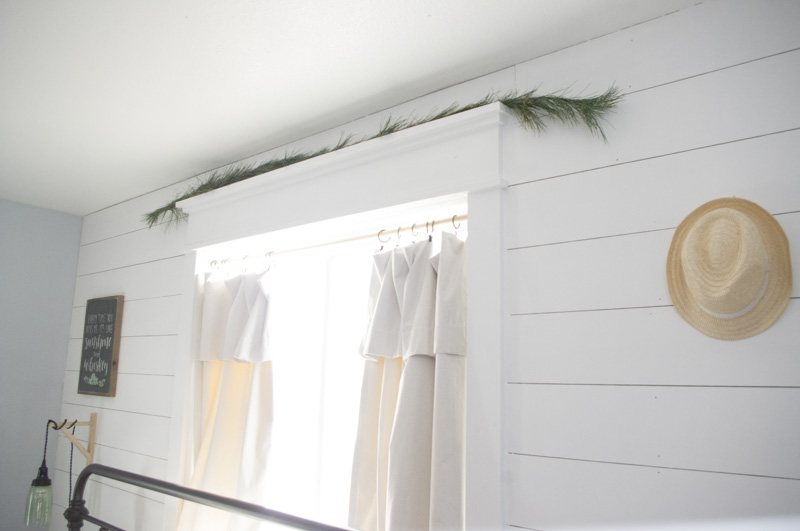 (the greenery above the window is a little decor for the holidays, not necessarily year round!)
From Bedside Table to Bedside Shelves
We got rid of our bedside tables and built square-shaped shelves to hang there instead. My bedside table was full of so much junk that I hadn't looked at in 2 years… so putting up shelves seemed like the best way to continue our theme of minimalism in the bedroom and only keep what we need.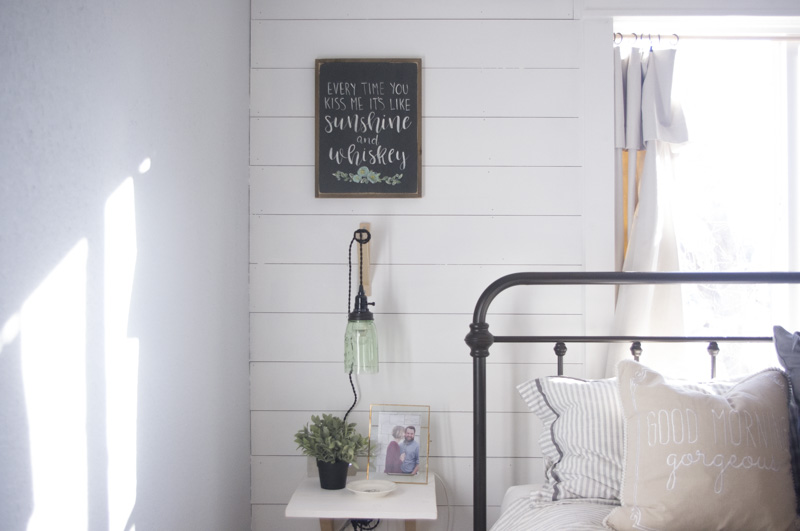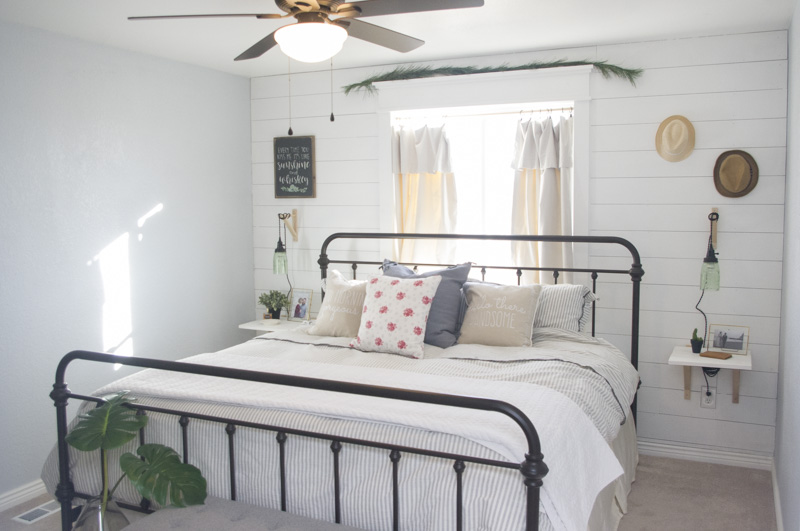 We had just enough space at the end of our bed to add a bench, which serves two purposes. Two baskets underneath hold some of our folded clothes, and the seat is the perfect spot to place our coffee while we are getting ready in the morning (priorities).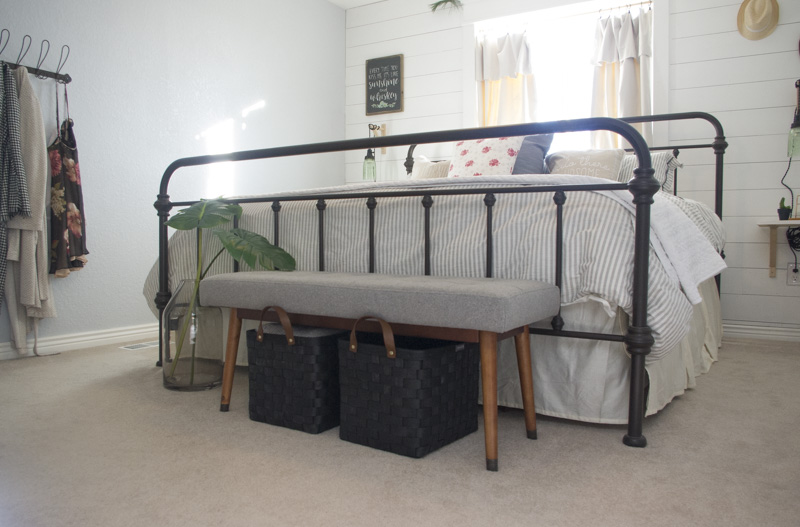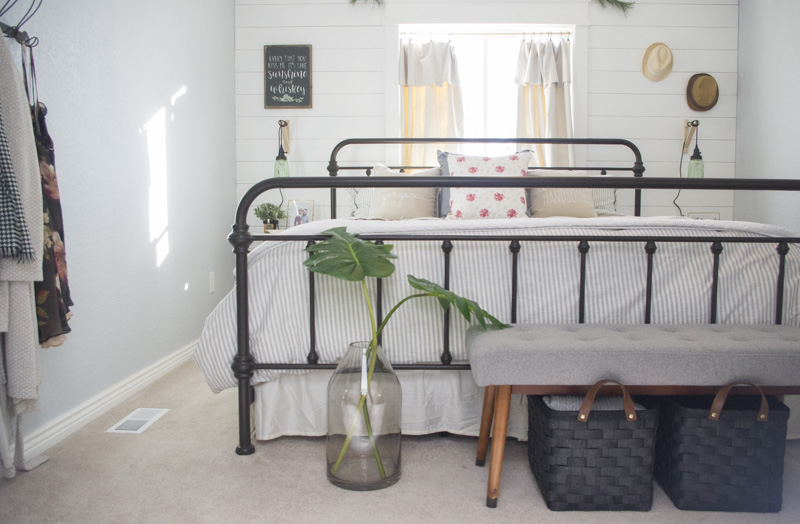 Our last piece of the puzzle in this room is to build and hang a sliding barn door for our closet. The sliding door will work much better than a swing out door since we have so little room in both the bedroom and the closet. We had a swing out door on it when we moved in, but removed it right away because it was always in the way. So we have been doorless for 2 years, and I am looking forward to having a door to close and cover the messiest part of our room!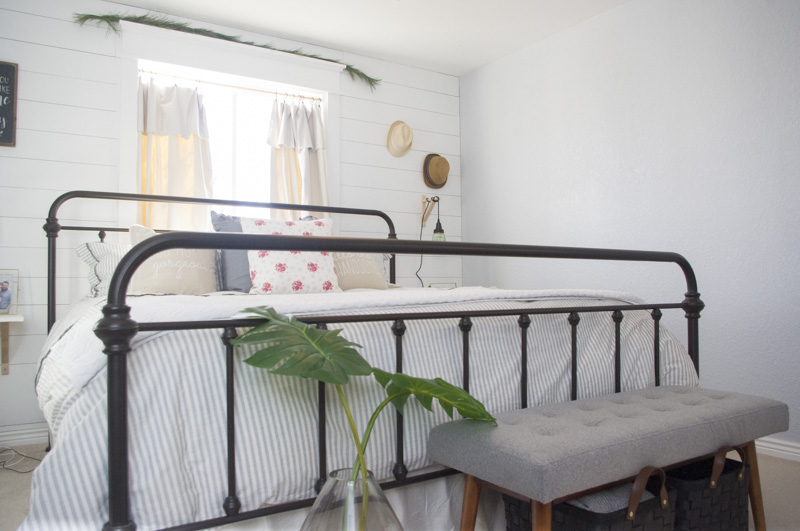 It's true what they say about your bedroom being a sanctuary of sorts. We don't spend much time in here other than to sleep and get ready. There is no TV in here, so it's not really a place we hang out. But I have to say, at the end of the day, it is my favorite place to retire to. I usually cozy up in my bed with my kindle and do some reading or catch up on social media before I cash out. And the bonus of it actually looking nice is that I don't have to close the door during the day to hide it from others (or my own wandering eyes), because I am no longer ashamed!
Product Links:
*Disclosure: Some affiliate links used