When we moved into our first home almost 2 and a half years ago, we were very lucky to buy a flip. It was completely redone on the inside and it was move-in ready, save for a few minor details. There's only one problem I see with most flips… unless your flip was done by Joanna Gaines (or someone who knows your personal style), these homes are incredibly basic and completed with finishes that are made to please everyone. So it has been a long journey of changing things in our home so that it feels less builder-grade and more "us."
Some changes have been done over time, but some I did right away because I felt like they were essential. It's much easier to paint walls, change lighting, and do any kind of demo when you aren't living in the space yet. So if you are moving into a new home soon, or even if you have been in your home for a while and are looking for ways to personalize it, here are my tips for what you should focus on to make your house a true home.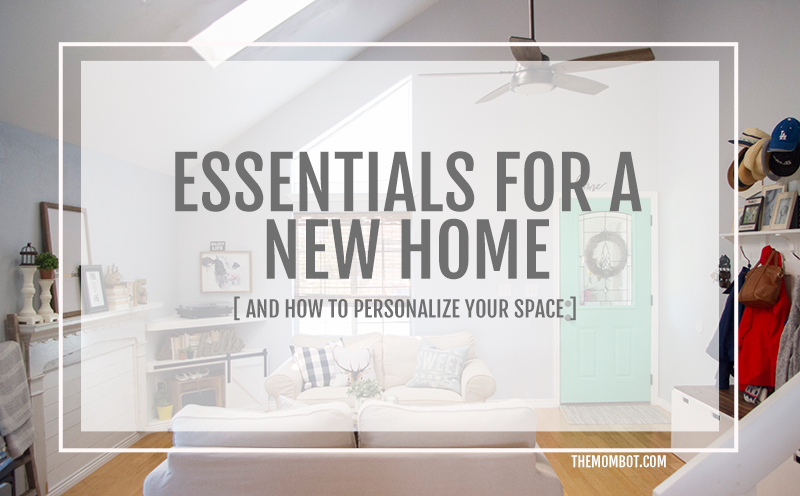 New Home Essential #1: Rugs
Rugs & other textiles like blankets and throw pillows can really add character and dimension to a home! You wouldn't believe how much a colorful rug can change the look of a room. A jute rug adds a ton of texture to a space, and if you are looking to add some color, a vintage faded rug can really make a room cozy without becoming a focal point. Adding throw pillows and a comfy blanket or two make the area feel less staged and more welcoming.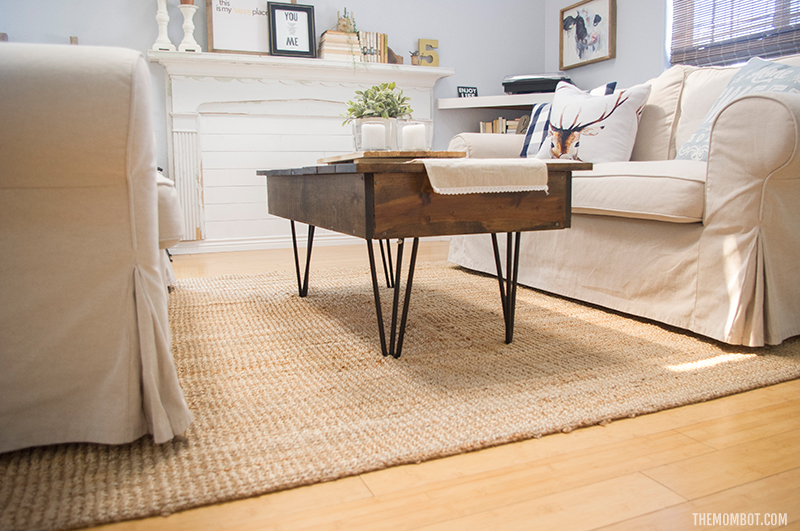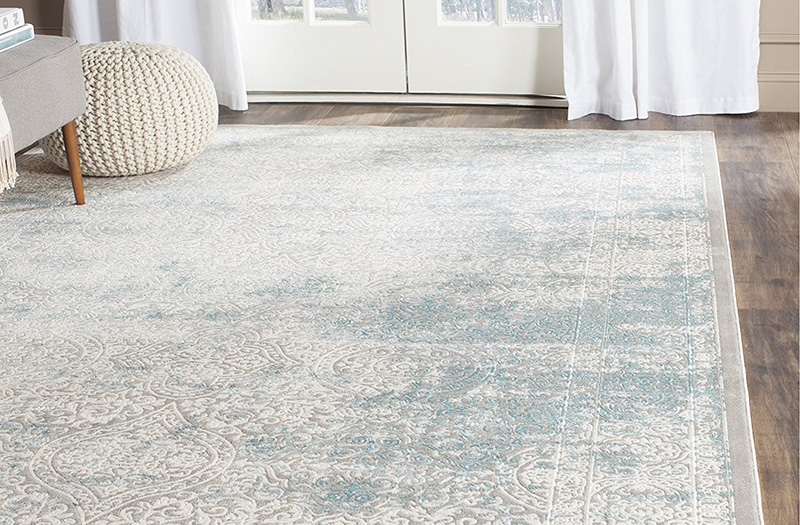 New Home Essential #2: Artwork
Nothing says "We just moved in" like blank walls. And I know plenty of people who have hanging phobia so their walls are still bare after moving in years ago. This has never been an issue for me… I hang stuff EVERYWHERE. And I constantly change my mind and patch and re-paint and create new holes. It's a small price to pay! Think of how your personal style can be portrayed in art and start collecting. If your budget is small, you can find plenty of downloadable pieces of art for under $10 to print and frame yourself (try Etsy). Or head to some stores like World Market, IKEA, or even Target to find something that suites you. Look through your belongings for sentimental pieces that might double as art (I have used vintage chalkboards, flash cards, embroidery, etc). Find more ideas in my "Art" Pinterest board.
New Home Essential #3: New Mattress or Pillows
One of the first things we did when we bought our house was to buy a brand new bed – our VERY FIRST KING SIZE BED. It has been heaven ever since. We spent several years in a queen, and I knew it was going to be a problem shortly after we got married and my husband literally rolled on top of me and laid his head on mine like I was his pillow… and he didn't wake up… and I was stuck under him. We both had to learn how to share a bed and we saved the king for when we owned a home, because we never had a rental where one would fit!
You may not need or want to spring for a new bed, but when was the last time you changed your mattress? They say it's essential every 8 to 10 years. Ours had gotten so bad that we both woke up with back pain on the daily. So we finally just went for it and dropped almost $3000 on a new mattress – a memory foam/spring hybrid. Whoa. What a life changer. I still LOVE my bed two years later. Though it's a big expense, I realized it was a necessary, unavoidable one, so might as well bite the bullet and forget the buyer's remorse.
But if a mattress isn't in the cards for you, think about getting some new pillows. A good night's sleep can start with the right support for your neck and head at night. Try these pillows from Casper. New pillows might bring just the right amount of freshness to your bedroom to inspire you to continue adding some more personalized elements to your abode.
New Home Essential #4: Entryway Organization
If you hear one thing, hear this: entryway organization is KEY. No one is a fan of tripping over shoes and bags when they walk in the door, and with our family of 5, I knew that figuring out a plan was important as soon as we moved in. So the very first thing we built in our new home was a custom mudroom bench using drawers from IKEA. It is probably STILL my favorite thing in our home.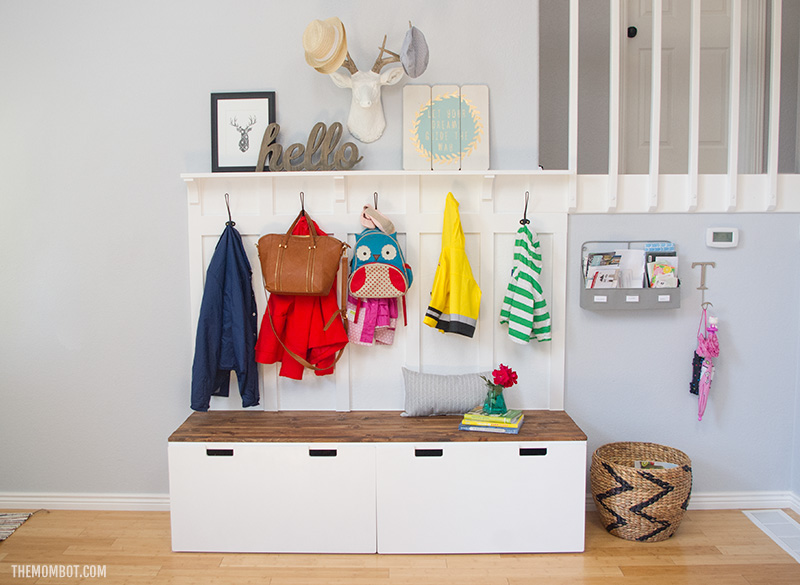 We get compliments on it all the time and pictures of it have been repinned 1000+ times, shared on HouseBeautiful.com and CountryLiving.com and it will be in an IKEA Hackers book releasing later this year. I say this not to gloat, but to prove to you how many people feel the need to organize their entryway! It strikes a cord with so many, because organization is simplification – and simplification leads to happier living (in my opinion). Sometimes we don't even realize what stress this clutter is bringing us until we clean it up. If you don't want to attempt to build your own entryway mudroom, there are plenty of organizers you buy online; from entryway lockers to simple wall coat racks.
New Home Essential #5: Fresh Paint
Painting a room after it's filled with furniture is the worst, so it helps to do before you move in. This is what we did in my son's nursery and my kids' shared bedroom. But even if you're already in your home, a fresh coat of paint can make a room feel like a completely new space! Go for neutrals that you won't soon grow tired of like a light grey, bluish grey, white or sand. If you really feel the need to do something wild, try for an accent wall. That way you can easily change it if you want to in a year or two (or the next day, when you realize you hate it…not that I speak from experience).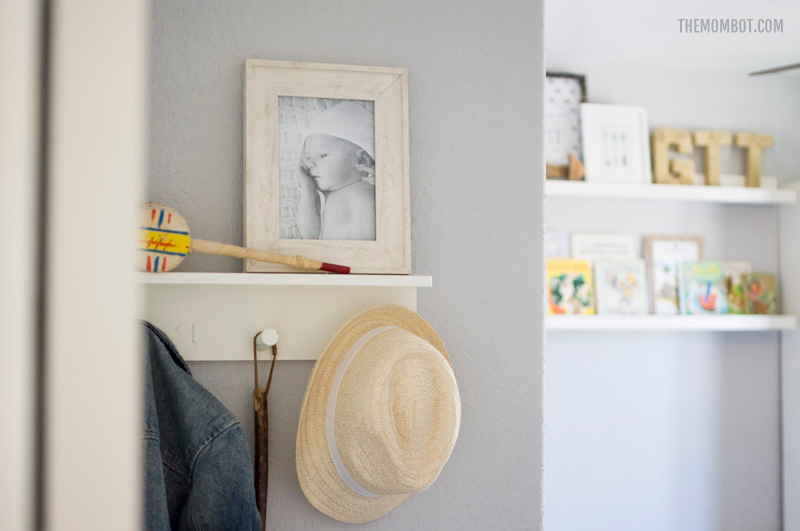 New Home Essential #6: Window Treatments
New neighbors will become really close friends once they spot you in your underwear… So first and foremost, get some window treatments in your new home! I personally hate blinds (they feel so "rental" and are a pain to clean), so I tend to go for curtains. I feel like the right ones can add a ton of character, color and texture to a room. But I also have a lot of bamboo roll-up shades in our home (ours are from Home Depot). They are neutral and provide privacy without completely cutting out natural light, and the texture adds something extra so the room.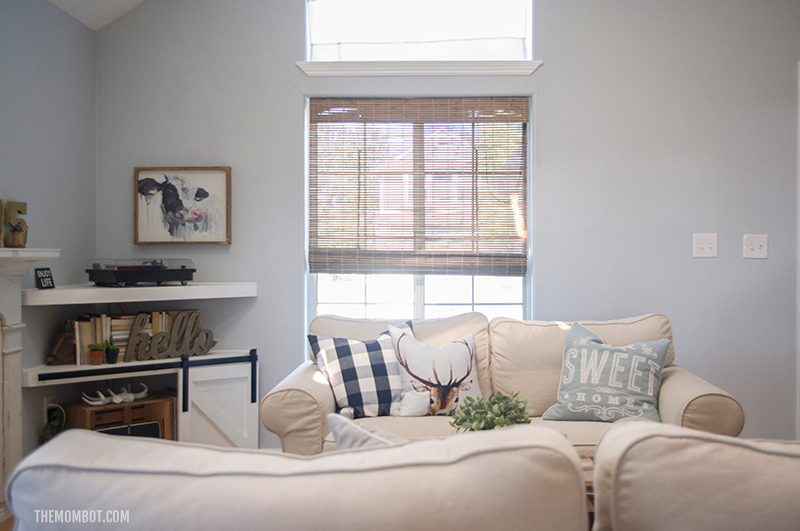 We also have one window that looks right into our neighbor's kitchen. It's a little awkward because it's directly across from our upstairs bathroom and in a main living space and I was scared of her seeing me running after the kids post-shower – which has happened more than once (the running, that is, not me exposing myself to my neighbor…). But I love the natural light from this window so I didn't want to cover it with a shade. An easy fix was adding a window frost film. Now we still get plenty of light and we maintain our privacy.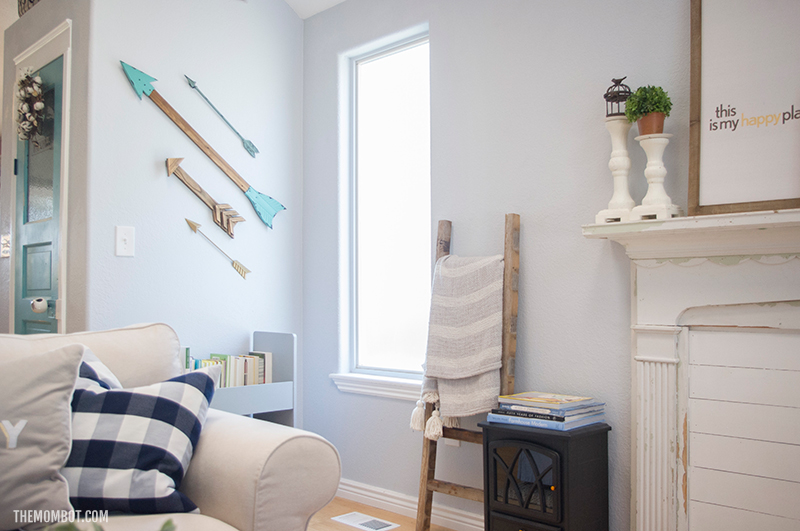 The bottom line is, there are tons of options for window treatments to add privacy and still maintain personal style!
Anything I'm missing?
I teamed up with Casper to create this easy-to-pin icon so you can return to this guide whenever you need!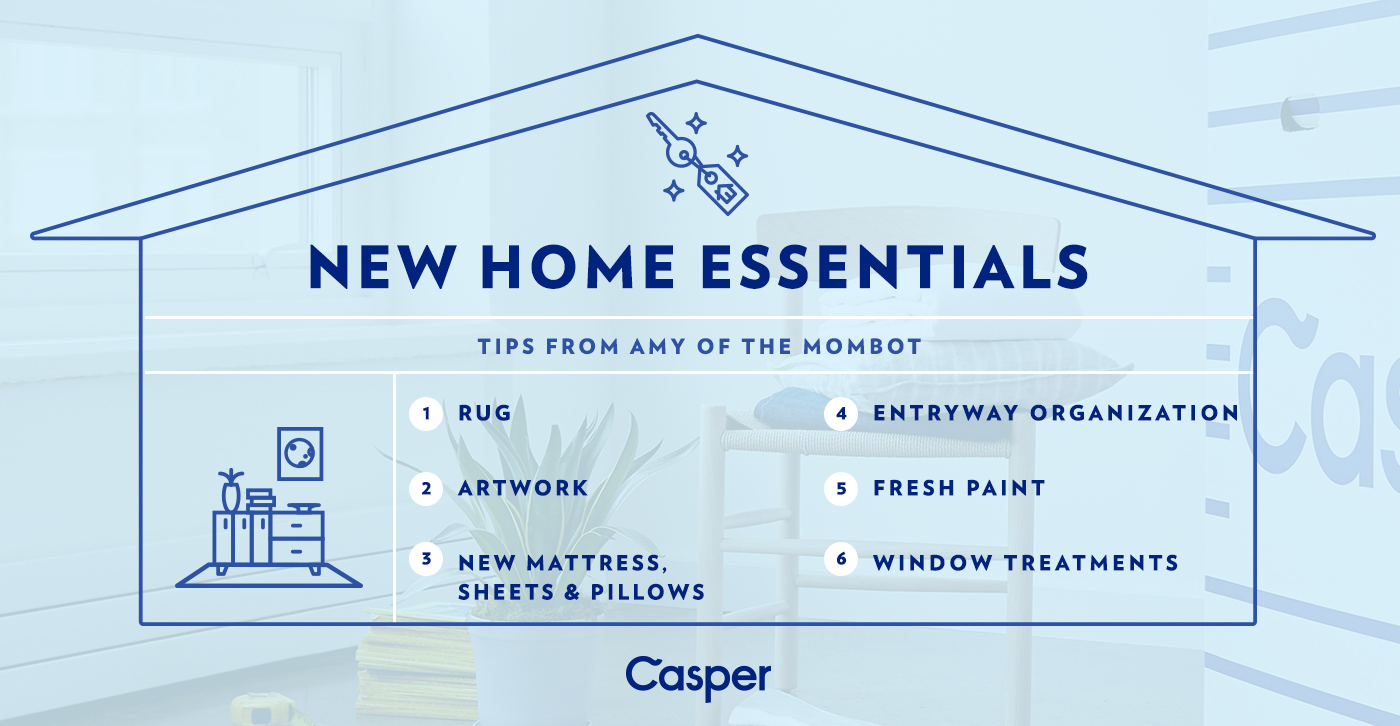 *post contains affiliate links