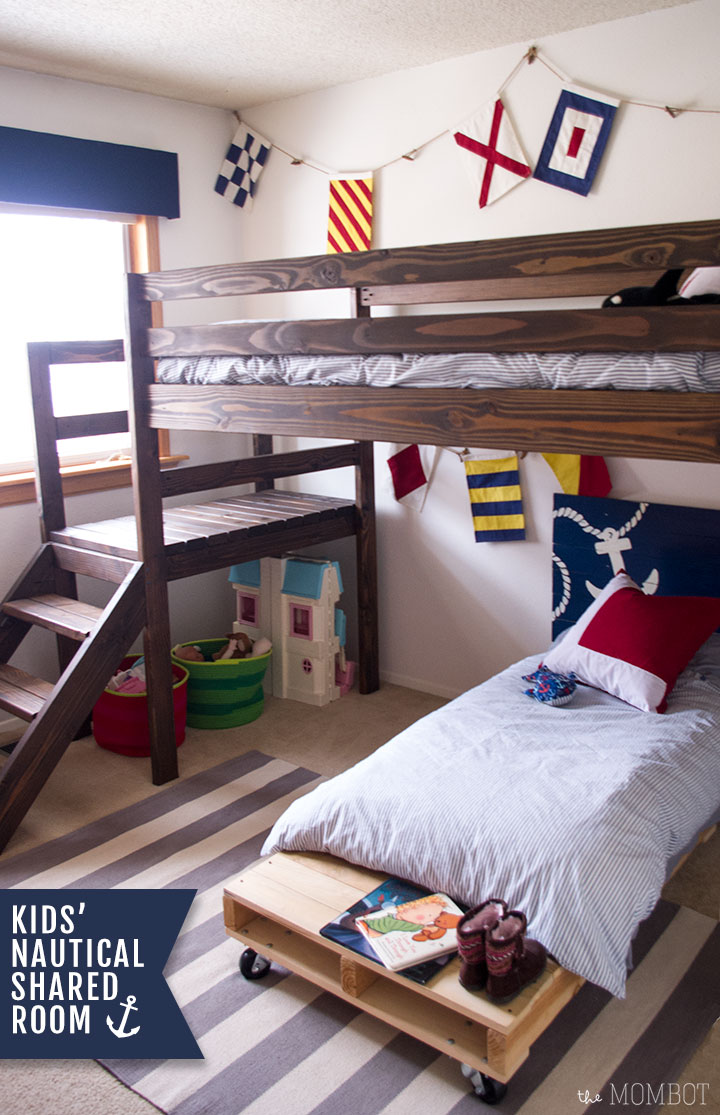 Hear that? It's a huge sigh of relief coming from yours truly.
I have been working on finishing the kids' shared room since before Graham came along (which happened in June of last year), and I have FINALLY finished all the things I had wanted to do. Of course, there will always be more and I'm sure it will morph as time goes on, but for the most part, I.am.done.
It was a challenge to finish everything before Graham came along since I was also working on his nursery at the same time. Two rooms to redo + growing baby belly = nice try, lady.
Anyway, after trying to figure out a theme, I finally settled on nautical when I saw those adorable flags in the Land of Nod catalogue. For under $40, I knew they would be in my budget and set the theme perfectly.
Once I received the flags, things slowly started coming together.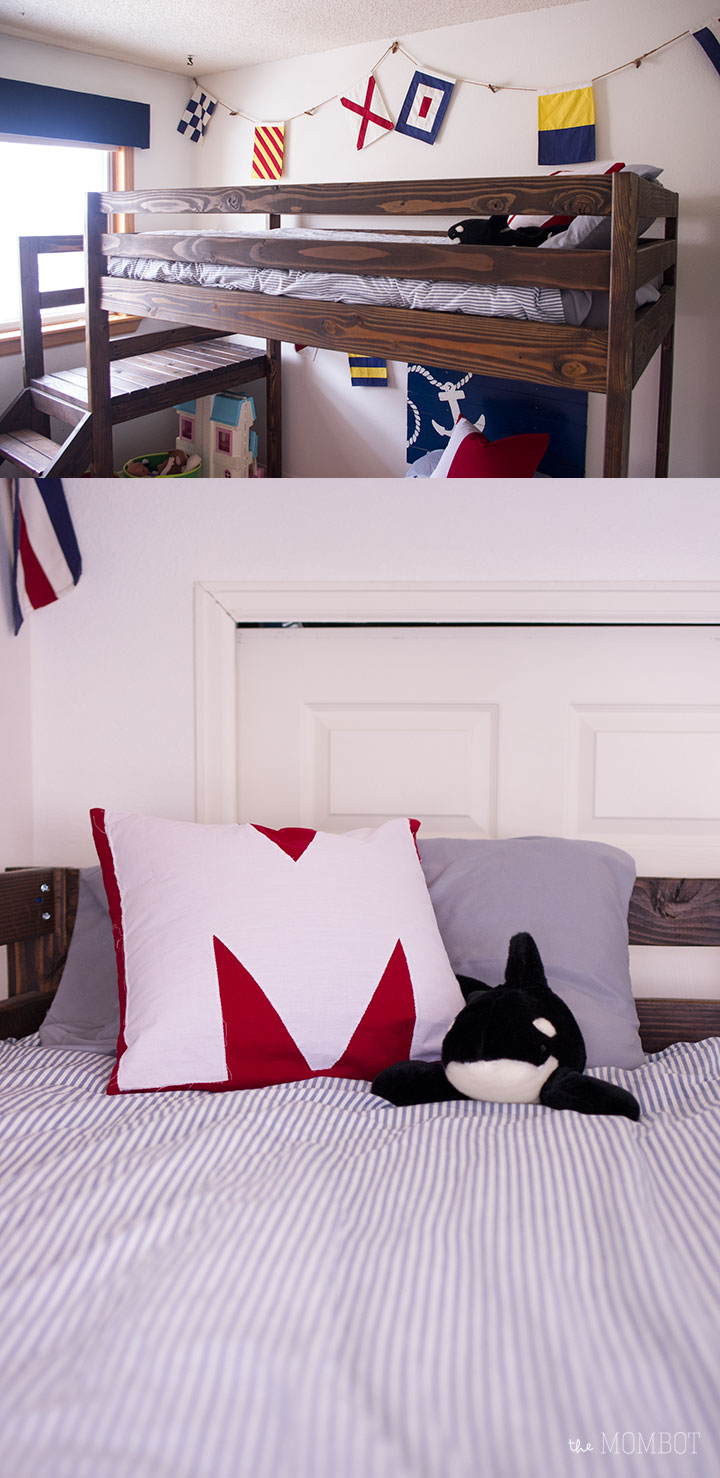 Bedding was a whole issue in and of itself. As we all know, bedding sets are CA-RAZY expensive. Not to mention, it's quite a challenge trying to find matching bedding for both a toddler bed and a twin. Let me save you some trouble and tell you, your choices are limited… but keeping the toddler bed instead of just upgrading to another twin was a must for me.
Lincoln's toddler bed under the bunk bed was a DIY project that we did for Mia a few years ago. It's the perfect size for him and fits so nicely under the twin bunk with room to spare. I wanted to keep as much floor space available as I could since they have a small room, so there was no way I was going to put another twin under there.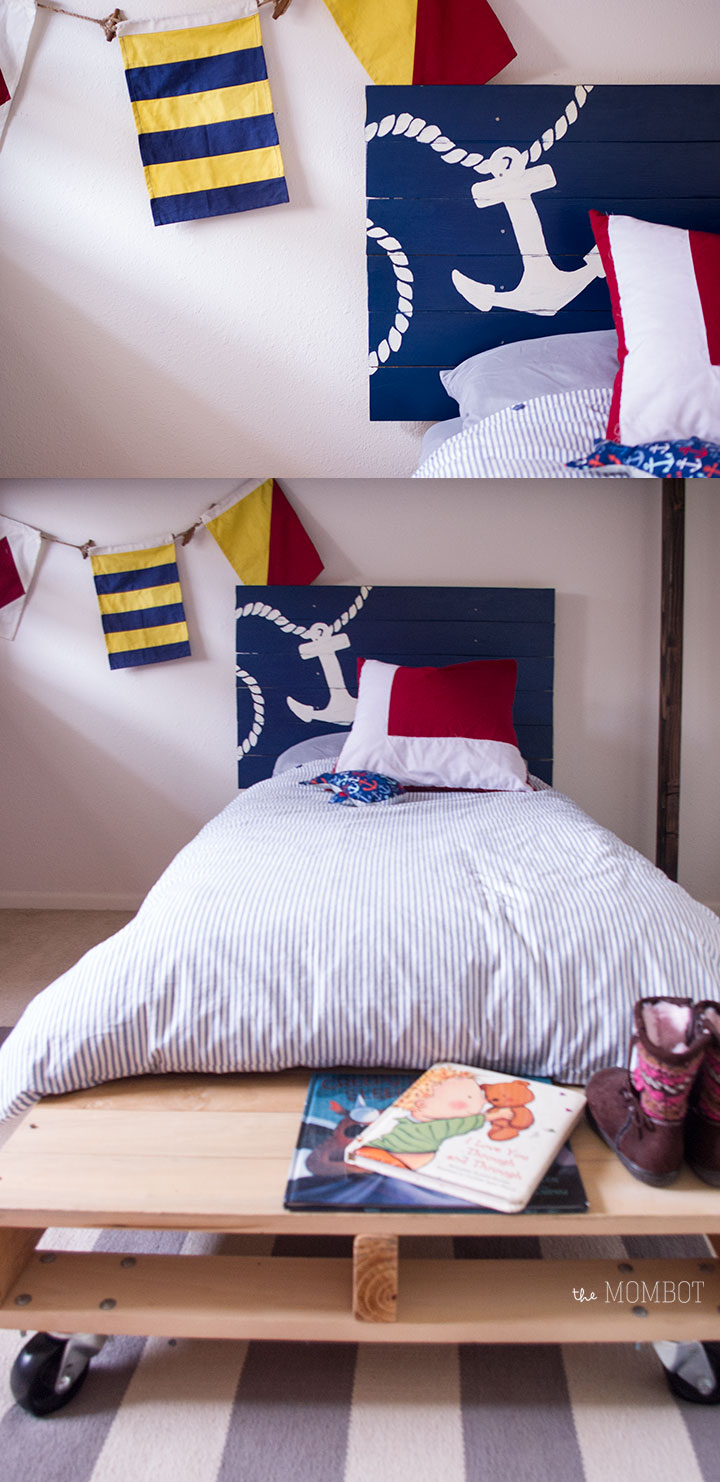 So after a long search, I decided to go with a blue and white striped duvet set from Ikea for the bedding. I purchased 2 twin sets and then just sized one of them down to fit the toddler bed (I did the same with the sheets). The quilts that are inside of the duvets are also from Ikea. The toddler one is a crib quilt and only $14 (woohoo!). I also made each kid their own initial pillow in red and white. Lincoln's headboard used to be yellow from Mia's old room; I just painted over it, added the anchor and rope, and then distressed it a bit.
And if you're interested in that stellar bunk bed that my dad and father-in-law DIYed, here's the details on that.
The play kitchen was a hand-me-down from friends that we've had for a few years now. It gets played with off and on as my kids get super interested in it and then forget that they like it… They usually play with it in the wee hours of the morning before they are allowed to come out of their room (we have a stay-in-your-room until 7 a.m. policy!) or I hear the clinking of tiny pans when Lincoln should be taking his afternoon nap.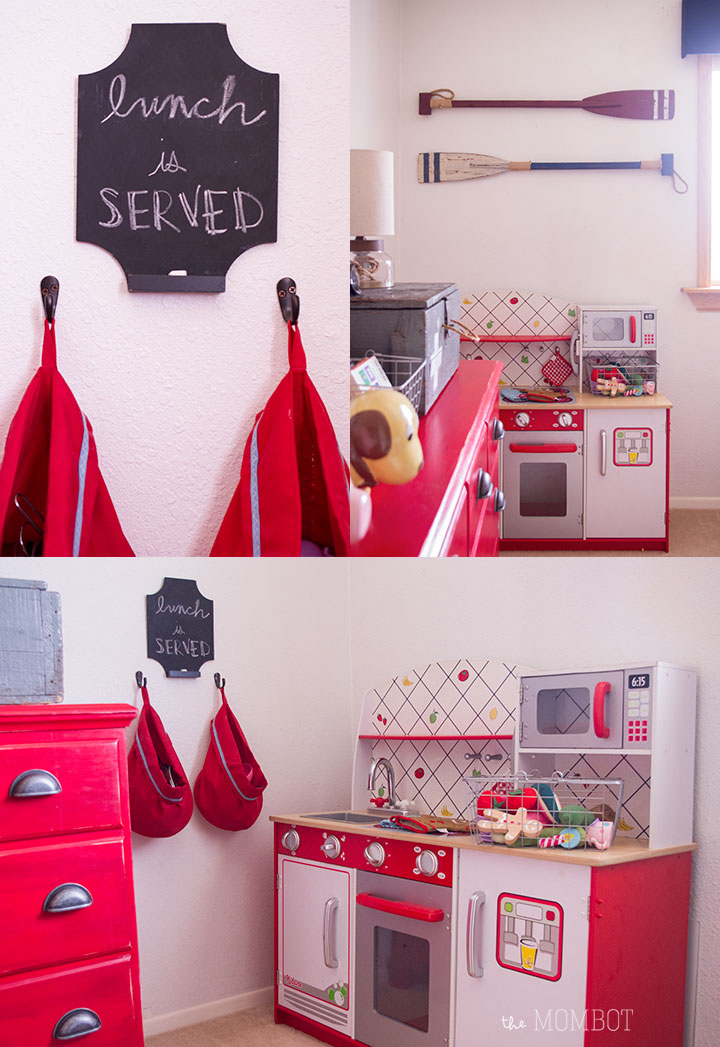 I found these hanging baskets at Ikea for super cheap (I cut off a little tassel that made them look more circus-y) to store the food and pans. I've had that chalkboard from the Dollar Spot at Target forever, and I found the wire basket in the Dollar Spot just recently for $3. It's the perfect little shopping basket!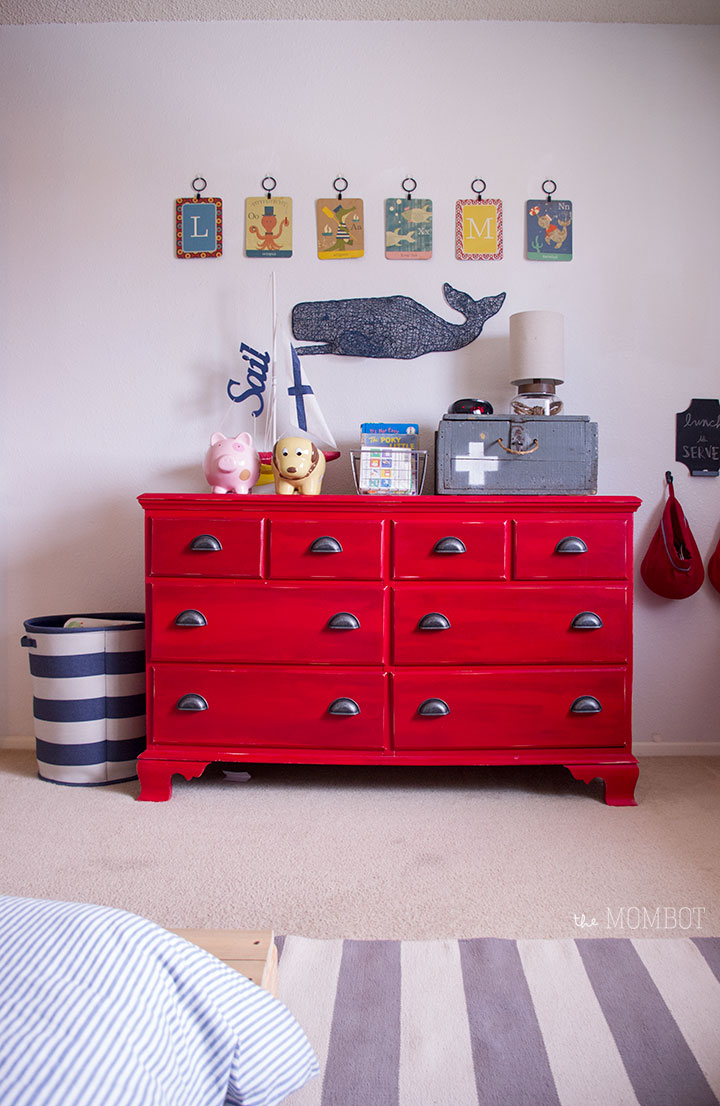 The dresser and all the goodies that surround it took the longest to finish. I've been collecting things for a while now, and it wasn't until recently when I found the gray wooden box at the flea market (which I added a rope handle to and painted a white medical sign on) that it all came together.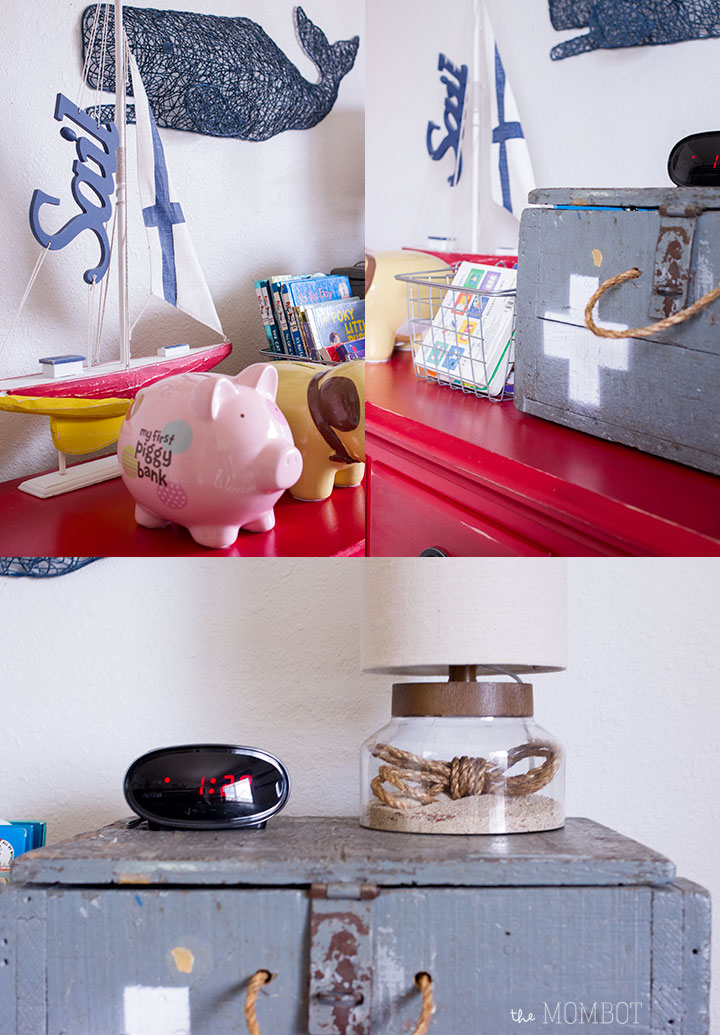 Here's the details on where I found each piece; many of them are from different places and some are things I've had for years: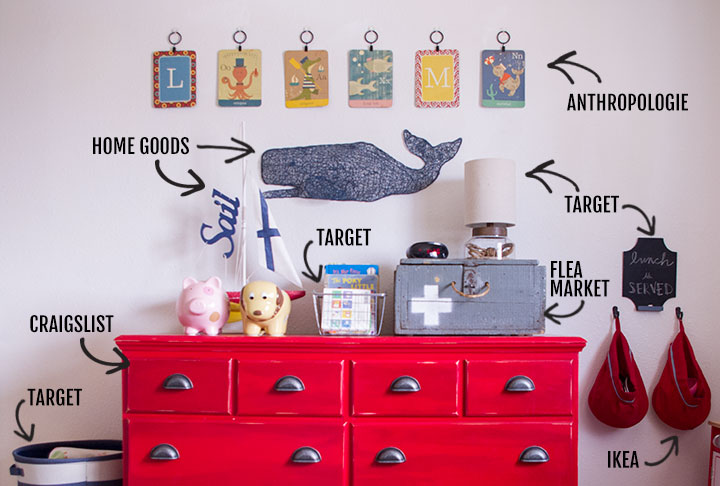 The dresser was something we bought on Craigslist for $25 and refinished for Lincoln's nursery a couple of years ago. I LOVE this thing. We'll have it forever; it's solid wood so it will last and it's the perfect size for two kids to share.
A few other finishing touches were added to the room thanks to some great Hobby Lobby finds, like the nautical subway art by the door (50% off) and the oars over the play kitchen (50% off – only $12 each!).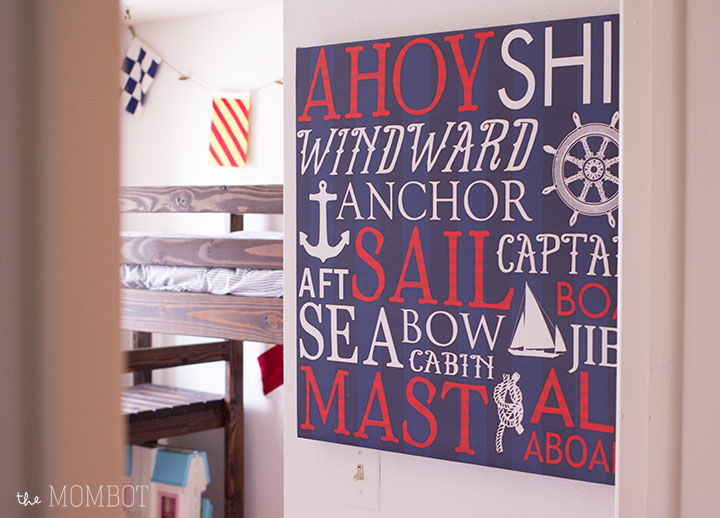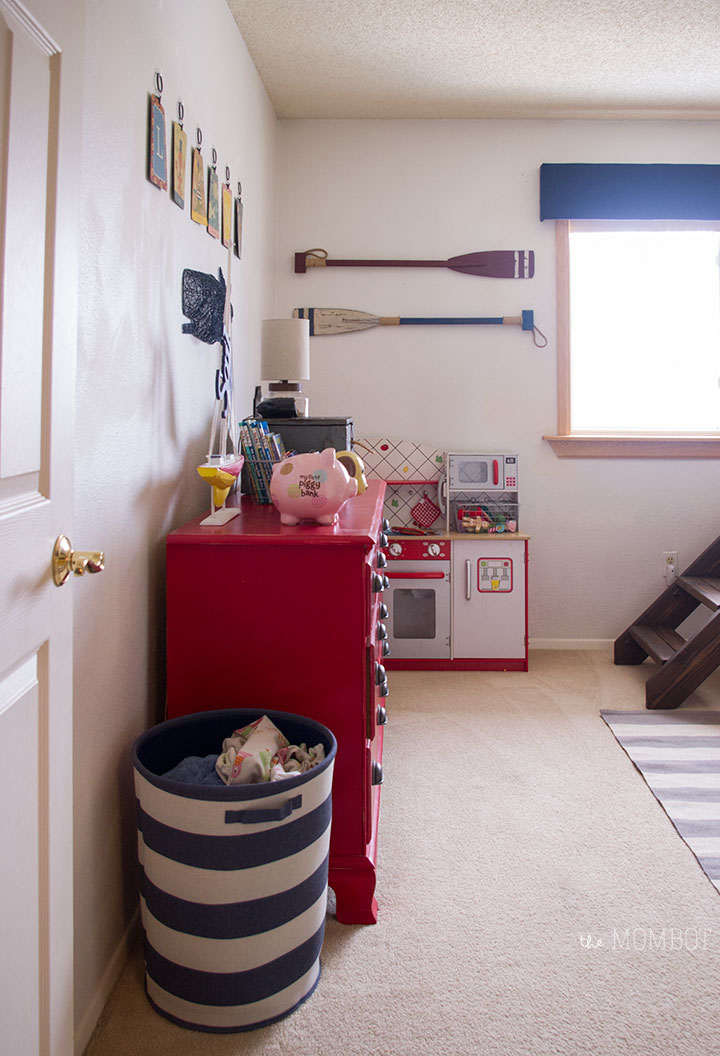 I think the nautical theme is working well for a unisex bedroom. Although I am missing the opportunity to go girly and pink for Mia, she'll get the chance one day when Graham gets older and the two boys share a room. For now, Mia and Linc are perfectly happy sharing and I think it's made them closer. I love hearing them play and laugh (even if it's at 6:00 in the morning) and generally enjoy one another. I'm sure it will be short lived!