Disclosure: I received some items free of charge to review from UncommonGoods in order to write this post. However, all opinions are my own.
Let's face it, no two moms are alike. And my mom might not like a photo calendar with my kid's faces plastered all over it, and your mom might not love that embroidered pillow that you thought screamed "perfect Mother's Day gift." But that's what makes each of our moms so great – there's only one.
Sometimes Mother's Day gift guides can be a little generic and don't speak to your particular mother, which still leaves you at a complete loss over what to get her. That's why I've come up with these 10 unique gift ideas from one of my favorite retailers – UncommonGoods.
UncommonGoods is a master at catering to each unique individual, particularly because half of what they sell are one-of-a-kind handmade items from independent designers. It's easy to feel good about supporting this privately-owned company since they support small business, are a founding B corp (meaning they meet rigorous standards on a wide range of issues, including wage levels, environmental impact and giving back to the community) and they donate $1 to the non-profit of your choice with each purchase you make. Really, purchasing from them is a no-brainer.
But aside from all that, they have some really good Mother's Day gift ideas for your unique mom; whether she be a crazy cat lady or have mad skills on the sewing machine.
Here are my top 10 favorite gifts for mom that you likely won't find elsewhere: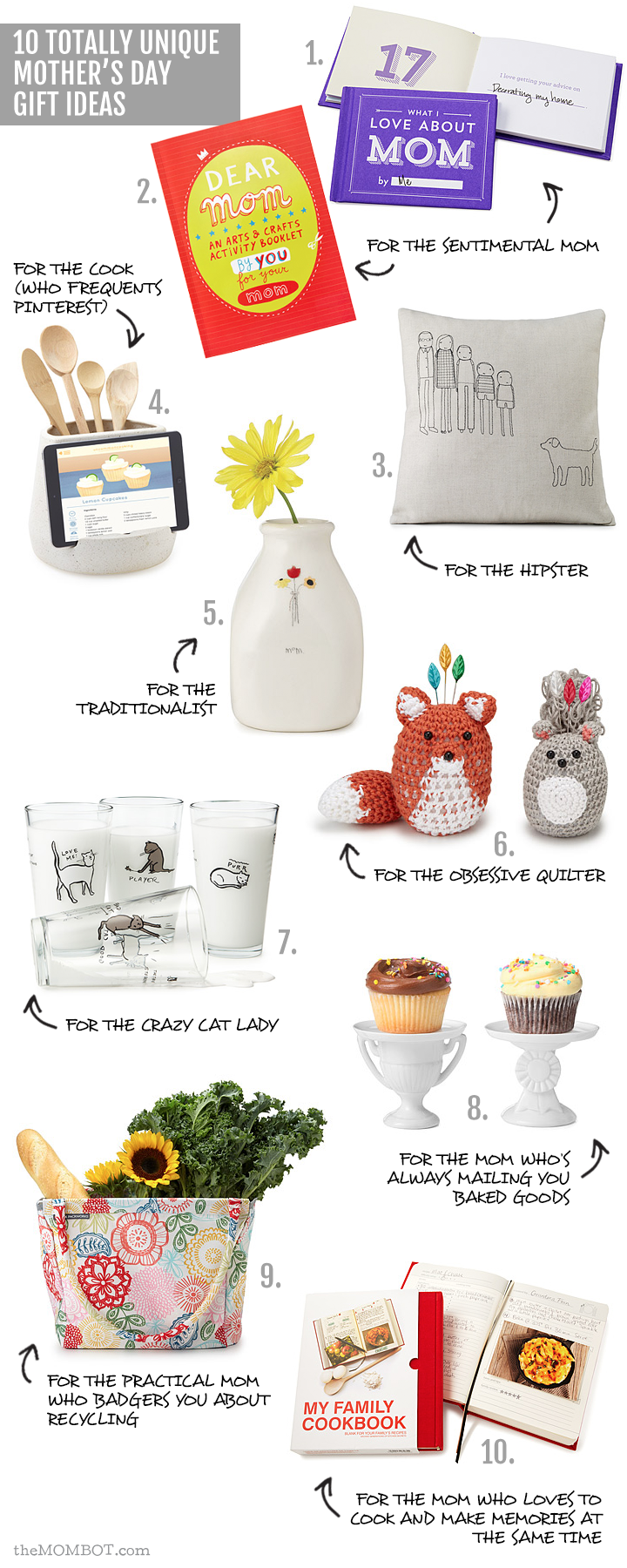 For the sentimental mom (you know, the one that always cries):
1. What I Love About Mom By Me Book $10
2. Dear Mom Arts and Crafts Book (done by kids) $9
For the hipster:
3. Personalized Family Pillow $150
For the cook (who frequents Pinterest and needs a place for her iPad):
4. Kitchen Utensil and Tablet Holder $60
For the traditionalist (sometimes, she really does just want flowers):
5. Mom vase $32
For the obsessive quilter who has a closet full of fabric scraps:
6. Woodland Animal Pincushions $24
For the crazy cat lady:
7. Cat Tao Glasses – Set of Four $35
For the mom who's always mailing you baked goods (hey, we're not complaining):
8. Award Cupcake Stand $22
For the practical mom who badgers you about recycling:
9. Foldable Market Basket $29.99
For the mom who loves to cook and make memories at the same time:
10. My Family Cookbook $35
If you need more gift ideas for mom, check out the gifts for mom guide on UncommonGoods.com.