With a little over a week left before Valentine's Day, it's time to place your orders for the mister in your life before time runs out. I'm not a fan of over-the-top cheesy gifts (neither is my husband), so I usually go with something manly instead. Unless, of course, we are talking about heart-print boxers, of which I have no problem buying (see below).
If you are baffled about what to get your significant other for Valentine's Day, maybe some of my picks below will give you an idea. Whether he's a musician, a fitness buff, a comic book fan or a coffee lover, there's a little something for everyone.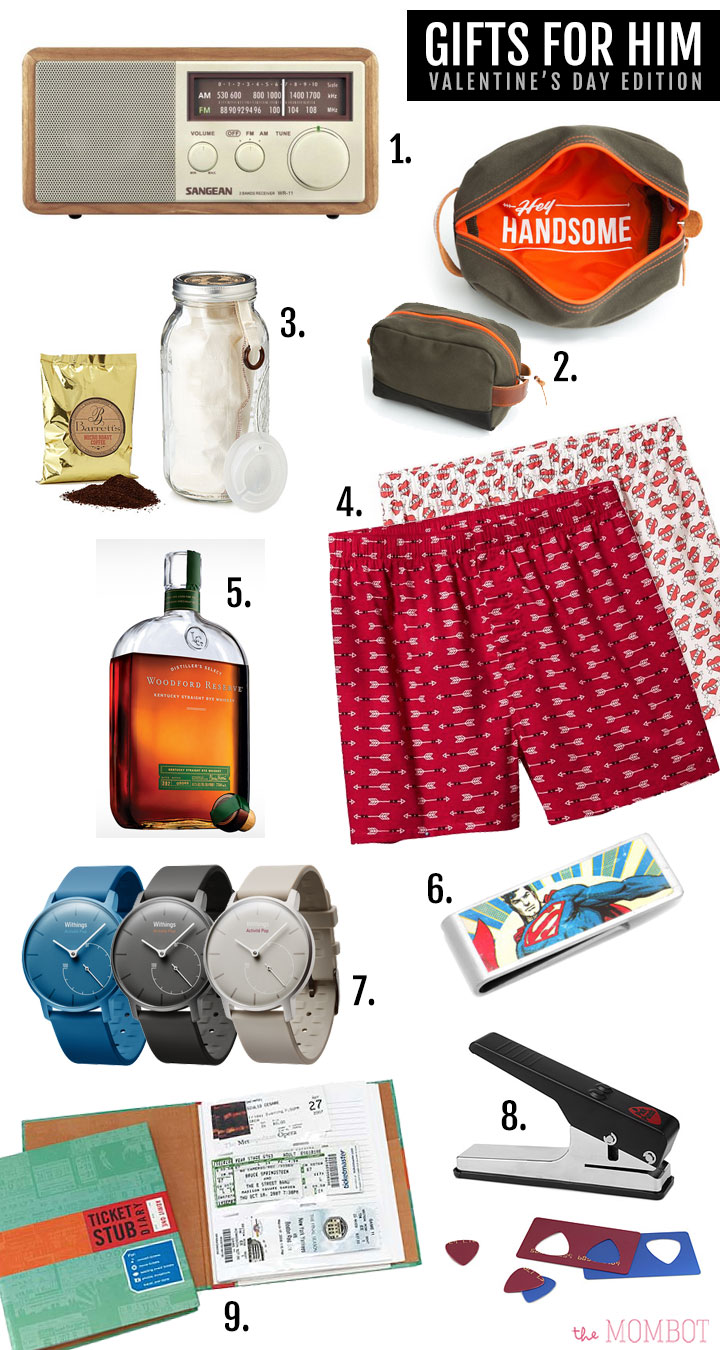 1. SANGEAN WR-11 AM/FM Table Top Retro Radio with AUX input $76.95
This is basically the coolest retro looking radio I've ever seen and even has an auxiliary input for your MP3 player.
2. Hey Handsome Shaving Kit $68
I'm a big fan of the message at the bottom of the bag.
3. Cold Brew Coffee Set $36.00
Coffee lovers will be more than pleased with this little set that will supply them with cold brewed coffee around the clock.
4. Heart Boxers $9
Because they are just cute.
5. Woodford Reserve Whiskey Rye $38
If your man has some hair on his chest and enjoys himself a strong drink, this whiskey may be right up his alley.
6. Vintage Superman Money Clip $44.99 (free shipping)
I still can't understand the fascination that grown men have with comic books (or video games), but most of them would be thrilled to get this vintage Superman money clip.
7. Withings Activite Pop Smart Watch $150
I'm really not big on tech stuff, but even I have to admit that this watch is pretty stinking cool. Not only is it a watch, but it's also a fitness/activity tracker, tracks your sleep, is water resistant, has a silent alarm and Bluetooth connectivity. It's not available yet, so it may be a bit of an IOU gift, but it seems to me like it will be well worth the wait.
8. Pick Punch $25
If your man plays guitar, this is a handy little tool.
9. Ticket Stub Diary $12
The sports enthusiast will likely love you for such a thoughtful gift.
Disclosure: Affiliate links used