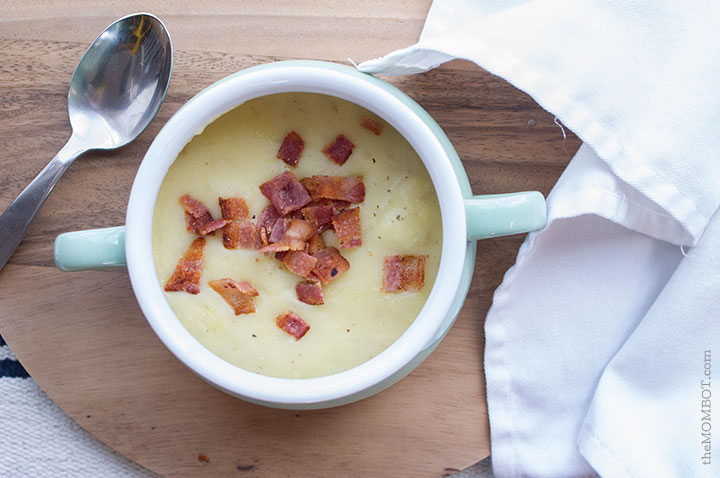 There's nothing better on a cold day than a bowl of soup; and something particularly hearty like potato soup really makes me happy. I also love that potato soup is so easy to make and really requires very little time, effort, or ingredients – all important things to this busy lady.
Ever since my husband and I did the Whole30 a few months back, we have made some modifications to how we eat. It gave us incredible knowledge on food and what works (and doesn't work) for our bodies. For instance, we learned that my husband doesn't do well with carbs and I don't do well with sugar or dairy, so we try to limit those in our house now.
So when I decided I wanted to make potato soup this week, I had to make some slight modifications to make it Whole30 approved – which actually wasn't all that difficult; it just meant removing the dairy and carefully choosing the bacon.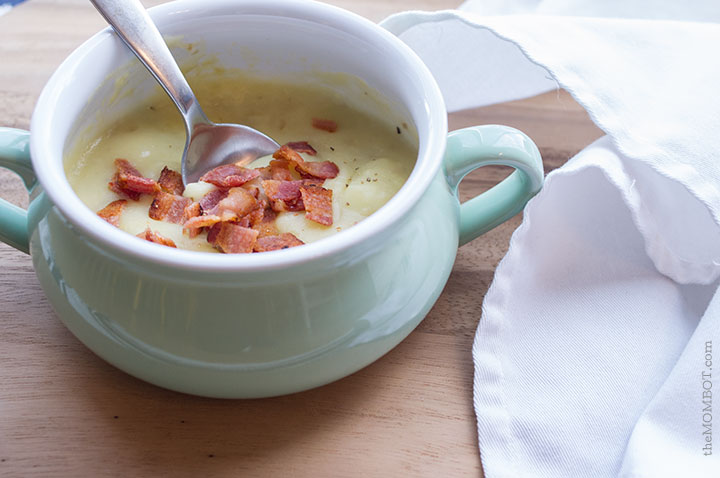 Even with the modifications, it turned out SO yummy. I used to prefer cheese in my potato soup (who doesn't?!?), but this is good even without. It's also thick and creamy, despite not having any half and half in it. That's because of the secret ingredient – coconut cream!
I discovered coconut cream while doing Whole30, and it quickly became one of my new favorite things to cook with. It can take the place of half and half or heavy cream in just about any recipe that calls for it. I like adding it to mashed potatoes instead of milk, or better yet – mashed cauliflower. Yum.
Just like coconut oil, coconut cream really doesn't have a coconut flavor, but it does taste rich and almost buttery (at least to me). You can purchase canned coconut cream at health stores or grocery stores (I get mine in the baking section at Sprouts); as an alternative, you can also purchase canned coconut milk in the asian food section of any grocery store and put it in the fridge for 24 hours. This causes all the cream rise to the top and separate from the water. Then you just scoop out what you need from the top and throw the water away! Coconut milk is usually cheaper than cream and easier to find, too, so it's a great alternative.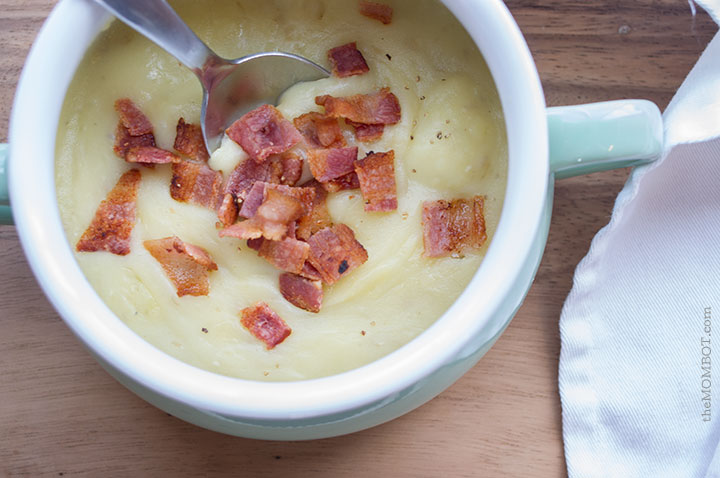 So if you need an easy, healthy slow cooker meal, try this one out. If you're like me and forget to start the slow cooker at 11 a.m. because you're busy doing 10 million other things, you can also make it on the stovetop in about half an hour. Hallelujah for a recipe that can be flexible with your schedule (and forgetfulness)!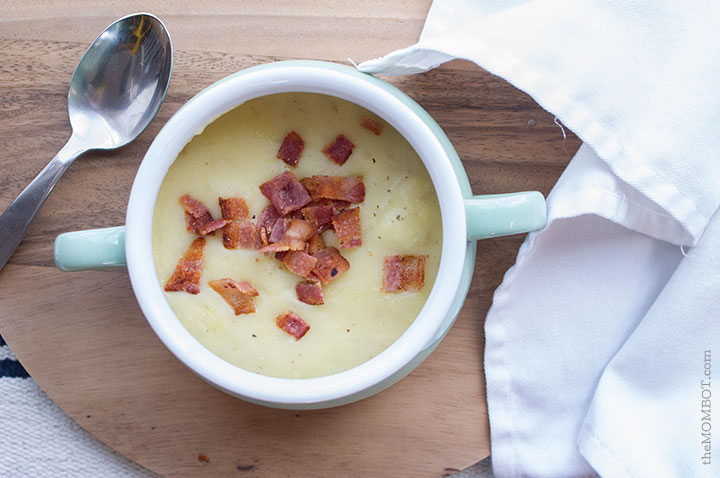 Ingredients
4 Yukon Gold (or russet) potatoes, unpeeled and cut into 1" chunks
1 leek, rinsed and diced (white & light green parts only) - or you can use a small onion
4 cups homemade chicken stock (if using store-bought, check label to make sure sugar is not an ingredient in order to keep it Whole30 approved)
2 cloves garlic, crushed
1 teaspoon sea salt
pepper
2 tablespoons ghee (optional, you can use butter if you're not doing Whole30)
1/2 cup coconut cream
Recommended toppings: Whole30 approved bacon (no sugar or nitrates), green onions
Directions
Add potatoes, leek, stock, garlic and salt to the slow cooker and cook on low for 6-7 hours. Alternatively, you can cook on the stovetop for about 20-30 minutes or until leeks and potatoes are tender.
Add the ghee/butter (if using) and puree the soup using an immersion blender. If you prefer chunkier soup, leave some of the potatoes intact. Stir in the coconut cream and sprinkle with pepper.
Ladle into bowls.
Fry bacon, chop and sprinkle on top of soup.
Serve immediately.
http://themombot.com/food/2016/01/21/slow-cooker-potato-soup-whole30-approved/
copyright The Mombot // www.themombot.com