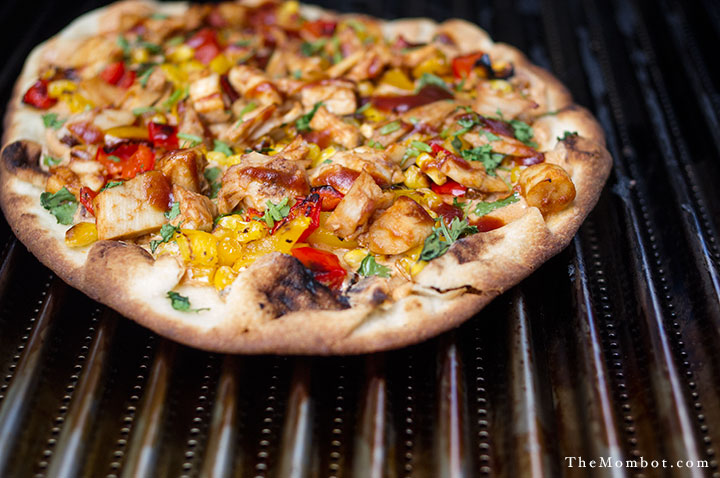 Mmm. Pizza. I think I have a new resolution to see how many pizza recipes I can post on here. I've been experimenting ever since giving up dairy, and while you can never replace the ooey-gooey goodness of cheese-covered delivery pizza, I have learned that you can still have plenty of good pizza without the dairy.
Adding grilled chicken and lots of veggies to it is one of my new favorite ways to eat pizza sans cheese, and switching it up and subbing something other than tomato sauce helps give it a new, distinct flavor so that you don't miss the old classic quite as much.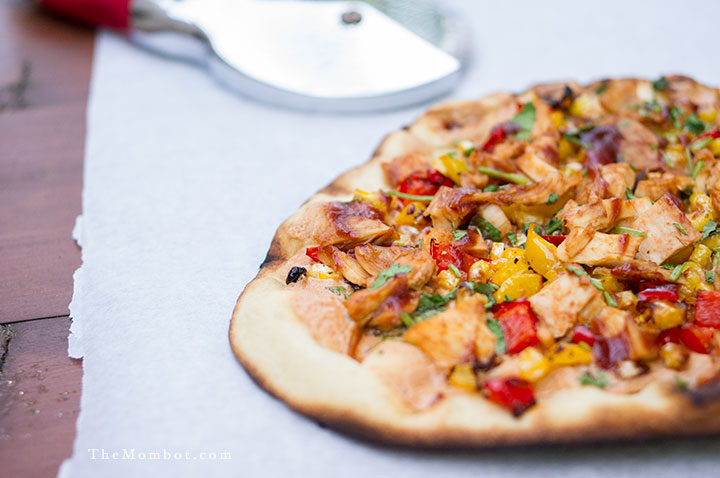 Here's a recipe that I adapted from something I found online that contains veggies, chicken and faux cream cheese. It's hearty and comforting and goes nice with a glass of red wine or beer *wink*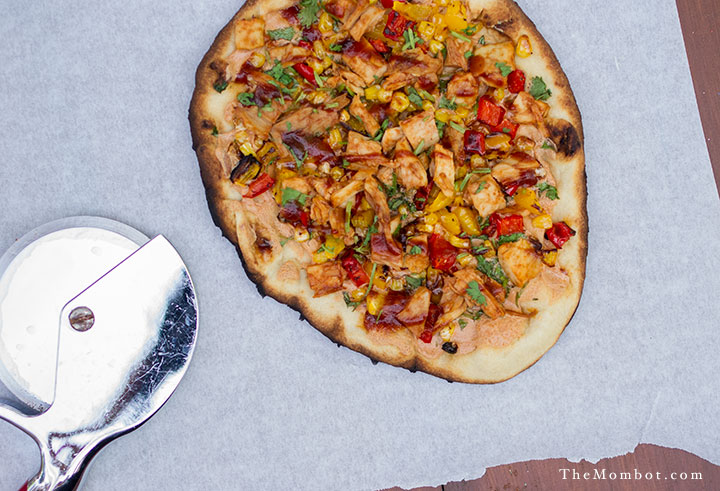 Ingredients
1 chicken breast, grilled and cubed
1/2 red pepper, diced
1/2 yellow pepper, diced
1 cup corn (frozen - thawed, or canned)
3 Tbs Daiya dairy-free cream cheese
3 Tbs your favorite bbq sauce
2 loafs Naan flatbread
1/4 cup cilantro
Directions
Dice the peppers and place on a foil-lined baking sheet. Add the corn and drizzle olive oil on top. Sprinkle with salt and pepper. Toss to coat. Bake at 425 for 20 minutes. Place under broiler for 3-4 minutes to finish.
Put cream cheese and BBQ sauce in a bowl and mix to combine. Spread mixture on Naan bread. Spread a layer of roasted veggies on top of cream cheese mixture. Spread a layer of chicken and cilantro. Using a squirt bottle, squirt BBQ sauce in a diagonal pattern on top of pizza (optional).
Preheat grill to 350 degrees/medium. Place Naan pizza directly on grill and cook for 5 minutes. Alternatively, you can cook in the oven at 425 degrees for 5 minutes.
http://themombot.com/food/2015/06/23/dairy-free-bbq-chicken-pizza/
copyright The Mombot // www.themombot.com