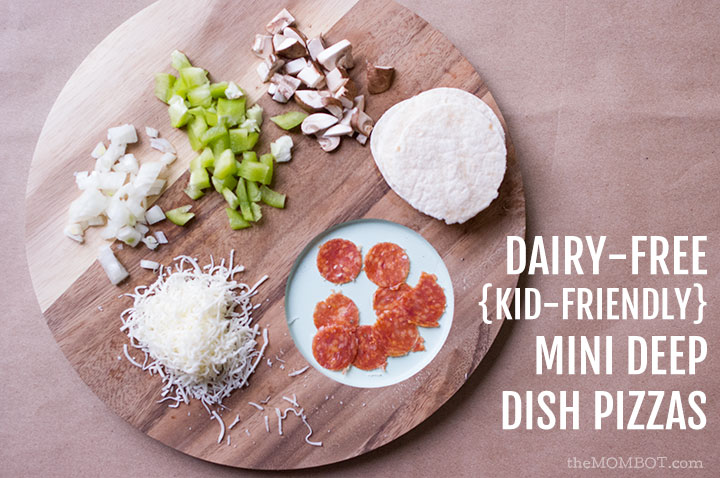 Pizza. Mmm.
I mean, who doesn't love pizza? And if you tell me you know someone or you are that someone, I will give you the same reaction that I give when I hear that you don't like chocolate. Because, huh??
I LOVE pizza. So when I went on a dairy-free diet because of my [breastfed] son's milk protein intolerance, I was dying for a slice of cheesy goodness.
Instead of crying into my pillow at night (which may have happened on occasion…), I decided to just try making pizza without cheese to curb the craving. Of course, I worried about all the toppings falling off since they wouldn't be melted together with cheese, so I wasn't sure how to make it work. But when I came across this recipe for mini pizzas made on tortillas, I knew I had a better chance of my toppings staying put since we would be working with mini portions instead of big slices.
So I whipped some up for myself and some for the kids (with cheese), and they were a hit! Mine were delicious; the pepperoni and the fact that it was jam packed with veggies made my tastebuds almost forget that there was no cheese present (almost). These tortillas crisp up so perfectly and you really get a delicious faux deep-dish crust out of them.
Now, I've made pizza on whole tortillas before, but these mini ones were way better. I think you don't deal with sogginess as much because of the smaller portion size, and the crispiness really makes the dish.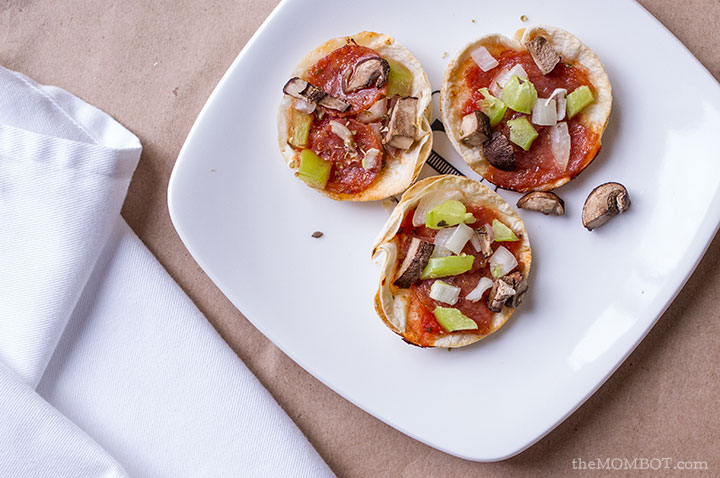 Did I mention the kids were over the moon for their kiddie-sized pizzas? They loved them. I even cut my pepperoni into little circles, which they thought was just adorable (ok, maybe I thought it was adorable and they were just glad to have pepperoni). You can buy mini pepperoni or you can be cheap like myself and use regular sized pepperoni cut into mini circles. I purchase my pepperoni at Sprouts; it is all natural and nitrate-free and comes in a bigger size (about 3 inch diameter), and it is DELISH. I put it on everything these days – sandwiches, pizza… ok, I guess that's really all.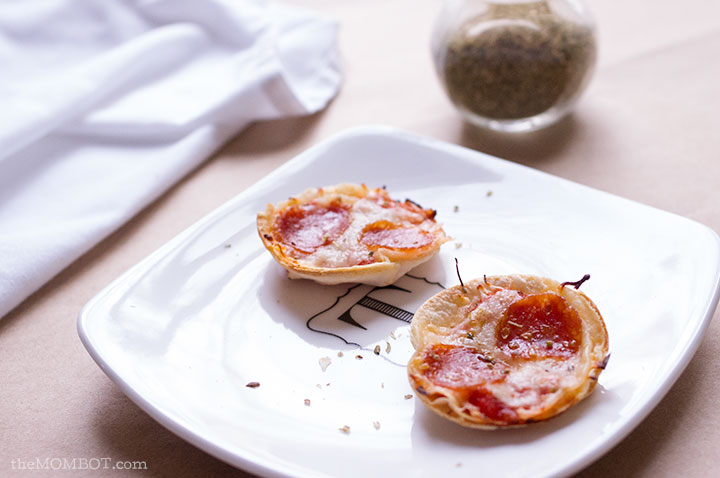 If you are dairy-free, need something to feed the kids, are in a rush to make dinner, or need something cheap, this meal fits all that criteria. Add a side salad and you're good to go.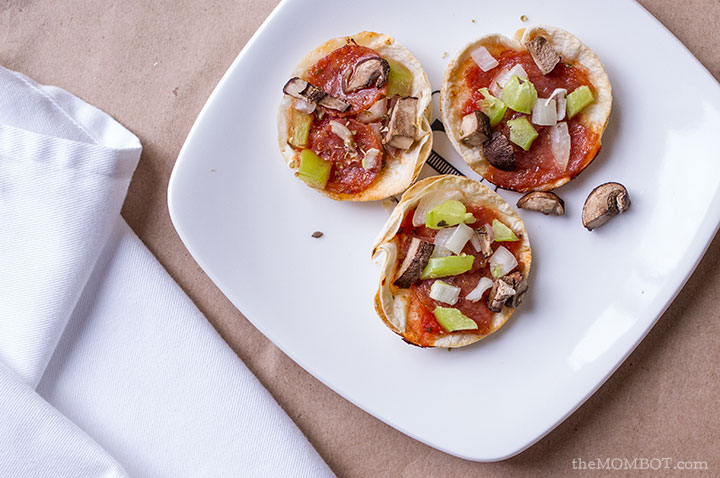 Ingredients
Flour tortillas (one tortilla will get you about 4 mini crusts)
Pizza sauce
Pepperoni
Assorted vegetables (I used diced onion, mushrooms and green peppers)
Oregano
Directions
Preheat oven to 425 degrees F. Spray a muffin tin with non-stick spray.
Use an empty can or a bowl of a similar size to press down into tortillas and cut out circles. You may need to use a rocking motion or twist back and forth to get it all the way through. You should be able to get 4 circles out of a standard sized tortilla.
Press tortilla circles down into muffin tins. Scoop about 1 tbsp pizza sauce into each tortilla and spread. Cover with pepperoni and assorted vegetables. Sprinkle with oregano.
Bake for 10-12 minutes, or until tortilla edges begin to brown.
Serve immediately.
http://themombot.com/food/2015/03/06/mini-pizza-recipe-kid-friendly-dairy-free/
copyright The Mombot // www.themombot.com