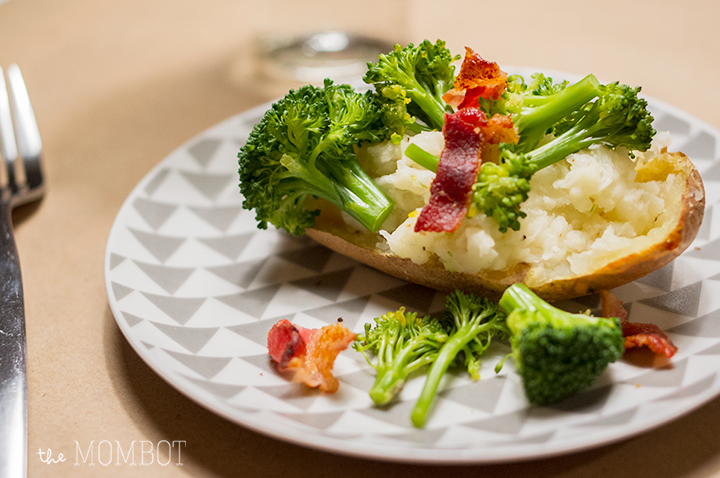 So I recently discovered that my 8 month old has an intolerance to milk protein, which forced me to cut all dairy out of my diet. This was a bit devastating for me… I LOVE cheese, you guys. I mean, my favorite foods are pizza and nachos. What else am I supposed to eat at 9 o'clock at night while I binge watch "America's Next Top Model" and relish the quiet moments when the kids are in bed??
The first week of no dairy was challenging. At first I was trying to sub my favorite products with non-dairy items (i.e. non-dairy cheese), but as the weeks dragged on I decided it's really better just to stay away from them altogether (because – surprise – they're pretty gross). It's gotten easier as I've adjusted my diet.
For instance, finding good non-dairy recipes has helped tremendously because I realized that most of my go-to recipes had some form of dairy in them; and if I made them without, I was always longing for the taste of the original and cursing my new dairy-free regimen.
I follow AJ (a.k.a. @healthfest) on Instagram who always posts yummy, healthy, easy recipes in her Instagram feed (of which I take screenshots and refer back to constantly). That's how I came across this recipe for twice baked potatoes that are dairy free, gluten free, sugar free, whole30 and clean eating approved (phew, that's a lot of stuff). I modified it a bit to my liking, and it came out so good. Best of all, it was really easy to make on a night when time was of the essence.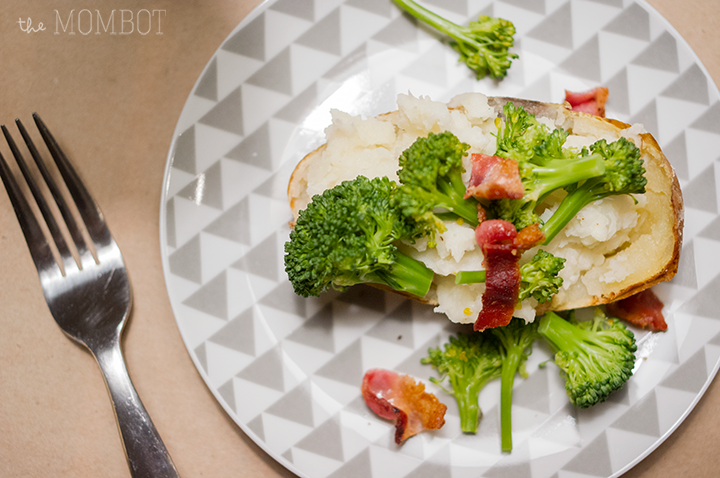 If you need a quick meal or have any dietary restrictions, this is a great option! And if you are lucky enough to be allowed dairy, then slap some some cheese or sour cream on this bad boy.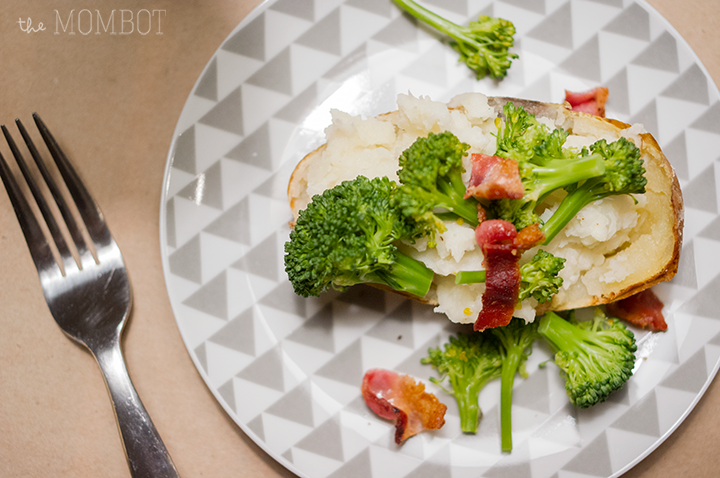 Ingredients
4 large potatoes
1/2 head cauliflower, cut into florets
1 head broccoli, cut into florets
1 tbsp coconut oil or Earth Balance Buttery Spread
1/4 cup soy milk
3 slices cooked bacon, chopped
Salt and pepper
Directions
Bake potatoes at 425 for one hour.
Steam broccoli and cauliflower. Remove broccoli after 3 minutes and set aside, continue to cook cauliflower for 5 more minutes (or until soft).
Cut potatoes in half and scoop out insides. Place inside in a bowl with the cooked cauliflower. Add milk and buttery spread (or coconut oil) and mash.
Place mixture back into skin shells. Sprinkle with salt and pepper and top with broccoli and bacon.
http://themombot.com/food/2015/02/28/twice-baked-potato-recipe-clean-eatingdairy-free/
copyright The Mombot // www.themombot.com