Um, you guys. If there is one new recipe you try this weekend, make it this one. This honey sesame chicken in the crockpot is SO good and SO easy.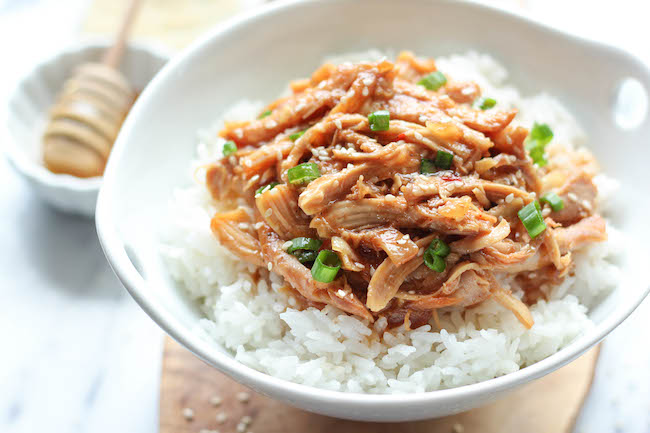 (source)
Holy. cow.
I decided to make it because I needed a quick, easy meal that could cook while we were out of the house. Occasionally on Sundays we have a bible study meeting from 3:30-5:00, so it's always a scramble to figure out dinner when we get home. I figured I would let it cook while we were out and make the rice when we returned home. It was AH-mazing.
My kids even ate it! And that in and of itself is a miracle. It was so, so simple to make, which of course is an added bonus. It also made enough for the whole family, plus the Mr. and I fought over the leftovers the next day.
A couple of suggestions:
Serve it with freshly steamed broccoli (the perfect vegetable to go with this, in my opinion). I've also had it with carrots, but didn't love it as much
Go easy on the red pepper flakes if you plan to serve it to the kiddos. I put in the full amount called for, and it was a little too spicy for my 20-month-old, though he did eat a few bites. The spice was just right for me, but their palates are much more sensitive. I just sprinkle some extra on mine after it's plated.
I made this with chicken breasts because I am not a fan of dark meat, so if you aren't either, I can tell you that chicken breasts work great for this recipe too.
And don't skip the sesame seeds – they add just a little something, something!
Hop on over to Damn Delicious for the recipe, or pin it for later.