I don't know about you, but as spring unfolds, all I want to wear are florals, pastels, and light and airy fabrics.
Often times, I am lying to myself about how warm it is outside and my thin white crepe dress has left me with permanent goosebumps. But, whatever. I look good, I feel good and it's spring, dangit! So I grab a denim jacket and hope to God it doesn't rain and the wind stays at bay. If only the sun will peek out from behind the clouds, all will be well.
There is never a more appropriate time to put on florals, because everyone is in the mood for color. And light pastels offer up a freshness that was stifled during the recent winter.
Keeping all that in mind, here are some of my favorite spring dresses in every price range, length and style. Because, let's face it, some days I am feeling really bohemian (see #1 and #3 below) and others I feel like a 50s housewife (see #2 and #5 below). I love everything from lace to ditsy florals; classic midi lengths to mini skirts and high necks.
There's room for each look this season. Try them all out!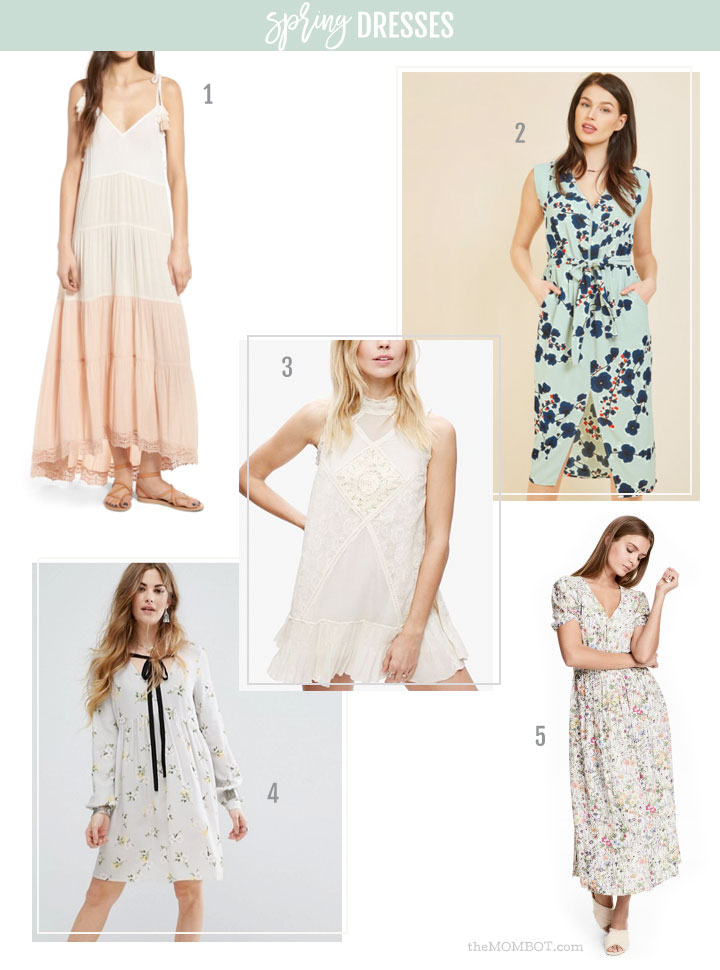 1. Colorblock Maxi Dress by SUN & SHADOW $69 Nordstrom
2. Altruism Advocate Midi Dress $69.99 Modcloth
3. Free People Angel Lace Mixed-Media Dress Orig. $118 Sale $69.99
4. Nobody's Child Smock Dress In Ditsy Floral Smock Dress With Contrast Tie $43 Asos
5. H&M V-neck floral dress $49.99