As previously discussed here, sweaters in all shapes and sizes are a "must-do" for fall 2014. One of the biggest sweater trends I'm seeing lately are those with a southwestern edge – and I say, bring it.
If there's one thing I love, it's transitioning my summer dresses into fall by pairing them with big chunky sweaters, tights and boots. Southwestern, printed sweaters give you the perfect opportunity to do just that; because they pair so nicely with rugged boots and are an ideal topper for your favorite dress.
For example, this look I put together from Modcloth has me weak in the knees: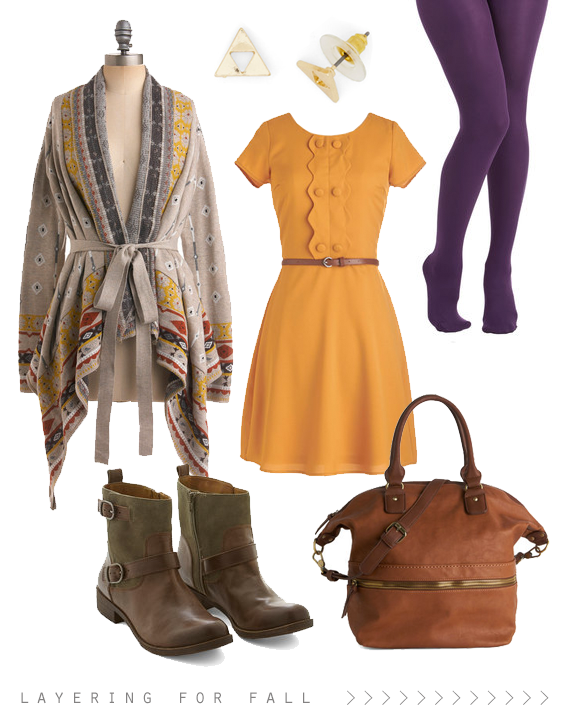 I'm sort of obsessed with this sweater from Modcloth because it reminds me of being wrapped in a big ol' blanket, and since I'm usually freezing when the temperature drops, it sounds like we were made for each other. I also love that although voluminous, this sweater can be belted to define your waist. If pairing with a dress (like above), belt it right at the natural waist for an hourglass silhouette. If you plan to wear this sweater with jeans, choose a nice pair of skinny jeans to offset the volume and wear it open or belted – your choice! If this sweater isn't your thing, check out the entire selection of cardigans at Modcloth – they have everything from Southwestern to sweet!
This sweet vintage-inspired dress would be adorable on a warm day with some little brown flats, wouldn't it? But throw on some plum tights and boots and it's perfect for the fall! Mustard is one of my favorite fall colors; it's subtle (i.e. it doesn't scream "look at me!" when you walk in the room) while still bringing some colorful cheer. Plum is another great color for fall, and can easily be considered a fall neutral; in fact, it works just as well as charcoal in just about any outfit scenario.
These little triangle earrings are so stinking cute. When paired with this outfit, they take on a tribal feel, but if worn with a tee shirt and jeans, they can feel more geometric and artsy. That's a whole lot of versatility from one little triangle.
And you know I've got to have the biggest bag on the block. This faux leather bag is screaming "put all the things in me, amy!!" The perfect place to stow your fall scarf and gloves when you're not wearing them. Or in my case, the perfect place for diapers, wipes and snacks for my always-starving children (I feed them, so why are they ALWAYS hungry??)…
Are you a fan of layering in the fall? Are you brave enough for the summer dress paired with a sweater combo? I know you can do it. Shop your closet and join me in transitioning your wardrobe (oh, and buy some cute stuff, too, just for fun).