Disclosure: Some affiliate links are used in this article and some items were provided at no cost so I could try them out and give them my honest review. All opinions are my own.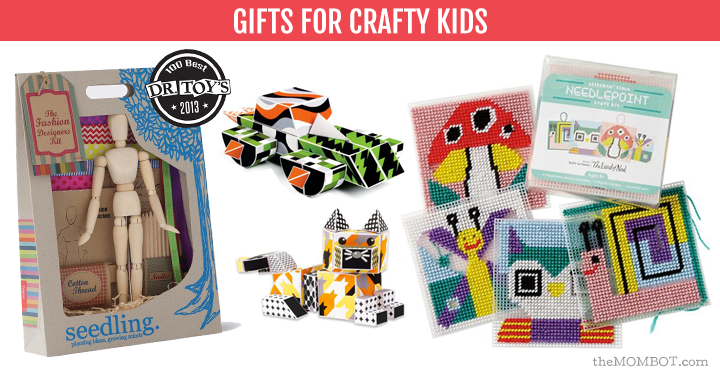 My daughter definitely has my genes – in more ways than one (and that's not always a good thing…). But the ones I am the happiest about her inheriting are my crafting genes. This girl loves to color, draw, paint, sew, build, invent – you name it.
As a kid, I spent hours drawing and painting and designing and I love watching my daughter explore and create in many of the same ways that I did. It seems like most families have at least one crafty kid in the mix; the one who would be happier to get new markers than a new movie. Or the one who constantly goes through your fabric stash and staples together little pillows stuffed with kleenex (or is that just my daughter?). So this post is for them.
If your little one is super creative and crafty and you need some gift ideas for this holiday season, here are seven of them, in order of age.
And don't worry – this post is completely Rainbow Loom-Free.
Crafty Gifts for Age 3+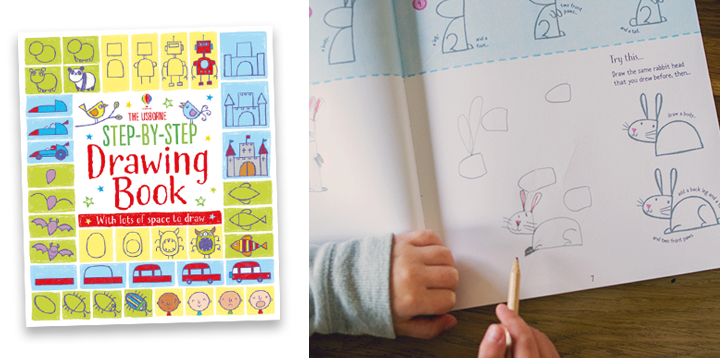 Step-by-Step Drawing Book, Usborne Books $9.99
Age 3-5+
My daughter LOVES this book. The step-by-steps are easy enough that even my 4 year old rocked some of the drawings. And the book is filled with cute doodles, so they aren't learning to draw an ugly little puppy with giant eyes. There is plenty of space in the book for them to return and re-draw, and they even put some of the drawings together to help the kids learn how to draw a complete scene. I highly recommend this for both boys and girls.
---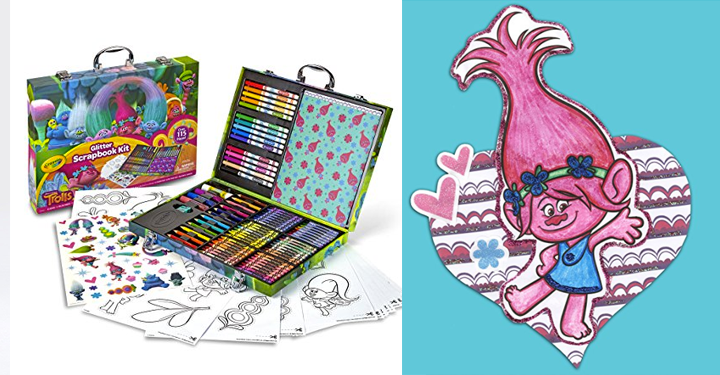 Crayola Trolls Glitter Scrapbook Kit, Amazon $24.99
(free shipping for prime members – get a 30-day free trial here)
Ages 3+
An art kit was on my daughter's Christmas list this year. I feel like she is finally at the age where she can have one and be responsible enough to keep everything in it instead of leaving it scattered around the house (famous last words). I decided to go with this one because she loves the move "Trolls," but I also love how it gives them projects and allows them to be extra creative with scrapbook supplies.
Crafty Gifts for Age 6+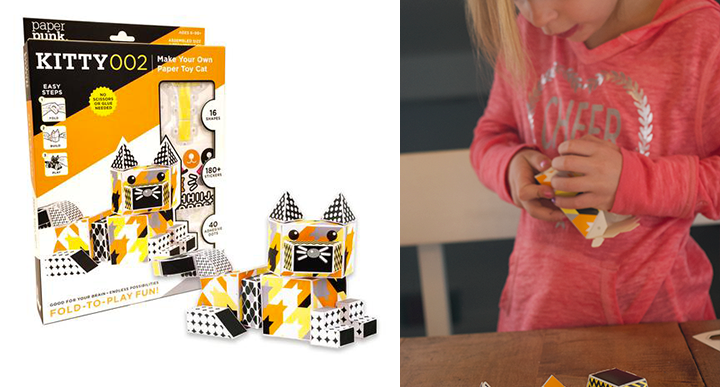 Paper punk Make Your Own Toy Kits $9.95-$14.99
Ages 6+
My daughter was all about building this paper cat with me. It was a good lesson in patience (for both of us) as well as engineering. Not only does each individual shape have to be made, but then you have to construct the toy from your 3-d objects. I also made one with my 4-year old, but I had to do most of the constructing; he was a bit young to get the hang of it. But when both were finished with their toys, they spent forever playing with them.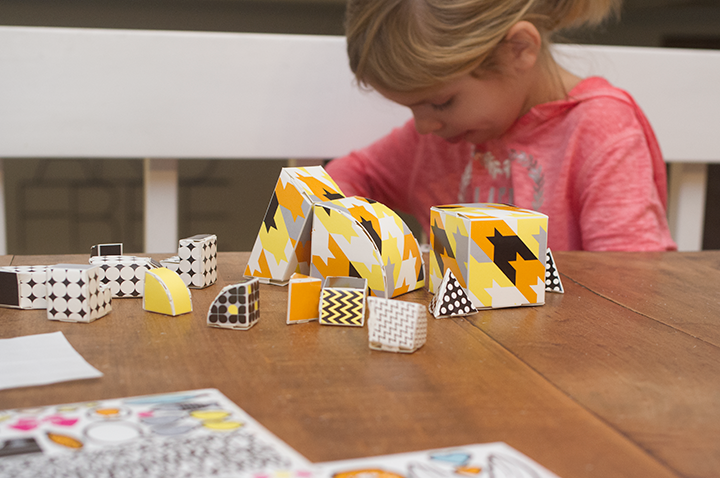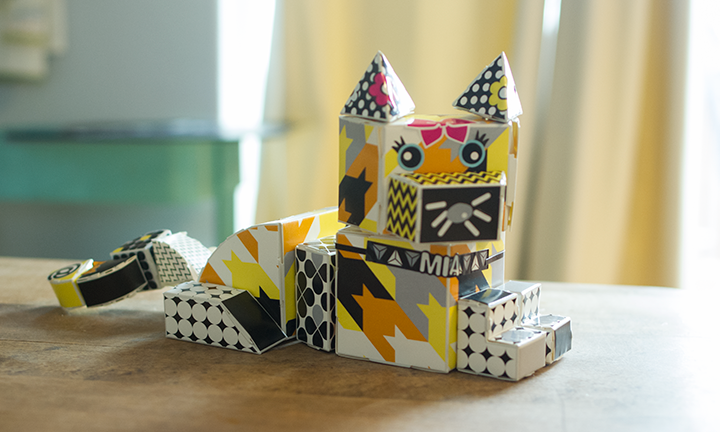 It's a great project to do with your younger one, or something to keep your older one busy for a while (which is always worth the price!). You can find these at Target, or on their website (right now you save 20% with code PAPERLUV20).
---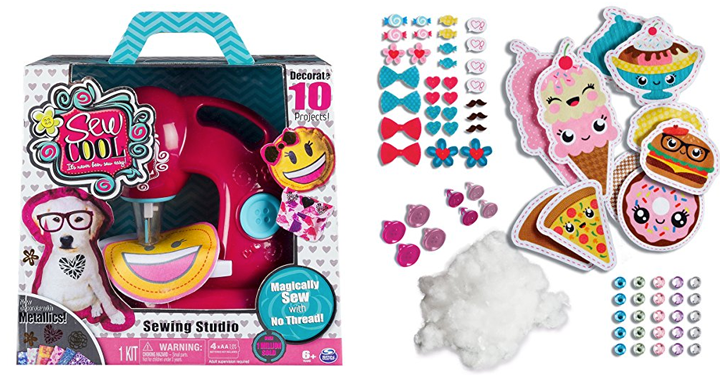 Sew Cool Sewing Studio $29.74
Ages 6+
My daughter got one of these for Christmas last year and loves it! It definitely has its pros and cons… Pro: It's affordable and easy to use. My daughter can mess around on it without my help (though she does call for me occasionally) and I don't have to worry about her getting hurt while using it. It teaches her about patterns and lets her practice straight seams. Cons: You can only use the Sew Cool kits with it, but not regular fabric. The machine itself doesn't use thread; there are multiple needles that punch through the felt-like fabric from the kits, which causes the pieces to stick together along the "seam." But because there is no thread, the seams are not that durable and can come apart if pulled hard enough.
Despite the cons, I think this is the perfect machine for a young one who has an interest in sewing. My daughter starting using it at age 5 and was able to do it with my help. Once she gets closer to 10, I plan to buy her a machine with a needle and thread, and hopefully by then she'll already have the basic skills to use a real machine thanks to her Sew Cool Machine. The kits aren't the cutest (think bright colors and leopard prints), but my daughter loves them and I love that they have a bunch for creating 18" doll clothing (i.e. American Girl dolls). I am buying her a doll for Christmas this year, so she'll be able to make them some outfits -it's the gift that keeps on giving!
---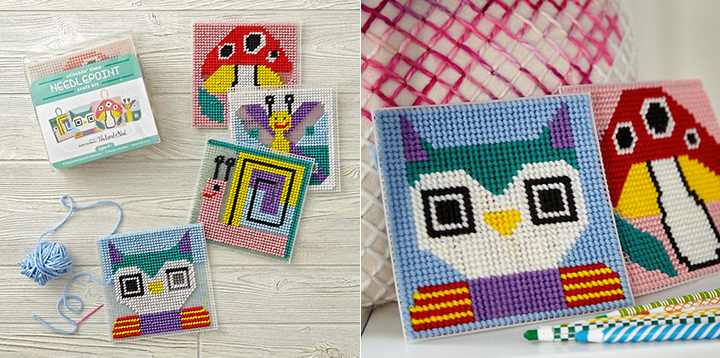 Stitchin' Time Needlepoint Kit $19.95
Ages 6+
If your child likes to sit and create and is able to focus on crafts for long periods, this is the perfect gift for them. Not only is it good for fine motor skills, but it teaches them about colors, patterns and following instructions. I think this would also be great for a long car trip!
Crafty Gifts for Age 8+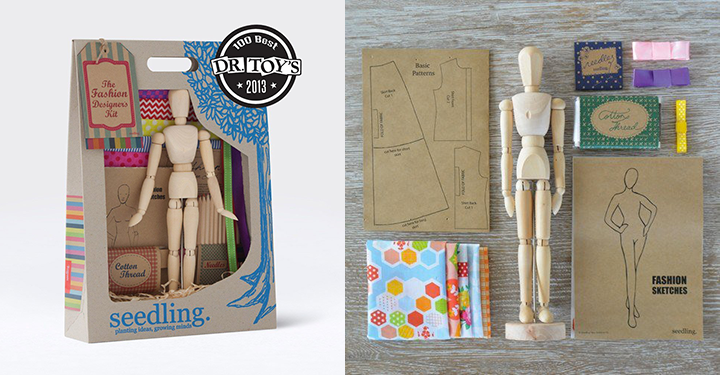 The Fashion Designer's Kit $49.99 from Seedling
Ages 8-12
Seeing as to how I went to fashion school, this little kit has my heart. My daughter has already shown interest in designing, so in a couple of years I can't wait to give her something like this!
---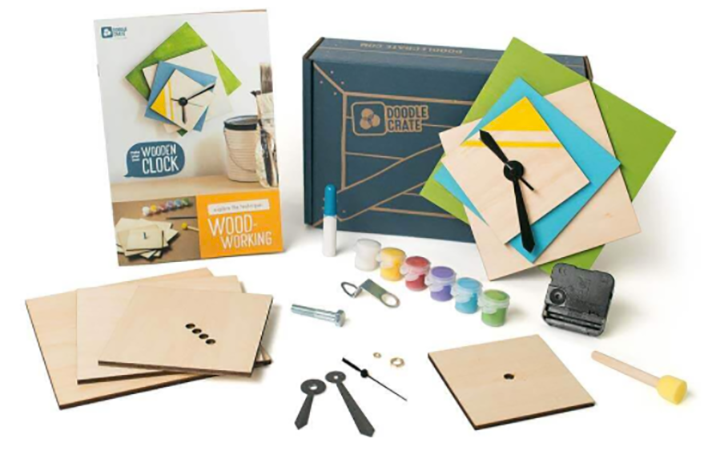 Kiwi Crate "Doodle Crate" subscription $24.90-$205
Age 9-16
Kiwi Crate has been around a long time and I've heard nothing but good things! In addition to a toddler-geared box and a science-geared box, they also offer a Doodle Crate for creative kids. The subscription comes as often as you choose (1 month, 3 months, 6 months or 12 months) and each month has different crafts for your child to create. Plus, kids love getting mail, so what could be better?