There's still a full week left until Christmas.
Still on the hunt for that perfect gift for your man? Your brother? Your dad?
Don't worry – guys can be so hard to shop for, but I've found some great options. Make it easy on yourself by sticking with the basics – the more plaid, antlers, wood or leather – the better. Pretty much anything that makes him feel like a man is a safe bet.
Several of these finds have expedited shipping options so you'll get your gift in time, and if you're a member of Amazon PRIME, you can get qualifying items in two days.
So without further ado, here are my top picks for "gifts for him" this Christmas: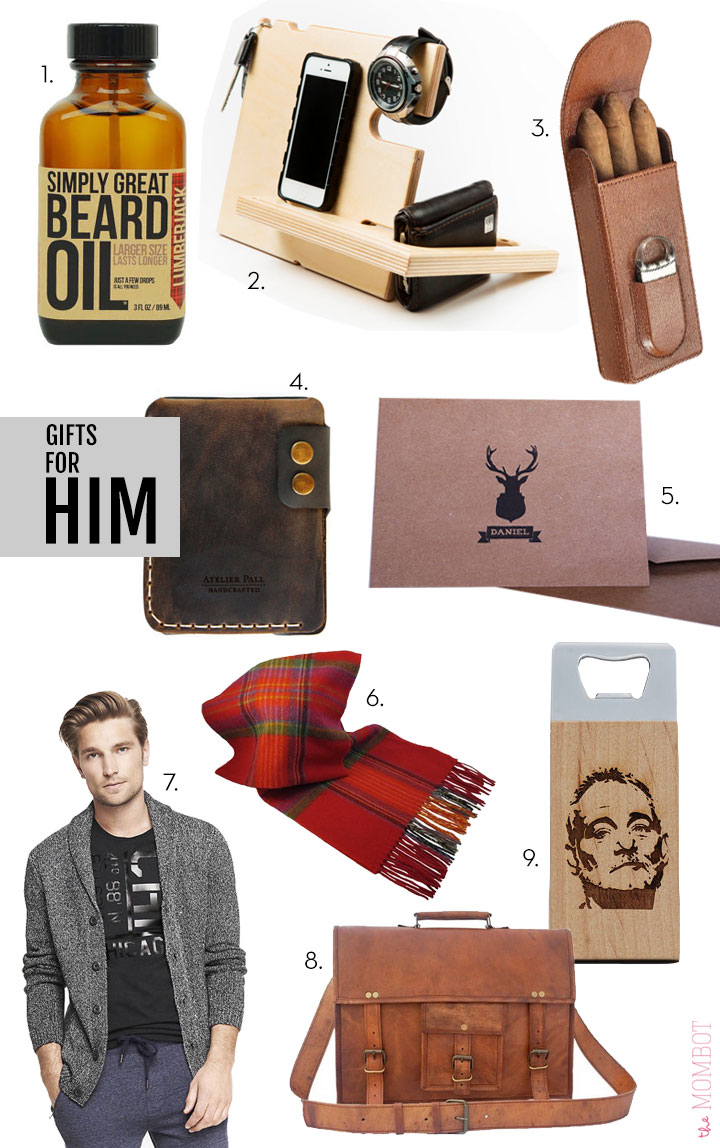 1. Lumberjack Scented Beard Oil, $19.95
Are you married to a lumbersexual? Yeah, me too. This beard oil has the mighty aroma of fresh split cedar wood with notes of musk cologne. It's a done deal.
2. Men's Catchall, $37.50
Somehow I think my husband would still manage to lose everything if he had this handmade catchall, but it's worth a shot!
3. Leather Cigar Case with Cutter, $23.97
I once bought my husband a pipe. I think it was the best thing I could have ever done for his ego. I'm pretty sure a leather cigar case will be a must-have in the next couple of years, too.
4. Handmade Leather Wallet, $52
A quality wallet is a must-have for a grown man. Once you pass the age of 12, I don't think velcro wallets are acceptable anymore. From the packaging to the leather and stitching, this wallet screams "man."
5. Personalized Men's Stationery, $13
Sometimes dude send notes too. And they'll feel much better about doing it if they have antler stationery.
6. John Hanly & Co. Irish Lambswool Scarf – Made in Ireland $39.95
If a man is going to wear a scarf, it should be plaid. And if it's plaid, it should come from Ireland.
7. Shawl Collar Cardigan, $94.80
I'm kind of obsessed with buying my husband shawl collar cardigans. He likes them, I like them; it's a win/win. I buy him one just about every year. I love how they marry grandpa with hipster. I mean, how cute – I mean, cool – is this guy?
8. Genuine Leather Laptop Bag, 15" Vintage & Eco-Friendly by RusticTown, $89
Just about every guy needs a laptop bag or satchel for work or school. I say don't skimp and buy faux leather; this is one time when it's necessary to go all the way. Real leather lasts longer, grows better with age and smells like a man.
9. Bill Murray Wooden Bottle Opener $13.50
Dudes love Bill Murray. I still haven't figured that out, but it's a fact. Coincidentally, a lot of them also like beer.
*Disclosure: Affiliate links used