Good news! Little BoPeep has found her sheep!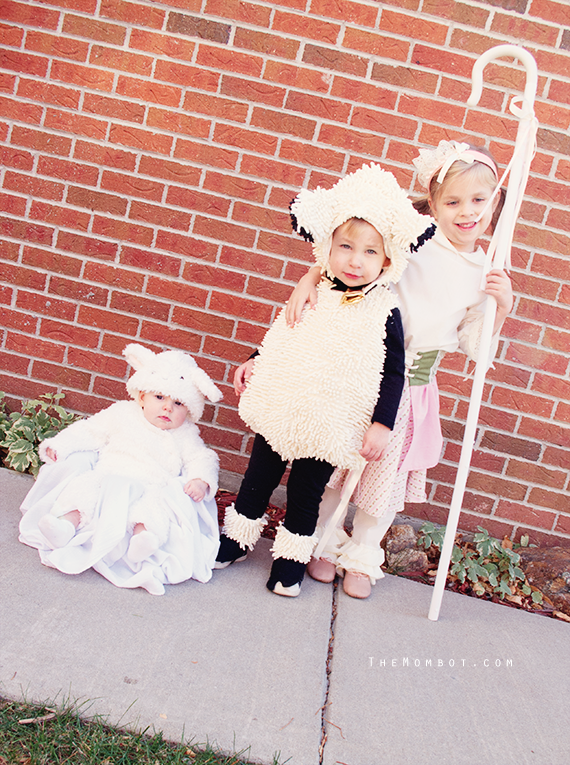 Coming up with costumes this year was pretty easy. I had found a little lamb costume last November at Pottery Barn for $22 (originally $69) and quickly snatched it up for the baby I was cooking in my belly. If you ask me, there's no cuter lamb than my little Graham (yes, it rhymes).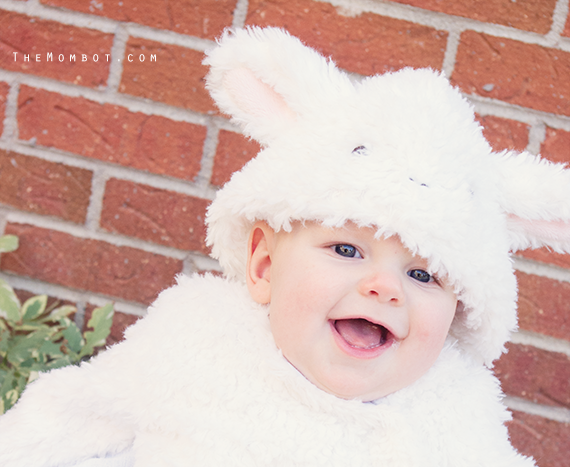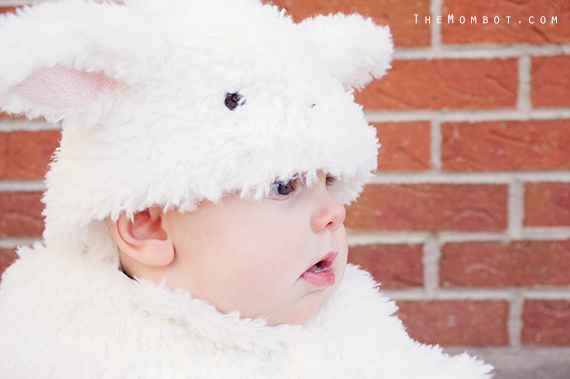 I knew Mia wanted to be something extra girly this year after last year's Dora debacle, and I still have some influence over her so I talked up Little Bo Peep pretty hard and told her about all the ruffles and lace she would get to wear. It was an easy sell. Lincoln has no opinion yet as to what he wears, so he too, would be a sheep.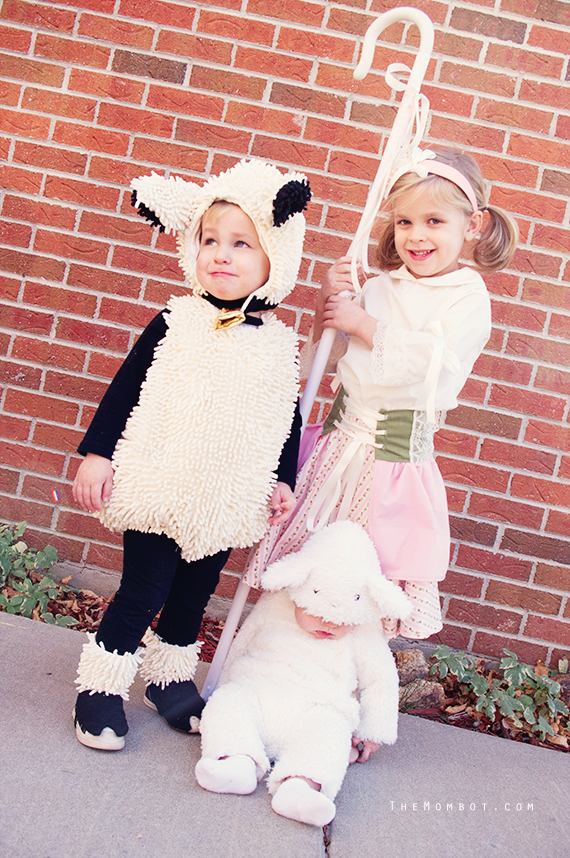 I purchased Lincoln's costume from Chasing Fireflies, knowing they had a cute sheep one, and Graham's was already bought, so that just left me Mia. Little Bo Peep costumes are pretty lame on the whole. There are some gorgeous ones on Etsy that run about $50-70, but that was a little out of my range considering she would only wear it for one day. So I decided that hers would be the only costume I made this year.
True to form, I made it last weekend… I had such big intentions to make it in mid-September, but one thing after another prevented me from doing so (and by "one thing after another," I mean procrastination). When I finally went and got all the fabric and sat down and sketched something out, it actually came together pretty quickly.
Little Bo Peep Costume DIY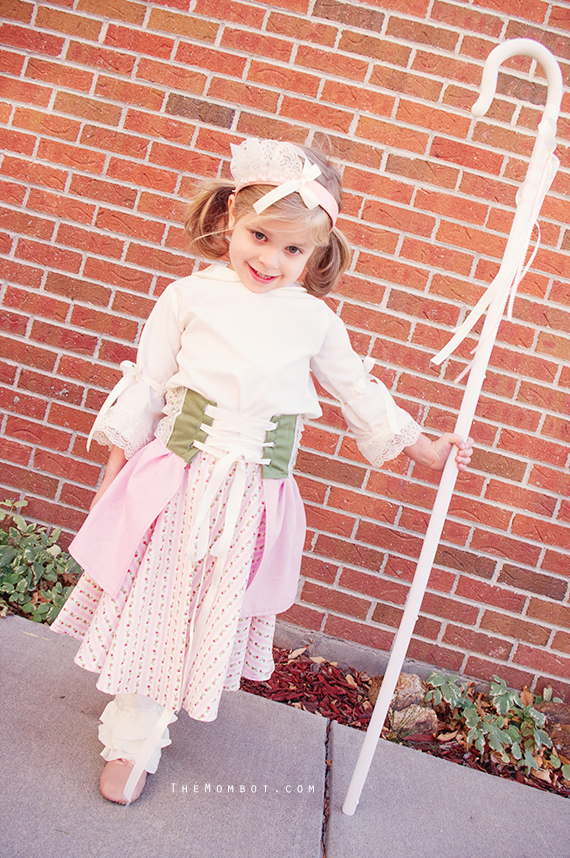 I made the whole thing from scratch, using her regular clothes to create patterns. It was my first time making a circle skirt (success!) and my first time making a shirt with sleeves for such a little person. I almost threw in the towel a couple of times trying to sew those darn sleeves in. But in the end, it all worked out even though I made some modifications along the way.
She absolutely loves it, which is all I needed (it's just too bad she's so camera-shy… she said sarcastically). I am pretty happy with it too, and oddly enough, I even enjoyed making it – you know, except for the sleeves. I also decided to forego the traditional bonnet that Bo Peep wears and I think that helped keep the cursing to a minimum…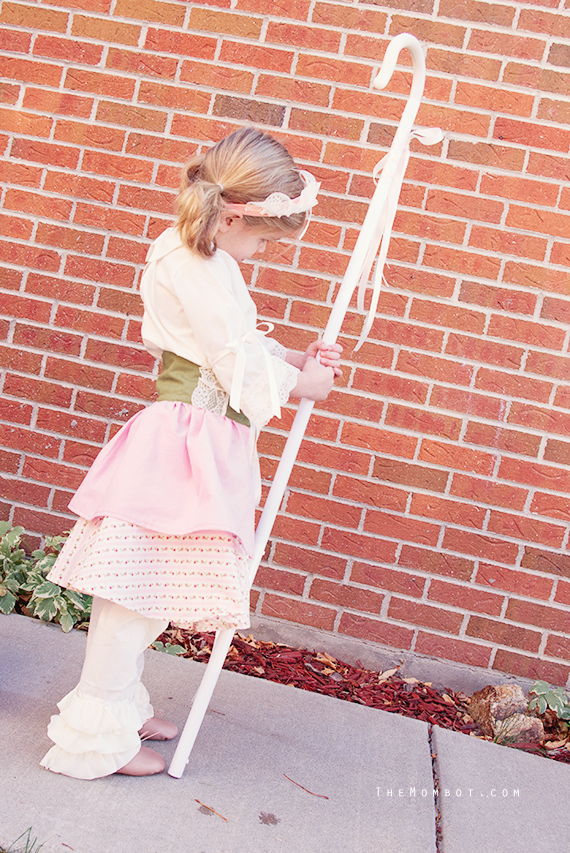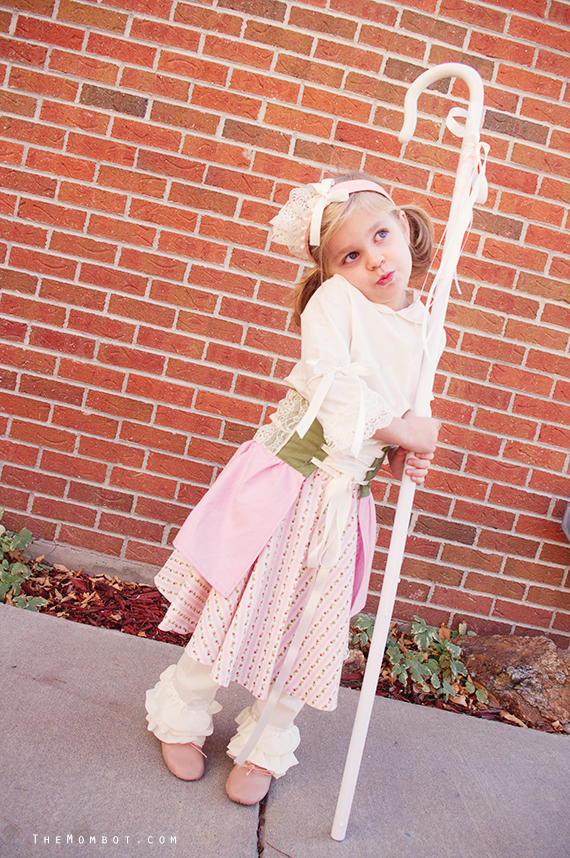 Now we get to party hardy at Mia's school this morning and then go out for trick-or-treating tonight. Which means mom needs to sweat and curse twice today (and I already did that yesterday for these photos) while trying to dress three kids in costume… yay. Have I mentioned how much I looooooove Halloween??
The candy I steal from the kids after they go to bed almost makes it worth it. Almost.
More DIY Halloween Costume Ideas: