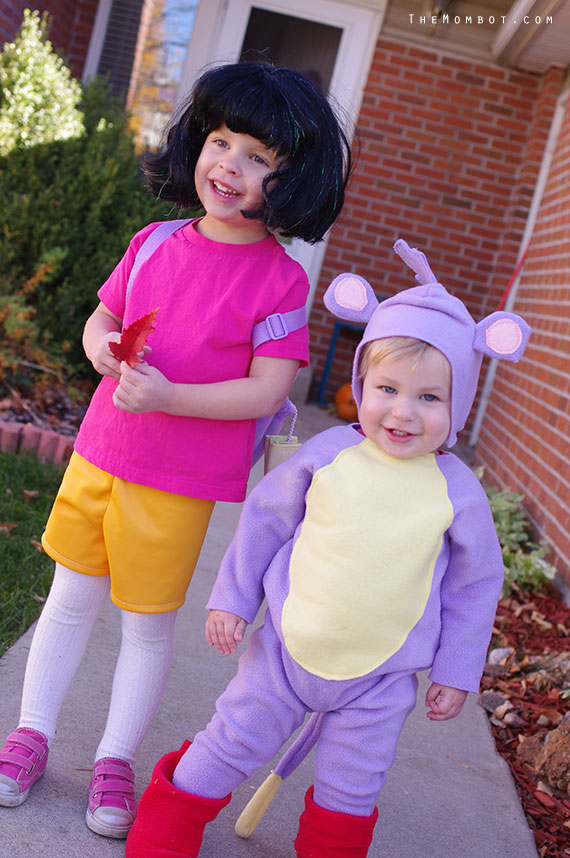 Last year my daughter insisted on being Dora for Halloween. I happily obliged, knowing it would be an easy costume to put together. And then I realized I could make Lincoln a Boots costume and all would be right with the world.
Let's not talk about the fact that when I put Mia in her costume come Halloween day, she cried and said she didn't want to be Dora. Oh, 3 year olds.
Anyway, their costumes turned out cute and I convinced her to wear it in the end (even though when I went to pick her up from school she wasn't wearing her shorts and was prancing around in white tights completely pantsless).
The Dora costume was really easy to pull together. I planned on buying it all, but couldn't find orange shorts anywhere (surprising…), so I ended up making them. Here's what I bought/created for her costume: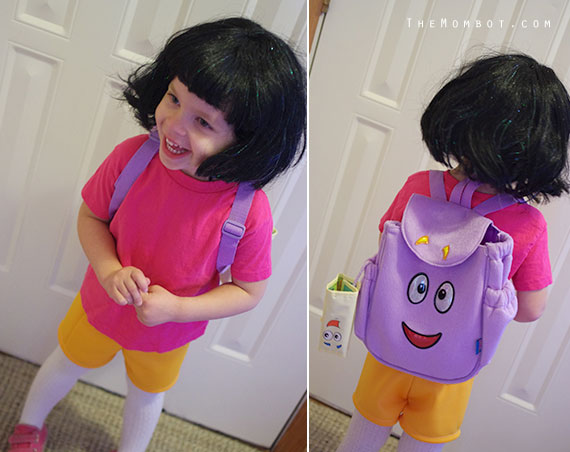 DIY Dora Costume Supplies:
Pink t-shirt ($6 from Amazon)
Black wig ($7 from Target, they do actually make official Dora wigs here)
Orange shorts (DIYed: I used a current pair of shorts she owned and made a pattern, then made them with orange knit fabric and elastic)
White tights
Official Dora backpack ($11 on Amazon)
Pink shoes (technically, Dora wears yellow socks and white shoes, but I would never buy my daughter white shoes because they would be instantly trashed and I couldn't find yellow socks anywhere, so I decided to go my own route – plus the tights were necessary due to cold weather)
DIY Boots Costume
For Lincoln's costume, I decided I would make the entire thing. I used all fleece, knowing it wouldn't be too expensive, it would be warm for nighttime trick-or-treating, and I wouldn't have to hem it.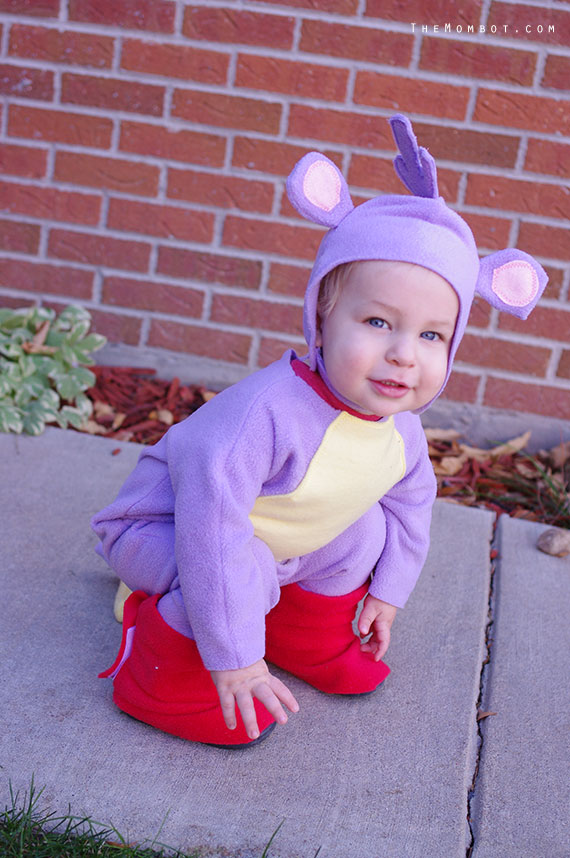 To make main costume piece:
To make the costume, I wanted a one-piece outfit, so I used a pair of his pajamas to create the pattern. To do this yourself, just fold the front piece of the pajamas in half down the center front and place on top of fabric folded in half. Match up the center front of the pajamas with the fold in the fabric.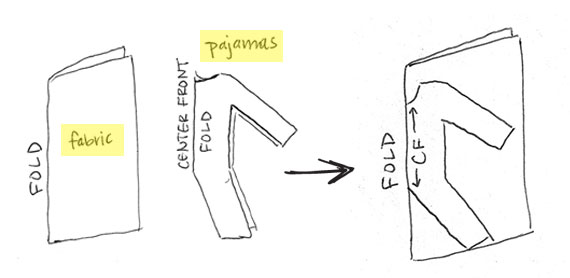 Then trace around your pajamas. I added about a 1/2″ all the way around since fleece doesn't have as much give as the knit in the pajamas, and then another 1/2″ for seam allowance where necessary (everywhere but neck, wrist cuffs and pant cuffs).
I followed the same process to create the back piece of the costume using the back side of the pajamas as the pattern, but then I added 1/2″ at the center back and cut down the center back so that I had two pieces. I did this so I could insert the tail and so I could add in a velcro panel to close the costume.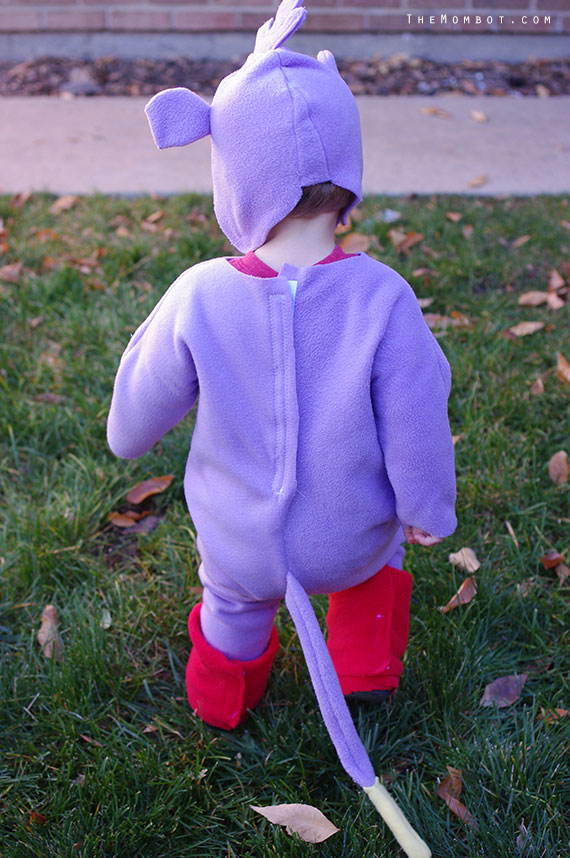 Before I sewed the front and back together, I cut a yellow oval out of fleece for the belly on the front side, pinned it in place, and stitched around the edges to attach it. For the back, I pinned the tail in the appropriate place and then sewed the two back pieces together halfway up (starting at the crotch, ending around the lower back). The tail is just a rectangular tube made from yellow and purple fleece, turned right side out. With the top half of the back, I sewed velcro on each piece to create a closure (see image above).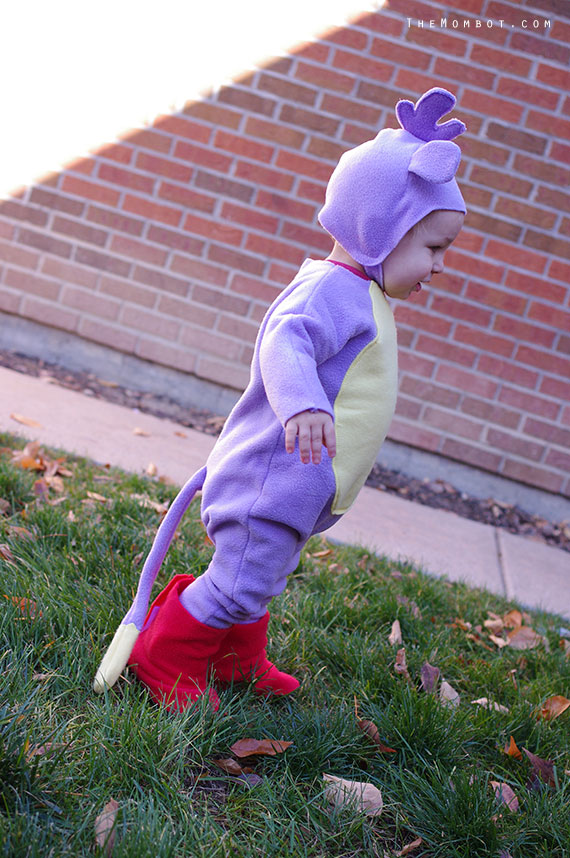 The red boots:
I would have preferred to just buy red boots, but couldn't find any, so I made boot covers from red fleece instead. I could have attached these to the costume, but decided it was easier not to. I used paper to create a pattern piece by laying it on top of the boot and molding it, drawing and cutting (it was all very scientific). Once I had a piece of paper that adequately covered the top of his foot, I used it as a pattern piece and cut out my red covers. They were two pieces; one that covered the foot part of the boot, and a rectangular piece that wrapped around the height of the boot, closed with velcro and tucked into the top of the boot. They were pretty poorly made, but I knew he's only be wearing them once, so I didn't really care.
The hat:
The hat was a little difficult. I used a winter hat that Lincoln already owned as the pattern, but I discovered later that the hat no longer fit him and was a bit small, so I had to add in a panel at back of his head to make it fit (as you can see in the photos). I also had to add seams to insert the ears and Boots' little hair piece. To make the ears and hair piece stand up, I created them out of two pieces of fleece, sewn together and turned right side out, and then inserted shapes cut from plastic template sheets for stability- it worked like a charm. I would give more details on how I created the hat, but it was truly a "make it work" moment, so I wouldn't be of much help… My best advice is to find a hat in a similar shape and trace it as a pattern.
Because I didn't have to hem anything, the costume didn't take long to make. It wasn't perfect, but it worked for the one day that he wore it! And in my opinion, he looks pretty darn cute.
More DIY Halloween Costume Ideas:
*Disclosure: Post contains affiliate links