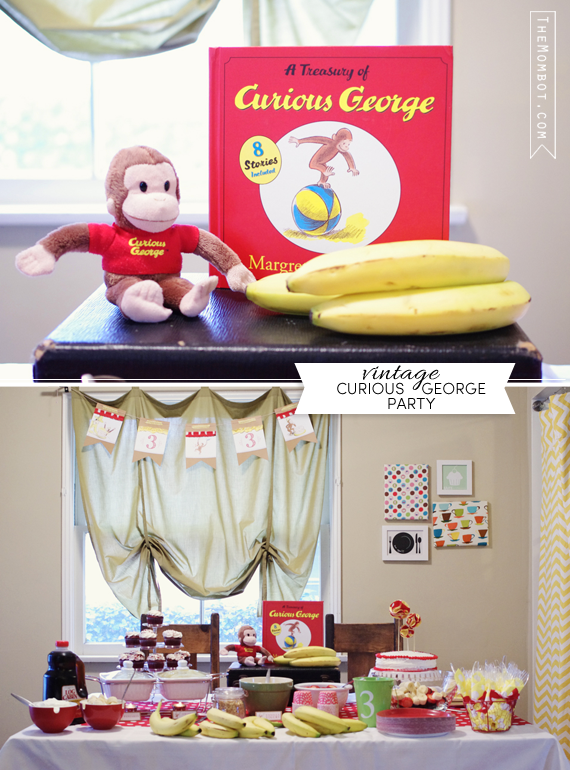 This weekend we celebrated Mia's 3rd birthday. Not quite sure how that happened, but somehow an entire year has flown by since the vintage circus party. Our little girl loves to run and jump, laugh and dance, tell jokes and sing songs, and most of all, she loves watching Curious George.
When she wakes up in the morning, she wants to watch Curious George. When she wakes up from her afternoon nap, she wants to watch Curious George. Who am I kidding? All day long, she wants to watch Curious George. I know more about the man in the yellow hat than I do my own husband…
So the theme for this year's birthday party was a no-brainer. I wanted to stick with a vintage Curious George look; especially after reading through her "A Treasury of Curious George
" book that she got from Christmas with the original illustrations by H.A. Rey.
Most of the available décor for Curious George parties features the more modern cartoon George now seen on PBS, so I ended up making everything myself using scans from the book, right down a t-shirt for Mia to wear.
To keep things simple, I settled on a breakfast party at 10:00 a.m. This is the best time of day for Mia (and many of her friends) since she still naps in the afternoon. The menu consisted of pancakes with whipped cream and bananas, eggs, yogurt with berries and granola, and fruit salad (with lots more bananas). It was a basic menu, and though it took some prep work and time in the kitchen, it was well worth it. Everyone enjoyed the big breakfast and left with full tummies.
Some of the details included DIY paper buntings, red and yellow polka dot fabric, DIY fabric pom poms, red striped paper straws, food nametags, and yellow polka dot napkin-wrapped silverware. Here's a sneak peek into the party, the décor and all the fun.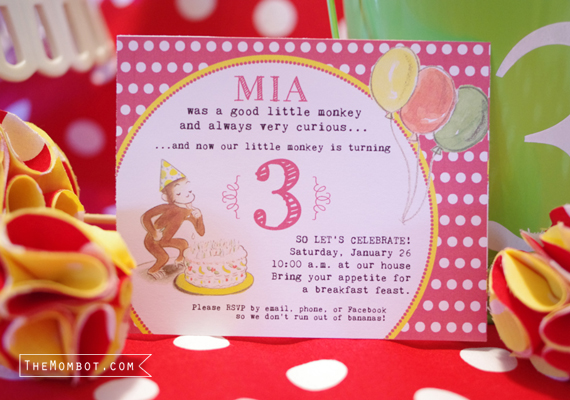 The birthday party invitation (similar invite available in my Etsy Shop)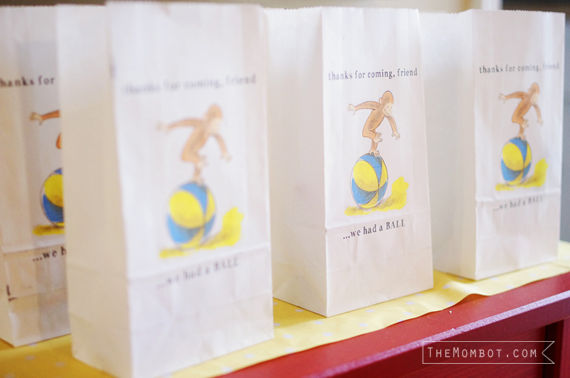 The party favor bags filled with a bouncy ball and kazoo (parents love me). Mini bags purchased at Michaels, design made by me and printed onto the bags via my home printer.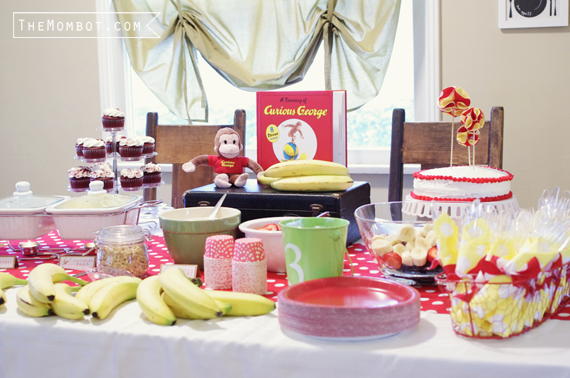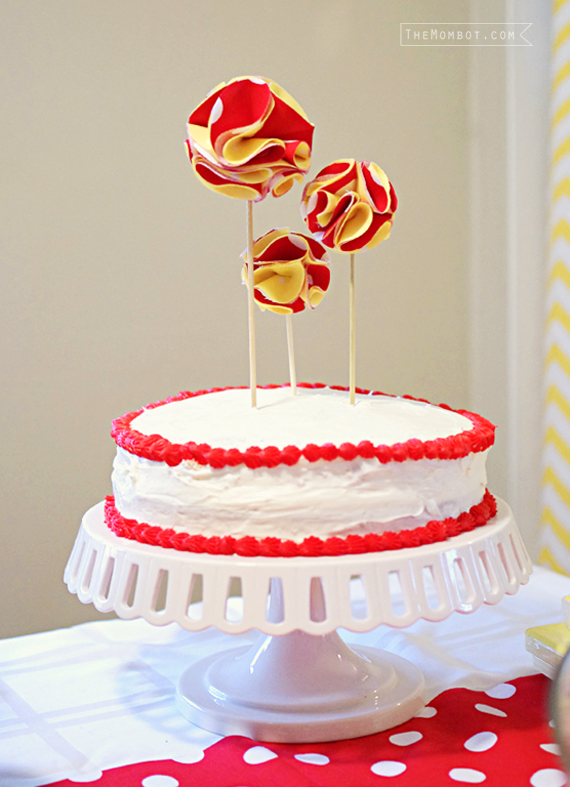 The cake with fabric pom poms. I made it myself (be nice and pretend you don't notice that it's lop-sided…)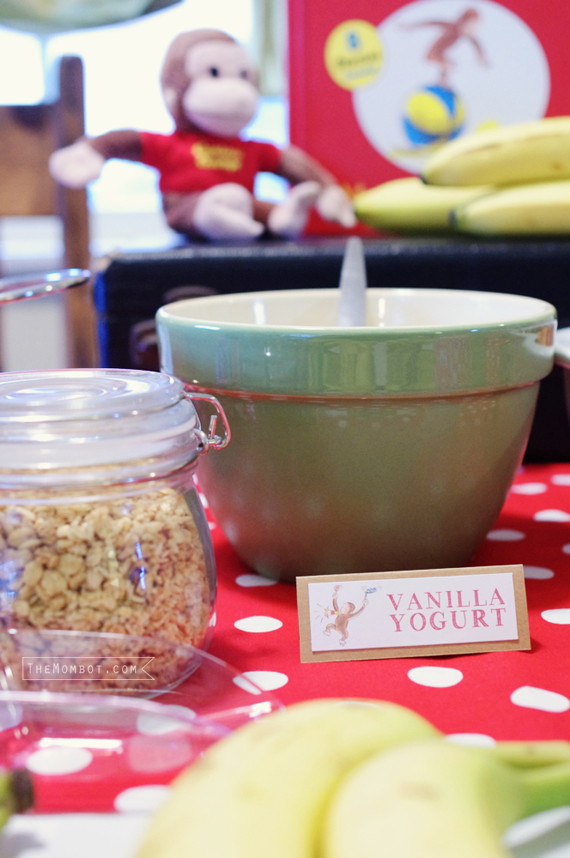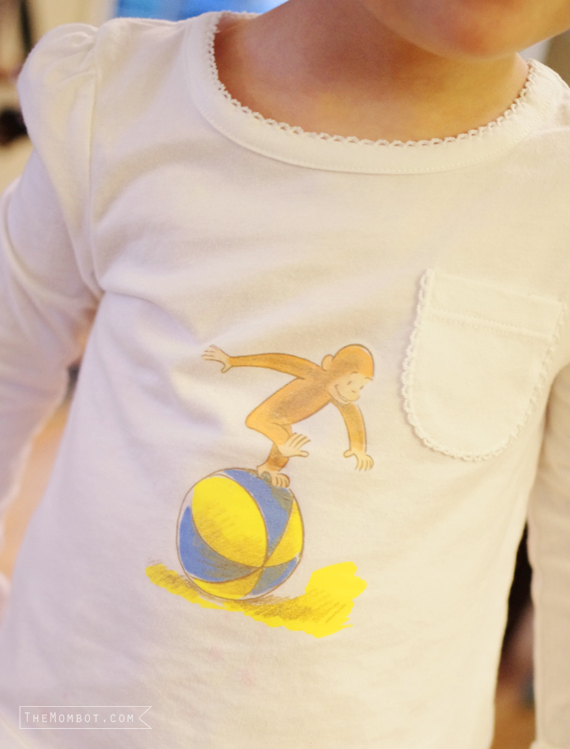 My DIY Curious George tee. The cheapest shirt I could find was $18 for a bright yellow tee with a vintage george… so instead, I bought for this top for $5 at Target, and a packet of image transfer sheets for $3.99. WIN.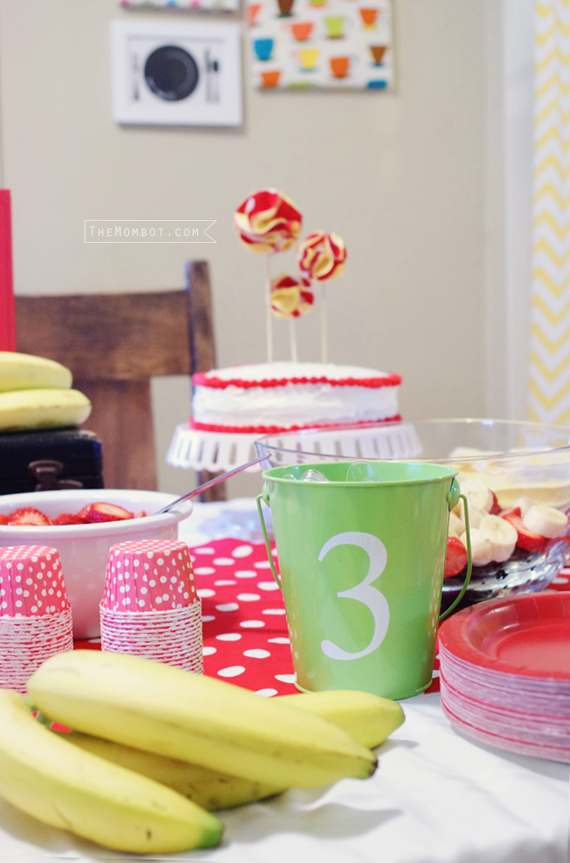 I found this "3" bucket at Michaels by chance. Hooray!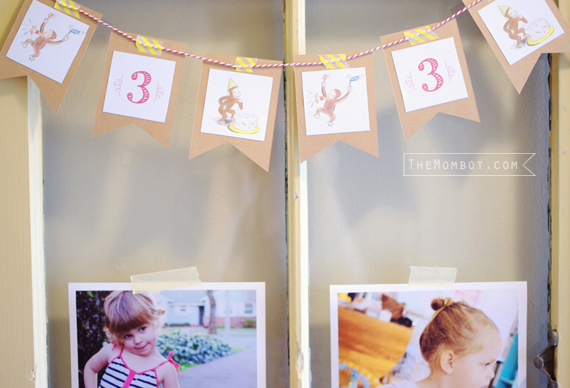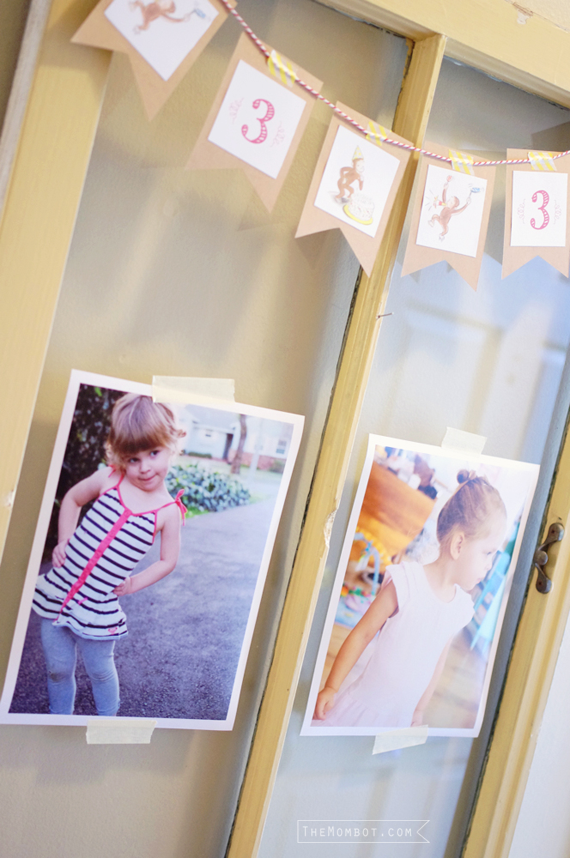 The window on our wall in the entryway got spruced up with a DIY bunting and some of my favorite images of Mia from this year. Remember her ballet pictures? I can't believe that was only 4 months ago!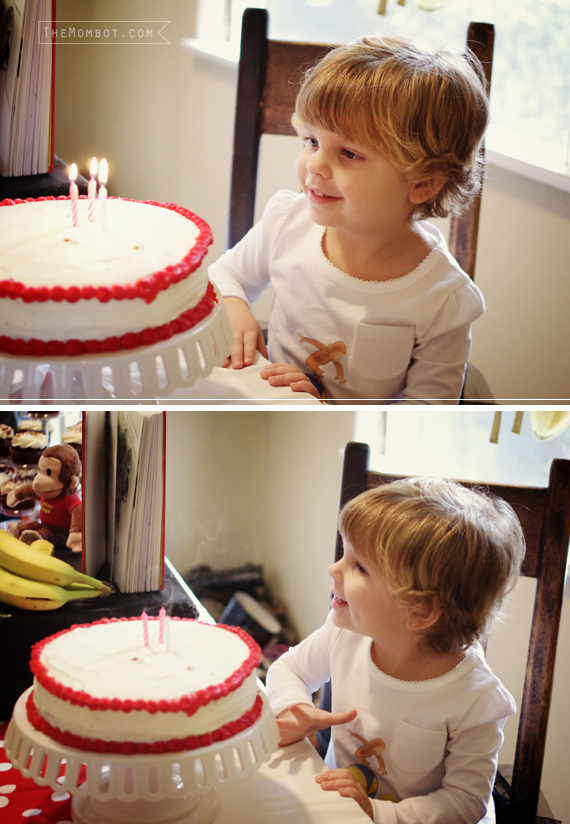 My favorite moment of the day was the look on her face when everyone was singing her "Happy Birthday" – she smiled from ear to ear and kept looking around at everyone like she couldn't believe they were singing for her. It melted my heart. That was right before she started licking the side of the cake, because apparently I can't cut fast enough.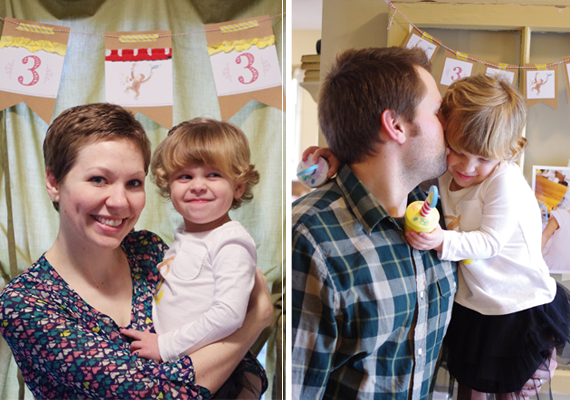 Happy birthday to my sweet girl!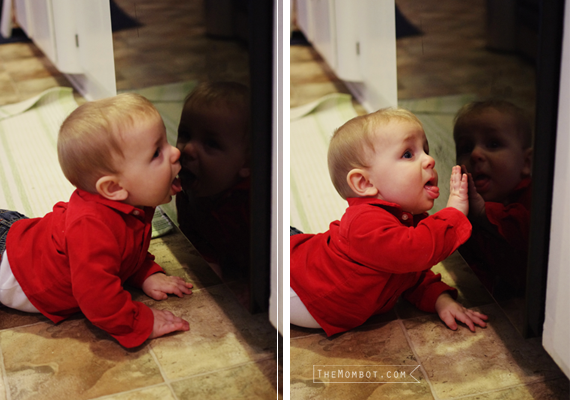 And after the party… this happened. My son, the dishwasher licker.