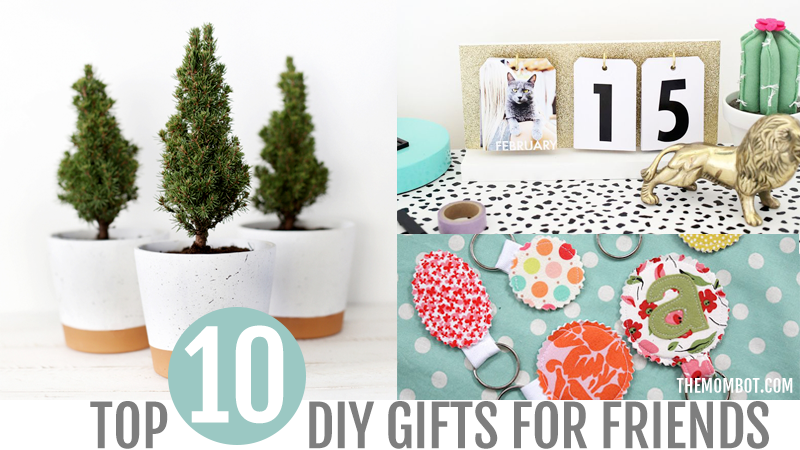 What a crazy weekend! We attended Christmas parties on Friday, Saturday, and Sunday, not to mention we had doctor appointments for myself and my daughter, grocery shopping, errand running, gift wrapping, laundry, housecleaning, bible study… phew. It didn't feel like much of a weekend with all that stuff going on. Surprisingly, this week before Christmas looks like it's going to be a little bit slower and I'm really looking forward to it!
As you get ready to finish up your last week at work before the holiday break and you attend Christmas parties with friends, I've put together some ideas for last-minute DIY gift ideas for friends, neighbors and coworkers. Every year, it seems that someone pops into my head at the last minute and I realize I really should have a little something for them, but I don't have a lot of time or money to contribute. I'm sure I'm not alone.
So these 10 gift ideas for friends, neighbors and coworkers will help you out when you're in a pinch! All ten are affordable and fairly easy to make; not to mention, most of them can be done quickly, so you'll have plenty of time to get them made in these last few days before Christmas.
DIY Gifts for Friends #1: Felt Monogram Ornaments
Ornaments always make a great gift. The felt monogram ones are so simple, really affordable to make, adorable, and personalized.
DIY Gifts for Friends #2: Scrap Fabric DIY keychains
These keychains are adorable. Aside from the metal key ring (which costs very little), you can raid your fabric scraps to make them. I'm always looking for ways to use up those little leftover pieces of fabric spilling out of my crafting drawer…
DIY Gifts for Friends #3: DIY Desk Calendar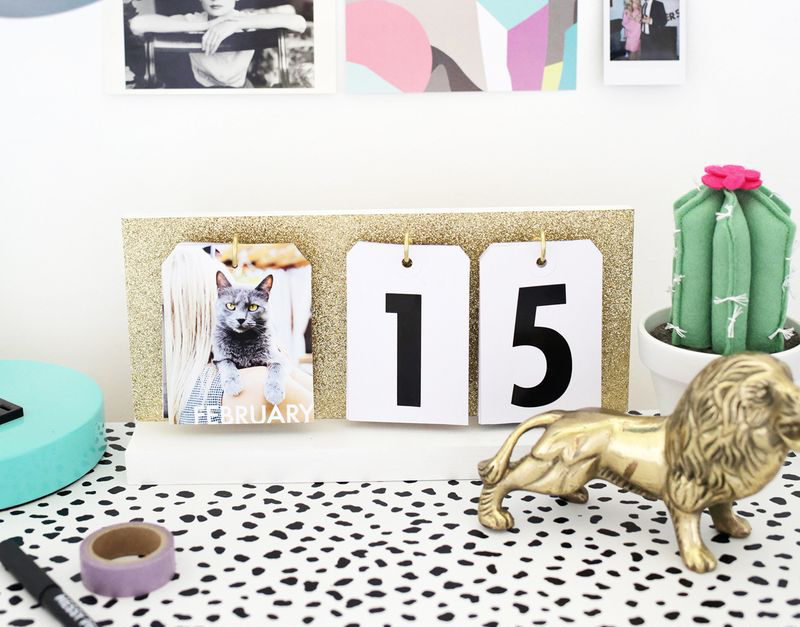 Whether giving a gift to a friend, neighbor, or coworker, everyone can use a desk calendar. The better you know the recipient, the more personalized you can make the images and pictures that you include!
DIY Gifts for Friends #4: Gemstone Soaps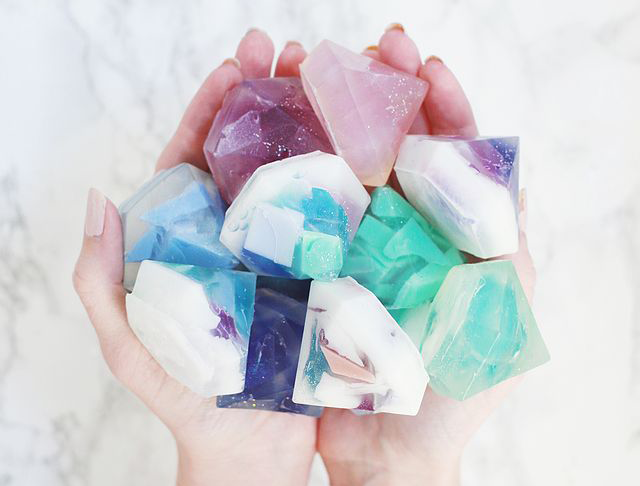 Source: A Beautiful Mess
I've never made my own soap, but I am incredibly intrigued by it! Last year, we received some handmade soap from a friend and I loved it. It smelled amazing and she even hid little animals inside of some for the kids. These DIY gemstone soaps are not only functional, but beautiful! And they would look so pretty packaged up in something clear for the recipient.
DIY Gifts for Friends #5: Dwarf Spruce Tree in a Splattered Planter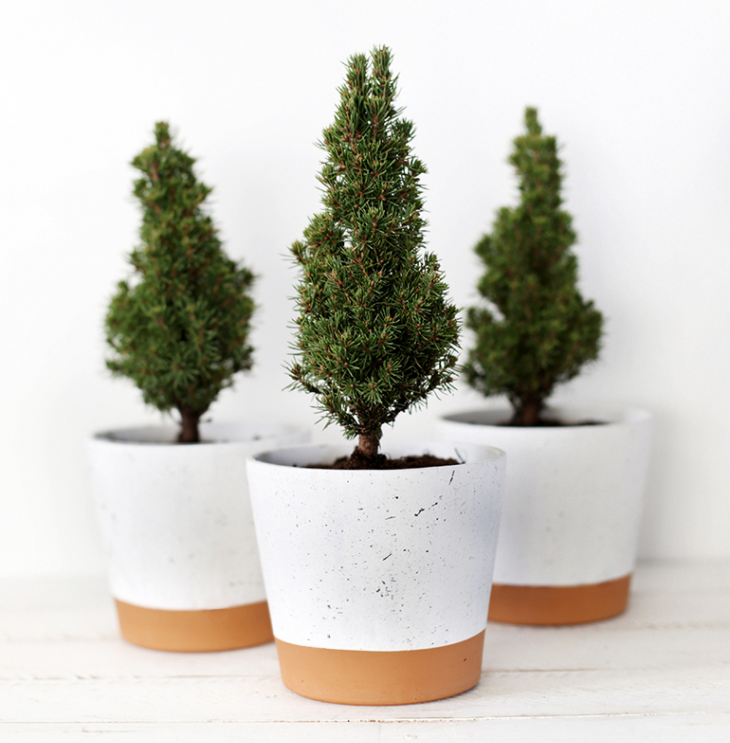 Source: TheMerryThought.com
These dwarf spruce trees are holiday-esque, yet still subtle. And the DIY splattered planters they sit in really elevate the gift to a classy level. Who wouldn't love to have one of these on their desk or windowsill?
DIY Gifts for Friends #6: Specially Wrapped Accessories
This is a great way to make affordable gifts look great! By using some printables or store-bought scrap supplies and a ziplock bag, you can really class things up. Purchase affordable accessories or goodies like mini cookie cutters, gloves, or bells, find some Christmas printables to embellish with (try here), and enclose your gift in a ziploc bags with some scrapbook paper folded over the top. Voila!
DIY Gifts for Friends #7: Apron in a jar
Here's an idea I found and have adapted… The original idea for an apron in a jar is from Pleasant-home.com, and she enclosed the pieces to make an apron inside a mason jar with the instructions on a recipe card. But to make this an easier gift (and one your recipient doesn't have to make themselves), I thought why not make a dishtowel apron (the easiest apron ever!), put it in a mason jar, and then put your favorite recipe on the outside? Here's a simple tutorial for a dishtowel apron from Heather on Life Made Lovely, and some printable recipe card options.
DIY Gifts for Friends #8: Potholder DIY survival kit
I love the idea of a survival kit! It takes very few supplies and the hard work (the potholder) is already done for you. Plus, you can really customize the gift with what you put inside; think about who you're giving it to and the things they love/need on a regular basis. These are great for coworkers.
DIY Gifts for Friends #9: Soup mix in a jar
Soup is my heart language… This is the easiest way to give someone the gift of a meal -plus the presentation is pretty!
DIY Gifts for Friends #10: DIY Monogrammed Notebook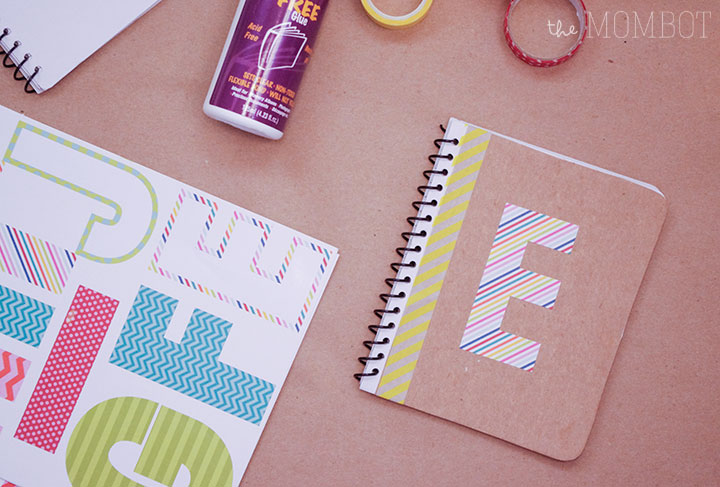 Everyone can use a spot to jot down notes, doodle, or write down their grocery list. These mini covered books are super cute and easy to make.
More DIY Gift Guides:
DIY gifts for kids
DIY gifts for her
DIY gifts for mom
DIY gifts for him