When I first started this DIY gift series, I was afraid that I wouldn't be able to find many gifts for men. I, for one, have such a hard time buying gifts for men unless I know exactly what they want. I never grew up with brothers, so I feel like I have no idea what boys or men like…
Once I started researching DIY gifts for men, I realized there are tons of great ideas! Things my husband, father, and brother-in-laws might even enjoy. So here are top 10 ideas I found. If you're looking to save some money this Christmas or Father's Day but still give something meaningful, check out these DIY gifts for men:
DIY Gifts for Men #1: Monogramed mugs
Most men I know love a good cup of coffee, so a mug is always a good choice. I like the rugged look of these DIY monogramed mugs. I've made hand painted mugs in the past and they are quite easy, fast, and cheap. I like shopping thrift stores for blank mugs, they are always easy to find. You can also get them at Ikea for something crazy like $0.59 or at the Dollar Tree for, yes, you guessed it, $1. Use a coupon at Michaels to get the paint for cheap!
DIY Gifts for Men #2: Knit square tie
This might just be my favorite idea… all it takes is a sweater from the thrift store (probably $3-$5) and a hour or two to construct. The tutorial looks pretty easy, so if you're a novice at sewing, I don't think it would be an issue. P.S. I would suggest using a knit stitch if your machine has it; I don't think it's mentioned in the tutorial, but it will help the tie lay flat when worn and not get stretched out while constructing.
DIY Gifts for Men #3: Geek coasters
If your man is a little geeky and loves his comic books, these geeky coasters are a great gift idea.
DIY Gifts for Men #4: Tiny tin spice rubs
For the man who loves to cook, how about some DIY spice rubs? My dad would love these.
DIY Gifts for Men #5: Monogramed necktie
I love these monogrammed neckties. Keep your eye out for sales on ties (I like to watch the sales at Kohl's or Target), and then use Martha's tutorial for a clean and simple handstitched monogram.
DIY Gifts for Men #6: Car travel kit
If your gift recipient travels or drives a lot, this car kit is a handy and thoughtful gift. You can decide how much to spend on it as you pick and choose what to put inside.
DIY Gifts for Men #7: Wooden iPhone Amplifier/Speaker
This awesome amplifier/speaker doesn't need any cords or batteries! It's just a few pieces of wood and some stain. How does it work you ask? Science. Head to MakeIt-LoveIt.com to read up and get the tutorial.
DIY Gifts for Men #8: Hand printed mousepad
These hand printed mousepads are pretty awesome. I know you can get round mousepads from Ikea for only $0.99, so this could be a really affordable gift. Make one for all the men in your life to get the most from your paint supplies.
DIY Gifts for Men #9: Beatles Abbey Road art
Every music lover will like some urban DIY art like this. Canvases are always on sale at Michaels.
DIY Gifts for Men #10: Wooden Beer Caddy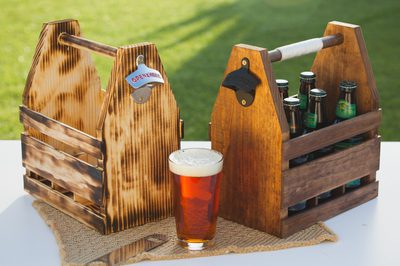 Source: ehow.com
This wooden beer caddy is surprisingly easy to make! There are only a few simple cuts you need to make with a mitre saw, otherwise, it's just piecing together pieces of wood. It makes a great keepsake and home decor piece, too.