You're all in for a treat today because my good friend, Michelle, from Just Watching My Garden Grow is here to share with us a tutorial for her recent  gender reveal. Michelle is pregnant with baby #3, and despite being a teacher and taking care of her family, she also finds time to craft on a regular basis; and, she 's one of the craftiest ladies I know! So take it away, Michelle…
——
Hi, I'm Michelle from over at Just Watching My Garden Grow, and I'm so excited Amy asked me to tell you about my gender reveal here on The Mombot. Our family is so happy about this pregnancy! We have two little girls, and knew this would be our last addition, so I've tried to make every moment very special. My husband took his card to a lunch with some friends and they all drum rolled at the table while the balloons were being blown up. Their excitement about our news was definitely the reaction I was looking for, and it went off without a hitch. Yay! Let's get on with it, shall we?
I began with printing my chosen text onto blank cards I purchased from Michaels (with a coupon, of course, I am The Mombot's friend after all)!
I kicked around some different phrases, but am really happy with what I chose.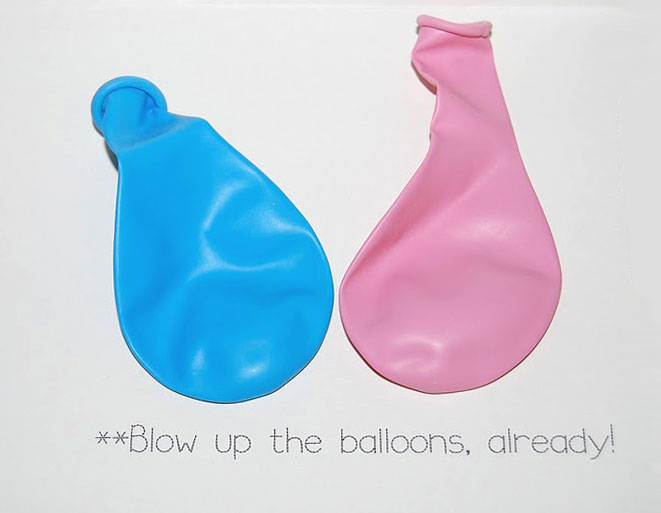 I took the idea of conveying a message on a balloon from a Mother's Day card I saw on Pinterest and ran with it!
This part was a bit tricky. I blew up the balloons and had my husband hold them, so I could write on them. You can also use a clothespin if you don't have extra hands nearby. A ball point pen worked the best. I tried a Sharpie, but it was too thick and you could read the words when the balloon was deflated. I accidentally smudged one with the ball point pen, but soon learned that I needed to let it dry for a couple of hours.
Be sure you do not write your words too large, or you will see them when the balloon is flat. I made sure to put the balloons in the cards with the words facing down after they were completely dry.
…and that's it! Have fun giving this idea a try. There are so many events it can be used for.
Thanks, Amy, for letting me share this special moment with your readers. You're the best!
Smiles,
Michelle
Want more gender reveal ideas?
Check out this gender reveal video with free downloads!
Link Parties: